I can't believe this will be the first newsletter I write (to all 20 of you, hello!), but I think I can explain why one tweet pushed one little book into the best-seller list in under 48 hours. That, and my friends did ask me to put my musing somewhere with more than 280 characters.
The book in question is, of course, This Is How You Lose the Time War, a queer, epistolary novella from Amal El-Mohtar and Max Gladstone. As I type this, it's sitting at #3 on all of Amazon (you go, guys!). All this in under 48 hours, from one tweet.
I'm seeing a lot of articles from Kotaku, io9, Crunchyroll, Gizmodo, and more saying this is "lightning in a bottle." But I don't think that's completely true. You see, I've been on the web too long (ever heard of DeviantART front page? we used to rig that shit in high school), where this felt like the old internet again, when crazy good shit could just happen. You know, before the corporate enshittification started.
Basically, I think this not a case of lightning striking but more a case of two long-term successes colliding in a way that was socially unlikely (although algorithmically possible), followed by a snowball effect in part of the sheer novelty of these two social groups.
So first, you need to understand the social media algorithm...
We know that the algorithm groups people based off who they follow and who follows them back. This is why 'top' people in a particular circle will actually have similar follower counts give or take a few K. For example, pop stars will have followings in the 100Ks, visual artists at 20Kish, and writers at 10Kish. Posts that do well are first elevated to members of the same circle.
That's the key to success here: the post by Bigolas Dickolas (who I'll call BD to save space) hopped circles. A much bigger circle than the speculative fiction circle: the Trigun circle.
First off, Time War is an amazing book and already successful within its circle. It's been read by a lot of people, won awards. Basically, when people saw the tweet and were reminded of a book they already loved, so they screamed about it again, four year timeline be damned. This triggers the algorithm to raise the post to everyone in the original speculative fiction circle's "For You" page.
But the second part... lots of people like Trigun (myself included) so why Bigolas Dickolas? From what I can tell, BD was already top of the Trigun Twitter circle. And they got there naturally. This is not Twitter's core algorithm but forms the social core of Tumblr: users often aren't there to talk about themselves but rather turn their pages into fandom aggregates. (Tumblr even has cultural rules surrounding reblogging, which credits the creator, vs. reposting, which does not.) BD is a Trigun fan aggregate. By collecting and sharing others' work, they become a trusted source for that content while not having to create any of the content themselves, meaning they can supply content at a much steadier rate (regularity is something the Instagram algorithm highly favors btw). When you follow BD, you have the latest updates of everyone in the fandom as well as tons of new stuff they've dug up. So BD had already accrued the requisite number of followers to be influential within their algorithm-circle.
Anecdotally, on average, artists who participate in the community by doing regular #ArtShares replies and re-tweeting others' work on #PortfolioDay seem to have larger followings.
But why did BD's audience take the post so seriously, sharing and buying the book?
BD is a steady, trusted fandom source. So even when BD doesn't post about Trigun, their following still trusts it has the same earnest love as their Trigun posts. Amongst literally hundreds of Trigun retweets (they're already back at this regular schedule), this post thus stands out as something BD must have genuinely, loved, and people who like what BD likes can make a guess they'll like it, too. BD's writing style is fucking hilarious, too.
In addition, BD's post provides important information to potential readers: the book is short. If you don't like it, you won't lose more than a single night of reading. In a world where Netflix, video games, and books (and paper shortages) are all competing for your attention, people love to know how long an experience will take. It helps the audience set expectations (like if they need to invest a week reading a 100K-word novel, it better be good!).
But how does BD's endorsement differ from that of a celebrity?
Remember when blue checks actually mattered, ha. Most of us, as creators (even blue check celebs), are stymied because part of our job is to sell ourselves online, just like we sell our work. A lot of creator marketing doctrine insists a creator must putting an 'authentic' part of themselves online for an audience to engage with. But in the end, that's still marketing and well, folks smell that. Indeed, after a certain point (anecdata of my artist friends is ~10K followers), the parasocial relationships aren't worth the emotional toll on the creators. At that point, one hopes we have true fans to carry us if not entire corporate publicity machines real celebs have. But someone like BD doesn't have that limit because they do not exist online as their own brand, they exist as pure mechanisms of enthusiasm.
We know absolutely nothing about who BD is behind the scene ("Bigolas Dickolas Wolfwood" is a horny play off "Nicholas D. Wolfwood"). And their anonymity creates the charm that is making this so headline-worthy. Amal, Max, their agent, Kotaku, Gizmodo, Crunchyroll... everyone was literally quoted multiple times saying "Bigolas Dickolas." That makes BD (and me) laugh, they re-share, and the feedback loop continues.
And like, I think that's all it is. Time War got an endorsement from someone else in another, bigger circle. Both circles light up, which causes the algorithm to push it even further, outside both circles. Into other internet fandoms, people "For You" pages, etc. When that happens, sites like Kotaku and Gawker pick it up, and you have even more eyeballs who see it (and sell it) as "pure serendipity" because there's little understanding of the mechanics of algorithms. For more on this, Sid Jain suggests checking out Hit Makers by Derek Thompson.
...and even with understanding, there's essentially zero control, which makes it pretty serendipitous anyway! Who doesn't love a good shitpost? I know I do.
Is any of this possible to harness by us, individual writers?
Probably not as businesspeople (no authenticity) or as craftspeople (no time for steady posting). And what with Elon literally re-coding the algorithm to service his whims... lmao, only god knows.
But we can also be internet fans to understand how fan authenticity and social dynamics work, specifically by existing in spaces where we aren't the creators and thus are not in positions of cultural capital. I worked in fandom for a decade before I became an original creator, and the thing about fandom is it's supposed to be a safe, positive space defined by the shared love of a property. You could tell which creators were just drawing art of what's popular - they didn't sell as much fan art as artists who were truly fans of the series. It doesn't matter whose art has better technique. Because the fans would talk to the creator-fans about the series, form emotional bonds there, and the purchase of art was a symbol of that shared love.
And like, I think that community aspect of fandom is something creators can foster to their own success.
---
I haven't blogged since 2014, so forgive me if it's rough. But if you send people to subscribe to this newsletter, I'll probably actually remember write more weird little articles like it. But as I now do have an obligation to keep you up to date...
First, I've had two FREE stories come out in the past month!
In April, my story "The Toll of the Snake" came out in Apex Magazine's API special issue edited by Iori Kusano. The story re-tells of the Greek myth Medusa mixed with the Chinese Legend of White Snake set in 1940s Hollywood. (Art by idledee.) Here's a link if the image click didn't work since this is my first time using this software: https://apex-magazine.com/short-fiction/the-toll-of-the-snake/
In May, my first piece of tie-in fiction came out! "She Who Breaks the World" is a Magic: The Gathering story centered around Nissa Revane. It explores healing after trauma and learning how to communicate in a relationship (art by Tuan Duong Chu). This one is located here: https://magic.wizards.com/en/news/magic-story/she-who-breaks-the-world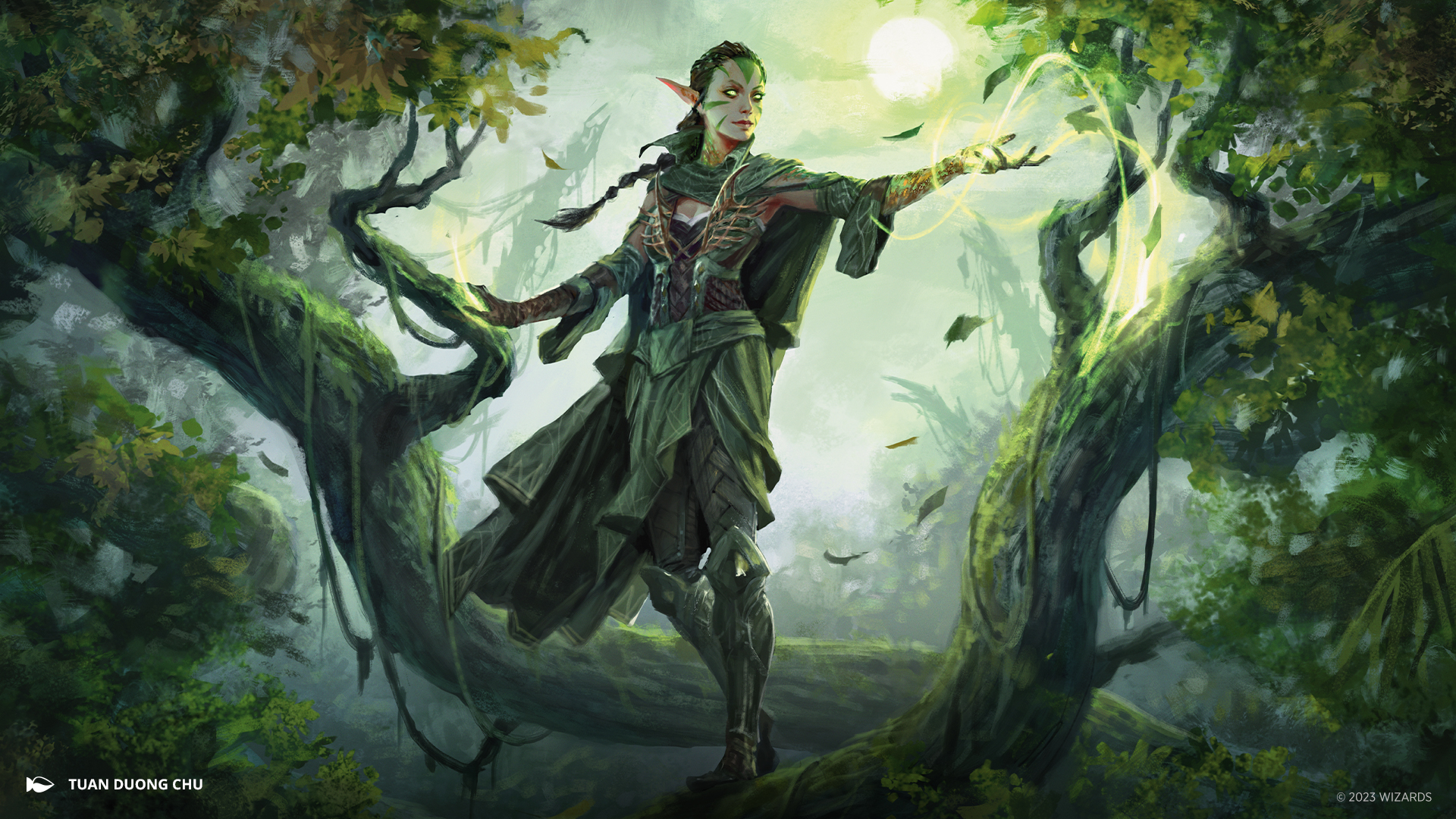 I've got some art cooking, but you'll have to wait and see for that. This is all I've got this time!
---
Buy Time War, watch Trigun, and check out my stories (I mean, they are free). Thank you!
Until next time, Grace