Mark Zuckerberg is now the meta-CEO, and all my family members are having meta conversations with me. My question to you is, have you noticed how Mark Zuckerberg is getting the word out to current and future meta users?
If you have not noticed, Meta is the new parent company of Facebook. They are attempting a significant rebrand while also capturing the generation that missed out on pokes and FarmVille. Mark appears in interviews with the most prominent news outlets, and to be honest, they are not worth talking about.
(alt: Mark Zuckerberg interview by YouTubber Sara Dietschy)
What is worth talking about is the meta marketing playbook, "influencer marketing." My first dev job was at an influencer marketing company (~2014, before Fyre Festival), and I learned a ton about how this form of marketing works. To sum it up, Zuckerberg inviting himself on some of the most notable YouTube channels is an interesting strategy. The meta CEO has been meme'd to exhaustion about being less than human, and he is actively changing that narrative by chatting with influencers building trust and rapport with some of the most polarizing audiences (YouTube and TikTok).
Note: Their influencer connections are possible because meta has an influencer relations team that owns the relationships of the most notable folks on social media (not just Facebook).
I have been working in the Developer Relations space for the better part of 5 years and can confirm connections to influencers can be powerful in capturing the heart and minds of developers. One of my first initiatives (while advocating) at Netlify was reaching out to egghead course creators in cold emails, asking them to include a mention of Netlify as their deploy story at the end of their following tutorial. Out of the 3 (biggest) course creators on the platform that I reached out to, they mentioned Netlify eventually in their content, and Netlify paid $0 for that connection to their audience. I wouldn't say I was lucky with those connections. I would instead say I was strategic in my outreach (perhaps I was meta-strategic?).
Every advocate is meant to create and empower other advocates.
This meta influencer strategy is growing recently into the biggest Black TikTok creators, Khaby Lame and AngryReactions. Khaby is an obvious choice, being the biggest TikTok channel, but AngryReactions is even more interesting as they are serving a more specific niche and demographic. These are only a handful of influencers doing the meta marketing and validating their new brand/logo. I am sure we will be seeing more influencers on the meta rolodex soon.
I stand by the statement I originally made in my 2018 talk from DevXCon, "every advocate is meant to create and empower other advocates." That comes in content and speaking, but it can also look like content sponsorship. Imagine what product or feature adoption looks like when you, the advocate, are not the only one talking about your product. Meta conversations about your product are the goal, and I think this approach will only grow.
Now that's meta.
Who are the most impactful Developer Influencers?
Using the word influencer is taboo in developer circles. There is also a culture of grifting new developers and BootCamp grads with endless courses or hype. I understand the existence of these folks and feel the need to mention that these folks are, unfortunately, also influencers.
It is up to us to identify how detrimental grifting is to the community, and we should talk openly about the folks swindling folks out her their time and money. With that said, I would love to know the most impactful influencers in the developer spaces from your perspective.
IMHO, Aaron Brooks is someone folks should take time to follow and get to know. He has been quietly growing an amazingly supportive DevOps community.
Podcasts I appeared on
Places to see bdougie live
It's back! Join this January 26-27 for two full days of #jamstack goodness. We've already got some fantastic speakers lined up and more details to come.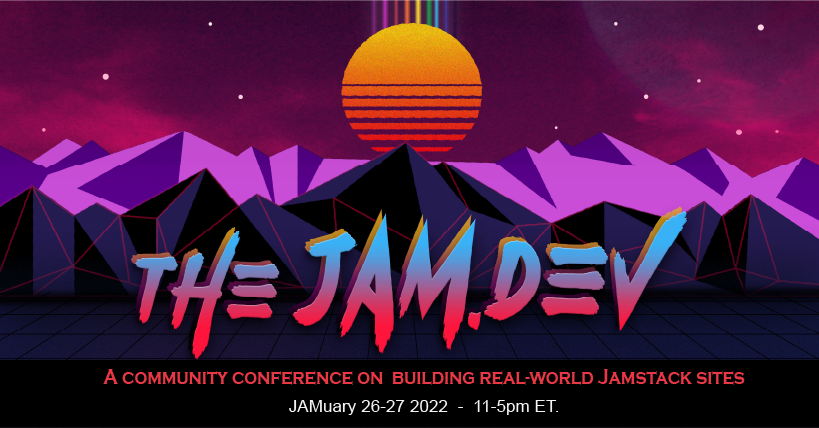 TheJam.dev 2022 / CFE.dev
TheJam.dev is a 2-day virtual conference focused on building real-world applications using the Jamstack.
Like and Subscribe