Dear friends and witnesses,
Since last I wrote, I had come undone, and am being held now as my body reintegrates itself.
This summer, I am doing an online art/research residency at the School of Commons, which I am frankly thrilled about. I will co-host a session next week:
Our first Kitchen Session will be on Wednesday, 23rd of March, from 17:00-19:00 GMT+1 [online+free]. The session promises to be a be rooted in performative and body-based practices, looking at physical experiences of hormones, warmups, and cooldowns. We're excited to chat to Kit Kuksenok about their project «Safety in Numbers», and to Eirini Sourgiadaki who will share more about «Warmups and Cooldowns»
Though we are presenting on the same day purely by accident of calendar constraints, Eirini and I have found a great deal of resonance in our respective work, so we will be co-hosting in an intertwined and generative way, and I'm really looking forward to that.
This is the second event of the year. The first one was in February, also online, and it was a notable departure from the lecture-style events I've hosted in the past. I am also frankly thrilled about this.
On Feb 23, I had a very moving public conversation with Emily Fong, on queerness and art, as part of LGBT+ History Month programming at the University of Dundee. We talked about containment: not as a closing off like a box; but giving shape and form, directing energy, like a pressure release valve.
My own experience of queerness is inextricable from my experience as being irreducibly a body, that fleshly and sacred container, presently in the process of reconstitution. So I'm interested in these events as kind of pressure-release valve, perhaps for the energy that sloughs off transformation, held by some kind of collective poetics..? It's a work in progress (what isn't).
Best, Kit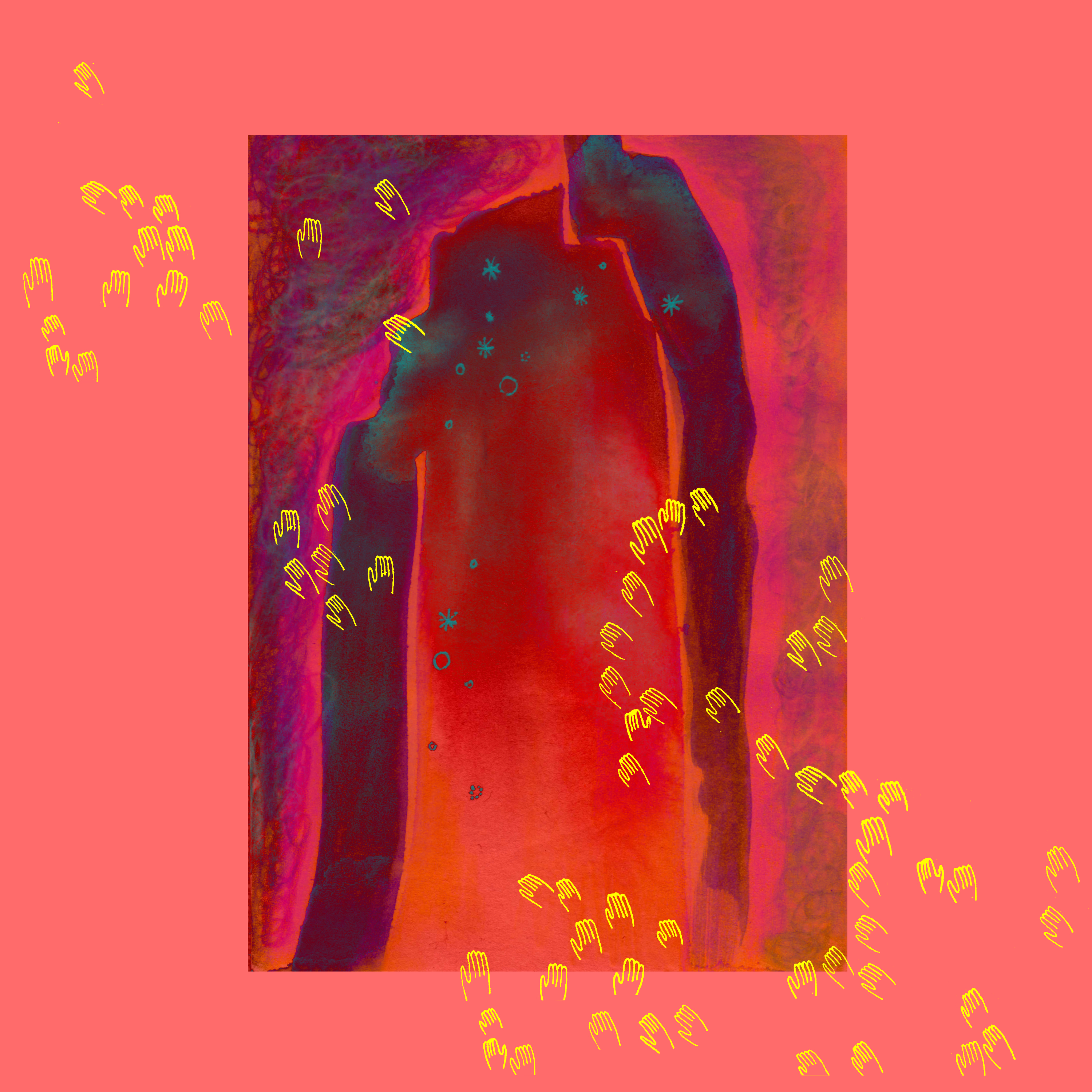 Figure: Being held by many loving hands. An illustration from end of 2019, reflecting on the process of gender transition, which at that point had been well underway, though there is not really such as thing as before or such a thing as after.