Dear friends and witnesses,
In this letter, I'd like to tell you about some recent & ongoing art/research projects related to building body knowledge through reflection. This has been a persistent interest for a very long time, but over the last year+ I have poured more energy into it than in the past, and also started to externalize the work in various artifacts.
I got interested in self-tracking in maybe 2008, when I was first asked to track my time, in 15-minute increments in a spreadsheet, as part of an undergrad research internship that had to do with self-tracking for chronic illness management. Truth be told, I managed to keep a streak of maybe a couple of days at a time at most, but I was intrigued by the idea.
Since then, I've incorporated the tracking of my body or its activities into making abstract artworks, typically obscuring the actual data. What's really difficult about working with one's own data is not even necessarily its (technical) imprecision or its (logistical) difficulty of collection, but rather having to face something I (probably already know to be) devastatingly true. Then, in 2020-2021, I taught some courses at Berlin's School of Machines, Making and Make-Believe about it. In 2022, I will have a short contribution in an upcoming Critical Coding Cookbook that contains the most essential parts of the curriculum I developed on data feminism x self-tracking x collaborative art practice.
Throughout that time in 2020-2021, I was very much grappling with the paradox of control that arises in self-tracking: often, the motivations for self-tracking in the first place have to do with gaining understanding - and, through that, control. However, all the tools that are used for this tend do result in losing control (sometimes in unrelated and unexpected ways). This emerges from the history of self-tracking, and how it embeds the neoliberal ethos of self-optimization. I ended up writing, with another artist, an article about this problem, and how art addresses it. You can read the article here, or watch us present it here. We are continuing active art/research in this area.
Besides all that very academic discussion of observing the body and tracking its activities, I was also continuously tracking my own time. (I go through periods of tracking for a few months and taking breaks, since I don't think "infinite" tracking of anything is either practical or, even if it were, that helpful for building body knowledge.) Last weekend marked the end of probably the longest-ever single tracking phase (there was no plan, it just worked out like it) - a streak of 217 days (31 weeks) of diligently tracking my disciplined time. This includes, for example, wage labor; deliberate practice of my fun skills; preparing and teaching yoga classes; emails and calls related to independent collaborative research; and so on. I use a very inclusive definition because especially for creative work, there is a common tendency to dismiss or discount many forms of labor which leads to burnout.
There were a few things I learned from tracking my time during most of 2021. The one I want to mention here is that, each week, I only spent slightly less than 6 hours on average doing anything related to these self-tracking courses or publications (including social media as well as doing my own self-tracking projects). Sometimes it was more and sometimes less, but overall, I experienced something that I knew to be true but often didn't feel to be true: a little bit of time plus persistence adds up to really quite a lot of energy/potential.
Time spent not working on these projects is also deeply impactful, because, through general life experience, my understanding of what is worth doing and how changes. It is far better to have spent 6 hours a week for a year and a half, than 12 weeks of full time work. This would be the same in wall-clock time, but it would be rushed, it wouldn't have space to develop organically, to respond to feedback, to incorporate inspiration.
Over this time, I have increasingly de-centered "self-tracking" and "quantified self." Increasingly the focus is on observing the unseen body more generally, as well as on participatory/performance approaches. For example, in the context of training as a yoga teacher, I ran a couple of experimental short session that mixed a guided movement practice with a drawing exercises. These sessions both had some positive feedback (some room for improvement, too) and very interesting from the perspective of art/research on the body, and how it overlaps with contemplative movement practice. There is something here which is in its beginning stages, and which is deeply fascinating to me. I am looking forward to see how it develops, step by step, in whatever time-frame it needs.
A little bit of time, plus persistence.
Best, Kit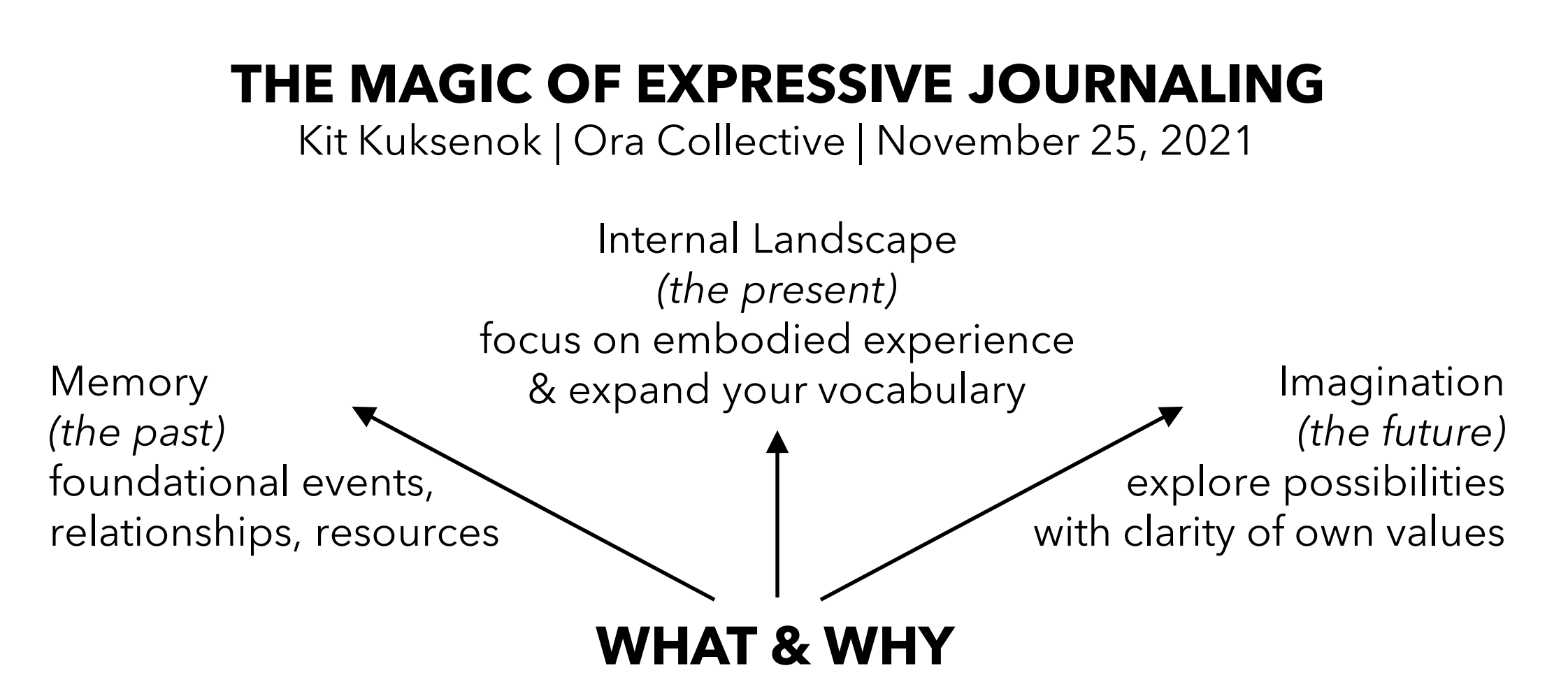 Excerpt from a handout for an hour-long workshop I ran about journalling. This used many of the ideas from the self-tracking curriculum, but reconfigured to stop centering technology. After all, the idea of long-term, systematic reflection practice is very broad and has a rich history far pre-dating tracking devices and apps.