THE VOICE OF ENERGY VOL. 043
Good day, friends. Thanks for opening this email and reading this newsletter. It feels weird to be doing this and writing about art when the rest of the world seems to be constantly on fire. But hopefully it is bringing some small measure of joy to your day.
This week, I bring you an interview with Nightshift, a Scottish post-punk group that made one of my favorite albums of this year, and reviews of three new films. Two are worth your while. The other should be avoided at all costs.
As I've been chattering about on Twitter, the spring fund drive for XRAY, the wonderful freeform radio station where I produce a show and for whom I serve as a member of their board of directors, kicks off on Monday. We have a big goal as a station, but myself, I have a humbler goal of raising $1,000 for the cause.
So far, we've reached just over 20% of that objective through early donations. I'm asking you to help get me closer to the finish line. All I need half of my subscribers to this newsletter to donate $20 each. Can you do it? I know that you can. Click here to support independent media and the kind of music that is too often brushed over by corporate radio and major streaming services.
---
Nightshift
There's a slightly prickly edge to this interview with Glasgow post-punk ensemble Nightshift. That's the nature of doing these via email and my inelegant attempts to apply a narrative and scene to a band that doesn't seem to want either.
As the various members of the group explain below, there's not much forethought that goes into the creation of the work that has landed on their two full-lengths—a 2020 self-titled release, and Zöe, this year's follow-up out via Trouble In Mind. The music is built from improvisation and play, which is then slowly formed into distinct songs.
Though, like any musician would, the five members of Nightshift (vocalist/keyboardist Eothen Stern, vocalist/multi-instrumentalist Georgia Harris, guitarist David Campbell, vocalist/drummer Chris White, and vocalist/bassist Andrew Doig) bring their own influences and experiences to the table, this music could only have been possible with this combination of minds and talents.
Leave the RIYL bullshit to idiots like me who review records on the Internet. Take this music on its own terms and enjoy the alchemical reactions going on between the razor wire guitar, narcotized vocals, quietly impactful drumming, and the lovely color added in by Harris' clarinet and judicious use of glass bottles as percussion.
What details you need to know is that the music on Zöe was constructed during pandemic lockdown, with each member working remotely. This allowed the music to be molded by each member, who often helped move the songs in completely different directions than their starting point. To these ears, it also sounds like the perfect reflection of reaching out to the world at large while we're all in isolation—warm yet fractured, disconnected yet harmonious.
How did Nightshift begin? How did you all connect up and start making music together?
Andrew: Summer of 2019, in true Glasgow fashion a combination of people and ideas coincided.
Chris: Me and Doig had been friends for a while meeting in London and then Glasgow when he moved up. He asked me if I wanted to play with him, Dave and Eo. I knew Eo a bit already from meeting in Rotterdam and seeing 2ply play. Dave I hadn't met but I'd listened to his previous band I'm Being Good's album, Sub Plot. We wrote, practiced and recorded for a few months and that resulted in our first tape. Georgia has been my friend for years, she's known for improvising and hosting jam sessions at our shared studio space. After telling me one night that she wanted to play in a band again I thought she would fit right in with Nightshift and shortly after the 5 of us started collaborating.
Dave: I knew Doig before moving to Glasgow. He'd put on gigs with I'm Being Good years ago that I used to be in, which were really memorably fun shows… After I first moved to Glasgow, I played in Doig's Robert Sotelo Group for a while which was really fun. Doig is a prolific genius of the song… Then myself, Doig, Eo and Chris got together in a practice space and that was instantly the most fun… a very spontaneously creative connection! We recorded a tape and that was really fun to put together… Then Georgia joined and during the start of the pandemic Doig came up with the idea of recording some loops and bouncing them around between us… we all jumped on board and I think I can speak for the others that it was a vital way to maintain creative equilibrium, sanity and yes… fun, which has been in rather short supply… Georgia made things 5 dimensional with the possibilities of interacting twin guitar parts and vocals and clarinet… and bottles, suddenly expanding the possibilities even further of the already wonderful combinations of Eo, Doig and Chris's lovely vocals…
Georgia: I've been friends with Chris for ages, since I moved to Glasgow 11 years or so ago. I was delighted to be asked to play with Nightshift because I really liked the first album and thought it would be fun to get involved. Since I didn't get much of a chance to spend much time with the other band members before the pandemic, it will be exciting when we can all relax and hang out together and make more tunes in person!
From what I've read, the sound of the band changed considerably during the time you've been together - particularly with the inclusion of Georgia into the mix. Is that a fair assessment? How do you feel that the band's music has evolved from your earliest practices/writing sessions?
Andrew: I have seen this mentioned in some of the reviews also, personally I don't feel our sound has changed, it was never defined in the first place. If Zöe was mellower, it was because of the way we made it remotely but even then there was no thought gone into a sound. The new songs we are working on right now some are really noisy, some are quiet, others have drum machine. Georgia has brought in another aspect of course which is very exciting. If anything we are still at the mercy of the pandemic, when it's over we can work as we did at the beginning again, together in a room which might explain some current differences.
Dave: The songs were pretty varied & open I reckon on the 1st recordings anyway with a feeling of whatever direction we went in we would follow. Georgia joining has just continued that spirit of the songwriting being open to any ideas and inspiration that gets us all excited..
Georgia: The clarinet is definitely a distinct noise!? I'm not super into the narrative that I'm responsible for changing 'the sound' of the band though. To me, the fun in making music is having creative freedom–not being bound by what you've done before or what you think something should sound like. I think we're all of the same mind and will keep evolving.
With a number of you playing in other bands and working on other musical projects, do you have to be very deliberate in your writing for Nightshift or does it come naturally - knowing what song idea will work best for a particular project?
Andrew: I don't think anything Nightshift does is deliberate, it all starts with improvisation and is built or restructured from that point. I personally don't see the influence of our other projects in our music but it could be there somewhere.
Dave: It definitely all comes naturally and there's no deliberate or calculated forethought on what ideas go where… it all seems to come together in an intuitive way.
Georgia: I think we are all influenced by one another, trying to make something together in a responsive way without preconceived notions. For me it's more 'deliberate' than the improvising I'm used to mainly in the followthrough–eventually committing to an idea and trying to refine it into a song.
This project adjusted somewhat easily to working during the pandemic, sharing and adapting ideas virtually rather than working them out in the same room. Did the material change dramatically from the intial seed of a song to what is featured on Zöe?
Andrew: I mean the seeds weren't even songs to begin with but loops so yes they were built up and changed completely as we went along. They were literally made from scratch.
Dave: It was really exciting & fascinating to hear what everyone had done as they evolved with each person's parts being added in all sorts of different directions and combinations, with a lot of ongoing message interaction and communication between us!
Georgia: Yes, definitely! It was always surprising to see how each 'layer' changed the song. This was the most fun part of making the album for me.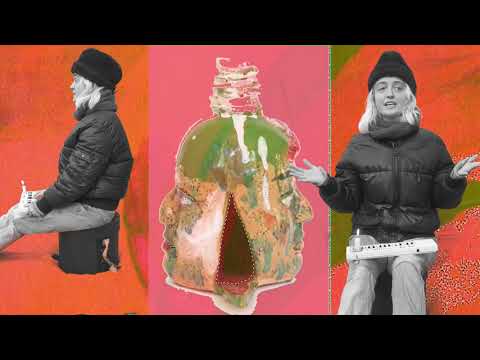 The lyrics of Zöe, at least as far as I understand them, almost feel like a reaction to the past year of lockdown and separation. Songs about connecting and bonding with others, reclaiming spaces, and, on "Power Cut," this reaction to being so reliant on technology and electricity. Do you feel that these themes were somewhat inevitable in response to what we are still dealing with?
Andrew: I can only comment on the two lyrics I wrote and sang and they are both connected to the pandemic or things that happened during it around the time of writing. I feel that Eo has a warm humanist element to her writing anyway though whether it's a pandemic or not, but that is just my observation.
Dave: As the non-lyricist in the band, I love hearing how everyone's lyrical themes evolve from an often initially instrumental base and very much agree with Doig about Eo's writing… I find everyone's lyrics and ways of singing and melodic arranging of ideas so surprising, unexpected and wonderful to hear as they transform the layers of music building up into something with a fully formed identity with intriguing themes and layers of meaning…
Georgia: I don't know if it was inevitable, but I'm not surprised those themes would be picked out. I can only speak for myself, but the pandemic/isolation definitely accentuated my usual existential dread and put me in a more subdued, pensive mood.
It feels like the music scene in Glasgow is getting a lot of attention thanks to artists like yourselves and Still House Plants. How does it feel to be part of that artistic community?
Andrew: It's great although I always find it funny the way scenes as romanticized, like SHPs: great band but never met them and don't know who they are personally! Like anything in life we have our friends and affiliates as well as our separate universes. Glasgow music is great though!
Chris: Glasgow has a healthy network of places for musicians to play and meet each other, I feel like Nightshift would have taken to the Glasgow live circuit nicely but unfortunately we haven't really got to that point. We haven't had the chance to socialised with other bands in venues as a group yet, our music has developed in jam sessions and studio setups. I feel like this has given us the opportunity to make music in different ways and one of the results is Zöe. The local record shop Monorail is tuned into whats happening and have supported us by stocking our music, I think this has helped us engage with the current Glasgow scene.
Georgia: I met most of my friends here through the music scene and I love a lot of Glasgow bands, past and present. I think like any decent-sized city we've got a lot going on creatively and it's fun to be a part of that community–I miss it!
As most, if not all of you, have other projects that you work on outside of Nightshift. Is it almost a relief to not have to be doing the work of heavily promoting the album through touring, etc. so you can work on other things?
Andrew: Not at all. In fact it's almost painful not being able to play the record live. It's such a huge part of the whole thing.
Chris: I don't know what its like to tour with Nightshift so I'm kind of looking forward to that. In general I really love recording music so I'm pretty happy that we've managed to find new ways to collaborate while gigs are unavailable.
Dave: I just wanna rock!
Georgia: I think it will be a long time before we could take opportunities like that for granted again… I can't wait to hit the road!
With that - how was the experience of doing the virtual live performance that you did last month?
Andrew: It was hard work for Eo and Chris especially who did 100 percent of everything to edit the visual/audio. It was logistically challenging but thanks to the talents of everyone involved it looks and sounds great I think. I just played the bass so for me it was pretty chill though lol.
Georgia: I'm glad we did it (especially kudos to Eo and Chris for making it fab!) but I really miss the sticky, beer-stained floors and sweaty physicality of being crushed in a room with a hundred other people. Virtual substitutes don't really cut it for me.
What comes next for you - both individually and as a group?
Andrew: Making new songs constantly at the moment, got loads shaping up. Why stop now? Individually, I am getting married. When things open up I am going to go and see my friends in London and get totally baked in the Hackney marshes.
Chris: I've been doing some mixing work for other musicians. Nightshift will hopefully continue to conjure up our new album.
Georgia: I'm hoping to get on a plane soon to see friends and family in the US. It's been over two years since I was able to go home!
---
Film Reviews
Shoplifters of the World (2021, dir. Stephen Kijak)
Everyone involved with Shoplifters of the World has so much to answer for. Supposedly inspired by true events, the film follows a boy with a thorn in his side and a shyness that is criminally vulgar (Ellar Coltrane) who, reeling over the breakup of the Smiths, forces a radio DJ (Joe Manganiello) to play records by the Mancunian band at gunpoint. As he does, four young outsiders bemoaning their lives in the supposedly humdrum town of Denver spend an American Graffiti-esque night together cruising to bars and parties as they hope, for once in their lives, they get what they want - be that sex or a plane ticket - with the broadcast as their soundtrack. A decent enough concept but handled with the hormonal excitement and wretched confidence of a 15-year-old. The screenwriters take on loan various Smiths lyrics and awkwardly use them as dialogue, while peppering the edges with references to music videos and photos of the band. And somehow every otherwise fine actor in the film buried any idea of their characters being natural and real to instead give dull and plain performances. I'm sure this film will come out and find the people that love it. As for my interest? They just didn't earn it, baby. Maybe in the next world. (available to rent or purchase through various VOD services)
The Banishing (2020, dir. Christopher Smith)
The inspirations behind The Banishing - and its central metaphor - remain plainly on the surface of the latest from British director Christopher Smith. But that is hardly a sin in the world of horror films. If anything, it's a net benefit to feel like you're in the hands of someone who knows and respects the genre. Smith and the three credited screenwriters clearly do and use that knowledge to patiently build a fine story that puts aside jump scares in place of dark atmosphere and growing dread. And they reveal all the necessary details with assured patience as we start to understand that backstory of a young priest and his family and the creepy house they moved into in pre-WWII England. Naturally it involves a young girl becoming possessed and the tension between the Christian and pagan traditions. I was still hooked in thanks to the nicely controlled performance by Jessica Brown Findlay as the woman trying to make sense of her daughter's odd behavior and her own strange hallucinations, as well as the sepia-tinged cinematography of Sarah Cunningham. (available to stream on Shudder)
Monday (2021, dir. Argyris Papadimitropolous)
The latest feature from Greek director Argyris Papadimitropolous plays like a condensed version of Richard Linklater's Before trilogy but injected with a lot of drugs and many other terrible people affecting the action on screen. Two American ex-pats (Sebastian Stan and Denise Gough) in Greece meet in a drunken haze and somehow decide their lustful hookups are basis enough for a relationship. They spend the rest of the film in an emotional tug-of-war - she trying to get this itinerant DJ and musician to start acting like an adult; he trying to get this immigration lawyer to loosen up. The tension that that creates never lets up throughout the entire film, which can be a little hard on the system considering this film's runtime scrapes the two-hour mark. In that way, though, the story fees entirely realistic in the same way as the final Before film, with these seemingly functioning adults forced to come to terms with the result of their impulsive decisions - and how the aftereffects of those decisions can linger and evolve in unimaginable ways. Even the barely there chemistry between the two leads fits perfectly into how this story ulimately plays out. An uncomfortable ride but one worth experiencing. (available to rent through various VOD services)
---
Thanks again for reading the newsletter this week. Back again Monday with more suggestions of films to check out during TCM's 31 Days of Oscar and on Friday with an interview with the amazing Sarah Louise about her wild new album Earth Bow.
(Artwork for this week is by Magali Reus. Both pieces are part of her new exhibition Earth Stretched At Noon, which is on display at Sommer Contemporary Art in Tel Aviv through May 31.)