THE VOICE OF ENERGY VOL. 040
Another Friday brings another installment of the newsletter. I hope it finds you well. I'm a mess of emotions today. Elation that my first vaccine dose is done, rage at what is going on in Georgia, and generalized exhaustion as I find myself once again juggling a lot of projects and responsibilities. (And still no word on potential big deal major project… sigh)
I'm also feeling a lot inspired by the recent news of Secretly Group employees unionizing, and that the union members at one of my outlets, Pitchfork, have unanimously voted to strike in response to Condé Nast's continued unwillingness to support their staff writers with a living wage. More of this, please.
Going to do an in person interview with a musician today for the first time in at least a year. Time to test out those dormant social skills and fret over my pandemic weight gain.
---
Hairetis Harper
There's a primordial quality to the music of Hairetis Harper—a feeling that this sound has been buried for eons in the Earth's crust, waiting to be tapped into. It may have to do with the instruments that bandmates Maria-Christina Harper and Yiagos Hairetis use for this project: the harp and the lute, respectively. Their chosen artistic tools date back thousands of years and have joined forces many times in their history as their individual tones blend together so well.
Hairetis Harper evokes those ancient qualities while keeping the music rooted in the current epoch through their use of effects pedals and their very modern musical backgrounds. Hailing from Crete, Hairetis has been involved with a number of projects that either hold true to his home's folk traditions or, as with his work with the hip-hop ensemble Social Waste, applies those instruments to a contemporary idiom. Harper is an in-demand and genre fluid musician in her native England, who plays her own music when she's not being hired out for performances and studio work. She is also a trained music therapist who serves people in hospitals and prisons.
Hairetis Harper has become a main focus in the lives of these two artists, ever since they met at a cafe in Crete and spotted a shared musical curiosity and artistic sensibilities. They were soon improvising together, performing live, and slowly forming the material that would make up their first album Draft, which was released late last year through Same Difference Music.
Listening to Draft is like walking into the Delphic Oracle and getting lost in a miasma of colorful smoke and heady scents. The music is slow and deliberate, with each melody and drone flowing out of the haze and gently oozing together. Like all great duo albums, the work of each player is distinct yet connects so perfectly together.
Hairetis and Harper were kind enough to spend some time responding to my questions via email, helping me better understand their shared history, their individual work, and the future of this wonderful project.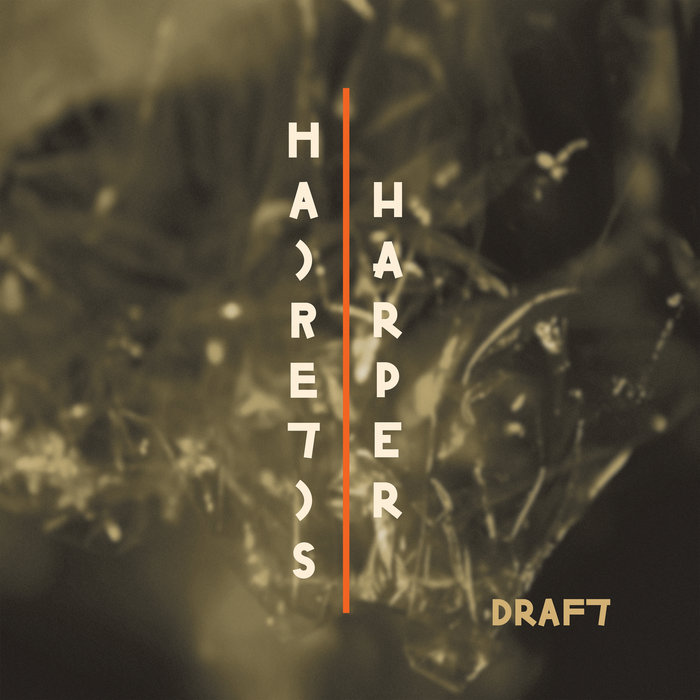 Draft | Hairetis Harper
7 track album
This project was born from conversations that you two had in a cafe in Crete. What did you talk about when you first met?
Maria-Christina: Our meeting was in Yiago's village in the mountains of Crete. It was an inspiring moment when we both confessed that we needed to just play some music without thinking of the outcome. I was already fascinated by the experimental scene in London and found challenging to combine that with a musician with a traditional music background.
It sounds as if this project began mostly through live improvisation. How long did it take for the material to start taking shape as "songs"?
Yiagos: The first day we rehearsed "Intro," our first track of our album was created. Our goal was to play and keep things and moments we liked. So, even when we started playing live, our music was still being shaped. Within a year we had the structure of our pieces with enough space to allow for improvisation.
Was the recording process a pretty effortless one then? Did the music continue to evolve as you got into the studio to record these pieces?
Yiagos: By the time we got to the studio, we had performed a lot, so the material had been formed. Our take on the traditional piece, "Tsakoniko," was added in our repertoire and recorded later.
Maria-Christina, you use a fair number of effects pedals on your harp throughout this recording. How did you start incorporating those into your playing? Were you seeking out a particular sound or feeling with the pedals/effects you chose?
Maria-Christina: Since I can remember I wanted to do something different with the harp. I grew up with classical music as I studied classical harp and piano, but at same time in my spare time I would listen to rock, blues, country and a lot of '70s psychedelic rock. Improvisation was something that always interested me and breaking old boundaries and creating a space where anything was possible was one of the things that made me get lost into the music. In my journey of musical experimentation, I am equally interested in further exploration of natural ways to create different and interesting sounds on the harp as well as with using guitar pedal effects. I think some pedals were created for the harp without the creators knowing it, i.e the wah pedal on the harp sounds great!
Yiagos, what can you tell us about your lyrics for this album? Are these extensions of the improvisation where the music has stirred something up in you that you need to sing? What are you singing about?
Yiagos: All the lyrics are from traditional Greek songs that we thought would work well with our music. Sometimes the music would dictate how the lyrics would sound and sometimes the music would follow the atmosphere that the words would create. Two songs have lyrics, "Bells" and "Tsakoniko". "Bells" talks about the fact that light is timeless and "Tsakoniko" about forced marriage, which used to be a common thing some time ago in Greece.
Hairetis Harper - Bells | Live at Duende Jazz Club - YouTube
Lute player and vocalist Yiagos Hairetis (Crete) and experimental harpist Maria-Christina Harper (London) collaborate for the first time to produce a dynamic…
How has it been for you to release this album during this ongoing pandemic?
Yiagos: We are fortunate to have an amazing manager and label who make sure more and more people hear our album and the response has been amazing! It would have been great to be able to perform our album live and hopefully we will be able to do it soon.
You have both worked with hip-hop artists outside of this project - is that a style of music you are particularly drawn to? Do you hear that as an influence on your work together?
Maria-Christina: Ha, I never thought about this. Maybe in an unconscious way this has been a common ground but it definitely shows that we are both exploring music genres that are not necessarily traditionally linked to our instruments.
Maria Christina, what can you tell us about your work as a music therapist - particularly your work in the prison system? How has that experience affected you and your music/life?
Maria-Christina: I studied my MA in music therapy at Roehampton University in London where we were taught that active listening and free improvising plays a key role to communicate, listen and try to understand another human being within a music therapy session. Being already an active professional musician, I did wonder about the different approach I maybe had while listening and playing with other people/musicians until then. Of course, in music therapy the process is intentionally therapeutic and the music therapist suggests musical paths to the client, though in a rehearsal or concert, free improvisation is maybe a less conscious and more of an unintentional musical journey where all musicians suggest musical ideas equally.
My work at hospitals, hospice and in prison settings has affected me on so many levels; mainly helping me realize that whatever one's background is, people fundamentally seek for love and acceptance. Specifically, through my work in prison settings I see how people are most of the times in need of finding an identity, for several reasons they either feel they lost it or they never had the privilege of being allowed to the privilege of discovering their true self. Like most institutions, prison is a microcosmos of our societies.
Yiagos, there seem to be a healthy community of artists playing more traditional Cretan music - or at least adopting the instruments of that music. Is there a concerted push to keep that music and that sound alive there?
Yiagos: Music plays a big role in our lives in Crete. Music gives meaning in our lives and I don't think a Cretan can live without music. It is a deeper need of communication through music that makes us want to play Cretan music, we really like it!
What comes next for both this project and for you two individually?
Yiagos: Hopefully, we all be able to travel again and play music. We have a few concerts planned, but the world is quite different now and who knows what will happen. Individually we both have other projects happening at the same time.
---
That's it for now, citizens. I hope, as always, that you are doing well. Back again next week with more.
Art for this edition of the newsletter is by Matan Ben-Tolila, whose exhibition Cat Steps is on display at Noga Gallery of Contemporary Art in Tel Aviv through May 5