Hello everyone! This week we have articles on reader-insert fic and music fandom (and an interview with me about fans + platforms!), some very charming Frog & Toad fanart, and multifandom pining fic. — Elizabeth
new stuff
"On 'Y/N, ' Reader-Insert Fanfiction & Writing Yourself Into the Story" by Stitch at Teen Vogue
Featuring interviews with fanfic writers, this article explores the rising popularity of self-insert fanfic—and the resulting pitfalls when it comes to representation.
The "Turning the Tables" series at NPR
While the overall series is about challenging and redefining the historically exclusionary pop music canon, recent pieces have been personal essays featuring some really great writing on what means to be a music fan.
"Elizabeth Minkel On Fanfiction, Culture, And Platforms" at The Browser
Elizabeth did a long interview with The Browser about fic, touching on communal writing practices, tropes, platforms, and the current (gloomy) state of the web.
older stuff
"For the Love of Footnotes: When Fantasy Gets Extra Nerdy" by Elyse Martin at Tor
"Footnotes are the flag of continued conversation: between author and novel, between characters, between narrator and reader, between narrator and narrative, between book and other books, and most of all, between book and reader."
tumblr & beyond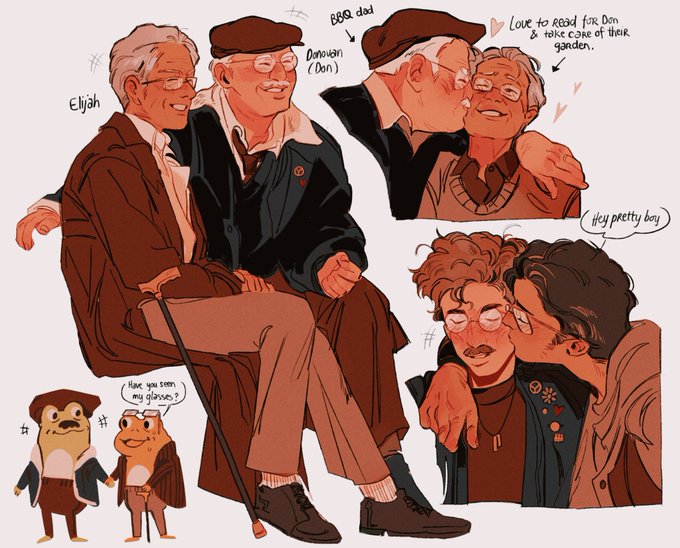 Frog & Toad fanart by noahdeaart
"A game my roommate invented: read out fic titles from AO3 and make people guess if they're smut or angst."
Some gorgeous vintage Kirk/Spock zine fanart.
"i love when mulder or scully have some extended emo ass voiceover"
yes, star trek really IS like that, unfortunately.
There is literally no way you could guess which celebrities were invited to the original launch party for Skyrim.
fanfiction
Pining: unsurprisingly, one of the most popular tropes in our submissions (by far). If you're a big pining fan, we've run a number of lists over the years, including one this past June. Thank you so much to everyone who sent in a rec! — Elizabeth
"When I See Your Light Shine" by boasamishipper. 18K words, rated Mature.
Fandom: Ted Lasso; Ship: Sam Obisanya/Dani Rojas
Recced by: Caroline
Backstory: Anonymous dating app Bantr is the new jersey sponsor for AFC Richmond, and one of the football club's players, Sam Obisanya, thinks that he's found love on the app. Could his mystery man be someone he knows?
Rec: I always love when a fic uses texting to good effect, and this story is a fun take on the classic text fic with a dating app twist. This fic has lots of pining and miscommunication, and the payoff is great.
Content warnings: N/A
"Deceptive Appearances" by Michelle18. 66K words, rated Teen.
Fandom: Naruto; Ship: Gaara/Naruto
Recced by: anon
Backstory: "Canon: Naruto and Gaara both grew up as demon vessels for their ninja villages, and Naruto saved Gaara from hopelessness.
"This fic: After the Akatsuki attack on Suna, Naruto discovers a top-level Suna secret—Gaara is a woman! Naruto sets up romantic partners for his romantically-clueless friend. The ninja world is ablaze with gossip, wondering what it is about the Kazekage that has all the young male prodigies lining up to date the Kazekage. Comic misunderstandings abound."
Rec: Good comedic writing with dating mishaps as Gaara ventures into the romantic realm for the first time.
Content warnings: Some homophobia, sexism
"We'll Figure It Out" by AcidKraken. 15K words, rated Teen.
Fandom: Fallout (specifically Fallout 3); Ship: Charon/Female Lone Wanderer
Recced by: Ellie
Backstory: Deals with issues of consent and agency, in a rough, post-apocaliptic world. Charon—basically an indentured servant—tries to come to terms with his tender feelings towards his employer.
Rec: It's a gentle, remarkably methodical exploration of free will and gradual healing (from near dehumanization to being capable of forming a meaningful romantic attachment). Realistic yet respectful, incredibly cinematic, and featuring some intricate, cerebral prose.
Content warnings: The aforementioned issues of consent (in a broader sense, not merely sexual), as well as references to slavery and depictions of the aftermath of life-long abuse
"Waiting for Spring" by thievinghippo. 131K words, rated Explicit.
Fandom: The Untamed/MDZS; Ship: Lán Zhàn | Lán Wàngjī/Wèi Yīng | Wèi Wúxiàn
Recced by: bae_huaisang
Backstory: The Untamed is a Chinese historical fantasy (xianxia) show with Wei Wuxian and Lan Wangji as the main characters. This is a modern sports AU set in the United States and focused on professional baseball.
Rec: This is a gorgeously detailed and deliciously slow burn romance. Readers need not be baseball fans to enjoy it (I'm certainly not!). MDZS/Untamed fandom is absolutely brimming with excellent fic, but this one stands out for the care and restraint that the author brings to the pairing, as well as the absolutely scorching culmination of years (!!!!!!!) of longing. Delightful.
Content warnings: Minor violence, sports-typical drug tests, sports injuries, canon-typical abusive family dynamics, generalized anxiety, depression
"One Elegant Solution" by Mikkeneko. 369K words, rated Mature.
Fandom: Dragon Age II; Ships: Anders/Garrett Hawke, Jowan/Female Surana
Recced by: anon
Backstory: After the catastrophic end of his time in Kirkwall and his relationship with Garrett Hawke, Anders is devastated; but still determined to build a refuge for mages. Along with a handful of survivors from collapsing Circles, he builds said refuge in the most unlikely place possible: on the front step of the dwarven kingdom of Orzammar.
Rec: A sweepingly epic novel of a fic. It has politics, incredible OCs, and characters put up against such steep odds that watching them succeed is downright cathartic. Also contains the most white-knuckle pining I have ever seen in a fanfic.
Content warnings: N/A
"Moominland in the Mirror" by clefairytea. 53K words, rated Gen.
Fandom: Moomin; Ship: Moomintroll/Snufkin
Recced by: Elliot
Backstory: The Moomins are a family of hippo-like trolls who live in a peaceful valley and get into adventures. This story starts with Snork Maiden (who is dating Moomintroll) and Snufkin (Moomintroll's best friend) swapping bodies. Self-exploration and pining ensue!
Rec: I love the way this story explores how difficult it can be to bridge the gap between who we want to be and who we've been told we should be. I also love that it doesn't sideline Snork Maiden—her development is given as much attention as the relationship between Moomintroll and Snufkin.
Content warnings: Heteronormativity, compulsive heterosexuality
FINAL THOUGHT
That's all, folks! Have a lovely weekend! — Gav