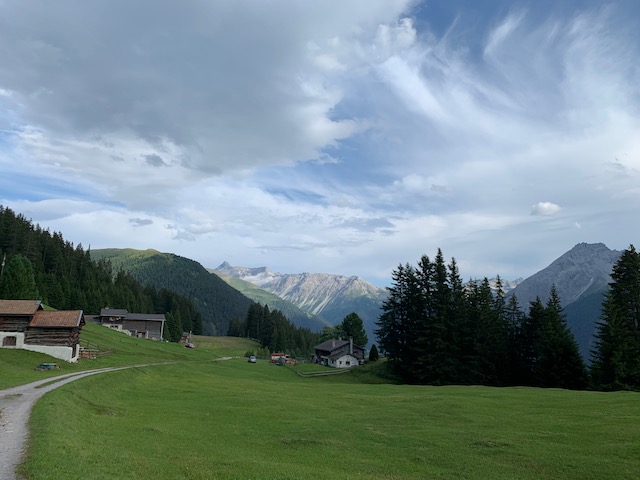 Reimagining Place for a better world
Last week I spent the week at what I usually call 'my favourite place on Earth' (see image above). It is an absolute privilege to be able to go to that gem in the Swiss Alps and spend time there every year. The views onto the surrounding mountains are stunning and there is a great hike I do every year to a mountain top at 2,622 meters above sea level (about 8,600 feet). The place itself is on about 1,800 m (ca. 5,900 feet) and accessible via a small, quite steep gravel road that is restricted to cars that have a permission to use it, which you only get if you have a good reason to drive up there (like owning a cabin or renting one).
My aunt's family owns a cabin there (the one on the right in the image above) and they spend quite a bit of time up in it every summer, making hay for their animals. The hay in the alps smells fantastic when it dries in the sun as it is full of flowers and herbs and it reminds me of my childhood in which I spent whole summers with my aunt helping out on their mountain farm.
There isn't much to do up there. There are a hand-full of cabins and most people come up to spend some quiet time there relaxing, reading, hiking, etc. or they are farmers and come up to make hay. It is a place to slow down and connect with the surrounding nature. The forest this time of the year invites to forage for mushrooms, particularly chanterelles and boletus (see below our own harvest).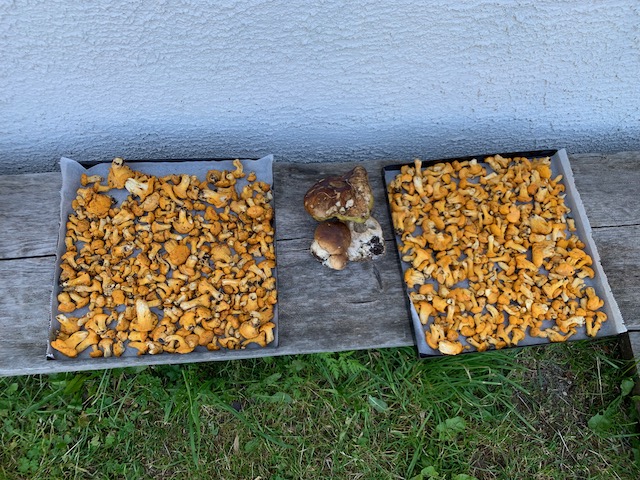 There are lots of orchids, particularly Black Vanilla Orchid (Gymnadenia nigra) and there is one specific place with lots and lots of Edelweiss (Leontopodium nivale) - see below.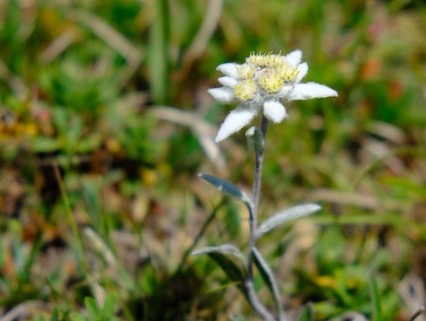 The week before, I spent a few days with some friends in a retreat in Sweden, on an island about an hour's drive out of Stockholm. The person who invited us to her place for the retreat had bought that place about two years earlier, moving out of the heart of Stockholm where they lived in an apartment that was rather small for the large family. Now they have a large house with a number small cabins around it so they can accommodate quite a large group of people. There is also a forest adjacent that can be explored and in 15 minutes you can walk to the lake that invites for a swim - if you are that sort of person. The family is enjoying that place even though it means longer commutes and the lack of immediate access to food stores and other shops.
Normally I live in Gateshead, near Newcastle-upon-Tyne, in the North East of England. We moved there for professional reasons - my wife got a job at the university there. Newcastle-Gateshead is a metropolitan area with about 1m inhabitants. The area used to brim with industrial activity. Indeed, our house is built on an earlier industrial site. But the area is now one of the poorest areas in the whole of England, after the decline of the coal mining industry in most of the country. A big part of my professional interaction locally is with people who work with disadvantaged populations and the level of children that go hungry if they are not fed at school is staggering. Yet the people who live there are generally very proud to be from the North East, to be Geordies. They identify with the industrial past and the stunning landscape both at the coast and in the hinterland, shaped by the Pennines and the Cheviots.
What is the role of place in our lives? What are places you identify with or you spend time in? What do these places mean to you? How do they enable your work? How do they contribute to your well being (or not)? How much are you engaged in these places? How much attention do you actually pay to the place you live in?
At Mesopartner, the little consultancy I'm part of, we have always had a close link to places and regions. One of our core areas of work is local and regional economic development, enabling places to strengthen their economy. But economic activity and vibrancy is closely linked to other aspects of place, like the attractiveness for people to live there or the ability of various actors to come together and agree on what is needed to make the place a better place. Looking forward, places will have a central role in the great transformation towards a sustainable society as outlined by the Sustainable Development Goals and the requirements of the Paris Agenda to mitigate climate change.
How can we reimagine the role of both community and place and our relationship to place in order to strengthen its role in the challenges we are facing? How can we contribute to the vitality and vibrancy of the places and communities we work in? This question is guiding a dialogue series that we are launching in September. Let me know if you are interested in joining, it will consist of five online conversations of 90 minutes each throughout September. Just reply to this email and I'll send you more information.
The Paper Museum
The Zapatistas are working towards constructing what they refer to as 'Un Mundo Donde Quepan Muchos Mundos' ('A World Where Many Worlds Fit') by emphasizing the dignity of 'others,' belonging, and common struggle, as well as the importance of laughter, dancing, and nourishing children.
Why have I added this to my Paper Museum? I have been thinking about the concept of place quite a bit in connection with my company's theme of Reimagining Place in 2021. A friend pointed me to the idea of A World Where Many Worlds Fit which I feel is in itself a reimagination of place, as it makes us realise that our way of seeing the world is not the way anyone else sees the world. Many people in the West seem to think that our world view, our civilisation, is universal, which is why we want to propagate it through colonisation (now called globalisation) - we bring our solutions to all different places because we think they are superior. If we assume that that is not the case and allow for a world where many worlds fit, our experience becomes much richer and there are many more right answers to all kinds of questions and problems. Our resources would not only be limited to what we can come up in our world, but what all the people in all of their worlds can come up with.
References: Gahman, Levi. n.d. "Zapatismo."GLOBAL SOCIAL THEORY(blog). Accessed August 18, 2021.https://globalsocialtheory.org/topics/zapatismo/.
More for you to enjoy
If you are into design thinking, you should read this: Design Thinking is a Rebrand for White Supremacy