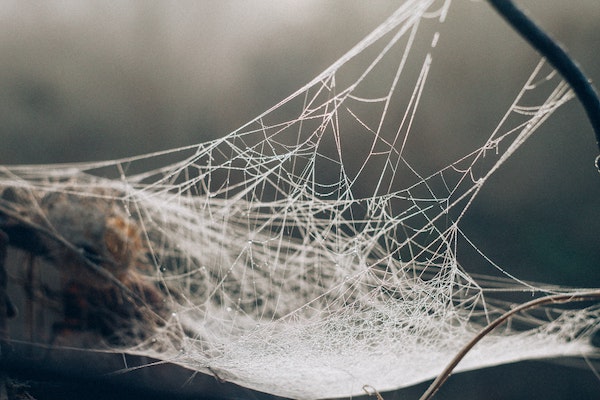 Plucking the Chords
How can we think about action in complex, dynamic human systems? I wrote about the problem with attempting to fix problems before.
I have started thinking of complex human systems as a vast, multi-dimensional network or spider's web. While there are shortest connections between two nodes in this web, when you pluck the net at one, the vibrations don't only travel through that shortest connection but also via other routes and pass other nodes.
But not only are we plucking nodes when we intervene in such systems by introducing difference, these systems continuously vibrate because other people are plucking nodes and links and because the web itself is alive with adaptive actors who make it up - indeed, we are part of that aliveness or we become part of it when we start engaging with a group of interrelated actors. While there is a lot of noise in the vibrations of the web, there are also patterns that denote some stabilities in how things are seen, thought about and done. We can detect some of these patterns.
I just spent a week in Moldova assessing the system of how the entrepreneurs and other relevant actors access new knowledge and learn together. We focused on Agriculture and ICT. A problem that we identified is that modernisation of agriculture and the adaptation of products to the demand of various markets is happening rather slow. We found one pattern in the vibrations of the web in that farmers and other agri-businesses access new knowledge through input and equipment suppliers - the people who sell them seed, seedlings, fertilisers, pesticides, tractors, storage and processing equipment, etc. These are also the people the farmers generally go to if they have a problem they cannot solve themselves or among their peers. But they are also seen as biased – as mainly wanting to sell their own products. Some of them were very open about that when we talked to them. The formal knowledge system - agricultural colleges, research institutions, the Agrarian University, etc. do not seem to play a big role.
How do we now start interacting with the actors in that system to shift this pattern? As foreign development actors with money, we could just give the farmers direct access to knowledge and new technologies by providing it to them. But this is a short-term fix that depends on outside actors being there and funding such knowledge transfer. We want the system to evolve in a way so different ways of knowledge provision and learning emerge naturally. So we somehow need to find a way to interact with the patterns and vibrations present in the web to shift these patterns. Because of the complexity of the system this is not a simple thing to do. In the Moldova case, we are not yet at a point where we have come up with ideas on how to do that.
Yet there are some principles and guidance from complexity practitioners that we can use here:
Assess the stability of the patterns you are facing. You can differentiate between those patterns that are highly stable and there is a broad agreement that this is going to stay like that for the foreseeable future. Then there are dynamic patterns that have the characteristics of self-organising or complex adaptive systems. And then there is pure randomness. Dave Snowden's Cynefin framework helps to make sense of what you are facing. Depending on the stability of the patterns, different types of interventions are possible. I am going to focus on the complex and dynamic patterns here.

In a complex space, always try more than one thing in parallel in order to probe the system and see where plucking could lead to shifts in patterns – but be sure if they fail they don't hurt anyone. Dave Snowden calls these parallel interventions a portfolio of safe-to-fail probes. The structure of these portfolios should include some probes that are highly indirect attempts to shift patterns and some that one could call 'naïve' as they stem from an understanding of the situation that is totally different than yours.

In complexity, interventions should target constraints within which the actors self-organise, or attractors around which people organise. Chris Corrigan has just written a great blog post in which he describes the use of constraints. Connections between people are for example a possible constraint to shift. The way people perceive the world is an attractor that can be shifted. This is way of approaching a situation can be enhanced by looking at Nora Bateson's Warm Data which is deliberately questioning perception and building relationships.

To choose which constraints or attractors to target, Dave Snowden offers some helpful heuristics in the form of three questions: What can we change? Out of this, where can I monitor change? Out of this, which ones do I want to amplify and which ones to dampen?

So we need to continuously monitor what is happening to be able to see whether your plucking of the nodes stimulates new favourable patterns or rather unfavourable ones. The former ones can be amplified while the latter should be dampened.
Our plucking the chords of the vast complex web of a human system will add information to the system. In addition, we might also be able to add some new connections and shift some constraints. We can amplify some patterns by spending more energy (money, resources, people) on it.
Affecting shifts in complex systems is certainly not easy and the result might look very different from what we expect. But this is no reason to get paralysed and not act at all.
The Paper Museum
From the article 'Leveraging knowledge for impact' by Miller Bojer. Mille is writing about how to get more effective interaction between science and policy (or any knowledge source with any decision-maker). She uses three examples, one being the Justice Transformation Lab (JTL) her company Reos Partners helped to build. In the example, she shares the following insight:
In the context of this work, Maurits Barendrecht, Director of Research at HiiL [the Hague Institute for Innovation of Law] said to me, "if you work only with the opinions and intuition of the stakeholders in the room, you are missing out on so much more knowledge that the world has to offer." In my experience, many multi-stakeholder processes are limited in this way, believing that ownership will be compromised if expertise is brought in from outside. The question the Justice Transformation Lab continually balances is how to leverage this knowledge in a way that doesn't undermine the ownership and dignity of decision-makers and hence their motivation and leadership.
For me the question on how to combine bottom-up wisdom with wider, more generalised scientific knowledge (or any useful knowledge from the outside) has always been interesting. In the article, Mille shares three examples and three success factors that are really useful. I have enjoyed the creative ways in which they combine these domains.
More for you to enjoy
Ian McGilrchrist introducing his new book The Matter with Things in this Webinar Recording. Well worth the 70 minutes!
Image
Photo by Anthony Ievlev on Unsplash