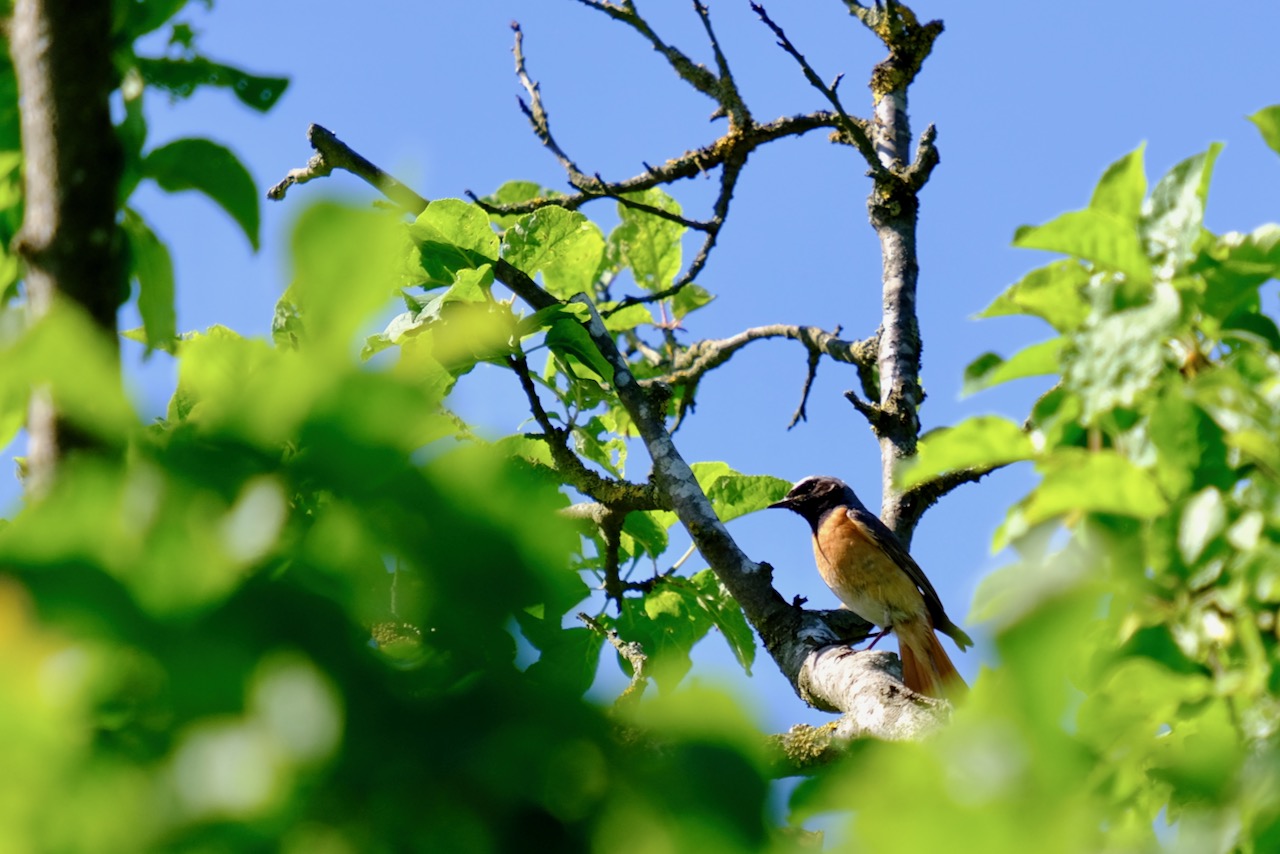 (Male Common Redstart - my own picture)
Learning is uncomfortable
When are we learning? Learning happens when there is a discrepancy between our perception of a phenomenon and what we would have expected – and when we consequently change the structures of beliefs so we would adjust our expectations accordingly. This also works when we read something and it rubs against the way we have understood things to work. We can then try to apply that new insight and see whether it leads to an improved experience – i.e. more coherence between our new expectations and how we perceive the world.
This rubbing of expectations and perception against each other that leads to learning can happen on different levels. It can happen on a very superficial level where we would only need to adjust a small, peripheral part of our belief system. For example, when we learn that what we used to think of as one species of birds are actually two because in one species the male birds have a band of white feathers on their head (as in the case of the male Common Redstart as compared to the Black Redstart). That does not require us to restructure large parts of our believes in what birds are or how birds behave. Yet it can also happen that some very deeply held beliefs, upon which many other beliefs are built, are suddenly questioned. For example the belief that I am an individual being that is separate from other people and the environment and that I am in control of myself and my own behaviour. If we suddenly find out that much of what we think about and much of how we behave is not based on autonomous processes but rather is deeply entangled with the society and culture we grew up in, this might deeply shift our understanding of ourselves and can be a very uncomfortable insight for many (for more on that concrete case see The Paradox of Agency).
I imagine the total collection of beliefs that I hold as some sort of a network with each belief being a node, connected to other beliefs that built on each other. For example the belief that I can make autonomous decisions builds on the belief that I'm separate from other people and so on. All my beliefs build a vast network of nodes and connections, some areas more densely connected than others and some nodes more central than others. The more central the belief or the more other beliefs build on it, the more discomforting it is to find out that that specific belief is not holding true anymore with my perception of things because that would require me to adjust a whole lot of other beliefs. A natural reaction is then to dismiss the perception, rather than to question the belief. And indeed, our brain works in a way that many perceptions are filtered out before they even become conscious if they don't fit our existing structure of beliefs. In that way, we can avoid learning all together – we just need to barricade ourselves into our existing belief structure and dismiss any perception that is at odds with it. It will certainly help if we are exposed to the same discrepancies over and over or that the specific beliefs are challenged in differnt ways.
We can try to become more attuned to when we feel uncomfortable. I am trying to do that more and more. When I feel uncomfortable or feel annoyed with something, I ask myself why. What is the reason for the discomfort? Is it because something that I'm experiencing is not in line with how I think things should work? Obviously not every time I feel annoyed there is something to learn. But it is a good weak signal to stay attuned to.
Having said all that, I realise that just speaking about discomfort in general as necessary for learning may be a bit too simple because discomfort can also stifle learning. I recently read an interesting article by Rebecca Freeth and Guido Caniglia titled "Learning to collaborate while collaborating: advancing interdisciplinary sustainability research" (Freeth and Caniglia 2020). I mentioned it under 'More for you to enjoy' in one of my recent letters. In the article, the authors present a framework that combines five different dimensions of epistemic living spaces with three learning zones. Relevant for what I wrote above are particularly the learning zones (but I really recommend you also check out the epistemic living spaces). The framework differentiates between the comfort zone, the learning zone and the discomfort zone. For Freeth and Caniglia, "the comfort zone corresponds to experiences that are safe and familiar." In this zone, things are generally predictable and you will not experience discrepancies between your assumptions and beliefs and your perceptions. In the discomfort zone, "high levels of collaborative novelty, dissonance or conflict can engender deep discomfort." The authors contend that people "experiencing high levels of discomfort may feel cognitively or emotionally overwhelmed, which can block open inquiry, reflection on sources of discomfort and creative collaborative thinking to address complex research questions." So the sweet spot lies somewhere in between, which is the zone they call the learning zone. But I still hold on to the notion that you need some sort of discomfort to learn. So maybe the learning zone is the sweet spot of discomfort and what is called the discomfort zone would better be called panic zone (which it was called in the orginal framework Freeth and Caniglia built on). You can read more about that in their paper (the paper is paywalled but I found that chapter 3 of Rebecca Freeth's PhD thesis seems to be the same as the paper. You can access it here.)
Have you noticed what triggers learning in your own case? I'm curious to hear more. Send me a message by just replying to this email.
Reference: Freeth, Rebecca, and Guido Caniglia. 2020. "Learning to Collaborate While Collaborating: Advancing Interdisciplinary Sustainability Research."Sustainability Science 15 (1): 247–61.
The Paper Museum
This is taken form a transcript of a lecture by Gregory Bateson at a Lindisfarne Conference on "How do we know what we know?" (the recording can be heard as episode 27 of the Lindisfarne Tapes podcast).
Bateson very early on in the talk quotes a whole passage of a piece by William Blake, ending with: "I question not my corporeal or vegetative eye, any more than I would question a window concerning a sight. I look through it, and not with it."
A few quotes from the lecture that seem relevant to me with regards to how we perceive the world:
This seems to be very important for the sort of inquiry that we're trying to engage in—that whenever the intellect comes between as an obstacle, we get caught up, and whenever you don't use it, you talk mush. Therefore, the thing to do is to look through it [the intellect, that is].
Bateson then goes on and describes an experiment he often does with students of his. He would draw a very precise shape onto the blackboard. He would then ask the students to describe "that". In most of the cases, the students would try to somehow slice the shape into different parts that can be described with words they know, the most obvious one being an unfinished hexagon and an unfinished rectangle.
After describing that experiment, Bateson then makes the following point:
Notice that the parts, in general, are imaginary, and in order to describe things we give them parts of which not only the demarcation of the part is imaginary, but the, you know, the part itself is not complete. There isn't a hexagon there, there isn't a rectangle there, but it's handy to imagine one, and then to use that for description. So that what you get is a very funny state of mind in which you discover that all the time you're making up, imagining, creating, if you will, the devices of description, and that these devices commonly are divisions, parts, occasionally of large scale analoges […]

So that if we look through this whole story [of the students describing the shape on the blackboard], we begin to find out a lot of interesting things. You see, the illusion is that the object to be described and the description as a product are what science is about. This is not so. What science is about, is looking through the techniques of description, and through the object described—it's and through the object described that is the trick—to something lying behind. And that's where we keep, in a sense, funking the—what shall I say—the identity of ourselves in the whole business. It's when you look through the pathway of description and the object to what lies beyond that, that you meet yourself again. [Emphasis my own.]
I have been thinking for quite a while about that last sentence in bold: "It's when you look through the pathway of description and the object to what lies beyond that, that you meet yourself again." The conclusion I have come to – and it is in no way certain that I got it right – is that if you – as Bateson says – look through something you ask yourself the question "what does the way I perceive the world (the "pathway of description") and the way I describe an object and its relationship to the world tell me about myself and my own place in the world?"
Reference: Bateson, Gregory. 1976. How Do We Know What We Know? Lindisfarne Tapes Vol. 27. https://lindisfarne-tapes.simplecast.com/episodes/g-13-gregory-bateson-yJx4coaW.
More for you to enjoy
Have been reading mostly books this week, so not much to share here … I'm still really enjoying Bruhn and Böhme's book, half-way through now. And also reading lots of the great Bateson, as you might be able to tell …