Ronnie Spector, who died this week aged 78, with David Bowie and Iggy Pop in 1976 (her expression!!!)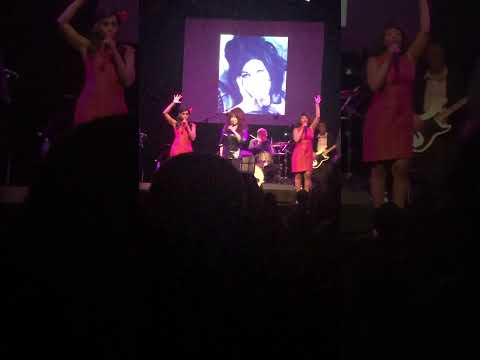 Ronnie Spector sings 'Back to Black' in tribute to Amy Winehouse, in 2019.
This newsletter's subject line, "you went back to what you know," is from 'Back to Black'.
---
Hi there!
Thank you for taking a moment off from piling all your booze into suitcases for the big rager at 10 Downing Street tonigh- er, I mean WORK MEETING. IN THE GARDEN. 10pm-late. Anyway, thanks for pausing to read this.
I've got some exciting news about I Miss Amy Winehouse coming out today - more London dates, in fact a whole week of them! I'll pop these out on my social media, so keep an eye on me over at Twitter, Insta, or even LinkedIn!
I've also been watching some great TV and listening to some brilliant podcasts, so I've popped them below, as well as links of the week and to my recent + upcoming work.
Look our for this newsletter every few weeks, as I keep you updated on what's going to be a busy year for me with lots of events you can come to - as long as Covid lets us...
Happy sunny Friday if you're in London, and enjoy your weekend!
Suchandrika x
---
what i've been watching
- Station Eleven
- Search Party Season 5
- Yellowjackets
what i've been listening to
- Station Eleven Official Podcast
favourite links this week
- We are living through a time when all the stories the larger culture tells us about ourselves are being rewritten
- The real question, then, is what is worth striving for?
- To learn new words of English, I had to let go of some of my Arabic. It was like taking a hammer to the home I had built in the Arabic language word by word, over many years
- Chas takes a breath, drops his armor, and says the most vulnerable and beautiful line of the film, "I've had a rough year, dad."
- Trauma trumps all other identities, evacuates personality, remakes it in its own image.
- here's what i texted famous actress cynthia nixon from the center of my shame spiral as i circled the emotional drain
what i'm getting up to (do get tickets for my shows and classes pls)
Comedy Crash Course - Funny Women
With 2022 just starting, we renew our commitment to help build the next generation of comedic talent. Don't lose track of your objectives and jump head first into our next Comedy Crash Course. Featuring an hour a day of expert coaching and guidance from brilliant industry experts and a showcase on Friday. This course provides […]
https://comedy-festival.co.uk/event/suchandrika-chakrabarti-i-miss-amy-winehouse/
Suchandrika Chakrabarti: I Miss Amy Winehouse | Brighton Fringe
Suchandrika Chakrabarti (British Comedy Guide Pro Performance Awards runner-up 2021, Funny Women Stage Awards semi-finalist 2020, writer on Radio 4's The News Quiz) spent her youth partying in north London, but sadly never got to meet her musical hero: Qu
trailer: https://www.youtube.com/watch?v=EKDlvWDa0yQ
what i've been up to
The Week Unwrapped - with Olly Mann - podfollow.com
Should we be breeding more porcine organ donors? Will students lose the right to rate their university lecturers? And will football ever really come home again? Olly Mann and The Week delve behind …
Exclusive: John Bercow on launching a politics podcast with Deborah Frances-White | POD BIBLE | THE ESSENTIAL GUIDE TO PODCASTS
Pod Bible caught up with the former Speaker of the House of Commons, John Bercow, to talk about the new podcast he's launching today, John Bercow's Absolute Power. It's the latest offering from Deborah France-White's growing The House of The Guilty Feminist label (Media Storm launched two weeks ago), and is part of the Acast Creator Network. The rules of British politics are ancient, arcane and largely unwritten – so the podcast takes the form of Bercow answering Frances-White's questions on how our political processes work. The first episode covers the role of the Speaker, a job Bercow knows well after holding it for 10 years, from 2009 to 2019. Then later episodes look at the Whips, Private Members' Bills […]
But Is It Funny? - podfollow.com
Is Succession a sitcom?What limits should a comedy club put on comedian's material? Discussing  Don't Applaud. Either Laugh or Don't. (at the Comedy Cellar) by Andrew HankisonWhat&apos…
Like But Is It Funny? YAY! There's a new season starting next week!!
---
That's all from me! Thank you for reading, I've been and continue to be Suchandrika Chakrabarti.
I plan to keep this newsletter free, but it does take time to write and curate. If you fancy buying me a Ko-fi I'd be eternally grateful, and will thank you in the next newsletter <3