Remember me? It has been quite a while.
Since I last wrote, I finished a whole module called Gender, Culture and Rights. In my essay, I wrote about gender and the meat industry – a feminist analysis à la Carol J. Adams – and responses from rights discourse – inviolable rights, animal labour rights, the limits of a rights framework. This month, I started my second year with The Ethics and Politics of Animals, which is what I came back to Goldsmiths for.
Long-time subscribers will remember my weekly newsletter documenting the first time I took this module, though a lot is new. Animal studies is a burgeoning field and things change and develop quite quickly for academia, which is exciting. I've also really enjoyed returning to some old readings nearly 2 years later. What a gift to return to a text and still be thrilled by it!
4 weeks is a lot to summarise in one email, and even leaving lots out, there's a lot! Making up for lost time?
---
You are getting this email because you once signed up to hear from me, Sonia, and my journey through a masters degree in sociology. I send this irregularly on Sunday and I don't collect any data. You can unsubscribe anytime.
---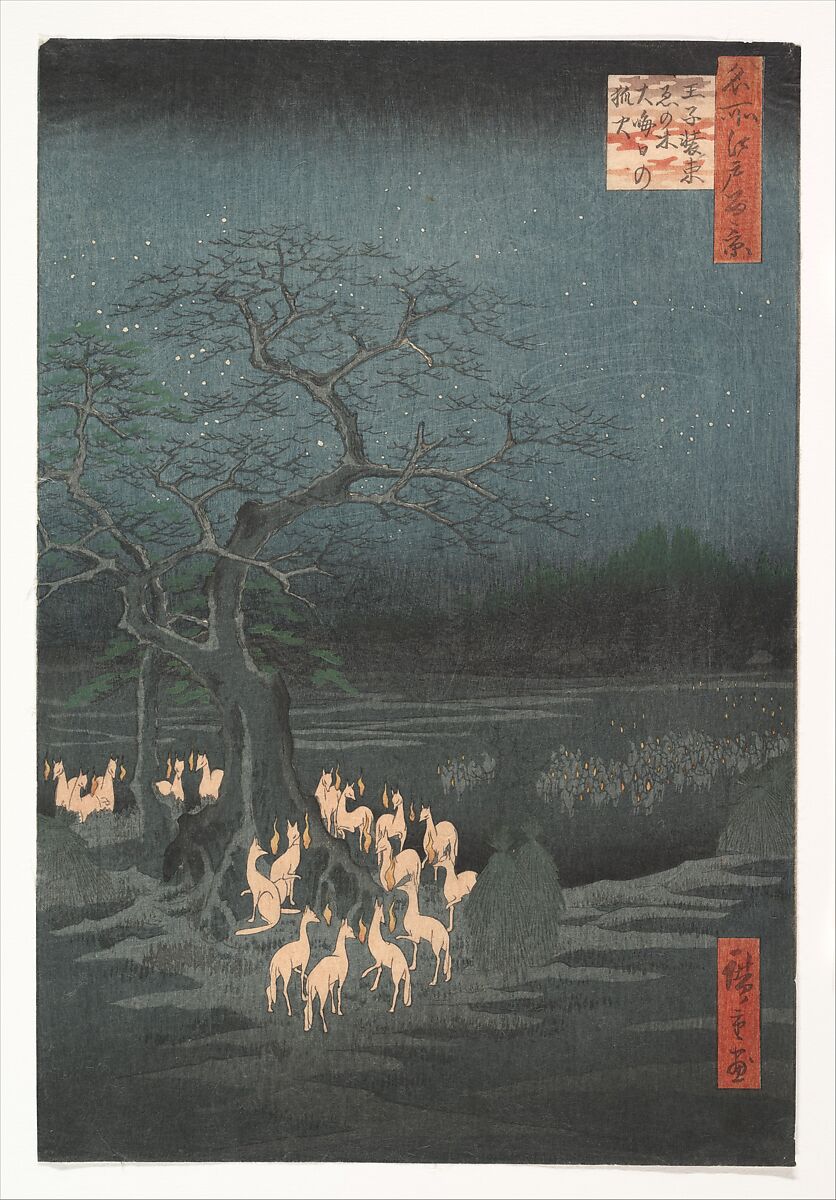 Foxfires | Utagawa Hiroshige
We started the term with some gentle readings, including the Fox chapter from Being a Beast. My 3rd or 4th time reading it, still a thrill.
We also read The Doe's Song. The first line
JENNIFER HIT THE DEER
It is beautifully written, though in this one passage Tonino goes off to follow the deer
…and there she was, fifty feet into the woods, curled on the ground, looking at me, shaking. I stopped, not wanting to scare her, and said I was a friend. Unsure what else to do, I sang a little song, a gentle tune without words. I invented the song as I went, the doe looking at me, shaking, a sadness thickening in my body. And then something cut through that sadness. Cleaved that sadness. I stepped back. I knew for certain that my presence was only making things worse.

Sure enough, the doe got up and ran, the bad leg now like a sock of pennies.
Tonino, my dude, you should have known earlier. Ok for you to stand there singing your little song, but it seems pretty obvious to me that you are not welcome.
Anyway, that's just the beginning. It made me think of the many, many animals I see killed by cars when I'm cycling. Sometimes it's too much and I have to look away. Cars are simply not good.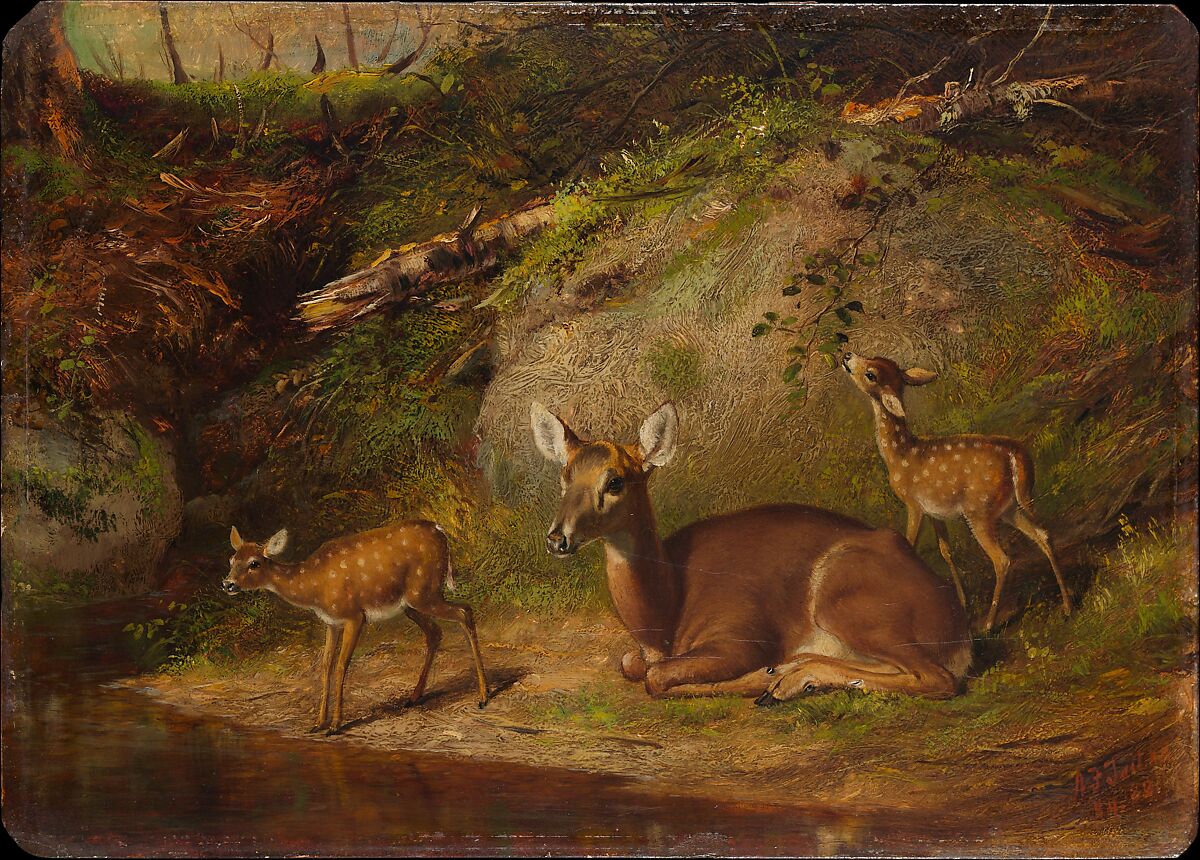 Doe and Two Fawns | Arthur Fitzwilliam Tait
Week 2 readings were a bunch of scientific papers and the lecture covered 3 landmark philosophers – Aristotle, Descartes, Marx – who shaped the ways that humans think about animals. No biggy.
We also spoke a bit about how popular relationality, symbiosis etc. has become. But, despite a kind of romantic, rosy tint that is often put on it, it's not always good. Consider this worm.
I Dream of 'Alala | Margaret Barnaby
The following week was about covered the history and construction of the idea of 'species'.
One of the papers, Authentic Crows, was about the conservation of an Hawaiian crow, the alalā, through captive breeding and release programmes. It focuses on how the birds have been changed through captivity and what is an 'authentic' species identity. Lots of relevant themes if you are interested in conservation.
what might it mean to do conservation in a way that takes seriously what matters to the 'conserved', in a way that provides these others with the space and the resources to craft their own vital new forms of life for this era of incredible anthropogenic change and bio-diversity loss?
Some of my notes from the lecture:
Individuality is criticised in liberal politics, but it is a privilege to 'give up' individuality. A privilege denied to most animals.

Once the group is established, it is not the singular individual that matters. The consequences are profound and violent.
Does the alalā want to be a species?
I think of the bison brought to Kent as part of a rewilding project. "Three females … to be joined by a male." A bison calf has since been born. I cannot find their names anywhere. I hope they are happy.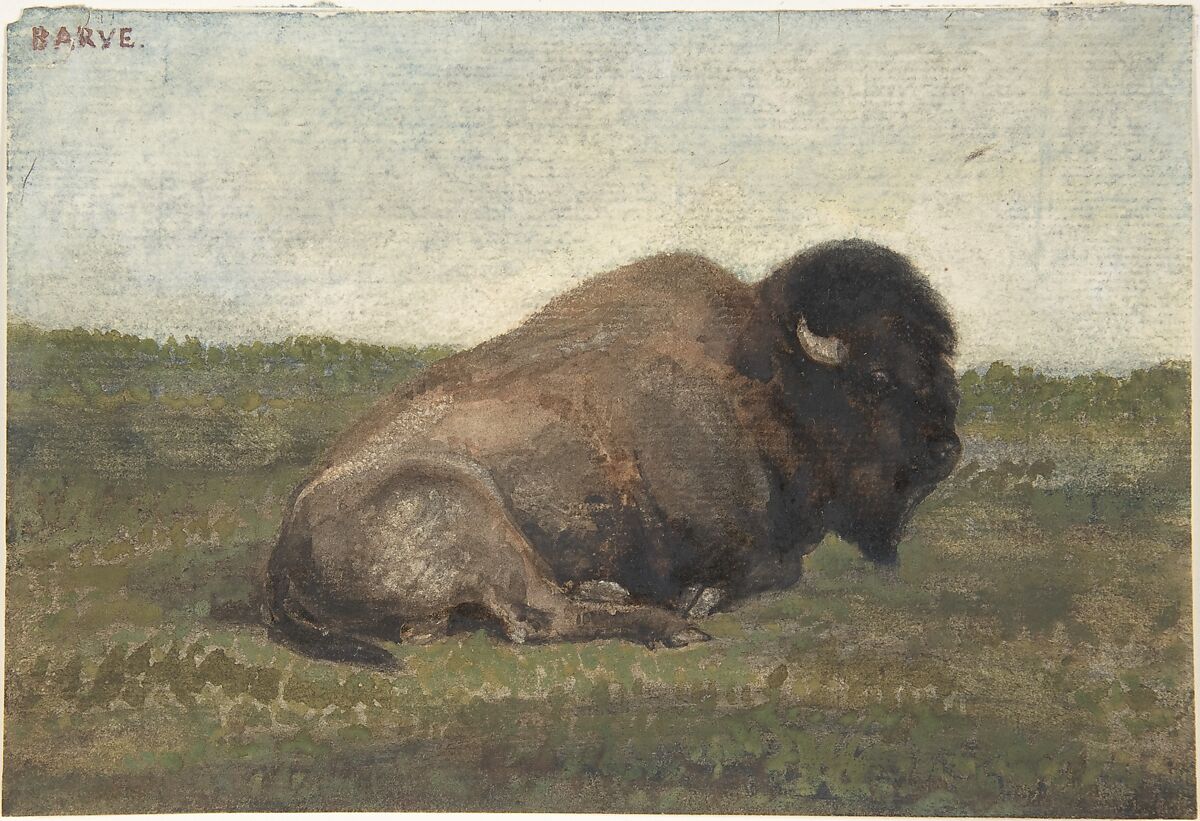 Bison Lying Down | Antoine-Louis Barye
Continuing on the species thinking theme, we're moving to contemporary accounts, particularly around species and race. We read two authors who deal with this brilliantly:
Dangerous Crossings by Claire Jean Kim and
Afro-Dog: Blackness and the Animal Question by Benedicte Boisseron
I don't want to summarise too much and therefore not give justice to their accounts. Especially on account of how much harm is inflicted on racialised people because of analogies between species and race. Both do very well in showing how race and species are conjoined, interlocking taxonomies (not analogous).
Finally, what the tutor adds to their analysis is how critiques of racism rightly expose the construction of race and historically and socially contingent, critiques of 'speciesism' are not a critique of the category of species, but merely 'bad attitudes' towards species. Instead, she uses the term, species-thinking as a way to draw attention to the concept of species and the violence it legitimises.
Landscape, Jæren | Kitty Kielland
Outside the academy…
Being-in-the-Room Privilege: Elite Capture and Epistemic Deference by Olúfẹ́mi Táíwò critiquing standpoint epistemology
Long but worth the read.
All the books I've read this year so far. If you want my opinion on any of them, reply to this email and I will write one for you.
Finally, I cannot finish without mentioning Bertie (15) and Biscuit (12), the 2 geriatric cats who have come to live with me. We're still getting to know each other, but I already love them very much.
Here's Biscuit, helping me write this.
-–
I have to confess, Buttondown does not entice me to sending newsletters. The email you receive is just … a bit ugly. I left Substack because of their data tracking, and I stand by that, but I wish I had gone a more DIY route. I'm so intrigued by Goss and Eliot's approach. But, I lost half of my subscribers moving, so here we are for now.