From the Eye of the Storm #39
When I was a kid, the end of summer meant the end of freedom. As a parent who works from home, it means quite the opposite. The boys went to various cool camps (theater camp, architecture camp, sewing camp), but there was only one week all summer long where both boys were at camp at the same time, and they were at their mom's house that week. So I was lucky if I could squeeze in a couple of hours writing a day. We also went to visit my aunt and uncle in New York for a week, and my parents in Arizona for a week. It was all a lot of fun, but I got no writing done on those trips.
I think the break did me a lot of good, though. I had adventures, read a lot, dreamed a lot—filling the well, as they say. And now that the boys are back to their schedule, I'm eager to get back to mine.
The next project after Blood and Tempest comes out in November is still TBD, so no news on that front yet (though hopefully soon!). But I am happy to announce that Italian publisher Armenia will be translating the entire Empire of Storms trilogy. So add Italy to Hope and Red's world tour! I believe that brings the grand total up to nine languages, which is really cool.
Currently Reading

I've been on a Raymond Chandler kick lately. I recently finished The Big Sleep, and now I'm reading The Long Goodbye. I've discovered that a lot of people don't recognize the author's name, but they immediately remember his protagonist, Philip Marlowe, from the 1946 Bogart and Bacall film. These books (and the films they inspired) in many ways defined the tough-talking noir private detective archetype we're all so familiar with. From The Big Sleep:
It was about eleven o'clock in the morning, mid October, with the sun not shining and a look of hard wet rain in the clearness of the foothills. I was wearing my powder-blue suit, with dark blue shirt, tie and display handkerchief, black brogues, black wool socks with dark blue clocks on them. I was neat, clean, shaved and sober, and I didn't care who knew it.
Carver's Marlowe is intensely observant and detail-oriented, which makes sense for a private detective. But his lengthy observations are often wrapped up in a biting dry wit. From The Long Goodbye:
There is the small perky blonde who is a little pal and wants to pay her own way and is full of sunshine and common sense and knows judo from the ground up and can toss a truck driver over her shoulder without missing more than one sentence out of the editorial in the Saturday Review.
The era in which these books were written is unmistakably the 1940's, with the scrappy young America just stepping into the roll of global leader during and immediately after World World II. Some aspects of the work are dated (sexist, homophobic, etc), but not as much as one might expect, owing largely I think to Marlowe's mellow "live and let live" philosophy on life.
If you've ever had a fondness for classic noir detective stories, these are the books to pick up. In addition to the nearly endless stream of amusing observations and 40's tough guy slang, the dialogue has a rhythm on par with the best of Elmore Leonard's work. It's a sheer delight to read.
Now Listening

It's been a long three years since Erika M. Anderson, aka EMA, put out a new album, but it was worth the wait. Exile In the Outer Ring is sharp, haunting, beautiful, at times painful noise rock that flows effortlessly from track to track in a way that makes it feel like it's falling right out of my head.
I first started paying attention to Anderson back in 2009 when she was one half of the band Gowns. The song "Marked" was so disturbing yet sensual, it took my breath away. That song was originally on their EP, Broken Bones, which I think was the last thing Gowns released before breaking up.
Anderson put out a few singles here and there, but her first solo LP under the name EMA didn't come out until 2011, with the album Past Life Martyred Saints. That was followed in 2014 with The Future's Void (which included a song inspired by William Gibson's classic cyberpunk novel Neuromancer). Every album she makes is smart, melancholy, and ragged as hell. Although she looks more like a young Courtney Love, I would describe her sound more as a descendant of Patti Smith and PJ Harvey.
But as usual, don't take my word for it. Listen to the song "Blood and Chalk" and decide for yourself.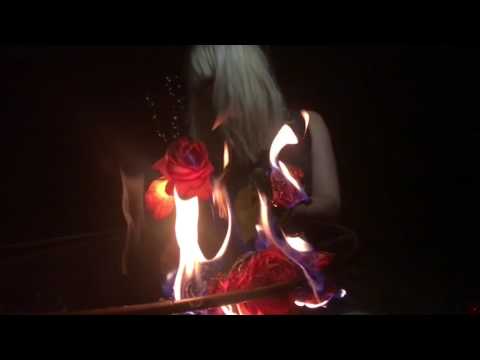 And that's it for me. If you're in Texas, Louisiana, Florida, or one of the many places Nature as decided to give a swift, wet kick, I hope you're fairing well. Or as well as can be hoped. Please take care of yourselves.

_j