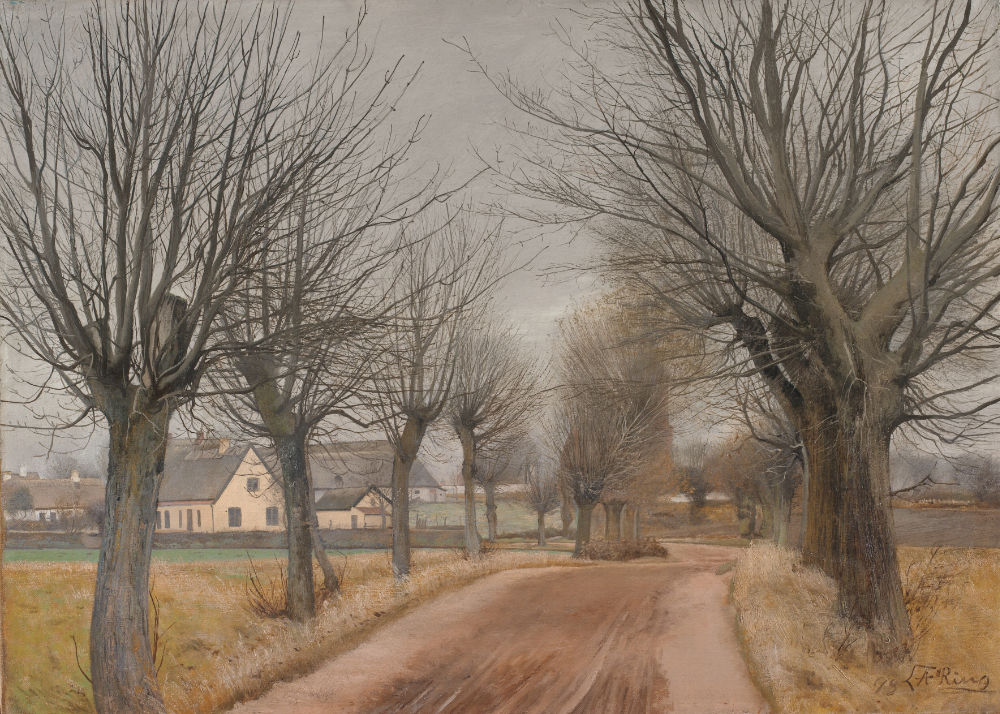 L.A. Ring, A Road Near Vinderød, Zealand, 1898
---
Advent is a time of waiting and watching. Poet Malcolm Guite put it this way:
Advent is a paradoxical season: a season of waiting and anticipation in which the waiting itself is strangely rich and fulfilling, a season that looks back at the people who waited in darkness for the coming light of Christ and yet forward to a fuller light still to come and illuminate our darkness.
During this time of year, we remember and celebrate our Lord's first advent; but we also look forward with eager anticipation to his second advent, when he will make all things new.
The songs below express both our longing for Christ's second coming and our anticipation of the joy we will experience when he arrives.
---
The well-known hymn "O Come, O Come, Emmanuel" is a paraphrase of an ancient antiphon known as "O Emmanuel" (O God with us):
O Emmanuel, our king and our lawgiver,
the hope of the nations and their Savior:
Come and save us, O Lord our God.
This instrumental rendition of the hymn by The Piano Guys is simply splendid!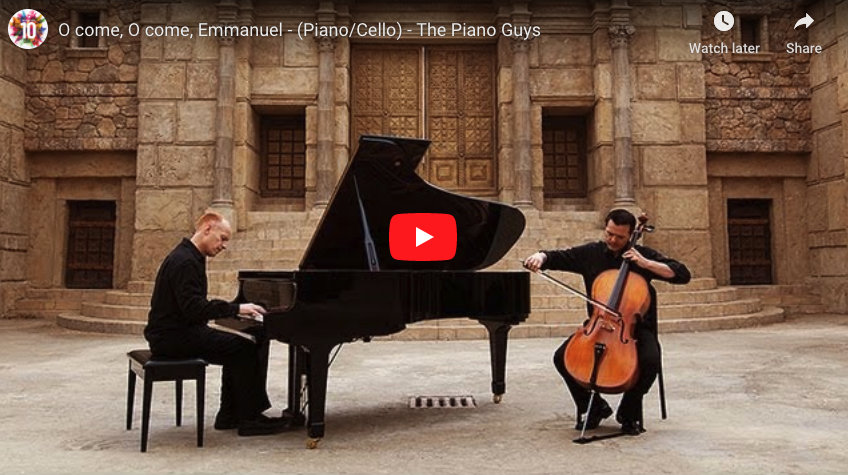 ---
Caroline Cobb's "Oh Righteous Branch" draws on messianic imagery and titles found in Isaiah 11, Jeremiah 31, Ezekiel 36, and Malachi 4, forming them into prayers for the consummation of God's kingdom. The refrain is simple yet beautiful:
Hallelujah, Jesus we wait for you
Hallelujah, Jesus come soon come soon!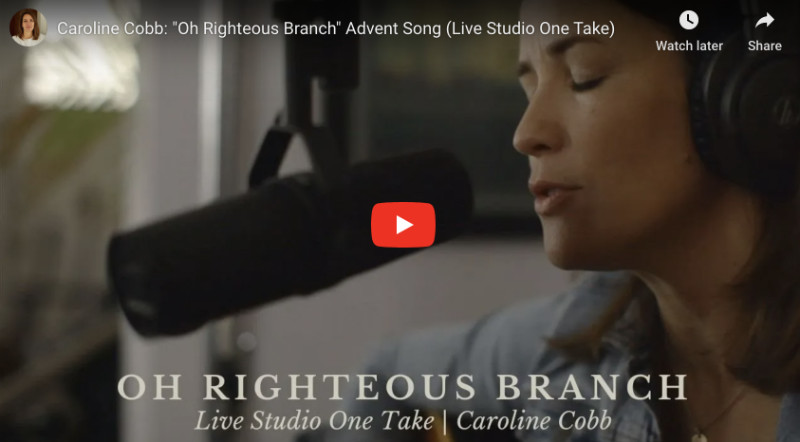 ---
Charles Wesley's 1744 hymn captures well the Church's longing for the day when we will be with Christ forever in the New Earth. This is a contemporary rendition by Shane & Shane.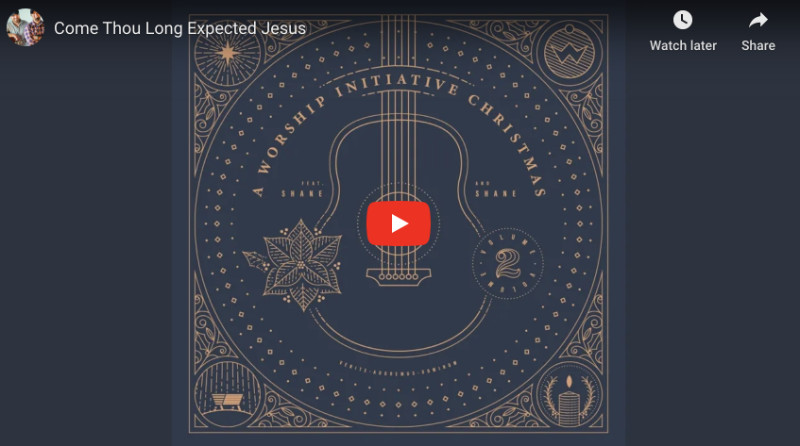 ---
One of my favorite tracks from Sandra McCracken's album Psalms. The chorus captures the Church's anticipation of great joy at the future marriage supper of the Lamb:
We will feast in the house of Zion
We will sing with our hearts restored
He has done great things, we will say together
We will feast and weep no more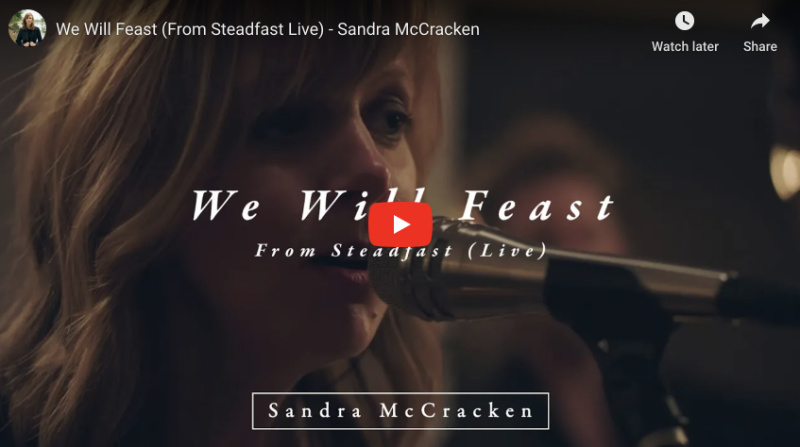 ---
Around the Web
The End of the Christian Life Podcast by J. Todd Billings. I've only listened to a few episodes so far. Very good. I plan to listen to more.
Podcast description:
Happy. Healthy. Healed.
Isn't that what the Christian life is all about? Join Dr. J. Todd Billings, author of the new book, The End of the Christian Life, as he interviews pastors, therapists, undertakers, and scholars to explore the surprising claim that embracing mortality frees us to truly live.
Description for episode one:
Sometimes pain stays with us. Some hurts aren't healed, and we wish the suffering would simply leave and quickly. Join J. Todd Billings and therapist and author KJ Ramsey (This Too Shall Last, 2020), as they explore prosperity gospels and the misleading scripts that tend to define our lives of faith. How might our unresolved pain invite us to experience the presence of the Triune God who meets us in the midst of our suffering?
Praying Through the Political Divides in the Family by Aryana Petrosky Roberts.
Dad and I both started to get upset as we argued about video footage of the death of George Floyd. I knew we were about to enter the point where we both had deaf ears, loud mouths. I knew then, as I know now, that political debate doesn't change minds. I knew that I loved him. I knew that I don't know everything. I knew that I might easily be a fool.

So, on a whim, I asked my dad if he wanted to pray with me.

It was a long prayer.
Rebuilding Our Common Life with Yuval Levin. Cherie Harder, President of The Trinity Forum, talks with Yuval Levin, author of A Time to Build: From Family and Community to Congress and the Campus, How Recommitting to Our Institutions Can Revive the American Dream.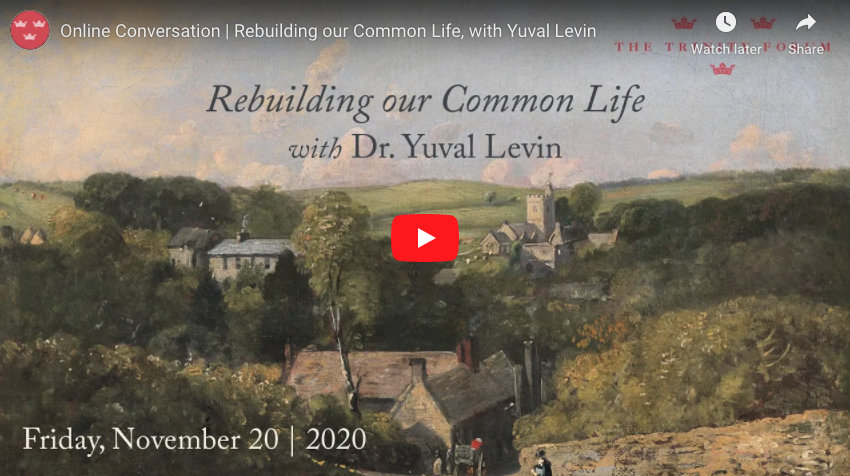 On November 20th we welcomed author and scholar Yuval Levin to discuss the themes in his recent book, "A Time to Build: From Family and Community to Congress and the Campus, How Recommitting to Our Institutions Can Revive the American Dream." Levin believes that in our current moment of tension, division, and disillusionment what we need is renewed faith in and commitment to the institutions that support our common life and flourishing.

He writes, "Americans are hungry for hope and renewal. All of us, on every side of all political divides, are increasingly aware that the status quo is not sustainable." Levin asks us to "consider the problems we face in the context of institutions" and to become builders and rebuilders that will work within institutions to make them trustworthy and serve the common good.
---
A Poem
Advent Sunday
By Christina Rossetti
Behold, the Bridegroom cometh; go ye out
With lighted lamps and garlands round about
To meet Him in a rapture with a shout.
It may be at the midnight, black as pitch,
Earth shall cast up her poor, cast up her rich.
It may be at the crowing of the cock
Earth shall upheave her depth, uproot her rock.
For lo, the Bridegroom fetches home the Bride;
His Hands are Hands she knows, she knows His Side.
Like pure Rebekah at the appointed place,
Veiled, she unveils her face to meet His Face.
Like great Queen Esther in her triumphing,
She triumphs in the Presence of her King.
His Eyes are as a Dove's, and she's Dove-eyed;
He knows His lovely mirror, sister, Bride.
He speaks with Dove-voice of exceeding love,
And she with love-voice of an answering Dove.
Behold, the Bridegroom cometh: go we out
With lamps ablaze and garlands round about
To meet Him in a rapture with a shout.
---
A Photo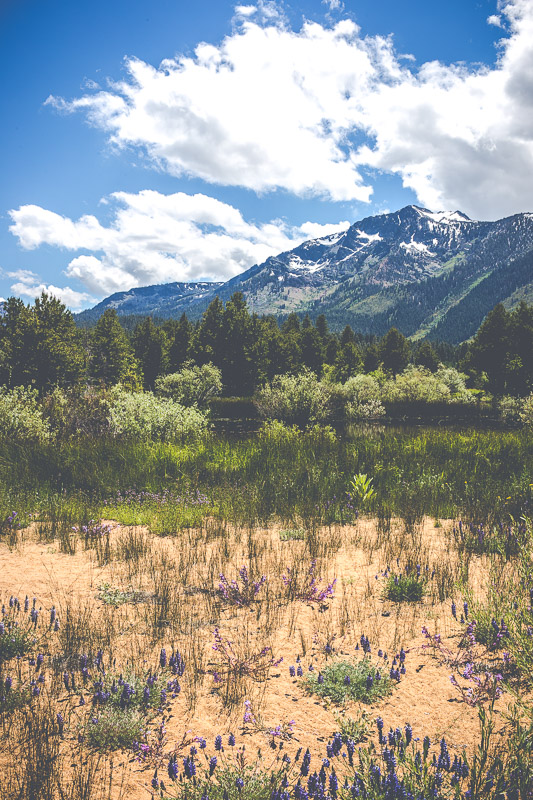 Mount Tallac viewed from South Lake Tahoe, June 2018
---
Listening To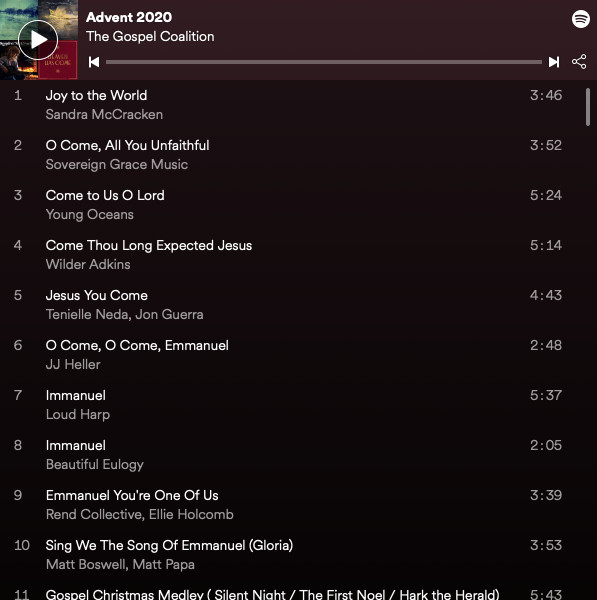 Listen to TGC's 2020 Advent playlist on Spotify or Apple Music
---
Reading
---
Something to Watch
The part where the little girl with Down Syndrome reads from Mary's Magnificat about God humbling the mighty and exalting the lowly is quite moving!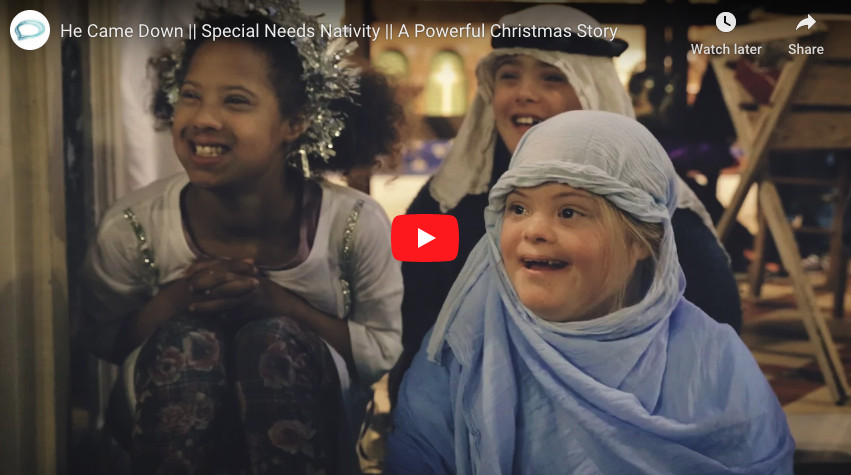 ---
In Case You Missed It
Check out last week's newsletter about an unusual Thanksgiving.
---
A Closing Quote
Our sinfulness runs so deep that a tepid measure of gentleness from Jesus would not be enough; but as deep our sinfulness runs, ever deeper runs his gentleness.

— Dane Ortlund, Gentle and Lowly: The Heart of Christ for Sinners and Sufferers