If you're in Christ, you can hop off that treadmill.
---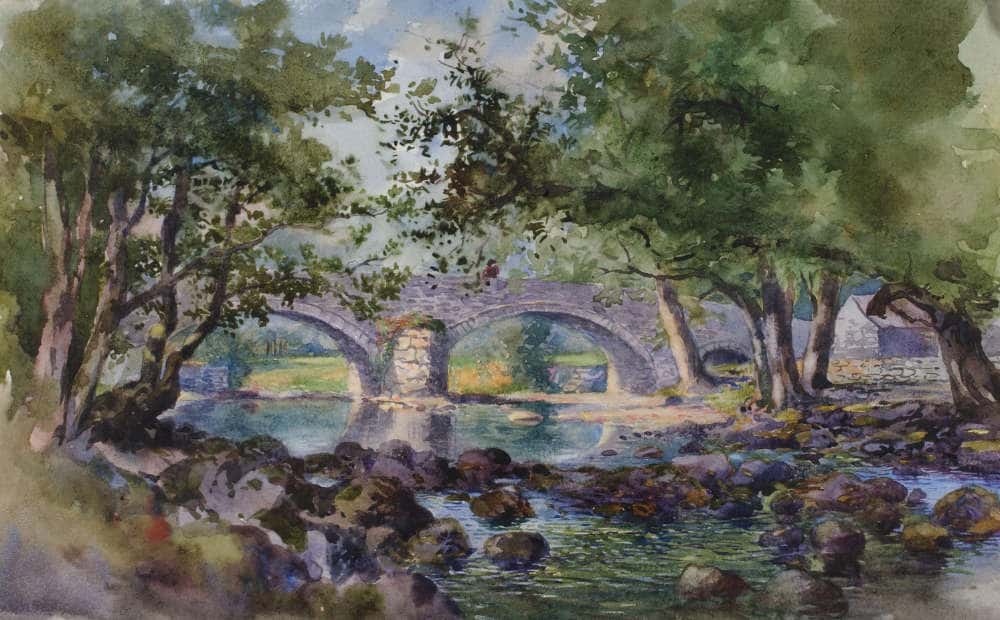 George Elbert Burr, Old Bridge near Bettws-y-Coed, North Wales, 1899
---
In my sermon yesterday, I referenced "the performance treadmill," a phrase Jerry Bridges uses in his book Transforming Grace. I'll let him explain what it means.
My observation of Christendom is that most of us tend to base our personal relationship with God on our performance instead of on His grace. If we've performed well—whatever "well" is in our opinion—then we expect God to bless us. If we haven't done so well, our expectations are reduced accordingly. In this sense, we live by works rather than grace. We are saved by grace, but we are living by the "sweat" of our own performance.
Later he writes:
Living by grace instead of by works means you are free from the performance treadmill. It means God has already given you an "A" when you deserved an "F." He has already given you a full day's pay even though you may have worked for only one hour. It means you don't have to perform certain spiritual disciplines to earn God's approval. Jesus Christ has already done that for you. You are loved and accepted by God through the merit of Jesus, and you are blessed by God through the merit of Jesus. Nothing you ever do will cause Him to love you any more or any less.
One more time:
To live by grace is to live solely by the merit of Jesus Christ. To live by grace is to base my entire relationship with God, including my acceptance and standing with Him, on my union with Christ. It is to recognize that in myself I bring nothing of worth to my relationship with God, because even my righteous acts are like filthy rags in His sight (Isaiah 64:6). Even my best works are stained with motives and imperfect performance. I never truly love God with all my heart, and I never truly love my neighbor with the degree or consistency with which I love myself.
---
Around the Web
Easter Is Just Getting Started by Andrew Peterson. Reflections from the day after Easter. So good!
Then, you see, it's Easter Monday. It's just beginning. Now we get a glimpse of the New Creation, because now we discover the "now what?" We go back to work, life resumes its usual routine, yes, but with the massive difference that now we live in that Great Day of the Lord for fifty days [Eastertide], a fitting foretaste of what's coming to us after Christ's return. I walked the property this morning and saw in the blackberry blossoms and green strawberries a fullness of time that feels less like the end of a story than the beginning of one. C. S. Lewis wrote in the final scene of the Narnia chronicles, "Now at last they were beginning Chapter One of the Great Story which no one on earth has read: which goes on for ever: in which every chapter is better than the one before." That's what Easter Monday feels like to me: the beginning of a season that shouts, "He's making all things new!" Keep your eyes peeled, because the waves of that distant shore sometimes wash over the hills of Tennessee with great glad joy. I feel in my chest a loosening of tension, a relief that the grieving of Lent is past, the hard-fought self-discipline is behind me, and I can enter the days of work and rest with a subtly euphoric freedom from the thistle and thorn that infests the ground. I'm still working in the fields, but for now it's with gladness and not groaning.
Life as a refugee in San Diego was challenging enough. Then the pandemic hit (The San Diego Union-Tribune)
Famo Musa remembers the beginning of the pandemic as chaos.

It wasn't just adapting to the online versions of her UC San Diego classes, where she had recently transferred from community college, or figuring out how to support her two children, ages 10 and 7, in their virtual classrooms.

It wasn't just juggling one job with school and then eventually two as she took on extra work to support family members who became unemployed because of the lockdown.

And it wasn't just fighting for a decent internet connection for work meetings and for class while her children, her aunt's three children and her sister's nine children used the wifi for school.

The Somali community leaned on Musa, 31, as older members struggled through language barriers to access accurate information, communicate with the unemployment office and apply for rental relief grants and other aid.

"I still can't believe we survived it," Musa said, recalling the first months of the pandemic. "It was really hard."

For refugees, former refugees and their families, the interaction between the pandemic and challenges that their communities were already facing has exacerbated the stresses of the past year.
My Eyes Have Seen You by Andrew Senior
Growing up, my Grandma and Grandad would come and see us every Friday night. My Grandad and I would go for walks on the country lanes north of Sheffield on the edge of the Peak District. During one winter—I must have been around eleven years old—he showed me the night sky and taught me to recognise some of the major constellations. It came out in conversation that the stars had first caught his attention during WWII, when he was stationed beneath the war-darkened skies of Jerusalem, and in possession of powerful, army-issued binoculars.
---
A Poem
Daybreak in Alabama
By Langston Hughes
When I get to be a colored composer
I'm gonna write me some music about
Daybreak in Alabama
And I'm gonna put the purtiest songs in it
Rising out of the ground like a swamp mist
And falling out of heaven like soft dew
I'm gonna put some tall tall trees in it
And the scent of pine needles
And the smell of red clay after rain
And long red necks
And poppy colored faces
And big brown arms
And the field daisy eyes
Of black and white black white black people
And I'm gonna put white hands
And black hands and brown and yellow hands
And red clay earth hands in it
Touching everybody with kind fingers
Touching each other natural as dew
In that dawn of music when I
Get to be a colored composer
And write about daybreak
In Alabama.
---
A Photo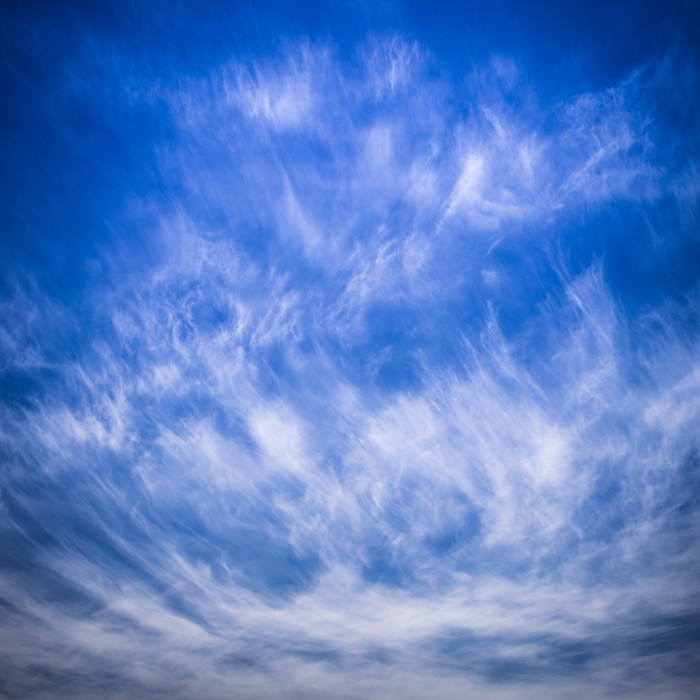 The Creator's Canvas, Escondido, CA, April 2021
---
Listening To

Love & War & The Sea In Between by Josh Garrels
I hadn't listened to this for a while. I forgot how much I enjoy it.
---
Reading
Check out more of what I'm up to in the reading department at Goodreads.
---
Something to Watch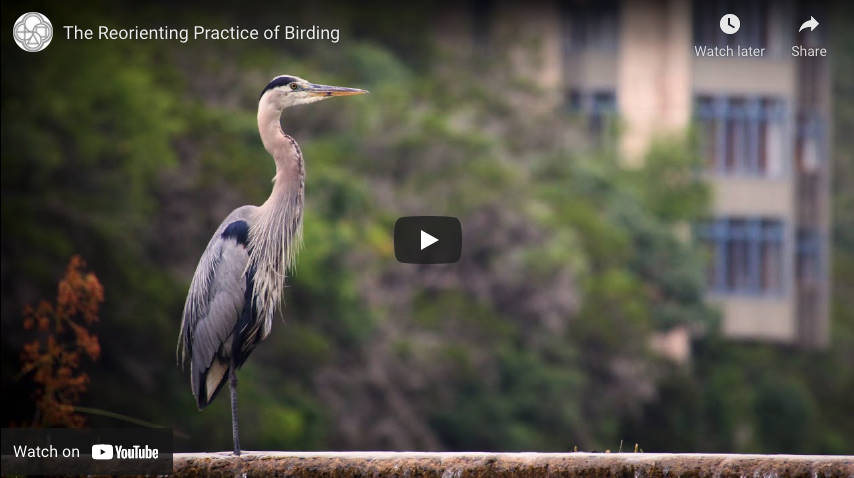 Pastor Kenny Benge talks about how birding helps him pay attention to details.
---
In Case You Missed It
Check out last week's newsletter where I talk about Psalm 93.
---
A Closing Quote
Living in Christ means living in the story of Christ, being conformed to the pattern of Christ's narrative.

— Walter G. Hansen