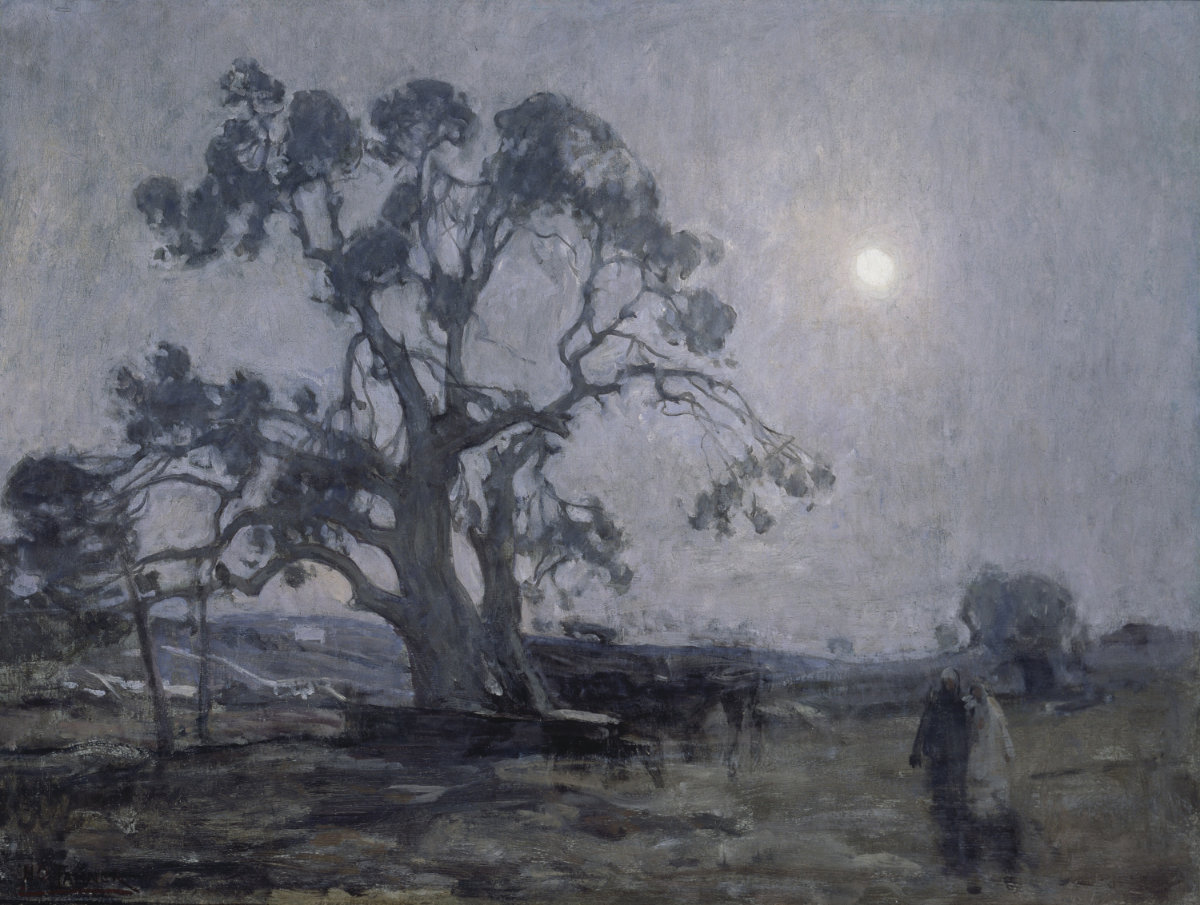 Henry Ossawa Tanner, Abraham's Oak, 1905
---
Prayer is a vital part of the Christian life. John Calvin called it "the chief exercise of faith." Matthew Henry said, "You may as soon find a living man that does not breathe, as a living Christian that does not pray."
But prayer is difficult. Almost everything else in the Christian life is easier than praying. For most of us, prayer is a major struggle. Getting distracted by one's wandering mind is a particular frustration many face.
Harold Senkbeil, a Lutheran minister with nearly five decades of pastoral experience, recommends praying out loud. Years ago he learned the wisdom of this practice from a colleague. At first it felt strange, he says. Silent prayer tends to be the norm for most of us. But Senkbeil notes that praying aloud in private has been the common practice of Christ's people throughout history.
In fact, the New Testament makes clear that Jesus himself ordinarily prayed out loud in private. Think of his high priestly prayer for the disciples (John 17), his agonized prayer in Gethsemane (Matt 26:36–44), or that most haunting of prayers from the cross, "My God, my God, why have you forsaken me?" (Mark 15:34). Hebrews 5:7 says, "In the days of his flesh, Jesus offered up prayers and supplications, with loud cries and tears, to him who was able to save him from death, and he was heard because of his reverence."
Senkbeil comments:
If the Son of God incarnate in human flesh prayed out loud, I guess we can too. He, after all, was one with the Father from all eternity. Yet if he in his flesh prayed aloud to his Father who sees in secret, so can we.
Senkbeil learned that praying out loud in private keeps his mind from wandering. "Now," he says, "almost all my private prayer is spoken aloud, or at least whispered loud enough for my own ears to hear it."
If your prayer life is suffering because of wandering thoughts, why not try speaking your prayers out loud. After all, you are talking to another person — a divine person you can't see with your eyes but a person nonetheless.
---
While I'm on the topic of prayer, let me recommend several resources.
Tim Keller's book on prayer, Prayer: Experiencing Awe and Intimacy with God, is quite simply the best I've read on the subject (I've read it at least twice). It's not a quick read, though. (By the way, five plus months into a pandemic might be a good time to rewatch, or watch for the first time, Keller's brief meditations on Trusting God in Difficult Times)
Read Keller's reflection on Augustine's Four Rules of Prayer.
Anicia Faltonia Proba (died AD 432) was a Christian Roman noblewoman. She had the distinction of knowing both St. Augustine, who was the greatest theologian of the first millennium of Christian history, as well as John Chrysostom, who was its greatest preacher. We have two letters of Augustine to Proba, and the first (Letter 130) is the only single, substantial treatment on the subject of prayer that St. Augustine ever wrote.

I had the chance to read the letter over the Christmas holidays and was impressed with its common sense and some of its unusual insights. Proba wrote Augustine because she was afraid that she wasn't praying as she should. Augustine responded with several principles or rules for prayer.
Martin Luther's A Simple Way to Pray is pure gold. Luther wrote this little treatise in response to his barber's request for guidance on prayer. Brief. Conversational. Practical.
Watch Matthew C. Harrison, President of The Lutheran Church—Missouri Synod and editor of the version of Luther's prayer guide linked above, explain the German Reformer's four-step prayer method.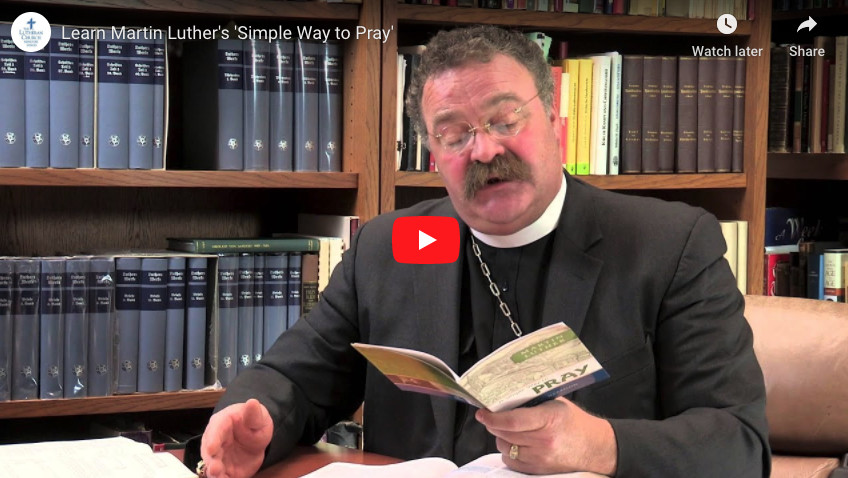 Enjoy Your Prayer Life by Michael Reeves is a brief (48 pages) and encouraging little book.
Sadly, most of us struggle to set aside time to pray. But, fear not, this is not another book that will pile on the guilt, simply saying pray better and more often. Instead, Michael Reeves shows us not only why prayer is so essential, but also how we can enjoy it too.
A Praying Life: Connecting with God in a Distracting World by Paul Miller is a refreshing book for those who struggle with prayer. It's full of personal examples from the author's own life.
I often use the collects from Prayers on the Psalms in conjunction with my daily Psalms reading. A collect is a short prayer, typically used in public worship, that gathers the petitions of the people into one prayer. These particular collects, one for each of the 150 psalms, come from The Scottish Psalter of 1595.
Here's the collect for Psalm 95:
O Lord, the only protector and stay of all thine, who guidest thy children as the sheep of they fold, extend thy goodness to us, and so sustain our hearts, which by nature are harder than any flint, that we be not hardened or obstinate through any incredulity against thy holy Word, but that we may serve thee in true and living faith, so that in the end we may enter into thy heavenly rest, through Jesus Christ our Lord. Amen.
Finally, don't forget about the The Lord's Prayer. Jesus intended it to be a model for our own prayers, not simply a formula to recite. I preached three sermons on it in 2017 (one, two, three).
---
Solipsistic is a great word. I've seen it used numerous times online in recent weeks.
---
Richard Hughes Gibson wrote at The Hedgehog Review about the pleasure of reading long books during a pandemic (or any other time).
---
Rachel Martin tells about meeting a stranger in the midst of the pandemic in A Stranger Helped My Family at Our Darkest Moment. Warning: emotional story!
---
Alan Jacobs on Fascist Architecture:
One of Bruce Cockburn's best songs is "Fascist Architecture," which begins with this line: "Fascist architecture of my own design." It's a song about building an impregnable fortress around yourself, a structure meant to frighten others and protect you, but which ends up becoming your prison. You made it, you live in it — and you cannot now escape it. Cockburn says only love has the power to break the Cyclopean walls of your mental/emotional/spiritual fascist architecture.
Alan connects the concept to The Lord of the Rings and our current cultural climate of division and polarization.
By the way, Alan sees the Honors College at Baylor University, where he teaches, as resembling Tom Bombadil's little world in The Lord of the Rings (remember, the name of this newsletter is In the House of Bombadil. The first issue explains why I chose this name.)
---
Kaitlyn Schiess weighed in on Christian political engagement. She asks and answers three questions:
What requirements are given to the non-covenantal nations we live in?
How does this responsibility interact with our mission to share the gospel?
Can we do anything worthwhile in a fallen world?
The article is adapted from her new book, The Liturgy of Politics.
---
Have you heard of United? We Pray?
United? We Pray is a ministry devoted to praying about racial strife—especially between Christians. We want to encourage Christians amid the strife to rely upon God in prayer. So our prayers can be informed, we strive to learn and write about race, racism and its effects, and theology; we aim to be biblical, beneficial, and clear in all our efforts. While we're burdened for all racial strife, we focus on racial strife between Christians because of the unique privilege and stewardship God has given his people: to bear witness to Him and to love all people, especially one another (Gal. 6:10).
I met the founder, Isaac Adams, at a conference in Washington D.C. a few years ago. Nice guy.
Austin Suter, an editor at United? We Pray, is in the process of publishing a four part series on Critical Race Theory (CRT). The first post is titled How Should Christians Engage Critical Race Theory?
Unfortunately, many Christians seem to explode in anger when the subject is broached. Suter cautions against knee-jerk reactions.
I fear that too often this Christian conversation about CRT engages the issue at the wrong level. We talk about CRT as a complete unit, as if it's something we either need to accept or reject in total. Even when we recognize that we may use it in a limited capacity, we're still talking about how and when to use this unit of thought or tool called Critical Race Theory. But I think there's a more helpful question: how can I read CRT in a discerning and Christian manner?

If we are not careful, viewing CRT as an inflexible unit can reduce us to little more than language police. We will find ourselves unable to participate in public conversation or learn from people outside of our own bubbles because others have different frames of reference or use different language.
Later he encourages Christians to learn from people who have been wrestling with these issues for much longer than we have.
Conversations on racial justice began long before many white Christians were interested. We need help from people who have been working on the problem, even if we don't always like all the ways they're going about it or the words they're using.
Wise counsel. I'm not advocating for or against CRT. But I am seeking to be better educated about it. I'm looking forward to the rest of the series.
---
Another excellent conversation from The Trinity Forum on Christianity, Pluralism, and Public Life.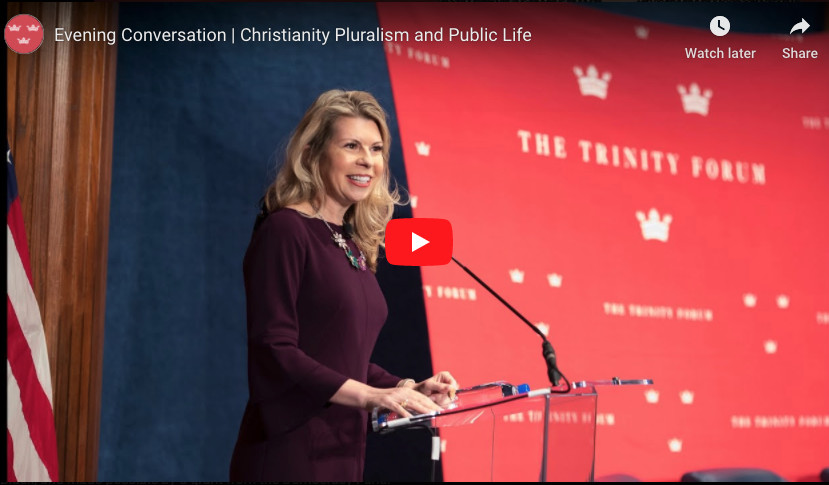 On Monday, February 24th The Trinity Forum hosted an Evening Conversation to introduce a new report authored by Trinity Forum Senior Fellow Michael Wear and Wheaton College professor Amy Black, and made possible by a grant from the Democracy Fund.

This report explores current cultural trends through the perspective of Christian church and ministry leaders in America. Its findings are based on in-depth interviews with more than 50 Christian leaders from a variety of denominations, traditions, locales, and political and theological perspectives. The findings show sharp political divides between groups, but also reveal a broad consensus around the value of pluralism in America, and the opportunities it brings for Christians to contribute to the common good and formation of civic character. The resounding message of the report is that Christian thought and practice has much to offer America in this new pluralistic moment.
---
From the Experience America exhibition at the Smithsonian American Art Museum.
The 1930s was a heady time for artists in America. Through President Franklin Roosevelt's New Deal programs, the federal government paid them to paint and sculpt and urged them to look to the nation's land and people for subjects. For the next decade—until World War II brought support to a halt—the country's artists captured the beauty of the landscape, the industry of America's working people, and a sense of community shared in towns large and small despite the Great Depression.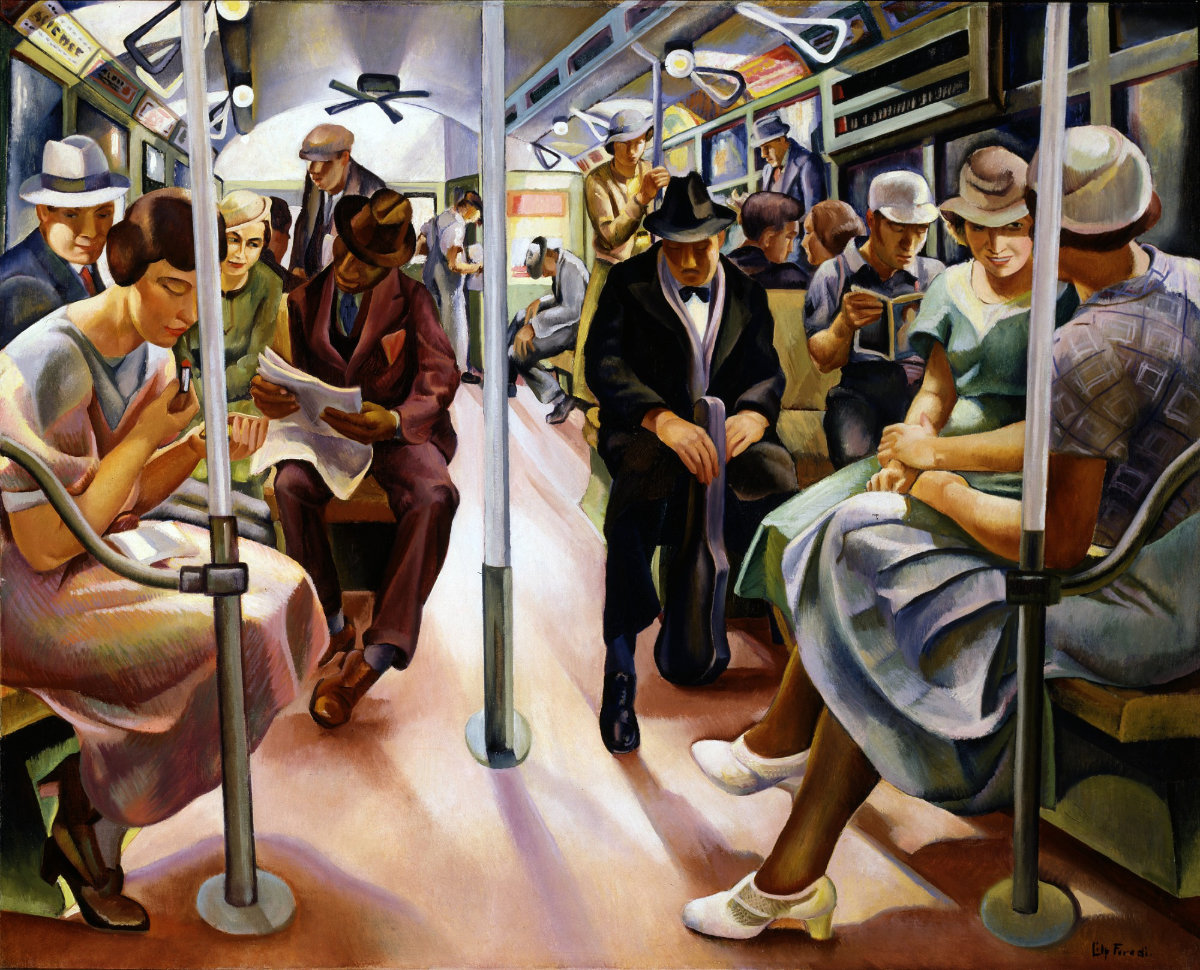 Lily Furedi, Subway, 1934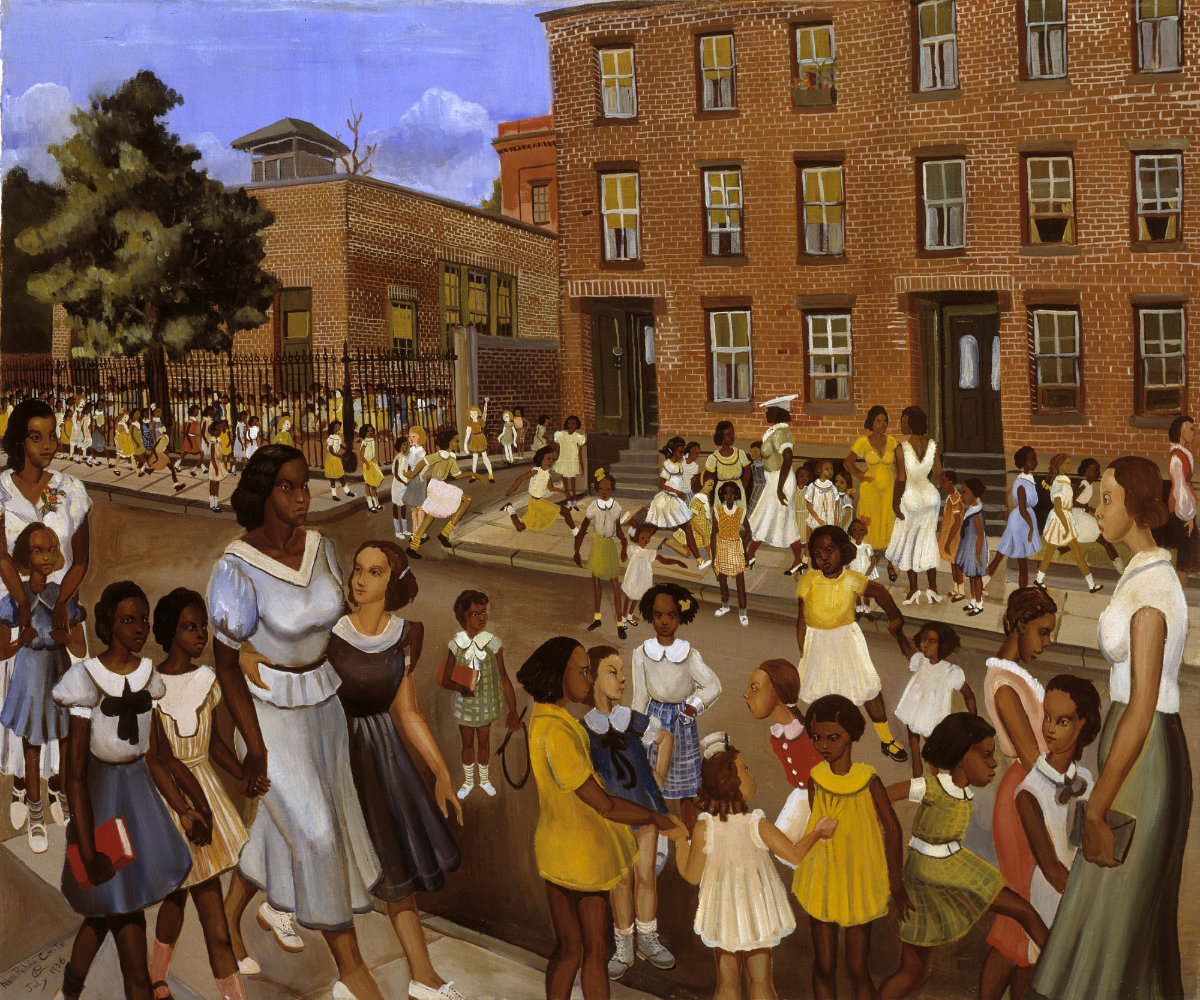 Allan Rohan Crite, School's Out, 1936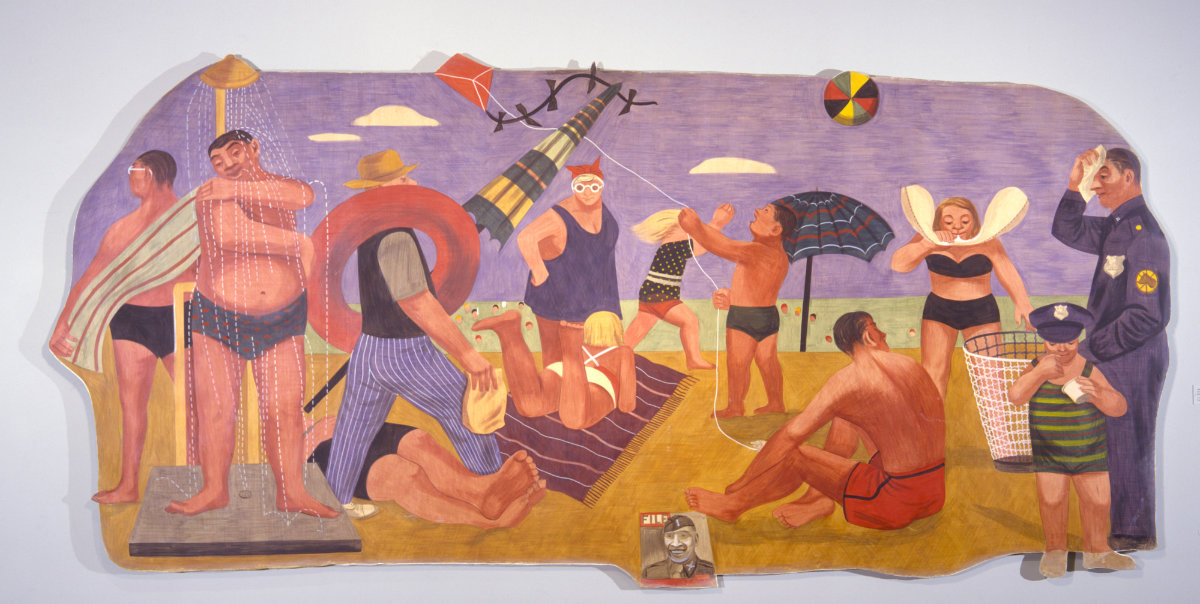 Gertrude Goodrich, Scenes of American Life (Beach), 1941-1947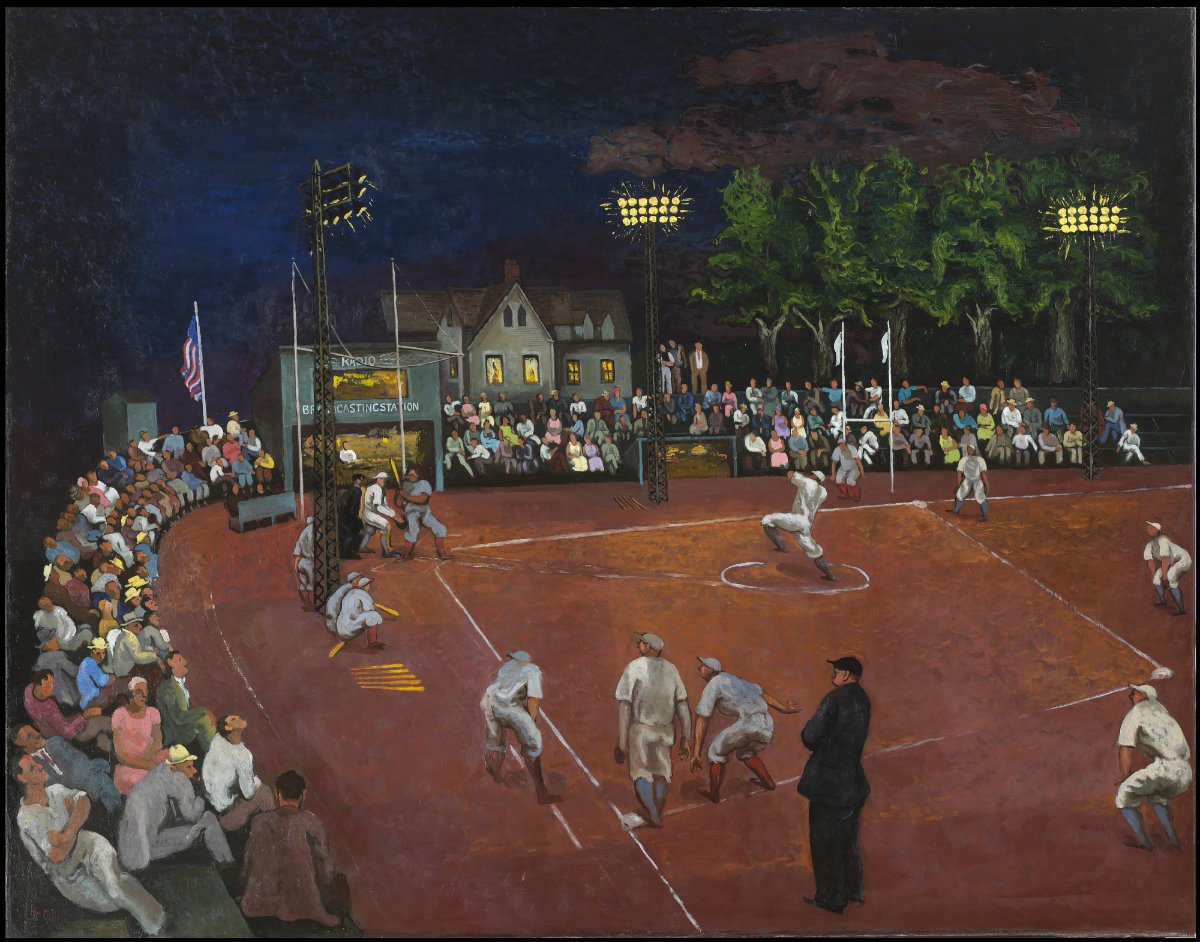 Morris Kantor, Baseball at Night, 1934
---
Recently read:
Currently reading:
---
Actually I am a Christian, and indeed a Roman Catholic, so that I do not expect 'history' to be anything but a 'long defeat' — though it contains (and in a legend may contain more clearly and movingly) some samples or glimpses of final victory.
— J.R.R. Tolkien