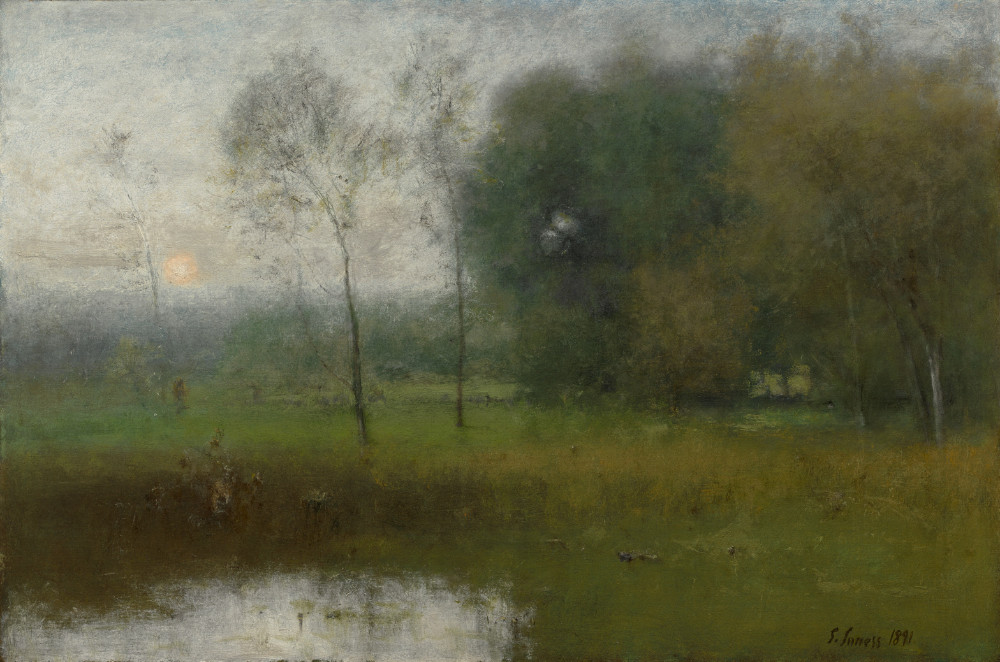 George Inness, New Jersey Landscape, 1891
---
Remember, I'm thinking out loud here. I'm not presenting airtight arguments but rather working out things that are on my mind. As always, I welcome your feedback.
How should Christians expect to be regarded by an unbelieving world?
There was a time when the Protestant church in America occupied a place of cultural dominance. The public generally respected Christian ministers. Society, for the most part, viewed Christianity as a force for good in the world. That time has long since passed, but the memory of it seems to have colored our expectations in the present.
Last May, a group of pastors in California, upset that, under the governor's public health restrictions, in-person church gatherings were deemed "non-essential," demanded that the government recognize the church as "more than essential" and accord it more respect than secular organizations. Defending First Amendment rights is one thing. But demanding that government grant the church a privileged place in society smacks of a Christendom-esque fantasy.
For several decades now, the Christian Right has been waging a culture war in an effort to restore the church to a position of cultural dominance. The Christian Right's quest for political and cultural prestige has profoundly shaped Evangelical churches. We've been taught that Christians are the rightful rulers of the nation (note how often Evangelicals critique a non-Christian politician's ability to carry out his or her duties simply because he or she is an unbeliever). Christians ought to be the main actors on the political and cultural stage because we know what's best for society. But our rightful place as powerbrokers has been denied us. We've been marginalized, and we should be angry about it.
Ressentiment characterizes the public face of American Evangelicalism. That sense of grievance, frustration, and inferiority has made politicians' promises of power in exchange for support appealing to Evangelicals. (Whatever a candidate's merits may be, when he or she holds out the promise of power, Christian voters ought to remember that the desire to dominate others should not be the motivation for our political engagement.) American Evangelicals have been discipled by a Christian Nationalist vision to expect privilege, prestige, and power as their rights and to fight for those things when the world fails to give them what they're due.
But to come back to the opening question, is this really what we should expect and therefore seek? Should our goal be to assert and to reclaim our own importance in the world's eyes? Should we be offended if the world doesn't think much of us?
Let's see what the Apostle Paul has to say in 1 Corinthians 4. The church in Corinth had many problems, pride and an overweening self-importance being chief among them. In the warped thinking of the Corinthian believers, their reception of God's saving grace had given them reason to boast about their exalted wisdom and superior status.
Paul rebukes their worldliness in verse 8:
Already you have all you want! Already you have become rich! Without us you have become kings! And would that you did reign, so that we might share the rule with you!
Then in verses 9 and 10, Paul contrasts the Corinthians' self-perception with the Apostles' status in the world.
For I think that God has exhibited us apostles as last of all, like men sentenced to death, because we have become a spectacle to the world, to angels, and to men. We are fools for Christ's sake, but you are wise in Christ. We are weak, but you are strong. You are held in honor, but we in disrepute.
Thomas Schreiner comments:
Paul reproves the Corinthians with sarcasm in verses 8–10, lampooning their alleged health and wealth and so-called reign on earth. Instead, the apostles represent what God is doing in the present age. Their suffering and exposure to death signifies the true status of believers in the present age. The Corinthians reveal that they are part of the present evil age with their so-called wisdom, strength and honour; they fail to see that the apostles, with their foolishness, weakness and being scorned, represent God's messengers (emphasis added).
How should we expect the world to regard us as followers of Christ? Paul's answer: the same way it sized up the Apostles: nobodies, weaklings, fools, culturally irrelevant, unworthy of esteem and adulation.
In fact, we should expect to be mocked and ridiculed, and perhaps worse. Schreiner comments on the picture Paul paints in verse 9 of the Apostles' treatment by the world:
Paul likely uses the image of the triumphal procession…in which victorious generals paraded defeated captives through the streets in a victory celebration, following which the enemies of the emperor were slain. The apostles, then, have become a spectacle in the world—like those in the gladiatorial arena—for both angels and human beings, yet a spectacle not of triumph but of suffering and defeat.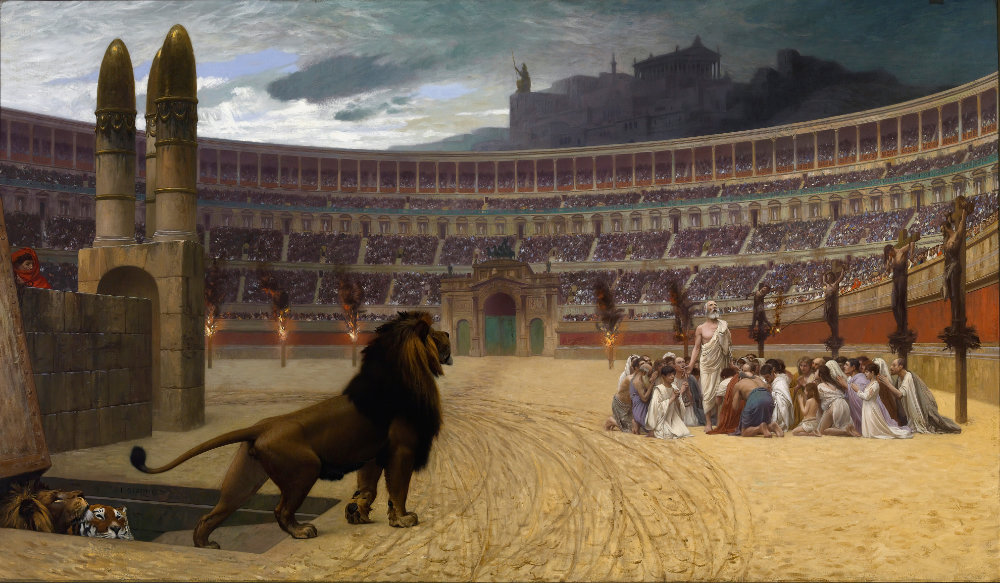 Jean-Léon Gérôme, ‌The Christian Martyrs' Last Prayer, 1863-1883
Paul goes on to detail his suffering as an Apostle in verses 11 to 13: hunger and thirst, lack of adequate clothing to protect against the elements, homelessness, as well as physical violence. Though he worked hard at his ministry, even doing manual labor to provide for himself, Paul was not praised by the world but cursed; not viewed as a benefactor to society but a danger and therefore persecuted; not honored by the world but slandered. The world treated Paul and his fellow Apostles as "the scum of the world, the refuse of all things," or, as Schreiner puts it, "the offscourings that are washed down the drain or thrown on the garbage heap."
Of course, 21st century American Christians might reply, "Yes, that was Paul's calling but I'm not an Apostle." True, you and I are not. But we are called to follow in Paul's footsteps, to adopt his self-perception, his way of life, and his expectation of mistreatment by the world. He says in verses 16 and 17:
I urge you, then, be imitators of me. That is why I sent you Timothy, my beloved and faithful child in the Lord, to remind you of my ways in Christ, as I teach them everywhere in every church (emphasis added).
Later, in 11:1, he says, "Be imitators of me, as I am of Christ." Do you see what Paul's saying? Following him on this road is nothing less than following Jesus on the way of the cross. Jesus was despised, rejected, and mistreated by the world; we will be too if we take up our cross and follow him.
Many Evangelicals are upset because they feel marginalized (relegated to non-essential status). They've grown tired of being mocked, ridiculed, and belittled by cultural elites. Such treatment is, indeed, wearying, but we must resist responding in kind. Sadly, a number of Evangelical leaders and influencers, men like Franklin Graham, Eric Metaxas, Robert Jeffress, Jerry Falwell, Jr., and Charlie Kirk, seem to have embraced a "this-is-war-we-must-beat-them-at-their-own-game" way of being Christian in the world. Christians must dominate and subdue those who oppose us! We must claw our way to the top and reign!
Much of the Evangelical world appears to have embraced the message.
That certainly wasn't Paul's response to the world, nor was it Jesus's. Far from it. Paul says, "When reviled, we bless; when persecuted, we endure; when slandered we entreat" (1 Cor. 4:12–13). Similarly, Peter writes of Jesus: "When reviled, he did not revile in return; when he suffered, he did not threaten, but continued entrusting himself to him who judges justly" (1 Pet. 2:23).
If we want to follow Paul, if we desire to follow Jesus, we must reject the Corinthian quest for power and prestige. We cannot be partisans of the world and its values and methods. As Christ's people, we're called to embrace our despised status in the eyes of the world, knowing that it's part of bearing Christ's name. We travel the path blazed by Jesus, one who was despised and rejected.
As Christians we don't demand esteem and respect from the world. Certainly, as American citizens, we may and ought to defend the constitutional right to exercise one's religion. But should we expect secular governing authorities to treat us differently than our Lord? Should we boil with outrage when we, like the Apostles and Jesus before us, are regarded as non-essential, "the scum of the world, the refuse of all things"?
No, we "run with endurance the race that is set before us, looking to Jesus, the founder and perfecter of our faith, who for the joy that was set before him endured the cross, despising the shame, and is seated at the right hand of the throne of God" (Heb. 12:1–2). We "consider him who endured from sinners such hostility against himself, so that [we] may not grow weary or fainthearted" (Heb. 12:3).
---
Around the Web
Why Should I Care About Race and Justice? An episode from the As In Heaven podcast featuring Isaac Adams. I've mentioned Isaac in a previous issue of the newsletter. He's a pastor at Capitol Hill Baptist Church in Washington, D.C., and the founder of United? We Pray.
The hosts and Isaac Adams discuss:

Introduction and background for Isaac (1:51)
"Why is there so much anger out there?" (3:36)
Factors (injustices) that fuel anger (8:14)
Black people in plain sight, yet unseen (13:00)
Basic primer on historical racial pains (13:36)
Redlining, accumulated wealth, over-policing, and a growing national concern (16:58)
The symbolism of a police knee on a George Floyd's neck (22:04)
Why we should care (26:52)
Personal experiences of racism in Isaac Adams's life (28:49)
Continuing to care when you feel overwhelmed (30:50)
Engaging the conversation in a redemptive manner (34:38)
United We Pray—encouragement to pray together through these issues (40:30)
A hopeful vision for the church in these volatile times (45:01)
Then and Back Again: How 1968 Looks Like 2020. TGC interviewed eight Christian leaders who lived through the tumultuous 1960s and asked them to talk about lessons that could be relevant to Christians living through the upheaval of 2020.
Participants in What We Proclaim: Recovering Paul's Narrative of Pastoral Ministry by William R. Edwards in Themelios. A pastor friend who, like me, is trying to navigate the landmines encountered in ministry in 2020 sent me this journal article. Read it and use it to inform your prayers for your pastors!
---
A Poem
A Kind of Tune
by Malcolm Guite
A kind of tune, a music everywhere
And nowhere. Love's long lovely undersong,
A trace in time, a grace-note in the air,
Borne to us from the place where we belong
On every passing breeze and in the breath
Of every creature. All things hear and fear,
For faintly, through our fall, we too may hear
The strong song of the Son that undoes death.
And one day we will hear it unimpaired:
The joy of all the sorrowful, the song
Of all the saints who cry 'how long',
The hidden hope of all who have despaired.
He sang it to his mother in the womb
And now it echoes from his empty tomb.
(Listen to Malcolm recite the poem here.)
---
Listening To
I often listen to albums like this — an hour long recording of a thunderstorm — while studying or writing. They provide just the right amount of white noise to aid concentration.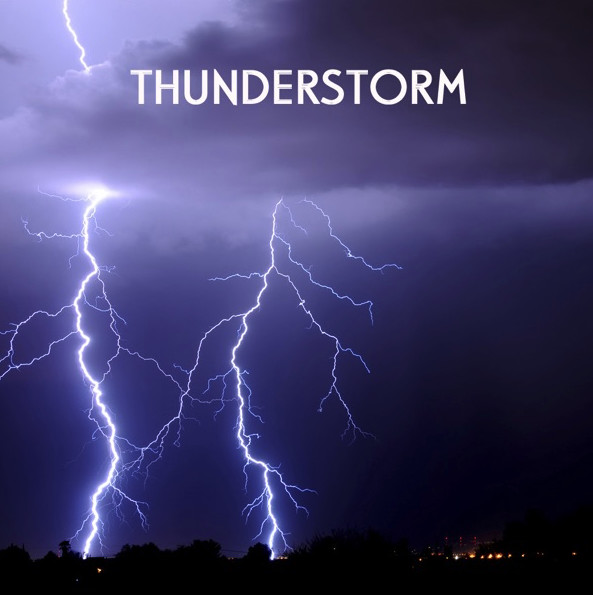 ---
Reading
---
Something to Watch
I'm surprised how many American Christians are confused about whether the United States was founded as a Christian nation. First, the concept itself is a theological impossibility. The only "Christian nation" is the multi-ethnic, worldwide church of Jesus Christ (1 Peter 2:9–10). When asked by Pilate whether he was a king, Jesus replied, "My kingdom is not of this world" (John 18:36). Christ's kingdom is not synonymous with America, modern day Israel, or any other earthly nation.
Second, the historical record makes clear that America's founders explicitly avoided creating a Christian nation-state, though they had the opportunity to do so. They were well aware of the religious oppression and injustices perpetrated by the so-called Christian nations of Europe. Such things were inherent in Christendom (i.e., the merger of church and state). The Founders deliberately sought not to recreate this flawed political system on a new continent. That's not to say biblical principles didn't influence the nation's political architects; they did. But other ideological streams, such as Enlightenment philosophy and English common law, also profoundly shaped the American system and likely played a more significant role in its development than did Christianity, at least historic, orthodox, confessional Christianity.
This isn't mere historical trivia. Many on the Christian Right today are motivated by the idea that the nation was originally founded as a Christian nation which enjoyed a unique covenantal relationship with God. The American people have broken the covenant by their wickedness (for example, legalized abortion, feminism, homosexuality, and transgenderism, but also removal of compulsory prayer from public schools, as well as flirtations with communism in the past and socialism in the present. I'll leave it to you to determine why things like state sponsored genocide of Native Americans, race-based chattel slavery, Jim Crow, internment of Japanese Americans during World War II, and the many public scandals involving prominent figures from the Christian Right are rarely cited). Therefore, the task of American Christians is to "reclaim America for Christ," renew the covenant, so to speak.
According to this view, Christians in America must battle liberals, socialists, Muslims, and others who are intent on destroying the nation's Christian foundations. If we fail to "expel" the modern-day Canaanites from the new Promised Land by not removing them from positions of political power and cultural influence, God will not bless America. Thus, the culture war waged by the Right is, in their view, a form of holy war. America's future depends on a successful outcome in this conflict.
In short, I regard this political theology, one based on a propagandist narrative about the nation's founding, as seriously flawed and extremely dangerous, not to mention that it's incompatible with democracy.
In the eight-minute video below, Dr. Daniel van Voorhis, from the 1517 project, discusses this issue clearly and concisely, concluding, as I have above, that the United States was not founded as a Christian nation. Highly recommended.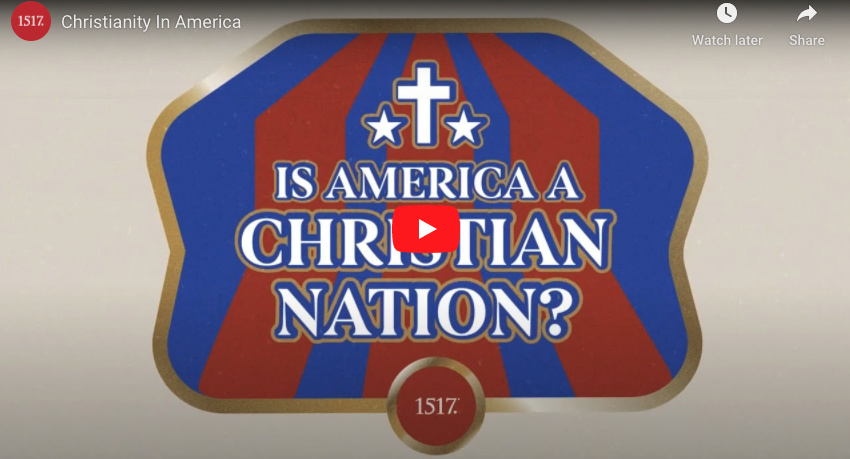 ---
In Case You Missed It
Check out last week's newsletter where I talk about my experience of getting tested for COVID-19.
---
A Closing Quote
For like a shaft, clear and cold, the thought pierced him that in the end the Shadow was only a small and passing thing: there was light and high beauty for ever beyond its reach.

— J.R.R. Tolkien, The Return of the King