Five suggestions for making the Psalms part of your prayer life.
---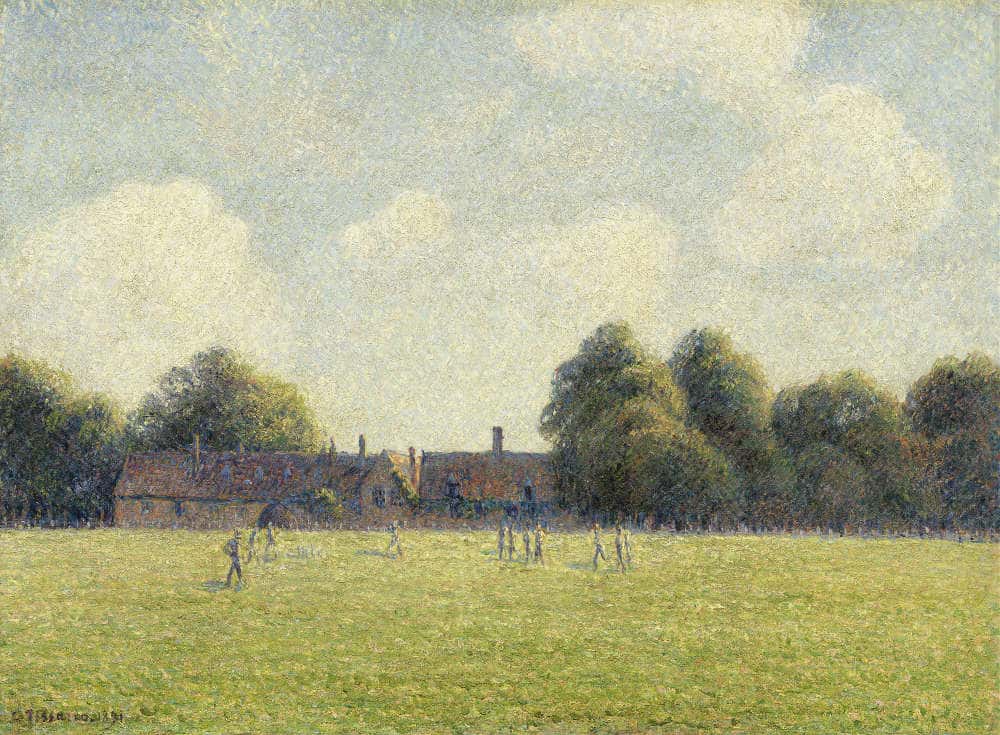 Camille Pissarro, Hampton Court Green, 1891
---
A few weeks ago, I wrote about Athanasius' claim that the Psalms give us words to pray. No matter how we feel, whatever the circumstance, Athanasius says we can take up a psalm and say it as our own.
Perhaps you're wondering whether praying a psalm is less authentic than an extemporaneous prayer. Wouldn't God be more pleased with a "heartfelt" prayer than with simply reciting a psalm? Certainly, mindless recitation of written words—Scripture or otherwise—is a cheap substitute for true prayer. But let's not be too quick to dismiss the idea of using the Psalms and other portions of Scripture to express our prayers.
In God's Prayer Book: The Power and Pleasure of Praying the Psalms, Ben Patterson reminds us that Jesus himself prayed the Psalms during the most important moment of his life.
At the end of his life, as he hung dying on the cross, he went to the Scriptures for his prayers—more specifically, to the Psalms. "My God, my God, why have our abandoned me?" (Matthew 27:46) is a quotation from Psalm 22:1. "Father, I entrust my spirit into your hands!" (Luke 23:46) comes from Psalm 31:5. At the point of his greatest anguish and extremity, Jesus turned to the Bible for his prayers. Charles Spurgeon reminds us that, when he most needed to pray, Jesus, the grand original thinker, saw no need to be original or extemporaneous. "How instructive is this great truth that the Incarnate Word lived on the Inspired Word! It was food to him, as it is to us; and…if Christ thus lived upon the Word of God, should not you and I do the same?…I think it well worthy of your constant remembrance that, even in death, our blessed Master showed the ruling passion of his spirit, so that his last words were a quotation from Scripture."
Jesus had no qualms about praying the Psalms and neither should we.
So how can we do it? What does praying a Psalm look like? Patterson offers five suggestions.
1. Say them out loud
Just read the Psalms slowly and thoughtfully, assenting to what they say with as much understanding as you have, intellectually and emotionally. Don't just read them, pray them: say them from the heart.
2. Festoon Them
Think of a psalm as a Christmas tree. Read it and then festoon it with your own prayers, as you would decorate a tree. Your prayers are answers to what God says to you in the psalm.
Along these lines, he recommends using the "three Rs" in your prayers:
Rejoice: What do I find here that gives me cause to rejoice, to give praise and thanks? Then do it.
Repent: What do I read here that brings to light sin in my life? Then confess and repent.
Request: What in this psalm can inform the way I pray for others and myself? Then make your requests of God accordingly.
3. Paraphrase them
Meditate and study a psalm until you understand it well enough to put it into your own words. Then paraphrase the psalm as you have come to understand it, and pray your paraphrase.
4. Learn them by heart
Memorize the Psalms—but not by rote. Rather, learn them by heart; make their words your words. Come to understand them so well you can recite them—by inflection and tone—as though you had written them yourself.
5. Marinate in them
Some people use the Bible like they use spice to liven up the taste of food—a little Tabasco here, some salt and pepper and oregano there; a favorite verse, a "one size fits all" psalm like Psalm 23 or 103 to read when you are (check one) sad or glad or afraid or lonely or struggling with doubt. Nothing wrong with that, unless that's the only way you come to Scripture.

But it's better to use the Psalms as you would a marinade. A spice touches only the surface of the food: marinade changes its character. Chicken soaked in lemon juice or a steak drenched in garlic and teriyaki sauce isn't the same thing it was before the treatment. The soul should marinate in Scripture by repeated, thoughtful, slow, comprehensive, and Spirit-enlightened reading.
Patterson concludes his suggestions for praying the Psalms with the following remarks.
Mature Christians have long known that the best way to learn to pray is to pray through the Psalms systematically, psalm by psalm, day in and day out, week by week and month by month for a lifetime…Certainly this was what Jesus did. The man who prayed the Psalms so meaningfully on the cross had been drenched in the Psalms from boyhood.
He's got me convinced. I'm planning to incorporate these practices into my daily Psalms reading immediately!
---
Around the Web
R.I.P., The Benefit of the Doubt by Isaac Adams.
This article isn't about how much is too much time on Twitter, Facebook, Instagram or your preferred social media beverage. This post is about something so many of us seem to be drunk on nowadays—suspicion. Distrust now seems to be synonymous with discernment, and assuming the worst now is lauded and retweeted as virtue. Nowhere is this clearer than public "conversations'' about race and racism on social media.
Reviving Intellectual Hospitality by Cherie Harder, president of The Trinity Forum. Ms. Harder writes about opening "our minds, hearts, and homes" to others.
Each hour seems to bring new confirmation of our angry, addled, and alienated state. We are so focused on the darkness in others we can no longer see clearly. The irony is that while partisans are busy asserting that their opponents are evil and stupid, the very act of doing so—widely replicated as it is, and provoking a corresponding vitriol from the other side—renders our public discourse and character as a whole ever more callous, clueless, and cruel. We are becoming what we denounce.

How to disrupt this vicious cycle? A society of diminishing public trust in both institutions and each other—riven by difference we seem unable to bridge, and marked by malice and misinformation—calls for creative means of rebuilding a shared sense of the common good. Vital to such renewal will be the reinvigoration of what might seem a modest practice: the extension of intellectual hospitality.
When Pastors Prayed in Montgomery by Sarah Eekhoff Zylstra. Simply amazing!
In the days after George Floyd's death, at least 140 cities lit up with protests. Streets shut down in Memphis and Louisville; in Los Angeles protesters blocked the freeway. Demonstrators smashed windows and sprayed graffiti in Atlanta and New York City. Protesters were shot in Detroit and Austin; officers were killed in St. Louis and Las Vegas. The National Guard was summoned in 21 states.

In Montgomery, Alabama, pastor Jay Wolf got word that activists across the south were coming to his city—home of Rosa Parks and Martin Luther King Jr.'s Dexter Avenue Baptist Church—to set fire to the federal courthouse.

"It was just overwhelming," he said. First Baptist Church sits two blocks from the courthouse.

Wolf didn't know exactly what to do. But he knew who to ask. He began trading phone calls with his pastor friends. He's got a lot of them—white, Black, charismatic, Presbyterian, Baptist, Methodist.
---
A Poem
After the Diagnosis
By Christian Wiman
No remembering now
when the apple sapling was blown
almost out of the ground.
No telling how,
with all the other trees around,
it alone was struck.
It must have been luck,
he thought for years, so close
to the house it grew.
It must have been night.
Change is a thing one sleeps through
when young, and he was young.
If there was a weakness in the earth,
a give he went down on his knees
to find and feel the limits of,
there is no longer.
If there was one random blow from above
the way he's come to know
from years in this place,
the roots were stronger.
Whatever the case,
he has watched this tree survive
wind ripping at his roof for nights
on end, heats and blights
that left little else alive.
No remembering now…
A day's changes mean all to him
and all days come down
to one clear pane
through which he sees
among all the other trees
this leaning, clenched, unyielding one
that seems cast
in the form of a blast
that would have killed it,
as if something at the heart of things,
and with the heart of things,
had willed it.
---
A Photo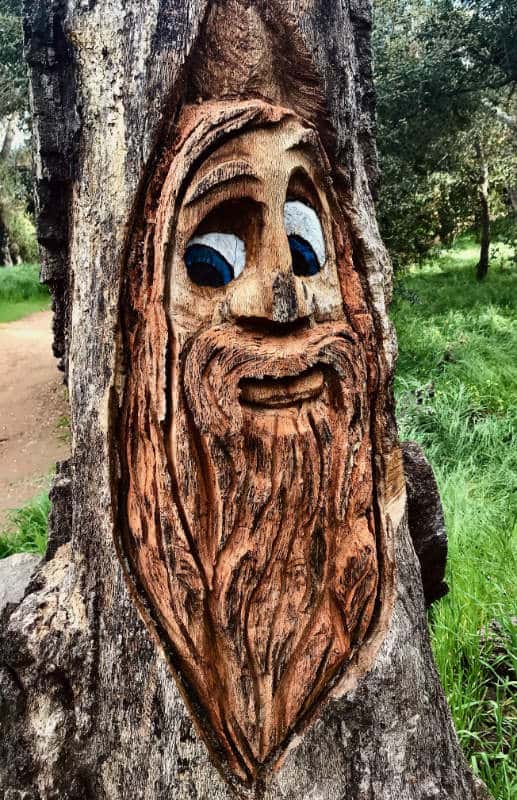 Lake Hodges, Escondido, CA, March 2021
I found Treebeard!
---
Listening To
Actually, I've been listening to a single track from the album: "The Lakes" by Rachel Portman. Stunning!
---
Reading
Check out more of what I'm up to in the reading department at Goodreads.
---
Something to Watch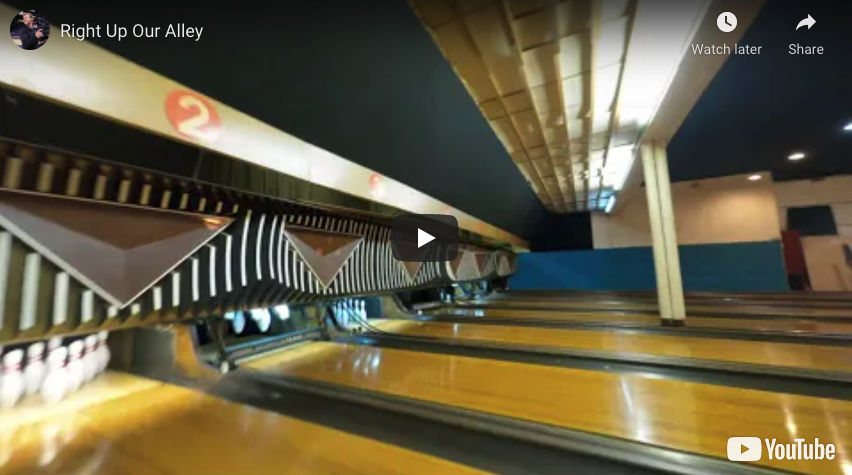 Drone + bowling alley = amazing
---
In Case You Missed It
Check out last week's newsletter.
---
A Closing Quote
The Psalms were meant to be prayed in community…God intends for the Psalms to teach His people the practice of praise and lament, confession and exaltation, protest and thanksgiving…The Psalms train a community to "rejoice with those who rejoice and weep with those who weep" (Romans 12:15). The Psalms are essential for a flourishing community sustained by prayer.

— Benjamin Kandt