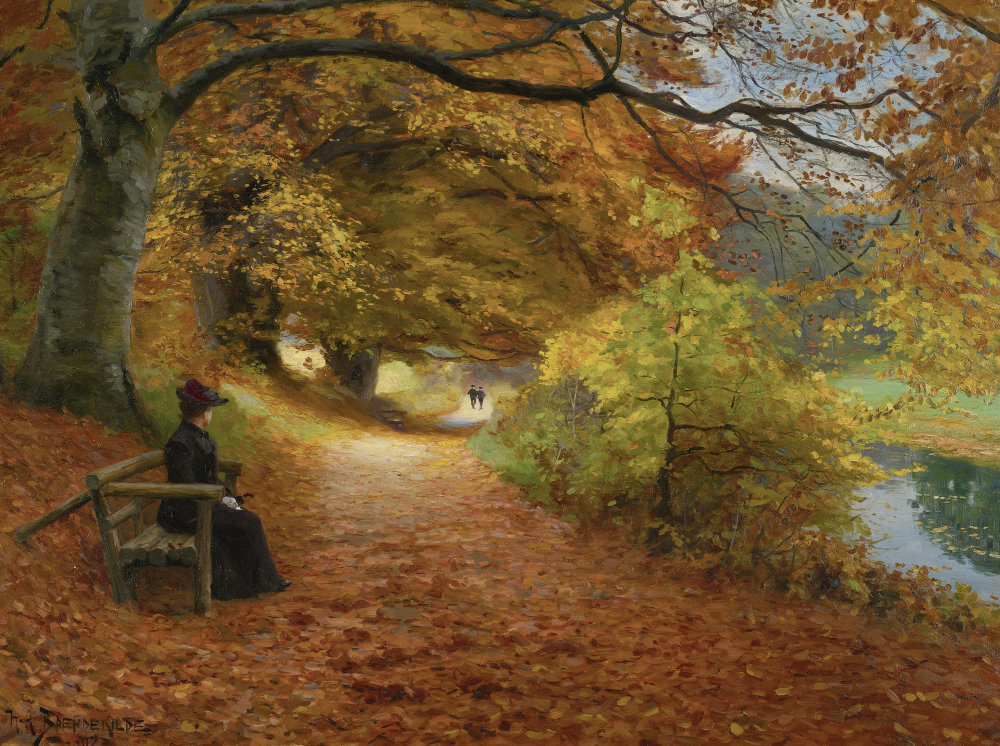 H.A. Brendekilde, Wooded Path in Autumn, 1902
---
I recently read through Life Together by Dietrich Bonhoeffer with a few friends. It's a brief but profound exploration of Christian community. I'm thinking about writing a series of articles for my church interacting with material from the book.
Here's a draft of an introductory article (the illustrious Craig Marshall provided a little editorial help). I thought I'd test it out on readers of this newsletter.
I'd love to know whether a series of articles like this would be helpful or interesting to you. Depending on the response, I might publish them here first.
---
Christian community is essential to the life of the Christian and the church at all times but especially during seasons of crisis and upheaval. God designed us to need each other. No Christian is an island to himself. Your well-being and progress in the Christian life depend, in part, on receiving the love, service, wisdom, and gifts of your brothers and sisters.
However, the pandemic presents substantial challenges to the practice of Christian community for all of us, no matter where you stand on the COVID-19 issue. Under normal circumstances, community is an embodied experience—something enjoyed "in the flesh," so to speak. A friend's or loved one's physical presence provides encouragement, comfort, or companionship. But in the present moment, this isn't always possible.
Nevertheless, true community, even in the age of masks and social distancing, is still possible. This is so because Christian community is not simply "being together." Anyone who has spent time in the waiting room at the dentist's office knows that bodies merely occupying the same physical space hardly constitutes meaningful community. Without question, physical presence is a significant aspect of Christian fellowship, something that at almost any other time needs to be stressed. But—and I write this fully aware that it's liable to be misunderstood or misapplied—physical presence is not the essence of community.
Naturally, this begs the question, what does true community look like, especially when regular physical presence is limited by public health restrictions? Enter Life Together—a book about Christian community written by Dietrich Bonhoeffer. Bonhoeffer was a Lutheran pastor and professor in an underground seminary in Germany during the Nazis' reign of terror. He knew a thing or two about community in chaotic times.
In the beginning of the book, he reminds us that believers throughout the centuries—during times of war, persecution, natural disaster, personal illness, plague, and missionary service—have been deprived of the blessing of the physical presence of Christian brothers and sisters. Yet, they were not entirely bereft of Christian community.
The Apostle Paul himself, at times, was prevented from enjoying embodied fellowship with other believers, sometimes for extended seasons. For example, though he possessed a deep affection and yearning for the church in Philippi (Phil 1:8), he could not be physically present with them due to his imprisonment. Despite the geographic separation, Paul recalled in prayer their partnership in the work of the gospel (1:5). He rejoiced that they were partakers together of grace, a bond that closed the gap, in a manner of speaking, between the imprisoned Apostle and his beloved friends (1:7). Paul received gifts sent by the church—possibly money and clothing—as physical, tangible signs of their fellowship together in Christ (4:18). Furthermore, he wrote a letter—the book of Philippians—to affirm their relationship, pronounce God's blessing on them, provide instruction, and express his appreciation for their love, all of which served to strengthen the bonds of fellowship in a season of physical absence.
Bonhoeffer draws attention to the fact that Christian community—by that, I mean the communion of the saints—is rooted in our union and communion with Jesus Christ. Community is an objective reality. Believers have been united to Christ and one another by an indissoluble bond. We are members of the same body, siblings in the same family. Community, in this sense, exists apart from my subjective awareness or experience of it.
Of course, this mystical, spiritual union finds practical expression in our life together as God's people. We embody community through a variety of virtues, attitudes, and practices, one of which is physical presence. But—and this is important to recognize—apart from these other facets of community life, physical presence itself cannot produce what we desire: rich, substantial, soul-refreshing Christian fellowship. One might as well stand on a street corner in Times Square, surrounded by thousands of strangers, if a Christian community neglects these other aspects of its shared life. The experience of community in either context would be the same. Someone who has spent years in a church, regularly attending worship services and "fellowship" events, but feels like she neither knows nor is known by anyone understands just how true this is. Shared physical space is insufficient. A community's members must exhibit certain virtues and engage in particular practices for physical presence to make any meaningful contribution to community life. These virtues and practices are often called "one-another ministry."
This one-another ministry is something we are called to cultivate as a church whether we are under restrictions or not. Again Bonhoeffer is helpful here. In a chapter titled "Ministry," he discusses seven "ministries" which every member of a Christian community—a church, for example—can exercise for the good of every other member. These practices encapsulate much of what the New Testament teaches about life together in God's family. They show us how we, who are members of the new creation community, ought to relate to each other. They reveal to us the kind of people God is forming us to be in Christ by the Spirit. Now more than ever, we need to be this kind of community for each other's sake.
Over the next several weeks, I'd like to provide you with meditations on each of the ministries Bonhoeffer explores:
The ministry of holding one's tongue
The ministry of meekness
The ministry of listening
The ministry of helpfulness
The ministry of bearing
The ministry of proclaiming
The ministry of authority
The good news is that none of these activities depends exclusively on the kind of physical presence we practiced before the pandemic. Each can be engaged in today and on the other side of this trial. In fact, if we are not learning to serve each other by these means in the present, we probably won't do so even after COVID-19 restrictions have been lifted. We may be together, but community is about more than physical proximity.
---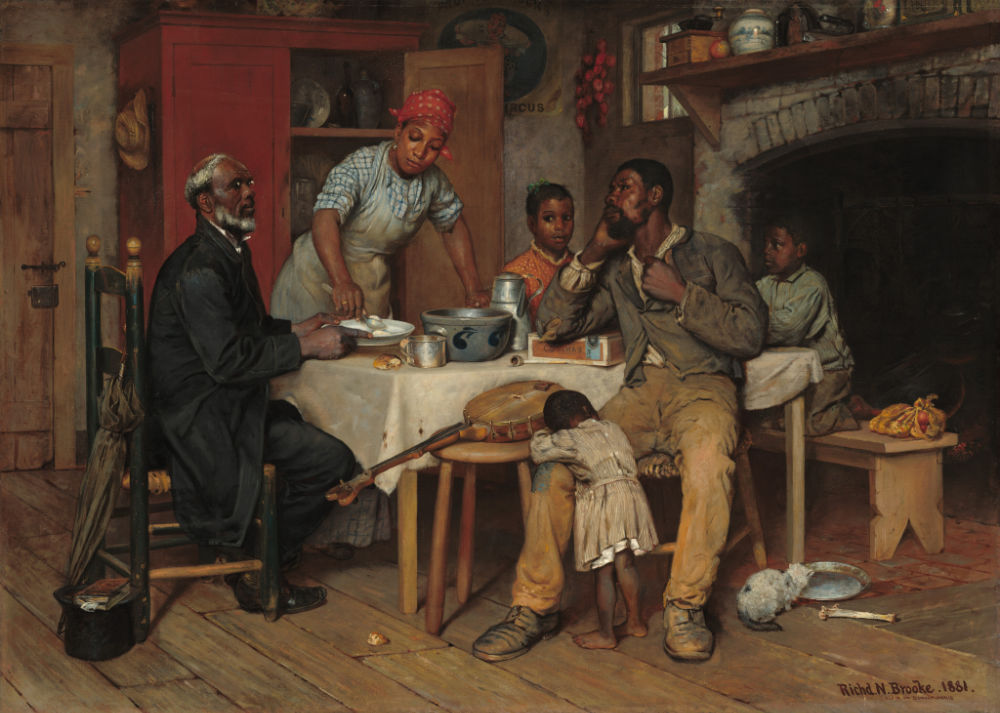 Richard Norris Brooke, A Pastoral Visit, 1881
---
Around the Web
The Political Captivity of the Faithful by Nathan Hatch, an Evangelical historian and President of Wake Forest University.
Believers today are powerfully influenced by certain dominant political perspectives. This is so much the case that I fear an actual crisis of faith—the political captivity of the faithful. That danger is evident, I will suggest, both among those who adhere to more orthodox belief, evangelicals and Catholics; and those mainline believers of more progressive inclination.
And later:
Churches clearly need to form the faithful in how to think—and sometimes act—in the arena of politics and society. But that task needs to be done with great humility and with a depth of historical and theological reflection rarely seen. Such nuance will definitely not conform to current political orthodoxies and may make it very difficult for believers to become full-throated advocates for either major American political party (emphasis added).
Hatch coauthored, with Mark Noll and George Marsden, The Search for Christian America—the best exploration I've come across of the movement claiming America is a Christian nation. The book was published in 1989. I read it nearly 20 years ago, and it seems to me to be as relevant as ever.
If Then by Alan Jacobs. I'm a big proponent of knowing and understanding history in order to better understand and navigate the present. Alan Jacobs is too. I've witnessed how the Christian community has responded to a number of crises, real and imagined, during my twenty plus years as a Christian—Y2K, the 9/11 terrorist attacks, The Great Recession, the ubiquity of disinformation, a global pandemic, racial injustice, and a polarizing presidential election.
As a community, we don't seem to respond any more wisely than the broader culture. If anything, we demonstrate a penchant for conspiracy theories, irrational fear, and a lack of perspective. The Apostle Paul would say we're "tossed to and fro by the waves and carried about by every wind of doctrine, by human cunning, by craftiness in deceitful schemes" (Eph 4:14). As long as we remain children in our thinking, we'll fail to be responsible citizens and patient sojourners.
Here's Jacobs:
We are afflicted by our ignorance of history in multiple ways, and one of my great themes for the past few years has been the damage that our presentism does to our ability to make political and moral judgments. It damages us in multiple ways. One of them, and this is the theme of my book Breaking Bread with the Dead, is that it makes us agitated and angry. When we, day by day and hour by hour, turn a direhose of distortion and misinformation directly into our own faces, we lose the ability to make measured judgments. We lash out against those we perceive to be our enemies and celebrate with an equally unreasonable passion those we deem to be our allies. We lack the tranquility and the "personal density" needed to make wise and balanced judgments about our fellow citizens and about the challenges we face.

But there is another and still simpler problem with our presentism: we have no idea whether we have been through anything like what we are currently going through. Some years ago I wrote about how comprehensively the great moral panic of the 1980s – the belief held by tens of millions of Americans that the childcare centers of America were run by Satan worshipers who sexually abused their charges – has been flushed down the memory hole. In this case, I think the amnesia has happened because a true reckoning with the situation would tell us so much about ourselves that we don't want to know. It would teach us how credulous we are, and how when faced with lurid stories we lose our ability to make the most elementary factual and evidentiary discriminations. But of course our studied refusal to remember that particular event simply makes us more vulnerable to such panics today, especially given our unprecedentedly widespread self-induced exposure to misinformation.
---
A Poem
Sabbaths, 1991 V
By Wendell Berry
The seed is in the ground.
Now may we rest in hope
While darkness does its work.
---
A Photo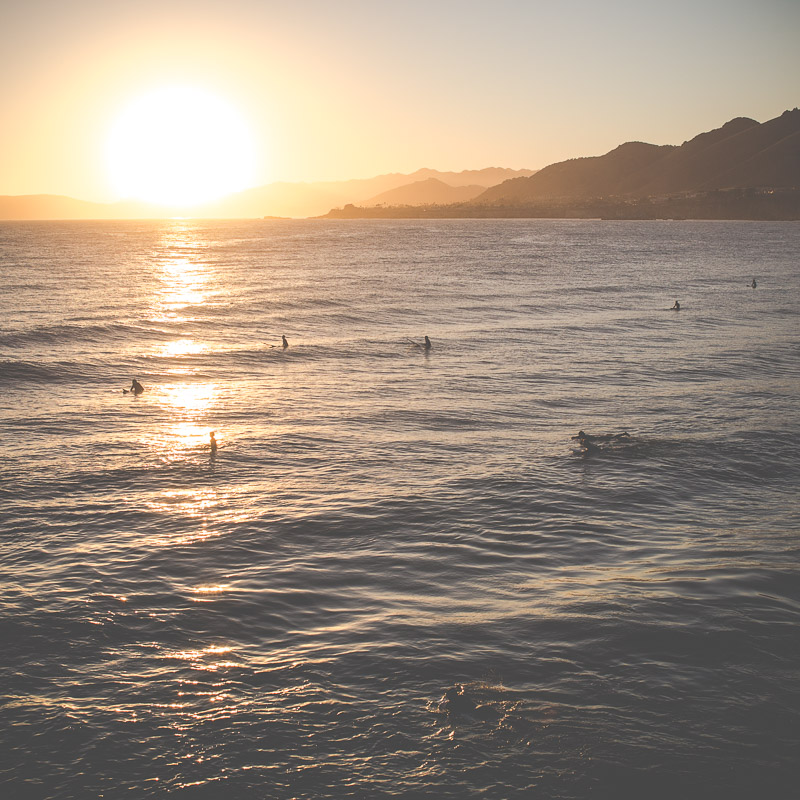 Pismo Beach, CA, 2019
I shot this from the pier during a family vacation. California sure does produce beautiful sunsets.
---
Listening To
I went back to an old favorite: Bon Iver's 2007 album, For Emma, Forever Ago.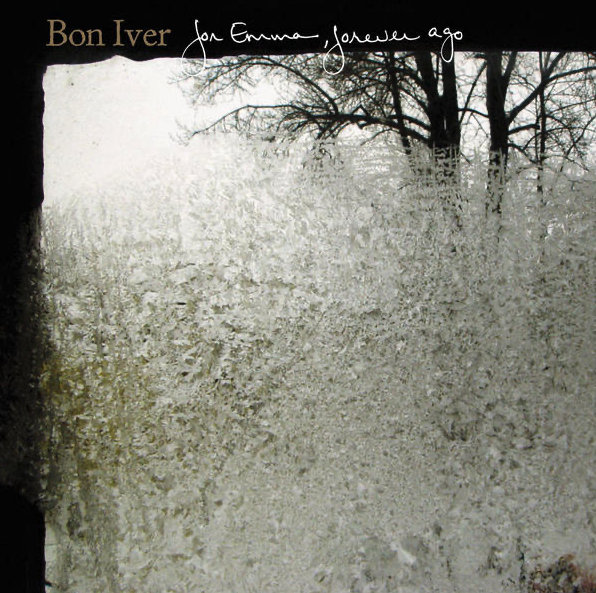 ---
Reading
Something to Watch
From Open Doors USA: What a Christian childhood looks like in Iran: Hami's story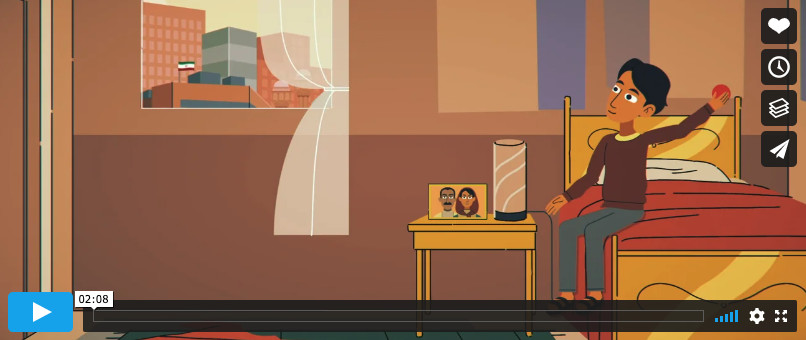 Hami is not a real boy—but his story is one that has been lived out by real people countless times in Iran. Watch as Hami learns what life can really be like for believers in Iran, and how you can help encourage kids like him.
---
In Case You Missed It
Check out last week's newsletter where I talk about embracing our despised status in the eyes of the world.
---
A Closing Quote
Never laugh at live dragons.

— J.R.R. Tolkien