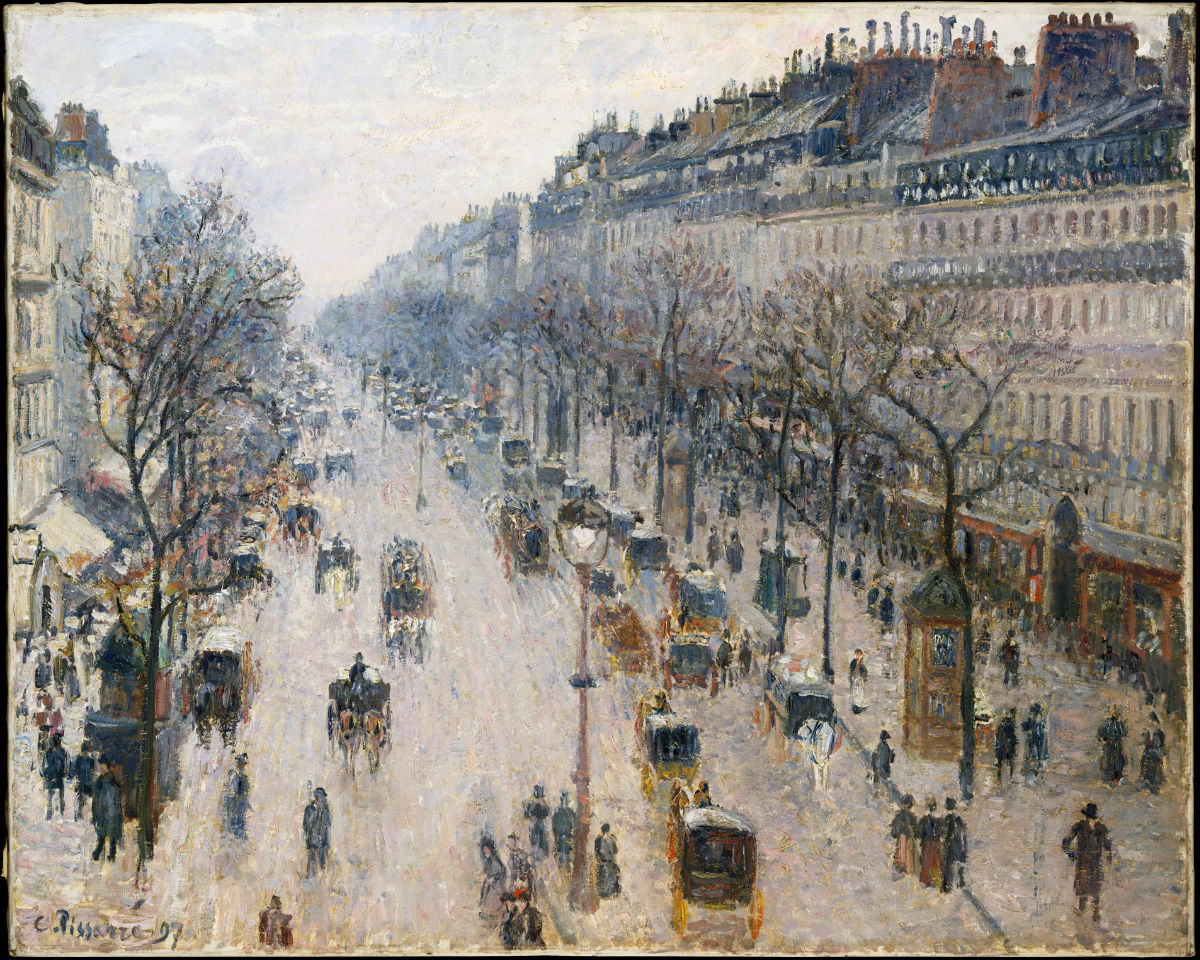 Camille Pissarro, The Boulevard Montmartre on a Winter Morning, 1897
---
Russell Moore on How a Devilish View of Strength Is Killing Us:
This mentality—of pretend "strength" as an aspect of leadership—is not only out of step with the gospel of Jesus Christ, it is, in fact, a completely different gospel—the gospel of antichrist. From the very beginning, God created human beings—even before the Fall—to see their creatureliness and dependence. Human beings were fed, after all, by God. They were not self-sufficient deities, but "frail children of dust, and feeble as frail." The Serpent of old is the one who told them to pay no attention to that vulnerability. Eat, the snake said, of the Tree of the Knowledge of Good and Evil, which has been forbidden to you, so that you can gain freedom from vulnerability. "You will not surely die," but instead, "you shall be as gods."
---
Recently I started receiving print delivery of the Sunday edition of The San Diego Union–Tribune. Sitting in a comfy chair with newspaper in hand is quite relaxing. It's so much more enjoyable than reading online news, at least for me.
In the September 6, 2020 paper, Ernie Cowan wrote about the beauty of fall in the High Sierra. For years I've wanted to travel north in September for a long weekend to enjoy the fall colors. Ernie's article reminded me why. Here's an excerpt.
Seasons are subtle here in Southern California, but in the clouded elevations of the High Sierra, just a few hundred miles north, seasons come like a puffing steam engine.

But fall in particular is my time to reflect, shed, examine priorities and prepare for personal renewal. I can't think of a better place that [sic] the high country.

As September arrives, the most obvious bellwether of seasonal change is the coming of spectacular color that paints the aspen groves spilling down of the rugged canyons like a molten lava flow.

At the higher elevations of 9,000 feet or more they will begin to shed their summer green, taking on hues of lime, yellow, gold and red. Higher peaks will be dusted with early snow.

This beautiful show will seem to glow in early morning and late afternoon sunlight until the storms of late October have blown the last leaves from the trees. For a brief time, a golden carpet on the forest floor will linger as a reminder of this season of beauty.

Color is everywhere in the fall. The intense hue of a blue jay contrasts sharply with the aspen yellows as the birds chatter noisily while feeding. There's an extra thrill for the angler connecting with a brook trout that has taken on the intense spawning colors of autumn.

I can't begin to describe the feeling of walking beneath a canopy of aspens in full fall glory. The light takes on a warm, artificial glow that seems somehow embracing and comforting.

Following the trail into a sunlit meadow is almost shocking as you are greeted with an intensely blue sky and the mountain mosaic of gray granite, dark green pines and groves of aspen in full glory.

Fall color comes fully to the Sierra in late September, but generally peaks between the first and second weeks of October then slowly fading, depending on storms, into late October.

Perhaps we don't have the vast acres of maples and oaks that create the famous fall colors of the East Coast, but California's High Sierra has an annual show that will not fail to touch the very core of your soul.
You can read the entire article here.
---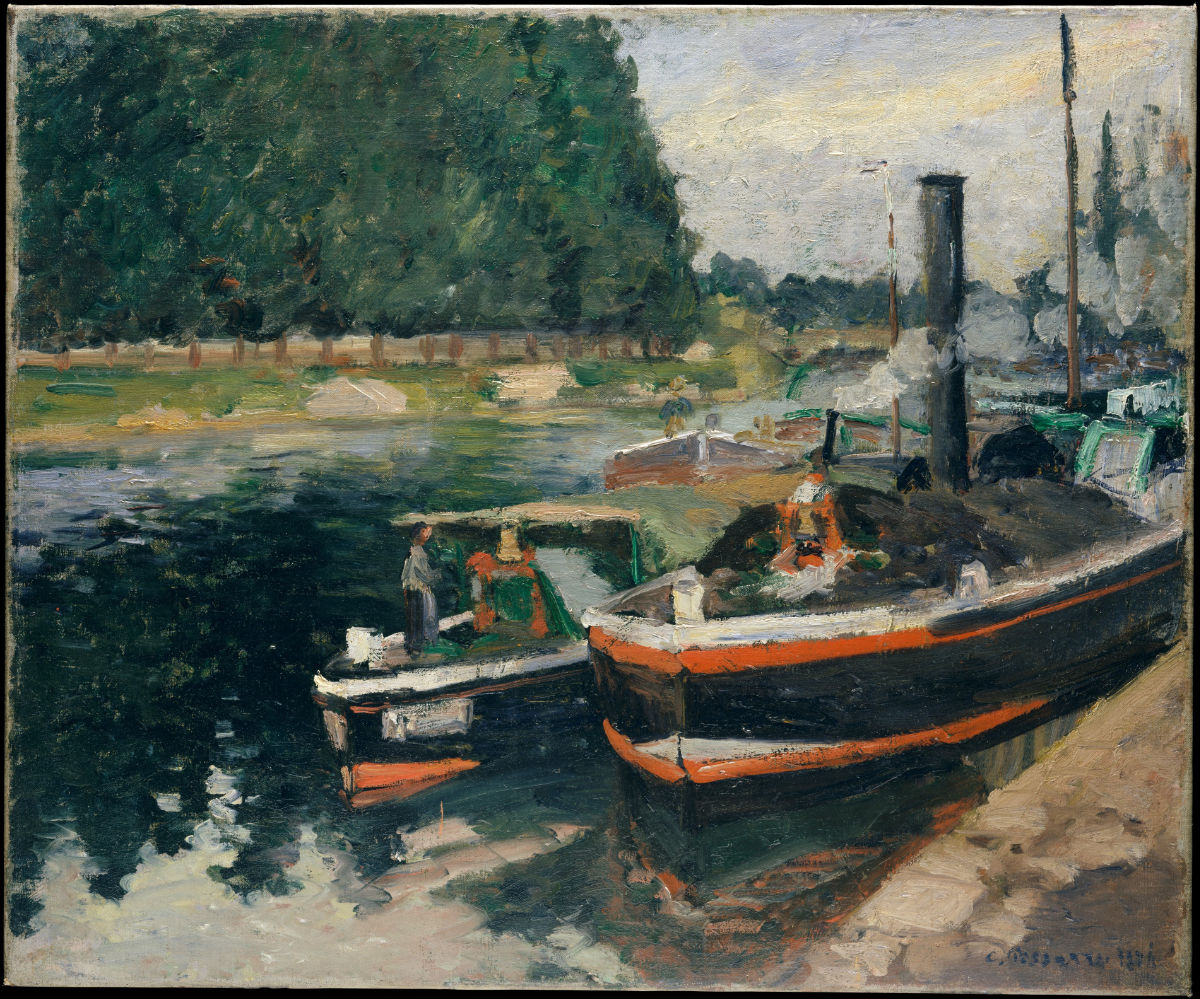 Camille Pissarro, ‌Barges at Pontoise, 1876
---
Last March Bruce Hindmarsh, James M. Houston Professor of Spiritual Theology and Professor of the History of Christianity at Regent College in British Columbia, wrote about Coronavirus and the Communion of the Saints. This isn't the first time the Church has faced a pandemic. Bruce discusses how Christians sought to care for the sick and suffering at different moments in church history and lessons we can learn from their example.
We do not yet know how much suffering will come. But may we all encourage one another to deepen our trust in God as our eternal refuge, and together with all the saints may we love and care for our neighbour like those long ago in Alexandria, "never sparing themselves and thinking only of one another."
---
Laura Fabrycky writes about belonging, friendship, and prayer in the life of Dietrich Bonhoeffer.
After that first visit, I returned many times to the Bonhoeffer-Haus. Each time, I learned something new about Bonhoeffer, often by seeing his life from a new angle, or from a different horizon of cultural knowledge. Surprisingly, I began to see myself in a new light as well, which was odd given how little Dietrich Bonhoeffer, an early twentieth-century theologian and Nazi resister, and I, a twenty-first-century American housewife, really had in common.

After many visits, I asked if I could serve as a volunteer guide at the Bonhoeffer-Haus. To my surprise and delight, I was welcomed to do so by the Germans who serve there. As I studied his life more diligently and practiced narrating it to others, I paid particular attention to the questions I had wanted his life to answer for me, and to see better how I might reframe my questions and answer them in my own life rather than trying to figure out how he answered them for me.

I had come to the Haus searching for a hero of unassailable strength, failing to see how in Bonhoeffer the strength in his life was born out of the vulnerable and loving constraints of committed relationships. Here was the real correspondence between us: relationships of trust and love, and the lived practices of belonging with others. These relationships matter in my life as much as they did in Bonhoeffer's. They matter to neighbourhoods and nations, although they feel fragile and insignificant when the noisy claims of the powerful—and armed—overwhelm and frighten.
Watch Cherie Harder interview Laura about her book Keys to Bonhoeffer's Haus: Exploring the World and Wisdom of Dietrich Bonhoeffer.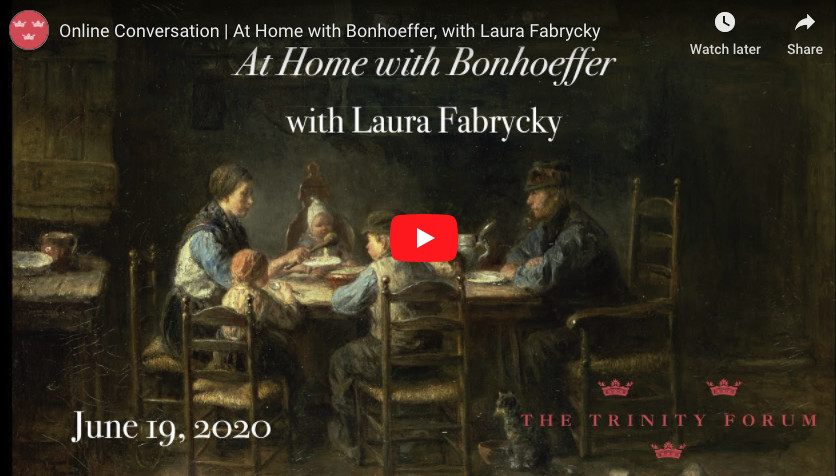 ---
In The Generosity of Art in a Troubled Time, Ilana Reimer writes about the power of art to help us see through new eyes and find common ground with others.
The complexity of conversations on the pandemic and racism have heightened my desire for a space to think, breathe, and process. The avalanche of information coming through newsfeeds and social-media pages can be both exhausting and limiting; it leaves my overloaded brain spinning like a tricycle stuck in the sand. Statistics can inform. They can also numb. New arguments and opinions can broaden thinking, but they can also cause knee-jerk reactions that are difficult to ignore.

For me, visual art, poetry, and storytelling provide a place where statistics become people and differing arguments become questions that inscribe other voices in my brain. It is not that art is an escape from the real: rather, through art, I am better able to grieve with those who grieve, rejoice with those who rejoice: better able to find common ground with other humans. Thoughtful research and discussion are necessary tools through which to examine any issue, but these lenses of art can bring a humane complexity to argument. Most issues are too multifaceted to be captured neatly in an article or study. And I, like most humans, am stubborn; I need to work out truths for myself, not be told them point-blank. Realizing this has changed how I look to those among us who are artists. I don't just enjoy their work. I lean on them to help me see through new eyes.
---
Stopping By Woods on a Snowy Evening
by Robert Frost
Whose woods these are I think I know.
His house is in the village though;
He will not see me stopping here
To watch his woods fill up with snow.
My little horse must think it queer
To stop without a farmhouse near
Between the woods and frozen lake
The darkest evening of the year.
He gives his harness bells a shake
To ask if there is some mistake.
The only other sound's the sweep
Of easy wind and downy flake.
The woods are lovely, dark and deep,
But I have promises to keep,
And miles to go before I sleep,
And miles to go before I sleep.
---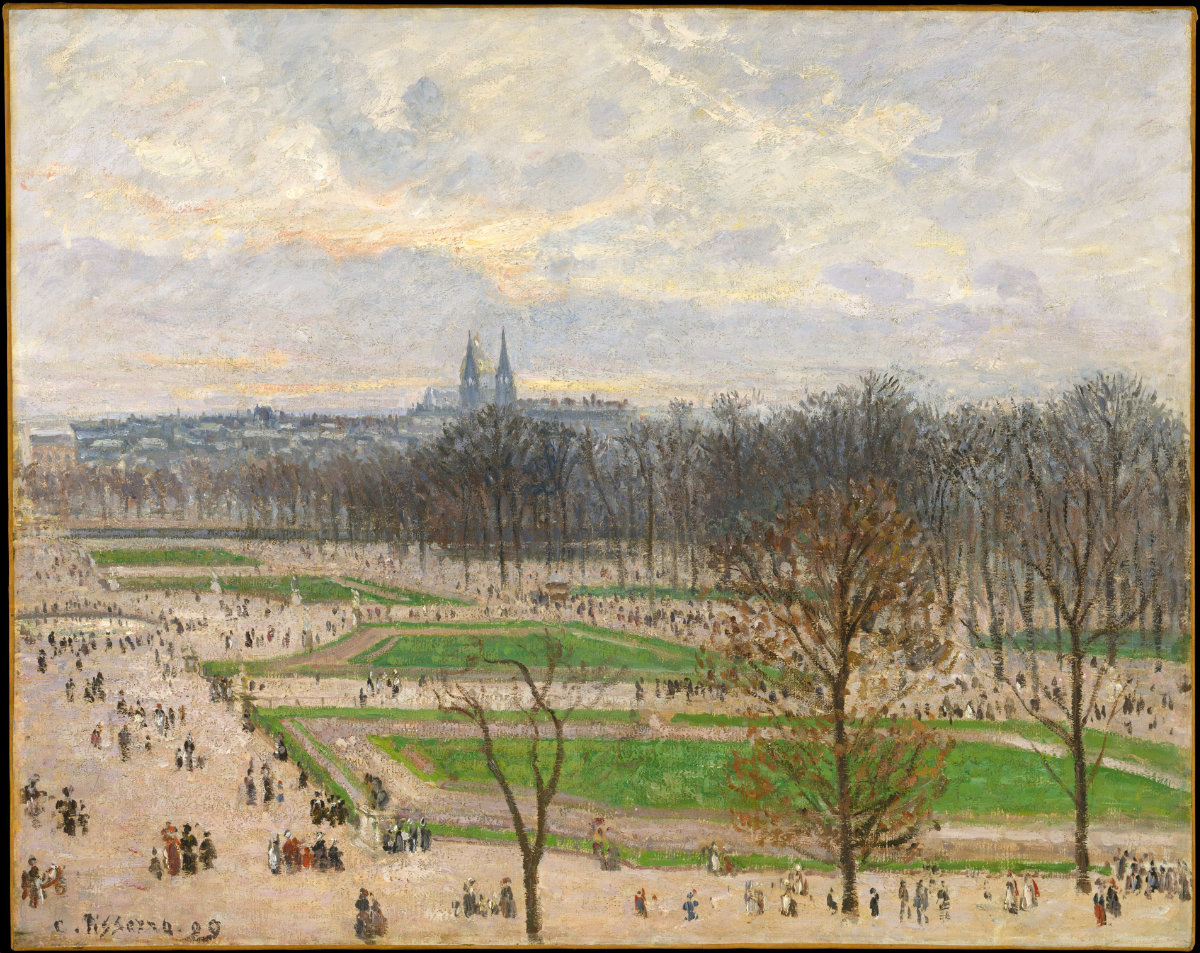 Camille Pissarro, ‌The Garden of the Tuileries on a Winter Afternoon, 1899
---
Last week I quoted Isaac Adams:
Can we please not say the American church hasn't been persecuted when the black church has known extreme persecution—Charleston and arson being the most recent exhibitions?
This past Tuesday, September 15, 2020, was the fifty-seventh anniversary of a particularly heinous act of persecution against Black Christians—the 1963 bombing of 16th Street Baptist Church in Birmingham, Alabama. Four members of the Ku Klux Klan were responsible for the attack in which four young girls were murdered—Addie Mae Collins (14), Denise McNair (14), Carole Robertson (14), and Cynthia Wesley (11).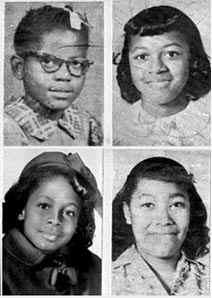 Clockwise from top left, Addie Mae Collins, Cynthia Wesley, Carole Robertson and Denise McNair
The National Park Service recounts what happened:
[T]he congregation of the 16th Street Baptist Church in Birmingham, Alabama greeted each other before the start of Sunday service. In the basement of the church, five young girls, two of them sisters, gathered in the ladies room in their best dresses, happily chatting about the first days of the new school year. It was Youth Day and excitement filled the air, they were going to take part in the Sunday adult service.

Just before 11 o'clock, instead of rising to begin prayers the congregation was knocked to the ground. As a bomb exploded under the steps of the church, they sought safety under the pews and shielded each other from falling debris. In the basement, four little girls, 14-year-olds Addie Mae Collins, Denise McNair, Carole Robertson, and 11-year-old Cynthia Wesley, were killed. Addie's sister Susan survived, but was permanently blinded.

In the moments after the explosion, questions hung in the air - 'Where is my loved one?' 'Are they ok?' 'How much longer can this violence last?' They did not ask if this was an accident, they knew that this was a bomb that had exploded as it had dozens of times before in "Bombingham."
You can read about the aftermath and long wait for justice here.
---
158 years ago tomorrow (September 22), President Abraham Lincoln issued a warning of his intent to sign the Emancipation Proclamation, which would set free all slaves in rebellious states on January 1, 1863 if the Confederates did not cease fighting and rejoin the Union by that date.
You can view images of the original document at the National Archives' website.
---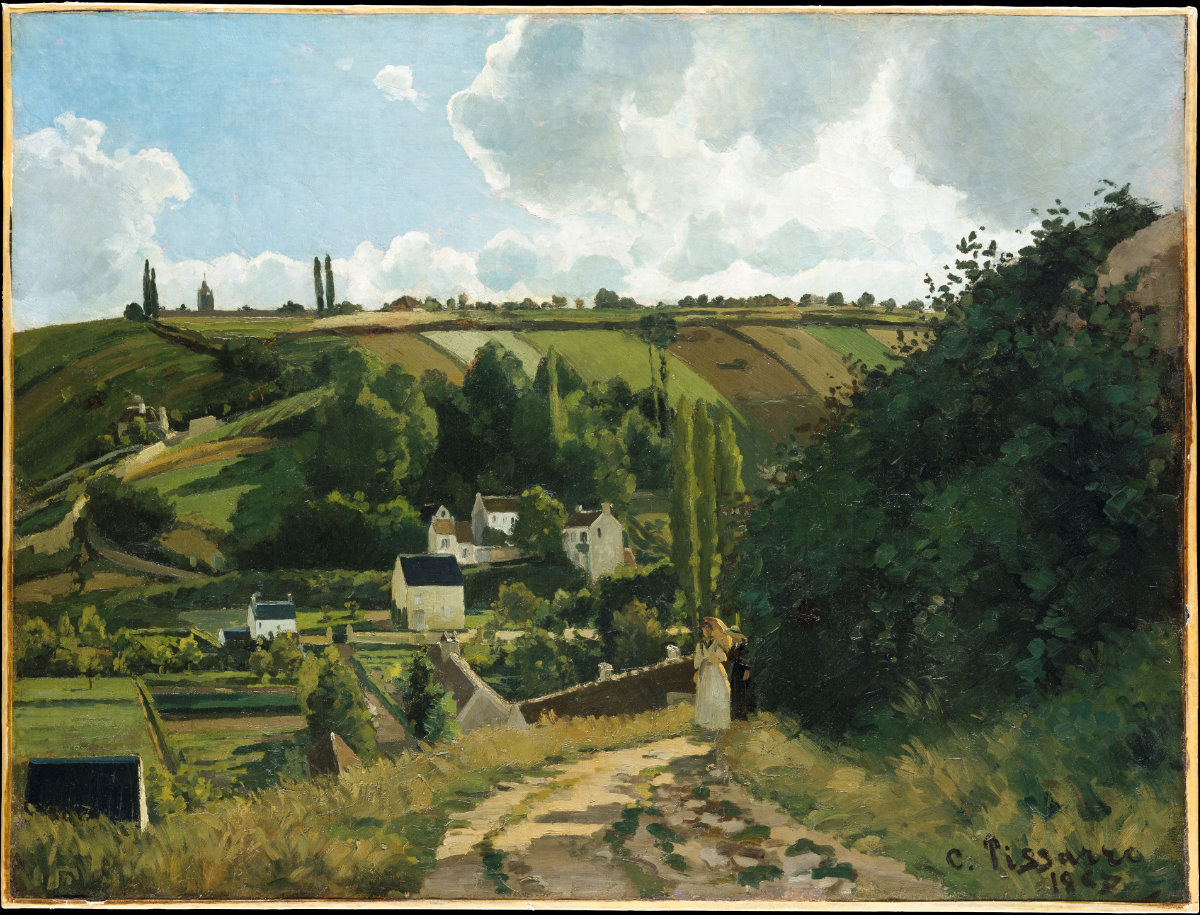 Camille Pissarro, Jalais Hill, Pontoise, 1867
---
Currently reading
---
Why say "oily" or "marked by an offensively ingratiating manner or quality" when you can use oleaginous?
---
From The Porter's Gate newest album, Justice Songs.