A small band of rapping misfits convened in a wasteland commune, weed-bent on making music for their masses and a self-sustainable community for themselves. Sadboy, Keem, Mijo, RyBundy, Huckleberry, Phong Winna, Benz Rowm (RIP), and Champloo Sloppy set up camp in the desert near Crestone, Colorado. Having gone to high school with most of these guys, Marnie Ellen Hertzler followed with her camera.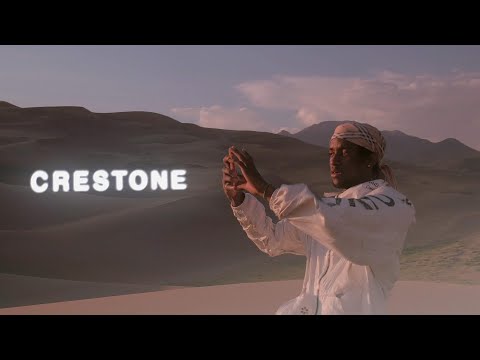 Ostensibly making a documentary, Hertzler manages to capture a mix of both pre-apocalyptic dread and post-apocalyptic glee. The result is a delirious detour through the chaos and contradictions of coming of age in a future that's already ending. The cast of characters listed above and the setting—as desolate and demanding as Tatooine or Arrakis—make Crestone a mesmerizing study of people out of place, a whole subculture uprooted and relocated on the edge of the end of everything.
Hertzler is currently in production on her second feature called Eternity One about a disappearing island community.
How much of Crestone was planned beforehand?
Much of it was planned. We only had 8 days to shoot so I wanted to be sure I had some kind of structure for those 8 days so they wouldn't slip away. The guys and I had scripted some scenes together and I had roughed out a narrative through-line. The best parts in the film just happened on their own. It is nice to be able to work so freely that, when needed, you can bring the happenstance to the front. Documentary isn't real, and Narrative isn't fake. I wanted to lean into that notion and planned to do so.
Did you plan to be a part of the film?
I forget if I had planned to be a part of the film. Probably. It seems so long ago now. For many of the early cuts I wasn't in it at all. Those cuts were nice, but they weren't the film I wanted to make. So much of the film is about the experience of making it, so putting me in there was necessary to communicate that. 
Did the movie turn out anything like you were expecting?
No. But to be fair, I had no expectations at all, and I worked hard to maintain the zero expectations. I did know we would at least come home with a couple of music videos and maybe a short. But somehow, we were able to dig out a feature film.  
The juxtaposition of high-desert communal brotherhood with Soundcloud raps is compelling but also haunting. There are moments in the film when it really does feel like the world is ending. Did it feel that way out there?
The world was ending, in a way. It always feels like the world is ending to me wherever I go. But, yes, in Crestone in particular. The desert is terrifying and electric. Everything is loud, silent, large, minuscule all at the same time. When you go to sleep at night it feels like you never know what you will wake up to the next morning. But also, we build worlds within our relationships and the love we create with other people. Those worlds are so tenuous and delicate.
Who was that one dude who just showed up out there?
The guy chopping wood? That's Huckleberry. He's a gem. I love that guy. He has the worst jokes, best laugh, and a very buttery southern accent. He's a very talented model. He was living in Denver at the time and had become friends with some of the guys. He heard we were shooting a movie. Sadboy showed me his Instagram while we were prepping to come out there and I obviously wanted to meet him. Lucky for me, he decided to show up. 
What's next for you?
I'm working on a new feature film now about Transhumanism and the Chesapeake Bay, exploring the many ways we seek salvation. 
[This interview is an excerpt from the pilot issue of DISCONTENTS, which is now available to order. See below!]
---
DISCONTENTS:
The pilot issue of DISCONTENTS features the interview with Crestone director Marnie Elizabeth Hertzler above, as well as stories on Ceremony, Hsi-Chang Lin a.k.a. Still, and Unwound; interviews with emcee Fatboi Sharif and Coherence director James Ward Byrkit; pieces by Cynthia Connolly, Spike Jonze, Andy Jenkins, Timothy Baker, Greg Pratt, and Peter Relic; cover art by Tae Won Yu, layouts by Patrick Barber and Craig Gates, and drawings by me, Zak Sally, and Marcellous Lovelace.
It's 50 solid pages of good stuff about good stuff. Get yours!
---
Abandoned Accounts is One Year Old!
One year ago, my first collection of poems, Abandoned Accounts, was release as a part of the First Cut series. To celebrate, the lovely and talented poet HLR did this interview with me for her site, Treacle Heart. Here's an excerpt:
When the COVID lockdown started, I found it difficult to focus on the larger projects I had in progress. In the months before, I'd started writing silly little poems about odd memories I had, tiny stories that didn't fit anywhere else. I went back to those when I couldn't think any larger. I eventually moved on to short stories and finally back to book-length writing, but not before I amassed a small collection of fitful, misfit verse.

Abandoned Accounts has those silly memories I started writing down, including reflections of walks in the woods at my parents' house in the hinterlands of southeast Alabama, encounters with favorite bands and somewhat famous people, tales of travel and intrigue, and a few stray poems from as far back as 1990.
Many thanks to HLR and the whole First Cut crew. Read the whole interview here.
---
As always, thank you for reading, responding, and sharing.
Hope you're well,
-royc.
http://roychristopher.com