Hi there! I'm Chris Krycho, and this is the very first update on rewrite: an attempt to build a truly great app for research writing —whether it's a college paper or a Ph.D. thesis, a journal publication or a magazine article, a scholarly blog or a big book.
Good research writing is involved—it includes:
finding resources, tracking references to them, and citing them correctly
taking, and making good use of, notes—including quotes from those references
writing large, complex, highly structured documents
publishing in a very specific format for everything from typeface to page margins to citation styles
I learned just how much is involved in good research writing while working on a Masters' degree from 2013 to 2017. My 90 hours of classwork involved writing a lot of research papers. Sadly, it was painful.
There are tools out there which handle some of those pieces well—a few genuinely great notes apps in particular, and some solid contenders in the reference management space. They don't play together well, though—whether it's sync errors between apps, the disjointed experience of using tools which know almost nothing about each other, fighting with different journals' styles, or the simple pain of trying to write in what is really a desktop publishing tool (looking at you, Microsoft Word). I eventually found a flow that worked for me during my degree, but it was arcane—the kind of thing only a programmer could use, much less love.
The experience of working on a big research project could be better. Much better.
So in July 2015, I started asking: what would a genuinely great app in this space look like? I sketched out the basics that morning in a notebook—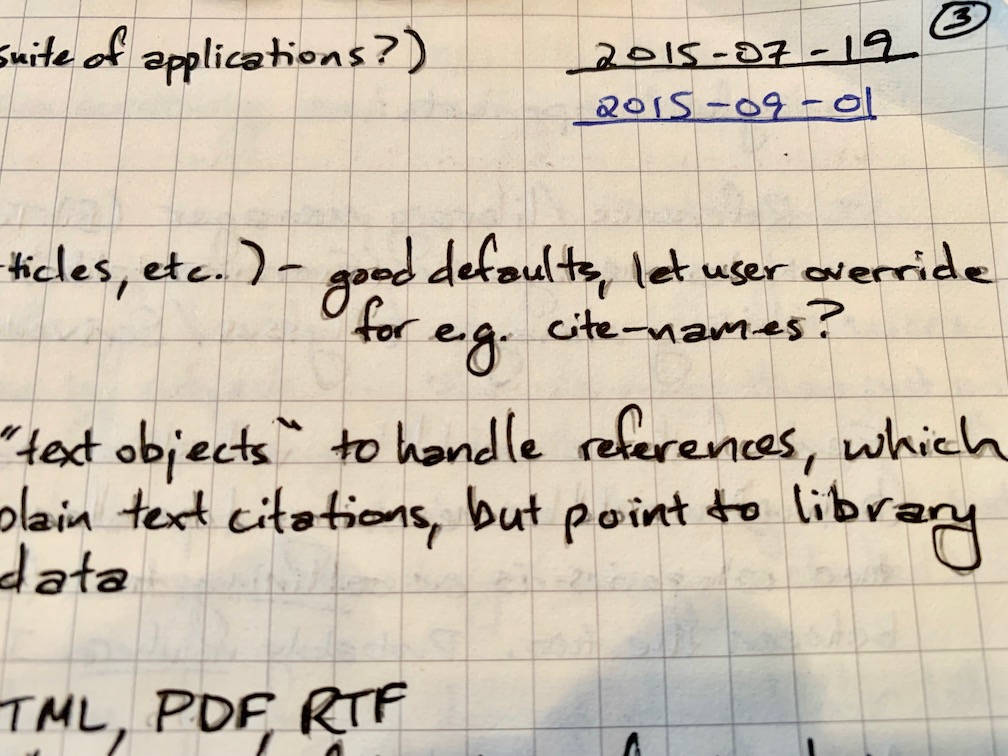 —and I haven't stopped thinking about it ever since. How do you do reference management well? What makes for a good note-taking system? How do you author large, complex documents with easy reference to those notes? How do you pull all those all together for publishing? How do you make it a great app and make it cross-platform?
For the past four years, I have been doing two things in preparation for building rewrite:
filling up that same notebook with design constraints, software architecture considerations, and business model ideas
developing the technical skills I'll need to actually deliver on that dream
Even with those years of planning, I'd be lying if I said I feel ready to take this on: this project is huge. It will take me a couple years to ship. But you can plan forever and never ship… or you can just get moving, whether you feel ready or not.
It's time to start building.