i'm putting crowdfunds before the issue instead of after it. if you're a non-Black person reading my newsletter, send money and circulate these images widely.
for Charlie
VENMO: CharlieStew

CASHAPP: $ChaStewart

PAYPAL: CharlieStewart22
for BL3SSING
for kiki
VENMO: kiki-nicole

CASHAPP: $kikiledbetter

KO-FI: ko-fi.com/kikinicole

PAYPAL: paypal.me/kikinicole

PATREON: patreon.com/kikinicole
for J
VENMO: Justice-Harley

CASHAPP: $JusticeHarley
for Wriply
VENMO: Wriply-Bennet-1

PAYPAL: wriplyB
---
from Empress to Doula: revisiting tarot as an allegory for the wake
content warning: anti-Black medical experimentation, reproductive violence, sexual violence
.
.
.
.
.
joyeux printemps, mes copains!
i hope the seasonal change has swaddled U in appropriate amounts of ease and uplift! since the last full issue of R2TS, i been deep in my bag and deeper in communion with my loved ones. i was fortunate enough to spend back-to-back time with my besties Charlie and Sarah in February, and then my dear friend Dion came down to Georgia just in time for the vernal equinox! amid the blessed reunions, i was awash in the throes of research as i put the finishing touches on the Black feminist Liberation Health Model curriculum i'm creating for my client, and i'm really proud of how it came together!
gathering information on the medical industrial complex plunged me into the harrowing history of gynecology. i had already known that J. Marion Sims was christened the "father" of gynecology from his experimentation on enslaved women without giving them anesthesia, but it dawned on me that i had never learned about the mothers forced to give birth to the field under his hand. of the approximately twelve women outlined in his ledger of exploits, only three are named: Anarcha Westcott, Betsy Harris, and Lucy Zimmerman.
"Nonbeing meant one also lacked the proper continuativeness to be named as fully human or even named. This means that the enslaved are not worth calling by name or remembering by name.

-- Alejandro S. Escalante, "Gynecology and the Ungendering of Black Women"
Sims' barbarous pursuits were in service of identifying ways to repair vesicovaginal fistula (VVF), a condition in which a hole develops between a person's bladder and vagina that can lead to incontinence and childbirth complications. efforts to rehabilitate VVF in enslaved women did not come from a place of goodwill. instead, they implicated the larger regime of reproductive control that fueled slavery's longevity. partus sequitur ventrem ("that which follows the womb") was the legal code that guaranteed children inherited the status of their mothers. this motivated slave-owners to breed enslaved Black women like livestock and thus extend the life of the plantation, whether through interracial rape or forced mating between enslaved people. therefore, VVF presented an obstacle to the accumulation of capital.
in an ouroboric feat of comorbidity, VVF impacted enslaved women in particular because of the conditions of their captivity. as part of the AAIHS roundtable on C. Riley Snorton's Black on Both Sides, Escalante (quoted above) cites Durrenda Ojanuga [Onolemhemhen]: "'chattel persons were particularly at risk for VVF, because of 'poor nutrition, lack of prenatal care, and birth at an early age'" (19). Slavery thus creates the necessary conditions for VVF to take place and simultaneously creates the necessary conditions in which Sims can experiment.'" seventeen-year-old Anarcha particularly served as the fertile ground for his eventual discovery: after subjecting her to nearly thirty surgeries, he deemed the procedure for VVF repair successful and safe enough to perform on white patients.
elisions followed incisions: several statues posthumously erected in Sims' honor celebrate how he treated alike "Empress and Slave," summarily overstating the benevolence of his escapades while ensuring the absence of the women he mangled.
[image description: a bust of J. Marion Sims sits atop a pedestal at the center of a wide stone monument. there are three steps up to the pedestal. spliced underneath this image is a close up of one of the inscriptions that reads: The First Surgeon of the Ages in Ministry to Women, Treating Alike Empress and Slave]
the Empress referenced on the statue is unnamed but not anonymized. married to a direct descendant of Napoleon Bonaparte, Empress Eugénie de Montijo of France had a close relationship with J. Marion Sims. Sims attained proximity to her court due to the acclaim he earned from his reign of medical experimentation, which diplomatically dog-whistled France's support for the Confederacy in turn. it's unclear whether Sims actually medically operated on her, but she did struggle with childbearing complications before finally giving birth to her one and only son, the Prince Imperial. ironically, the Empress' name resembles "eugenics," the racist pseudoscience that further legitimized waging war on Black people's reproductive capabilities in the century to follow.
in contrast, all twelve of Sims' victims were condensed into a singular Slave, becoming monolith upon monolith. Sims maintained the power to slice apart and suture the matter of their bodies before doing the same to the details of their lives in the records he kept. for example, "Sims said that these women - one of the women - clamorously wanted to have the surgery. They wanted to be cured, [but one] of the things in this story that's missing are the words and voices of the women themselves not being translated by Sims" (NPR). in his hand, the line between scalpel and pen blurred.
Anarcha, who suffered most frequently under Sims' blade, has a (given) name that resembles an archive, an eerie coincidence since it is impossible to conceive the physical or psychic magnitude of her woundings, nor can we easily fashion the details of her life outside of the surgical quarters.***
an archive guides me to Saidiya Hartman's process of critical fabulation that she outlines in "Venus in Two Acts." critical fabulation is essentially her union of research, theory, and narrative speculation that both unravels and problematizes archival representations of the Middle Passage.
"The intention here isn't anything as miraculous as recovering the lives of the enslaved or redeeming the dead, but rather laboring to paint as full a picture of the lives of the captives as possible. This double gesture can be described as straining against the limits of the archive to write a cultural history of the captive, and, at the same time, enacting the impossibility of representing the lives of the captives precisely through the process of narration."

Hartman, "Venus in Two Acts," p. 11
in my own meager attempt towards critical fabulation, i wonder about the enslaved healers who tended to Anarcha after each invasion: their murmured desperation, their ministrations over which roots and herbs to apply, their hands -- perhaps steady, perhaps trembling -- as they staunched each flow of blood. of course, they are not mentioned in Sims' accounts, but i believe birthworkers had to be there keeping them alive. after all, state-sanctioned Death and care under fire is a centuries-old dialectic.
Anarcha also brings to mind anarchy ("anarch-" = "without ruler/State"), which is the leftist political agenda that seeks an end to all forms of hierarchy in favor of horizontal, cooperative relationships. to me, both readings of her name represent possibilities amid powerlessness.
[image description: a zoomed-in photo of Rombert Thom's portrait of Anarcha that removes the white men from view. she wears a blue dress, a red cloth covers her head, and she sits on her knees with a hand over her heart. overlaid on the picture are the etymology trees for archive and anarchy. the etymology tree for "archive" starts with the Greek arkhe ("government"), which then turned into the Greek arkheia ("public records.") through Latin, it became the word archiva/archia, which turned into archives through French, then archive ("place where records are kept.") the etymology tree for "anarchy" starts with the Greek an- (without) and arkhos ("chief, ruler"). this turned into the Greek work anarkhos, then anarkhia. through Latin, this turned into anarchy.]
for nearly every movement, there are attempts to ground it in a Blackened consciousness/praxis, and Anarkata is some such answer to anarchy. Afrofuturist Abolitionists of the Americas came up with Anarkata "as a response to the political alienation that has been experienced by Black anarcho adjacent leftists who reject both the whiteness of traditional anarchism and the authoritarianism of some forms of Black nationalism," and they assert that "the Black tendency to defy rigidity, borders, hierarchy, and enclosure are at the root of the Anarkata tradition."
please note that Anarkata can only be spoken of and engaged with by Black people. once again, i encourage non-Black readers of this newsletter to circulate and send money to the crowdfunds i linked at the beginning.
the anti-Black logics of captivity that made Anarcha and the other women vulnerable persist to this day, and the need to strategize towards their end only grows stronger. the Anarkata analysis aligns with the personal, political, and spiritual terrain i'm navigating as a Black trans person who desires an end to this world. on the spiritual tip, i've been consorting with my tarot decks as a narrative tool for imagining a future where Black people are free, and learning about the mothers of gynecology encouraged me to return to the political reimagining i started with tarot as an allegory for the wake. in that issue, i recast the prototypical "Fool's Journey" as the "Fugitive's Journey," utilizing Christina Sharpe's In the Wake: On Blackness and Being as the foundational text.
"I want to think and argue for one aspect of Black being in the wake as consciousness and to propose that to be in the wake is to occupy and to be occupied by the continuous and changing present of slavery's as yet unresolved unfolding…I argue that rather than seeking a resolution to blackness's ongoing and irresolvable abjection, one might approach Black being in the wake as a form of consciousness." (Sharpe, 14)

"…we think the metaphor of the wake in the entirety of its meanings (the keeping watch with the dead, the path of the ship, a consequence of something, in the line of flight and/or sight, awakening, and consciousness)…" (Sharpe, 17)

-- excerpts from In the Wake: On Blackness and Being
the waters have carried the Fugitive's wayward vessel to the fourth card in the Major Arcana, called by name on those forsaken statue inscriptions: The Empress (III). early decks depicted The Empress on the Holy Roman Empire's throne, regal and impenetrable, but Smith, Waite, and Rider chose to depose her and place her in a natural environment. their renewed illustration features The Empress sitting in a lush field, adorned with a shroud of pomegranates, crown of stars, and scepter of gold; Waite compared her to "the inferior Garden of Eden, the Earthly Paradise," and "the fruitful mother of thousands."
their edition of the card effectively obscured The Empress' relationship to domination by highlighting fertility and nurturance instead. we may now see The Empress' (III) scepter and crown for what they really are: spoils of war. she is not "the fruitful mother of thousands," she is the metropole, the mother country bleeding her colonies dry. she rests upon the resplendence of stolen lands tilled by stolen people.
[image description: a picture of Empress Eugénie is next to a picture of The Empress card against a white background. Empress Eugénie is white and wears her dark brown hair tucked under a silver crown. she wears a white lacy gown that has a green and gold fabric draped over the bustle. she is surrounded by red curtains. the Empress on the tarot card sits in a grassy field atop a red cushion with tall trees in the background. there is a heart with a Venus symbol underneath the cushion. this Empress is white and has blond hair coming from underneath her crown of stars. she wears a white dress decorated with pomegranaters, and she holds a scepter in her hand.]
for all the creativity and beauty meant to exude from this card, i've always recoiled from its clearly gendered and imperial essence, even more so when other tarot diviners attach the amorphous concept of "Divine Femininity" to it. there's nothing creative about repackaging cissexism, so where does assigning "Divine Femininity" to this card leave those of us who don't identify with the gender binary (or any of its appendages)? we may visit Hortense Spillers' theory of ungendering to begin to answer this question. ungendering could be described as the spatiotemporal processes of pathologization and kinship severance that permeated enslaved Africans' experiences in the Middle Passage. rendering enslaved people to the "vestibule" of flesh simultaneously permitted the specific horrors Black women endured on slave ships and beyond (like the vicious encroachments on their sexual agency), and enshrined white gender and family relations as the hegemonic norm. as Regis Mann put it, "Black families do not exist within the dominant order because the category of "woman" does not circulate as an available gendered construct to cargo within the Atlantic Slave Trade." what to the Slave is womanhood?
before i ever read In the Wake, i underwent a significant transformation in my gender journey where i realized that i no longer wanted to identify as non-binary. words are spells, and i finally lost interest in invoking the gender binary when referring to myself, even in my so-called negation of it. i wanted to affirm what i was instead of what i wasn't, so i landed on "trans—" (hyphen inclusive) to indicate how my multiply-errant embodiment desired to exist beyond the colonial imagination. the hyphen suggests: —formative, —Atlantic, —mutative, —cendental, —gressive. imagine the pleasant surprise and affirmation i felt reading Sharpe's work and finding she had conceptualized something similar through an asterisk instead of a hyphen:
The asterisk after the prefix "trans" holds the place open for thinking (from and into that position). It speaks, as well, to a range of embodied experiences called gender and to Euro-Western gender's dismantling, its inability to hold in/on Black flesh. The asterisk speaks to a range of configurations of Black being that take the form of translation, transatlantic, transgression, transgender, transformation, transmogrification, transcontinental, transfixed, trans-Mediterranean, transubstantiation (by which process we might understand the making of bodies into flesh and then into fungible commodities while retaining the appearance of flesh and blood), transmigration, and more.

-- Christina Sharpe, In the Wake: On Blackness and Being, p. 30
i understand that people's personal experiences with gender can aid in affirmation and self-actualization, but it's undeniable that the gender binary is an anti-Black formation that enacts violence on us all, and Black trans women and Black people affected by transmisogyny bear the brunt of this violence. there is no discussing the breathless ga(s)p of the archives without acknowledging how Black trans people are regularly maimed and misnamed by and within the archives.
-
The Empress (III) bears correspondence to Venus, planet of love, beauty, and pleasure. its symbol, a circle atop a cross, is etched into The Empress' heart-shaped shield. as a being and mythological figure, Venus exudes whitewashed "femininity" and Roman-*ce. a well-known illustration of her is Botticelli's *Birth of Venus, which depicts the goddess freshly born from sea foam. she stands pale and nude in a scallop shell as celestial figures witness her arrival.
using the wake as a lens recasts the Roman Venus in new light: "an emblematic figure of the enslaved woman in the Atlantic world, Venus makes plain the convergence of terror and pleasure in the libidinal economy of slavery." (Hartman, "Venus in Two Acts," p. 1). when Blackness enters the frame, sensuality becomes savagery; the erotic becomes excess; Venus is not born from sea foam, but instead suspended in the oceanic (Spillers), forced to present herself in "the barracoon, the hollow of the slave ship, the pest-house, the brothel, the cage, the surgeon's laboratory, the prison, the cane-field, the kitchen, the master's bedroom." (Hartman, p. 1)
consider Sara Baartman, given the name (H*tt*nt*t) Venus as she was paraded around Europe for years to display her large buttocks and genitals to crowds of crude onlookers. some scholars believe that she influenced a European fashion trend. white people's grotesque fascination with Baartman's body shape led them to imitate her, accentuating their behinds with extra fabric in what came to be known as the bustle; uncannily enough, others attribute the bustle's popularity to the ever-so-fashionable Empress Eugénie, who had already benefited from the exploitation of captive Black women through J. Marion Sims' ventures to repair VVF. this makes me think of how the word "glamour" (meaning "beauty, allure, charm") is an alteration of the word "grammar," which Hortense Spillers names the enterprise of ungendering Blackness in her manifesto "Mama's Baby, Papa's Maybe."
[image description: a picture of Sarah Baartman is next to a cropped rendering of Botticelli's Birth of Venus. Baartman wears a facial mask and is draped with beads and furs in an effort to sensationalize and exoticize her. her hand is on her chest. the caption on this portrait reads "Sartjee, The H*tt*nt*t Venus. in Botticelli's painting, i zoomed in so that Venus' body fills the frame. she is nude and standing in a shell with the sea stretching behind her. like Sarah, her hand is on her chest, partially obscuring her breasts. she clutches her long flowing hair in her other hand to cover her genitals.]
Sarah Baartman's material conditions worsened dramatically until she succumbed to illness and poverty at the young age of 26 in 1815, and unfortunately colonial perversions kept her from peace even after she died. "a famous surgeon made a cast of her body, dissected her and conserved her brain and genitalia in formaldehyde. The painted plaster cast of her body was displayed in the Musee de l'Homme, Paris, until 1974 when it was stashed in a backroom with her remains." (Obed Zilwa) Venus may usually represent beauty and love, but beauty and love falter when anti-Black eyes/hands/profit margins carve and discard the flesh.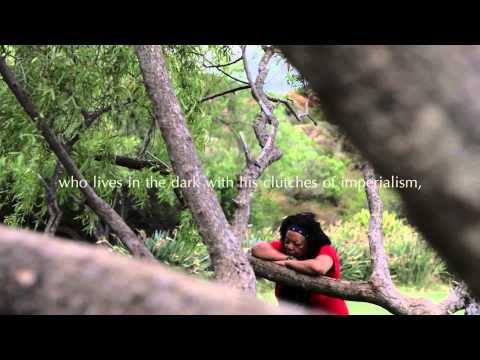 I have come to take you home, home!

Remember the veld,

the lush green grass beneath the big oak trees?

The air is cool there and the sun does not burn.

I have made your bed at the foot of the hill,

your blankets are covered in buchu and mint,

the proteas stand in yellow and white

and the water in the stream chuckles sing-songs

as it hobbles along over little stones.

I have come to wrench you away,

away from the poking eyes of the man-made monster

who lives in the dark with his clutches of imperialism

who dissects your body bit by bit,

who likens your soul to that of Satan

and declares himself the ultimate God!

I have come to soothe your heavy heart,

I offer my bosom to your weary soul.

I will cover your face with the palms of my hands,

I will run my lips over the lines in your neck,

I will feast my eyes on the beauty of you

and I will sing for you,

for I have come to bring you peace.

I have come to take you home

where the ancient mountains shout your name.

I have made your bed at the foot of the hill.

Your blankets are covered in buchu and mint.

The proteas stand in yellow and white—

I have come to take you home

where I will sing for you,

for you have brought me peace,

for you have brought us peace.

-- Diana Ferrus, "I've come to take you home"
of Venus' typical traits, Hartman asks "can beauty provide an antidote to dishonor, and love a way to "exhume buried cries" and reanimate the dead?" (Hartman, p. 6). Diana Ferrus answered that question with her 1978 poem "I've come to take you home." the embrace she extended to Baartman through the wake heavily influenced political negotiations, and after mounting pressure gave way, Baartman was finally returned to South Africa in 2002, nearly two centuries after her passing.
the pastoral burial scene Ferrus describes in her poem evokes the earthen abundance illustrated on The Empress (III) card, and so we come full circle. wake work is meant to orient Black people towards a principled practice of care, militancy, and vigilance, so i'd like to expand on the card's standardized meanings. earlier i mentioned the age-old dialectic of state-sanctioned Death and care under fire when visualizing the doulas who were at Anarcha's side. the etymology for the word "doula" is "female slave," a neolinguistic mishap that incidentally emphasizes the connections between care work, anti-Blackness, and gender violence. as The Fool (0) became the Fugitive, The Empress (III) may be re-articulated as the Doula in the wake: the ungendered Black being who intimately knows the treacherous value of their (re)productive labor, and has the skills to defend and tend to their kindred.
Saidiya Hartman says that Black women's labor makes apparent the gender-nonconformity of Black community and struggle; and Spillers encourages Black resistance to embrace the subversive power that the ungendering of Black women signifies. Yet, we can and should start from Black transness and Black gender variance when analyzing Black gendered violence, lest we fail to confront colonial cisheterosexism in our analysis and center cis people. Centering Black trans women here is vital to our analysis because trans and gender nonconforming Black folk are the most isolated by the gender binary.

-- Afrofuturist Abolitionists of the Americas, Anarkata: A Statement
The Empress tarot card illustrates the impossibility of/inaccessibility to gender for Black people, so it can now be an opportunity to interrogate -- not reinscribe -- gender essentialism. today is coincidentally Trans Day of Visibility, a worldwide observance intended to celebrate living trans people. this day is fraught with contradictions because as much as i welcome opportunities to honor my siblings near and far, visibility often manifests as a form of pedestalized precarity where trans people are "seen" but not housed, fed, or paid. of course this experience intensifies for those of us who are Black and trans, and thus made hypervisible under the surveillance state and the white ga(y)ze. the creativity and collaboration typically suffusing this card should be politicized further to remind us that our creative pursuits should enable those of Black trans and gender-marginalized people, we who give birth to everything and rarely have anything to show for it.
visibility captures more than it frees, so trans liberation struggles should go beyond spectacle and instead prioritize the physical, spiritual, emotional, and mental well-being of Black trans people, especially Black TMA people. this can look like giving mutual aid to Black trans women, especially those who are incarcerated (i.e. held captive by the institutional outgrowths of chattel slavery); this can look like cultivating access intimacy with the disabled Black trans and gender-marginalized people in our lives; this can look like harnessing our erotic powers in ways that thwart transmisogynoiristic, ableist, and anti-fat Desire/ability politics. a card of archival production (and limitations), The Empress (III) finally asks that Black trans and gender-marginalized people commit to "recruiting the past for the sake of the living" (Hartman, p. 14): to finding each other, creating containers for our stories, and calling each other by the names we desire, both in life and in death.
---
***JC Hallman, a white man, is working on a biography about Anarcha called The Anarcha Quest. after years of research, he unearthed archival information on Anarcha that existed separately from Sims' autobiographical accounts. as U might expect, i doubt a white man's ability to avoid recreating the archive's violence when recounting Anarcha's story. the relief around her "rediscovery" is complicated at best.
---
references
"Access Intimacy: The Missing Link" by Mia Mingus
The Anarkata Statement by Afrofuturist Abolitionists of the Americas
"Gynecology and the Ungendering of Black Women" by Alejandro Escalante
In the Wake: On Blackness and Being by Christina Sharpe
The Pictorial Key to the Tarot by A.E. Waite
"Remembering Anarcha, Lucy, and Betsey: The Mothers of Modern Gynecology" (Transcript) by Hidden Brain on NPR
"'A Text for Living and For Dying'": Theorizing Hortense Spillers' and Kara Walker's Call and Response" by Regis Mann
"Sold as a slave..." by Obed Silwa (i cropped the title because it's too sensationalist for my tastes)
"Venus in Two Acts" by Saidiya Hartman
"Mama's Baby, Papa's Maybe: An American Grammar Book" by Hortense J. Spillers
---
post-script
song: St. Louis Blues by Bessie Smith

Smith, nicknamed the Empress of Blues, was a queer powerhouse (and protégé to Ma Rainey) who reclaimed her erotic autonomy through her dazzling musical performances. the above video is footage from her one and only film appearance.

essay: Beauty is a Method by Christina Sharpe
essay: Femme Queen, Warrior Queen: Beyond Representation, Toward Self-Determination by Nsambu Za Suekama

poem: Layleen's Bill (With Revisions) by Benji Hart

in In the Wake, Christina Sharpe lists Black redaction and Black annotation" as forms of wake work after aspiration. in a society that rushes to replicate images of Black suffering, redaction and annotation offer more "ethical viewing and reading practices" (p. 117). this poem Benji Hart wrote to memorialize Layleen Polanco after her death at Rikers is a striking example of these practices.

acknowledging that the systems that killed Layleen could never create anything to properly make amends, Benji Hart "locates a counter to the force of the state" (Sharpe, p. 123) by taking excerpts from the legislation passed in the wake of her murder, redacting the carceral offerings, and annotating them with: dreams of an obsolete police force, of life springing from empty state buildings, of Black trans elders having their charcoal locs retwisted in chosen hands. i cry without fail whenever i read this poem.

in case U want to engage your other senses, U can see the poem with Glori Tuitt's art and/or listen to a recitation of the poem on Benji's website.

interactive archive: Black Trans Archive

as described on the creator's preview site, the Black Trans Archive was "MADE TO STORE AND CENTRE BLACK TRANS PEOPLE, TO PRESERVE OUR EXPERIENCES OUR THOUGHTS OUR FEELINGS OUR LIVES, TO REMEMBER US EVEN WHEN WE ARE AT RISK OF BEING ERASED." what U experience in the archive is dependent on how U identify, so honor the sacred and be honest. as a Black trans person, i have the opportunity to resurrect one of my ancestors in the archive, and for whatever reason, i usually gravitate towards the Ancestor of Care. there's so much more of this digi-world i have left to explore, i think i just hesitate because of how mournfully tender it all makes me feel.

[image description: a video-game-like screen from the Black Trans Archive shows three distinct, xenomorphic figures as uncovered ancestor cards. at the top of the screen reads: WHICH ANCESTOR WILL YOU RESURRECT? Ancestor 1 is the Ancestor of Protection. they are surrounded by purple bombs that are labeled "BIG BOOM" in red text. over their chest is the message "IT'S IMPORTANT TO TAKE TIME FOR OURSELVES." the instruction to press 1 is underneath them. Ancestor 2 is the Ancestor of Care. they have the caption "THEY HAVE THE LOST HISTORY OF TRANS SELF HEALING." the instruction to press 2 is underneath them. Ancestor 3 is the Ancestor of Strength. their caption reads "WE HAVE ALWAYS BEEN THE BEST FIGHTERS. WE WILL NEVER STOP FIGHTING." the instruction to press 3 is underneath them.]
that's it and that's all from me, dear reader. i'll catch U in April <3
Dkéama