You can livestream Patrick Haggerty's celebration of life at 7 PM Eastern here. For those who may not know, Patrick recorded the first known queer country album, Lavender Country, and spent the last five or so years -- in his '80s! With a chronic illness! -- touring. Patrick was punk af and was a queer grandfather to all who knew him. The livestream will include performances as well.
In my interviews with Patrick, he was fond of shouting into the mic, "come out, Nashville! Come out of the closet, Nashville execs! I know you're there!" Unfortunately, the wrong kind of people are coming out. From an outsider's perspective, it seems that the city is angling to portray itself as a more refined Vegas, one that can appeal to wealthy crypto-fascists (and Christo-fascists.)
I firmly believe that Nashville became the country music capitol in the 1960s because it has nothing else going for it (as opposed to Chicago, where it initially coalesced, and Los Angeles, Austin, or Bakersfield, also music meccas.) Find me a classic country singer or songwriter and I'll find you someone who tried to make it in one of those places first. Probably. Addie Moore at Wide Open Country has an encyclopedic knowledge of country music and she can set the record straight -- so to speak -- on this.
But this emphasis on music of the "real America" as the city's only cultural export (it's not) is now reaching it's logical conclusion: a city that is friendly to the oppressive people and institutions that make this machine work.
So when Travis Tritt open express his disdain for trans people, and Zach Bryan subtweeted him (good gravy -- I can't wait for Twitter to die), Zach got a bunch of props. Great. Cool. I'm on a queer baseball Discord (I also co-hosted an episode of the Batting Around and interviewed Bryan Ruby, who is gay, a pro baseball player, and a pro country musician) and a younger player posted about Zach Bryan. Someone asked "is he the racist one?" I said no, but his Twitter presence is obnoxious. Zach likes to dunk on his fans when they complain about ticket prices. Charming!!!
THEN, Tritt invited Bryan to a "conversation" -- like a fistfight? That would have been preferable because it turns out when two cishet white men discuss oppression of a community they do not belong to, nothing much happens.
Honestly, I'm not surprised. While I understand Bryan has a relative who is transitioning, he is also a Navy vet. My man's music is his best impression of Childers and Isbell, yet he managed to land a mainstream country music contract almost instantly. I remember Ninebullets playing the EP he recorded in a motel room on shore leave. I'm convinced the only reason he got the deal is because he's "relatable" to mainstream country audiences, if you know what I mean.
At the end of the day, Tritt gets points with transphobes, Bryan gets points with center-leftists, and trans people get nothing. Again.
Hopefully This Tweet Embeds
Sweetheart of the Rodeo
It might be a bit of a stretch to call The Aquadolls country music but this is my newsletter and I make the rules and also I think they are just jangly enough to conjure up some '90s country vibes.
When Melissa Brooks formed The Aquadolls 10 years ago, it served as an outlet for her to channel her angst. In high school, she was bullied by her peers, and music served as a therapeutic way to express herself in a positive way. Following the formation of the bedroom project, Brooks — who serves as the band's primary singer, songwriter and guitarist — released the Free EP in 2012 and her debut album, Stoked on You in 2013. After cycling through musicians, Brooks joined forces with bassist Keilah Nina and drummer Jacqueline Proctor and things fell into place. The band's third album Charmed (named after the TV show) is out later this year.
Does your upcoming album Charmed have an overarching theme?
Melissa Brooks: Charmed focuses on love in multiple forms: self-love, platonic love, romantic love, and unrequited love. Throughout the journey of the album, the songs discuss these topics through playful energy through the lens of dreamy vocals, groovy bass, punchy drums and reverby guitars.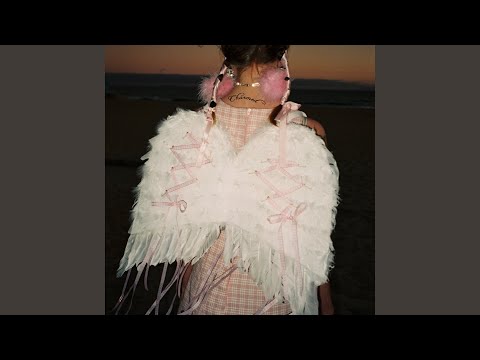 Do you have any songwriting tips you can share?
Melissa: Don't be afraid to experiment with sounds and try out new things! Sonically and lyrically, there are no rules as to what you can create. Be as honest and personal as you like with your lyrics, or use it as an opportunity to be a creative writer and make up stories! As long as you're having fun, you can do anything.
Do you have any go-to albums to listen to in the van while on the road?
Melissa: Live Through This by Hole and Crash by Charli XCX.
What is your vision for a more just music industry?
Melissa: I'd like to see more female-fronted and non-male-fronted bands on festival lineups, tours, and on the radio! Let's hype up all the baddies and let them shine in the mainstream. It's about time for a change! These amazing artists exist, they just need the exposure and love that they deserve.
Is there a professional "bucket list" item you would love to check off?
Melissa: Playing shows overseas is definitely on my rock n roll bucket list! I'd love to travel to Europe, Japan, South America, really anywhere! Traveling and playing music is such a blessing, and I hope our band gets to play more shows outside of the US soon! I'm excited that we'll be playing in Toronto, Canada for our first time on this upcoming tour!
A Word From Our Sponsors
Rainbow Rodeo prides itself on paying queer country creators! Support our community and advertise here.
Album Releases
Here are all of the queer country album releases this month! Let me know if I should add something to the list!
Rainbow Roundup
Podcast Spotlight
This month's episode of Rainbow Rodeo features an interview with artist activist Zoe Boekbinder. We discuss their experiences with conflict, restorative justice, incarceration, and question the essence of queer country music and whether there even is one.
Libsyn Directory
Howdy, cowpokes! This month I speak with Zoe Boekbinder about their recent songs, "Cut My Heart In Two," and "I Am Yesterday." Both of these songs were produced by Gracie and Rachel, whom I interviewed on my previous podcast, Adobe and Teardrops.   Zoe Boekbinder is a veteran, singer songwriter, born in Canada and raised in a string of Buddhist communities on the West coast they have a unique outlook on life. Their latest album Shadow was self-produced and released in November of 2018, but as we'll hear, Zoe has more music on the way.   From May, 2010 to December, 2014, Zoe volunteered as a performer and teacher at New Folsom Prison. This music culminated in the album long time gone by the Prison Music Project. In our interview, we talk about the backstory behind the song "I Am Yesterday," confrontation within community, its relation to incarceration, and what really defines queer country music.   Zoe's pup makes a special appearance as well, but first, I want to thank the following new subscribers. Welcome, Michelle, Elliot, Lori Beth, and Claude! You too can support Rainbow Rodeo when you subscribe for as little as $4 a year.   You can also for a mere $15.
Events
Advertise in Rainbow Rodeo
All kinds of price points to advertise on the podcast, newsletter, or zine. (Deadline for the zine is 3/31!) Click here and help support the queer country community!
Rainbow Rodeo Playlist
Updated every week!
Thanks to Elliott for making a parallel list on Apple Music!
Here's a parallel list on Tidal!
Artist Resources
Join Our Discord!
Twitter kind of sucks right now and can you really make friends on Instagram? Join us on the Rainbow Rodeo Discord! We've been talking sci fi, tour lineups, press contacts, allyship, gender, and more! Just respond to this e-mail to get the link!