I'm so thrilled to announce a special mid-week issue of Rainbow Rodeo! There's truly been a wealth of beautiful queer music these last few weeks, especially in spite of everything. It's too much for a weekly newsletter, so for the next week or so I'll release an issue on Wednesday as well as Friday. Watch this space -- in the next few weeks there'll be a more sustainable way for Rainbow Rodeo to share this amazing firehose of queer country music.
For today, we've got an interview with Holly Cinnamon, whom you will recognize as a yet-to-be-named character in the current season of Succession.
After we learn more about Holly, I've written a review of Nora Predey and Gabriela Torres (side A) and Creekbed Carter Hogan's split EP. We'll be hearing more from Nora and Carter on Friday, so now you've got a few days to get acquainted with their songs!
Sweetheart of the Rodeo
Holly Cinnamon is a queer femme-inist lez actor, singer-songwriter and embodiment educator from Edmonton, Canada, currently based in New York and Toronto. As an actor, she is best known as Julie Barnes in Daredevil (2018) and for Hocus Pocus 2 (2022). They identify as a queer gender-fluid femme and use she/ they pronouns. 
(Photo by Shani Hadjian)
Holly has been singing and writing songs since they can remember, but only during the pandemic, when their acting career was on hold, did they transition their creative energy to songwriting. They self-produced and released five singles in 2022 through their record label, The Female Gayze, and they are currently working on their first full-length album with Plaid Dog Studios in Boston. They collaborate with arranger and musician Matthew Lowy.
Holly is inspired by her experiences as a queer woman & trauma survivor, her relationship to her body, and cool women throughout history. Their lyrics are definitively queer and their sound is inspired by embodied experiences and environmental sounds. Her song "Ride Sally Ride" explores America's first female astronaut's journey to space in 1983 and her coming out in her personal life upon return to Earth. Their latest release "Small Town Queer" is about their experience growing up queer in rural Alberta, Canada.
As an actor, she has appeared Off-Broadway and in TV and film, most recently working as a stand-in for Shiv Roy on Seasons 3 and 4 of Succession, before booking a principal role in Season 4. 
Tell us about your latest single. 
My latest single is called "Small Town Queer" and it's about my experience growing up as a queer teen in the early 2000s on the prairies in rural Alberta, Canada. I hope it captures that feeling of being in between places and identities - feeling like the place you are from is home to some extent, but it also isn't. That people know you, but also they don't. The paradox of living in a place where you might not belong, though you are from there and it's always been home. We are so politically divided right now by this concept of a binary system where there are rural/right-wing/midwest areas versus urban/left-wing/coastal areas and that's just too simple a concept to be realistic. I think the path towards our healing is to bridge that gap, and the visibility of rural queer people is one little step towards that.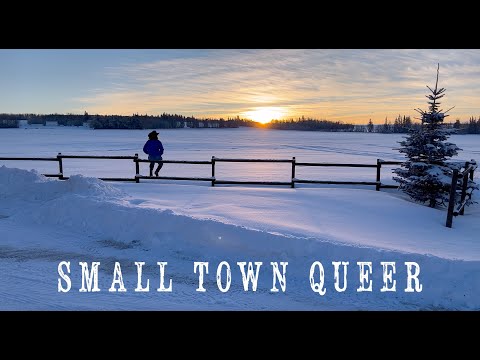 How do you feel your queer identity ties into your performance style or music?
It's completely central to my mission as a performer & songwriter. My songs are all about my experiences as a queer person, about bodily empowerment for female-identifying people, about boundaries and anatomy and healthy, empowered sexual relationships. A lot of my songs are about challenging stereotypes, for example stereotypes that people might have about a more femme-presenting lesbian or about being a redhead… I like to challenge and confront the ideas that I have felt have been put upon me throughout my life and it's a journey and an exploration as my identity evolves. I have a song I wrote when I identified as pansexual that I'm producing now, and I now identify as a genderfluid queer femme lesbian… but that's also in flux. I love how my songwriting is a vessel for me to explore the limitations of my thinking both within myself and then within our culture right now. It's necessary to do that and to be visible, in the dangerous political landscape we are now in. 
How do you feel your coming out journey plays into your music?
My identity is constantly evolving, and it's very healing to look back on people who I have been and parts of myself that I maybe identified more strongly with 5 or 10 years ago, and honor those parts of my journey and how they got me to who I am today. In "Small Town Queer", I'm going back to a more closeted teenage version of myself who is not empowered in the same way I am today, who doesn't have the power and privilege I now have to choose where to live or who to interact with daily. That's very healing to recognize and honor that version of me.
I believe that a big part of queer power has always been rooted in play and playfulness - in recognizing that we are all wearing masks, playing gender roles and performing our identities, whether we call it drag or not. As an actor, my work is chameleon-like, but also as a genderfluid queer person, letting my presentation and identity be something I am constantly allowing myself to play with is very key to my performance work, my sense of empowerment and my happiness. I wish we could all embrace that and learn from the amazing trans and non-binary and drag communities that we can be a little more playful with our identities and not be so rigid with our expectations of ourselves. That's the freedom I am exploring with my upcoming album, Transcend. 
Do you start off with the music or lyrics first? Why?
Lyrics, 100%. But also the melody happens simultaneously. I have only ever written one song that started instrumentally. But most of my songs - like 99.999% of them I have written while biking or on the subway or in the swimming pool, or in the elevator going up to the gym, or walking around NYC at night or in Central Park in the day. I am always writing songs in motion. And sometimes, if I don't have my phone or a pen or paper on me, I have to go back to the place I wrote the song and re-walk the paces to remember what I wrote. I have hidden in the bathroom stall at my gym quietly singing a new song into my phone more times than I could tell you. Also, the shower is a great place to write! For me…. I just know when a song is good when there is an idea that strikes me and it feels like fire and then I keep circling around it and as I articulate it and find the words around the central concept, I just know when they are right and when I am articulating something that feels new or unique or dangerous or interesting or something I haven't quite figured out yet. It's the energy of being on that edge, where there is a meaning to a song that I haven't quite figured out yet - that's what I love. So I'm 100% a lyricist first. 
How does where you're from influence your sound? 
I'm constantly inspired by and capturing environmental sounds. I have a song about cat calling in which the percussion is just going to be a woman's footsteps on pavement… In "Small Town Queer", it was really important for me to capture the feeling of being in a rural place, especially growing up in Alberta where the winters are long and dry and cold and desolate. There's this idea on the prairies that if your dog ran away you could see him running for the whole next day cause it's so flat, which is true!
But then in the North, it's that but covered in snow for as far as you can see… so incorporating sounds I grew up with, like cows and roosters and wind chimes and the distant train whistle bring that world into the song as well as the music video does visually. I have only written a few country songs, but this is one of them, and that was important to me to have it be in that genre that represents the culture I grew up in… like I went to a country bar for my 18th birthday (which is the legal drinking age in Canada) and we did the Cadillac Ranch line dance there all night! Queer people have been so underrepresented in country music, so that was important to me to show that side of myself and my cultural history. Every song has its own world and so the world of the song really dictates the music choices and sound element choices I incorporate. 
What message do you want your music to communicate? 
Playfulness. Hope. Empowerment. Visibility. I hope that there are some people out there who will see themselves represented in my music and my videos the way I have craved that representation for myself. I hope that people can feel empowered by my songs in their bodies and their ownership of their gender presentation, embodiment of who they are and their sexualities. A big part of my exploration for my new album is about what feels good in my body now. What my body wants. What my body is healing from. What feels playful and fun and empowering to me - whether that's in my clothing or gender presentation or sexual expression.
Queer people have always fought hatred and bigotry and patriarchy with light and rainbows and hope and joy and creativity and self-expression and above all, love. Giving myself the space in my both my life and my music to process and identify and acknowledge trauma and how I'm still working through healing and the impact that has had, while simultaneously exploring what freedom and joy and body sovereignty and empowerment feel like to me now is the balance I hope to strike with my music and share with people as a path towards a more embodied, honest, free future for us all. 
I think recently our culture has gotten a lot of clarity around what we don't want, what we don't like, what doesn't feel safe, what we are up against and what we are healing from, but the questions I keep coming back to are what's the alternative? What does the alternative world look like? What does the free, empowered, embodied world look like? That's what I'm curious about exploring for myself right now, and hopefully creating music that makes other people feel like exploring that in themselves too. 
Album Review: split (Nora Predey and Gabriela Torres; Creekbed Carter Hogan)
The EP, accurately titled split, is a tranquil meditation of life's little indignities and the equanimity you need to just get through. With understated grace, Predey, Torres, and Hogan illustrate the best of country music -- and the queer community's power to transform a direct mode of expression into something transcendent.
Predey and Torres begin with "directions," a haunting portrait of a town where there's not much to do -- and where nothing might change if you go. By contrast, "full time no benefits" is a Guthry-esque protest against capitalist labor that offers an intimate and heart-warming solution. It's the only answer to every question.
Hogan's contributions are B-sides from his upcoming album. "the anatomy of melancholy" is just as devastating when read on the page as when Hogan laments his physical and spiritual grievances. "pilgrim," the EP's closer, is just downright hair raising. Hogan re-imagines a traditional hymn as a song for liberation, imagining a heaven that will accept us when those on this earthly realm do not.
All three artists' hushed bedroom recordings are a reminder of the undeniable power of expressive songwriting and a guitar. Evoking the most traditional folk music, Predey, Torres, and Hogan light the way to a radical future. And that's what queer country is all about.