Good morning (it is here in Sweden!)
It's time for a short update on Quickstrom! On the development side there's ongoing work to improve setting check options. I'm also working on improving error messages.
Talk on Quickstrom
Earlier this week I gave the first talk on Quickstrom, at the Berlin Functional Programming Group. A big thanks to everyone that joined and for asking wonderful questions!
See the recorded video here: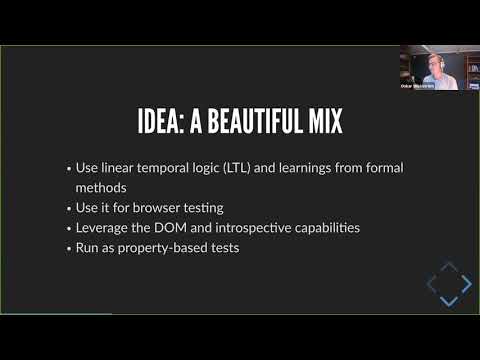 If you want the slides (so you can follow the links), they're hosted here:
https://owickstrom.github.io/specifying-and-testing-web-applications/
I'll also give the talk in shorter form at Code Mesh LDN 2020 later this year.
Book Discount
Last week I ran a discount on my book Property-Based Testing in a Screencast Editor, at a minimum price of 5 USD. Regrettably, I forgot to include the discount link in the last newsletter. I think it might be of interest to followers of Quickstrom, so here's a new link that'll work until Sep 25th:
https://leanpub.com/property-based-testing-in-a-screencast-editor/c/lkDEMT8Wrgq3
Cheers!