Hi friends,
Wish you have a lovely day! It's Minh-Phuc building Notion Tweet. This week I have a couple of lessons and changes that I wanted to share with you.
Always put an email subscribe button on your landing page
This is the lesson I learned hard this week. Before this week, I simply put a link to my Twitter on Notion Tweet landing page to let people follow me on Twitter. Then I realized most traffic came to the website was from Twitter, it doesn't add any value to have a 'Follow on Twitter' button (it's even worse, because people from Twitter have to go to the page then go back, just to follow).
So, I added a subscribe form to allow people to follow through their email. I used Revue, it's free and has an API to easily hook into any website. After a week I got 27 subscribers, a small number but exceeds my 1-month-old personal email list.
It's also a direct way for anyone who came to the landing page to show their interests.
Twitter is the best channel
This is true for me and true for a lot of other indie hackers, too.
I'm still very new to Twitter but the more I use it the more I see it's built for this type of activity. Naval said Twitter is best place for micro-blogging. It's a place to quickly share what you did and learned that doesn't feel like work (it is still not easy though).
So, if you're reading this and still don't have a Twitter handle, consider creating one and just sharing what you learned.
Doubling down on Twitter and Indie Hackers
As I shared earlier, Twitter has been the best channel, followed by Indie Hackers. This week, I created a product on Indie Hackers for Notion Tweet and wrote the first milestone.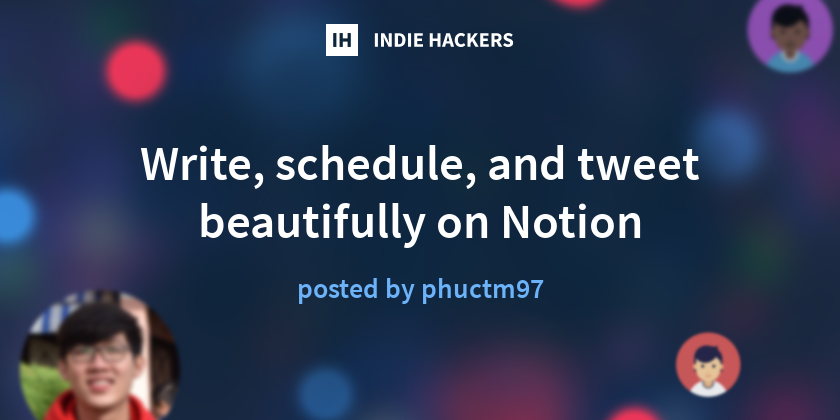 Write, schedule, and tweet beautifully on Notion
Hi everyone, today I create notiontweet.app on Indie Hackers as a way to document and share my journey, hopefully can connect with awesome folks here. A…
Indie Hackers immediately became my second best channel. And, I got followed by @IndieHackers on Twitter 🥰
Clearly, these channels are showing better results in significantly less amount of time. Therefore, I decided to spend my time more on the 2 platforms and less on other places, following will be my experimental plan for the coming weeks:
On my Twitter: bite-sized daily updates, thoughts and what I did, engage and be friends with others.

On my Indie Hackers: summarized learnings and discussions about tech and business with fellow indie hackers.

This email list: weekly highlights, links to tweets and posts that performed the best or I enjoyed the most during the week.
If you have idea and want to hear something different from this email, don't hesitate to reply and tell me. In fact, I would highly appreciate it 🙏🏻!
---
That's it. I hope this change doesn't upset you. It's actually my biggest learning recently and I'm so happy making this decision, it helped me realize what and why to build and write certain things on certain channels.
Closing with a note that I'm recruiting early adopters for Notion Tweet, DM or reply to this tweet, I'll send you a quick chat invite and see how I can help to turn your Notion into Twitter "machine" 😛