nothing here but the tyranny of monsters
issue 188 - 7th August, 2022
---
CJW: Welcome to another edition of nothing here. I hope August is treating you well. Can you believe it's August already? Oof.
If you like what we do and want to support us, you've got a couple of options:
Both give you access to the full bonus archive, as well as new bonuses as they are posted. Another thing you can do to help spread the word is forward this email to someone you think might enjoy it.
Dan wasn't able to join us this issue, so if you want more DCH in your eyeballs, he dived deep in the last two (now unlocked) bonuses, so if you missed them or only skimmed them, feel free to give them another look.
---
The Team
---
Climate Change & The Environment
CJW: Designing without depletion: Joseph Grima's non-extractive architecture - Interview with Joseph Grima at Foreground (via Sentiers)
What if we embrace the consequences of what it means to manufacture products and to build, and to price its full cost? If the sticker price included the full cost of everything we build, then suddenly making things locally and sourcing materials locally would become much more attractive.
I've mentioned it before, but this is something I've been thinking about for a long time. Years ago now I read a piece about the true cost of, for example, a pedestal fan - the raw materials and extraction thereof, the production costs, the shipping costs, the carbon costs at each of those stages, as well as other environmental costs (environmental damage due to mining the raw materials being the most obvious). If we truly paid those costs, there would be no such thing as cheap goods or cheap food, but currently we're making the planet pay in a sort of climate change subsidy. Cheap, mass-produced goods now in exchange for an uncertain and possibly volatile future.
(Just to clarify, this is not the fault of consumers - it's directly related to the ways neoliberal capitalism has altered the global economy.)
To address climate change, these costs are going to have to be taken into account, but if that's not accompanied by massive socioeconomic reforms, we're going to see a lot of people plunged into poverty.
Anyway, this is a great discussion on "non-extractive architecture":
The shift in thinking that we need is only going to occur at scale when we begin to understand these questions on a systemic level. This might seem rather frightening to some, but I would argue that it can become an incredible opportunity to make our buildings and cities more interesting and make our planet more diverse. So that when we travel, we experience cities that are responsive to their location, built from what is possible to produce locally and has a deeper connexion with the culture of a place.
//
CJW: The Enduring Tyranny of Oil - Michael T. Klare at Tom's Dispatch (via Foreign Exchanges)
[...] in those pre-fracking days at the start of the century, many experts were convinced that world petroleum output would hit a daily peak of perhaps 90 million barrels in 2010, dropping to 70 or 80 million barrels by the end of that decade. In other words, we would have little choice but to begin converting our transportation systems to electricity, pronto. That would have caused a lot of disruption at first, but by now we would be well on our way to a green-energy future, with far less carbon emissions and a slowing pace of global warming.

Now [...] world oil production is hovering at around 100 million barrels daily and is projected to reach 109 million barrels by 2030, 117 million by 2040, and a jaw-dropping 126 million by 2050. So much, in other words, for "peak oil" and a swift transition to green energy.
An Amero-centric piece, but still relevant considering the interconnected nature of the global oil supply.
//
CJW: Oil and Gas's Pivot to Blue Hydrogen Is Falling Through - Justin Milkulka at The Intercept 
The [oil and gas] industry knows that if it can't get the world hooked on hydrogen made from methane, it faces a declining market due to economic competition from renewable power. In April, the Institute for Energy Economics and Financial Analysis released a report that suggested gas-fired power peaked in the U.S. in 2020 and would begin to decline as it is replaced with cheaper renewable power. Until recently, the argument was that green hydrogen was too expensive, so blue hydrogen was necessary. Without that argument, there is no reason for blue hydrogen to exist.
Considering how much I read on climate change for these pages, it's odd that I hadn't come across blue hydrogen (made from natural gas) or green hydrogen (made using renewable energy) before. A bunch of interesting info in this piece though, and encouraging to see that even the (goddamn, fucking) market is finding it harder and harder to support certain forms of fossil fuel use.
//
---
Geopolitics & Empire
CJW: How a missile in Kabul connects to a Speaker in Taipei - Pepe Escobar
You've probably seen/read plenty about the Pelosi Taiwan visit, but this opinion piece is likely to cover a very different angle. Some of the framing (and hyperbole) doesn't read right to me, but a) he's the expert, and b) there's still plenty of interesting stuff to consider regarding the future of US-China relations. 
//
---
Science & Space
//
---
Tech & Design
//
---
Society & The Culture
MJW: The Great Fiction of AI: The strange world of high-speed semi-automated genre fiction
[...] they're using it not because they have something to say but because they need to say something in order to "maintain relevance" — a phrase that I heard from AI-using novelists as well — on platforms already so flooded with writing that algorithms are required to sort it. It raises the prospect of a dizzying spiral of content generated by AI to win the favor of AI, all of it derived from existing content rather than rooted in fact or experience, which wouldn't be so different from the internet we have now.
Less AI replacing authors, but working with them to feed the Kindle Direct Publishing content beast. Makes all those years I've spent honing my craft feel kinda wasted, but hey, what else was I doing with my time?
//
CJW: War on the Air - Daisy Hildyard at Emergence Magazine
The sodium of human blood [...] would have a residence time ("the amount of time it takes for a substance to enter the ocean and then leave the ocean") of 260 million years. In this very particular respect, the Atlantic carries a physical testament to the transatlantic slave trade, in the present. It continues to cycle around the planet, at scales too minute and dispersed to be detectable by the ordinary human body. If you have ever swum in the ocean at Lisbon or Atlantic City, Cape Town or Rio de Janeiro, Monrovia or La Rochelle, Paramaribo or Galway, you've swum in this blood.
A fascinating piece drawing connections between writings on the transatlantic slave trade, Allied bombing of Germany during WW2, and the Chernobyl disaster, and how these human stories merge with the non-human world.
I've read Svetlana Alexievich's Voice of Chernobyl (mentioned in this piece), and it is superb.
//
CJW: Wrong Road - David A. Banks at Real Life Mag 
The newest round of disruption seizes on the negative externalities wrought by the car industry to sell the public and government on a new set of lies: that self-driving cars, underground tunnels, EVs, and a bevy of drones can relieve gridlock (and that gridlock itself is the most important problem to be solved). Through the magic of machine learning efficiently routing trips and suites of all-seeing sensor packages on vehicles and streets, cars will become safer, more reliable, and best of all, convenient once again. 

The reality is that this is a land grab: Autonomous driving, ironically, relies on the sort of well-maintained road markings and signage that an austerity-crippled American landscape cannot offer. If self-driving cars are to exceed their small pilot programs in the Southwest, they will require even stricter pedestrian control systems that separate cars and people with hard barriers and automated gating systems. It may also require handing over right-of-ways to the companies that run these transport systems [...] so that they may have more control over signage and road markings, which will be necessarily oriented toward machine vision. (Imagine the splendor of the open road dotted with millions of QR codes.)
The parenthetical is exactly what I described in Repo Virtual, but with bokode not QR.
A discussion/review of Paris Marx's latest book and the parallels between the ways cars were forced onto the city (and then society), the ways telecommunications and tech companies have done the same in their own areas, and the ways that autonomous cars would only work with a combination of the above.
//
CJW: Monsters and Mass Politics - Chas Walker at Protean Mag 
In [both Don't Look Up and Sorry to Bother You], the heroes try to stop the machinations of the elite, appealing to the media to expose their misdeeds. When the truth comes out, they think, surely someone will do something about it. But there is no such someone. Instead, the heroes, though they gain viral attention, are reduced to memes—and so become Cassandras, blessed with prophetic visions but cursed to be disbelieved.

As for the billionaires, the world fails to recognize their monstrosity, and so these stories require another monster to bring them down. The Equisapiens and the Bronteroc achieve what the protagonists could not: the end of the billionaires. But, at least in the case of Don't Look Up's Bronteroc, it is too little, too late.
A really interesting piece on how these two films look at possible routes to pushing back against the billionaire class and how both relies on the figure of the monstrous.
//
---
Health, Cooking, and Related
MJW: The feud between a weed influencer and scientist over puking stoners
At the time of her diagnosis, only a few hundred CHS patients had been identified in the medical literature, and very little was known about the condition. Doctors told patients they had it after a process of elimination. There was no definitive biomarker indicating someone had CHS; only a set of symptoms. Those who did suffer from it were heavy cannabis users who became prone to multiweek vomiting spells that often landed them in the hospital. Patients also frequently reported a compulsive need to take hot showers and baths, which somehow relieved the urge to throw up. When Moon first heard about CHS, the condition sounded absurd. To her, it reeked of moral panic, like the Tide Pod challenge: a fabricated concern intended to scare. 

"I hate to say it, but it seems like our patients with CHS, a lot of them are really crazy," he [Russo] told me. "The paranoia in this group is unbelievable."
On cannabinoid hyperemesis syndrome, influencer culture and scientific distrust.
//
---
Labor & Economics
---
Newsletters
MJW: Sluggish by Jessie Meadows
Sluggish is the newsletter of Jessie Meadows, also known as Queervengence on insta. It's about 'neurodiversity, disability, and capitalism.' I particularly liked Store-Bought Neurotransmitters are Not Fine (even though you can pry my Vyvanse from my etc etc etc) and Reject Success, Embrace Wonder.
---
Movies + TV
LZ: Men (2022)
I love Alex Garland. I have been following him closely since Ex Machina, then Annihilation and Devs. Now he comes back with a horror movie that blends everything I'm so much into right now.
It's been said that Garland wanted to do this movie for over a decade, but only managed to do so now. It's crazy how big this film is when you consider that there are only two actors doing the whole work (ok, there are two more besides Rory Kinnear and Jessey Buckley).
You can find all the stylistic signatures of Garland here: eerie soundtrack, wide open scenes, the duality between how huge the world (and specially nature) is compared to humanity.
While some may think that it's funny that it is a man directing a movie about gender issues, I'm possibly very controversial in my own opinion when I think that that damned guy Von Trier is one of my favourites when it comes to the portrayal of female characters. So I really appreciated what Garland did here.
And the interesting part is that he blends contemporary issues in gender dynamics while at the same time bringing folklore to the plate. A24 loves that, doesn't it? So you'll see the allegory of the green man here again (just like in the Green Knight), but much scarier because of all the symbolism that it holds. Warning: semiotic crazes like me will find this movie a particularly delightful experience. So much so that I'm planning to write something longer and come back on a future issue.
X (2022)
Another A24 flick. It made such a buzz on social media that I had high expectations… which weren't completely satisfied. The premise is interesting though. A bunch of Americans go to a farmhouse to film a porn movie in the 1970s, but then things go wrong. Though it's a slasher movie, it has some interesting commentary on beauty, youth, sexuality, prudeness… and I guess this is why there's an upcoming prequel or sequel that is named Pearl. It seems that the director wants to tell the story of this character in another era, perhaps following the events of the end of X, so we'll see. A recommendation for those who like 70s movie style, the dichotomy between religious fervour and sexual awakening plus some cheesy stuff (no pun intended).
Crimes of the future
Cronenberg is back and crazy as ever. This film is very meta, both in the sense of referring to past creations of the Canadian director and stuff happening in the real world. I will be working on a longer text about this one, because it touches upon something very dear to me.
Years ago when I was planning to do my PhD in visual arts, I tried to explain what I meant by transhumanism to some professors who basically butchered my desire to exist by claiming that I was talking nonsense. The only transhumanism and cyborgism they knew were performance artists, body art, people like Stelarc – which is cool also, but not what I was talking about. While my pitch was completely discarded, I happened to meet someone at that occasion who was claimed to be an amazing artist and a cyborg because drum rolls they wore a dress made of motherboards to dance during a performance.
Funny enough, there is specifically one scene in this movie where a curator or critic basically says that the artist whose body was covered with implanted ears was a better dancer than a conceptual artist. There you go. 
There's a lot of tongue in the cheek commentary about the snubish world of art, but there's also a nod to biohacking as resistance and an environmental message. The thing is that this is the kind of movie that feels like a collage: it's not exactly a narrative, it doesn't necessarily tell you a story, but it presents many ideas and references for you to simply deal with it. Pretentious? Some might think so, but I just love this man and I love when art speaks to me.
Also: it's a good idea to watch Dead Ringers before or after this one. It's funny how a very minor detail from this movie became more important on Crimes of the future, that is, the idea of an inner beauty pageant.
---
Games
LZ: Stray
Cats and robots in a cyberpunk dystopian world. What else could the internet ask for? While the game is a bit short, it's an amazing experience with beautiful landscapes and soundtrack. The movements of the cat are so realistic, and it's clear how the devs are cat people – like, in the buffering screen you will hear the sound of a purr (!!!). In terms of mechanics, the scenarios reminded me a lot of Cyberpunk 2077, but the gameplay feels like Mirror's Edge as you do some cat parkour and solve puzzles in the environment. I definitely recommend this game. 
---
Music
CJW: These Arms Are Snakes' Brian Cook on Finding Closure - Jordan Michael at Post Trash
The funny thing about this piece is that it talks about how unrecognised the complexity and strangeness of TAAS' music was at the time, and how they needed a small reunion tour for people to realise it… but that's exactly what grabbed me about the band in the first place, and it's why they've stayed on rotation in the years since.
Anyway, the above is a good read if you're a fan of the band, and the below is a great recording of one of their recent reunion shows.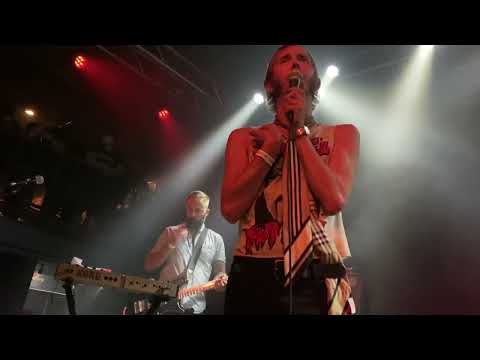 //
This is a double recommendation as it's about music and art. Found out about this German band of post-black metal after seeing the amazing cover art that the Peruvian artist Rafael Pascuale Zamora did for them. It never ceases to impress me when I see a fellow Latin American producing black metal art and with such richness. You would expect that darkness runs more easily when you live in the global north amidst tundra forests, but there's a new generation of South American artists that are renewing the scene. And this works very beautifully with the atmosphere created by Toadeater. Also, the etymology of the word is very interesting: "said to allude to an old alleged practice among mountebanks, who would hire a boy to eat (or pretend to eat) toads, which many had considered poisonous. The toadeater (or "toady") would writhe in pain, until the quack gave him some "medicine", and then try to impress upon the crowd that the boy was cured." More recently, the term also acquired the meaning of "A fawning, obsequious parasite; a mean sycophant or flatterer." Amazing.
Found this band by coincidence on Spotify. It's an one-man atmospheric black metal project based in Indonesia. Very interesting sounds and I have to say I have this weakness for one-person bands. Cheers to the cover arts that were created by Aghy R. Purakusuma, as they give the project its Indonesian background tones as well, but make it dark and epic.
---
The Self-Promotion
LZ: First As Tragedy, Then As Farce: Snow Crash In The 21st Century
A little piece that I wrote in Portuguese and translated here. Some commentary on Snow Crash being released once again in Brazil, all the hype towards the term metaverse and what Neal Stephenson is up to these days. Spoiler: crypto and vaporware. 
I ordered an AI-generated perfume to learn how it interprets the world
Here's another translation of an article that I wrote about this perfume that I ordered from a Swedish brand that is using AI to convert images into fragrances. Very interesting to see how they are associating certain colours, elements, and composition with scent – something that has been around in Paul Bach-y-Rita sensory substitution devices, but more subjective.
//
CJW: Interzone #295 - Featuring Yours Truly
Preorder now at the link above.
//
MJW: The Orpancorp Trilogy just came out in audiobook format, read by Tamala Shelton. Get it from your non-local audiobook monolith now.
---
The Memes