nothing here but fossil fuel war
issue 171 - 20th March, 2022
---
CJW: Welcome back to another issue of nothing here, where we read the internet so you don't have to.
Our latest bonus is a piece of new fiction from m1k3y: Red Panda
If you enjoy what we do and have the means (and desire) to support us, you've got a couple of options:
Both give you access to the full bonus archive, as well as new bonuses as they are posted. We appreciate any and all support.
I also realised I've been slacking on the unlocked bonuses front, so hoping to have those sorted out and up to date soon - actually planning to overhaul the unlocked bonuses page, so keep an eye out for that.
Now, let's begin.
---
The Team
---
Climate Change & The Environment
MKY: 'This is a fossil fuel war': Ukraine's top climate scientist speaks out - Oliver Milman at The Guardian
//
CJW: Gastastrophe - George Monbiot
The measures needed to forestall environmental catastrophe are the same as those required to release ourselves from dependency on the autocratic governments and ecocidal corporations that control the world's fossil fuels. Starving the Russian military machine of funds, preventing the collapse of life on Earth: we can do both at once. So what are we waiting for?
I saw/heard this point made elsewhere since the invasion of Ukraine. If Western governments actually take this opportunity to act, it could be the only good thing to come out of the war.
MKY: I feel like this would require the western political establishment, trading publicly under the banner of Democracy ™, to serve the interests of their people, not their corporate donors. Did I already mention how good A Very British Coup was on this subject? I think so.
Here's the Australien Govt with a very important message:
Honest Government Ad | The Floods 🌊 - YouTube
The Australien Government has made an ad about this summer's floods and it's surprisingly honest and informative. 🇦🇺👽🌊👉 Ways you can support us to keep …
I've been told we've got elections coming up here. I am praying for a hung parliament. Figuratively, of course.
I mean like, war… what is it good for?
In summary, it feels like a good time to rewatch We Are The Wave.
//
DCH: How BlackRock, Vanguard, and UBS Are Screwing the World | Olúfẹ́mi O. Táíwò The New Republic
Unsurprisingly, asset managers have not used their considerable power to promote genuine climate sustainability or justice-promoting responses to the climate crisis. Instead, they have routinely voted against or abstained on shareholder resolutions that would support establishing serious climate targets or delinking supply chains from deforestation to climate targets. All the while, they have attempted to greenwash their continued investment patterns with "green investment funds," the commanding majority of which are incompatible with global climate targets while fitting squarely into the goals of investors and financial capital. Tariq Fancy, former chief investment officer of Sustainable BlackRock, publicly called out the financial services industry for "duping the American public" and labeled sustainable investing as a "dangerous placebo that harms the public interest."
Asset managers dominate this current stage of capitalism. The big 3 listed here have more than 20% of shares in the S&P500 (never mind their moves in private equity). They have an almost state-like transnational ability to drive economic policy. And the kinds of policies they're advocating for are going to turn the global south into one massive sacrifice zone. If we're going to change that we need massive wealth taxes on corporate stock and global tax reform (or guillotines idgaf whatever works).
CJW: Guillotine guillotine guillotine guillotine
//
MKY: DeExtinction mini link dump. How's that old beat of mine going? Um… yeah:
//
CJW: We are not doomed to climate chaos - Edward R. Carr at Boston Globe
The IPCC report found that effectively navigating the trade-offs and synergies between mitigation, adaptation, and sustainable development requires much greater attention to whose lives, livelihoods, and development we are trading off or supporting. At one level, what communities, states, and countries identify as a problem and choose as solutions depends on who is in the conversation. Attention to previously marginalized voices can bring forth new opportunities for synergies between mitigation, adaptation, and sustainable development while revealing previously hidden or overlooked trade-offs and impacts. Broader participation in climate change planning and action will yield more inclusive and effective pathways toward resiliency.
An op-ed from one of the lead authors of the recent IPCC report on transformation in the face of climate change, and factors to consider in how we choose to guide these necessary transformations.
The choice is between the transformations we choose and those forced on us by the climate we have altered.
//
---
Geopolitics & Empire
MKY: Putin's Invasion and the Privatization of Political Power - Kelly Grotke at prospect.org
These days, the U.S. can hardly be said to "export" democracy (arguably it does not have one to export). Our chief export is a highly financialized neoliberal ideology. Our culture continues to worship the "business acumen" of the wealthy even as income inequality has reached unprecedented heights. In practice, this means that the talents of most working Americans are considered inferior to those for whom wealth accumulation is the highest individual moral achievement.

The secretive world of alternative investments like private equity and hedge funds is perhaps the epitome of this worldview. That the head of Blackstone, Steve Schwarzman, can make over a billion dollars in a single year is not proof of his "elect" status or of some crazed libertarian notion of "natural hierarchy"; rather, it reflects a dysfunctional, deeply anti-democratic system designed to serve and protect the interests and preferences of its biggest beneficiaries.

Privacy and secrecy are at the center of this ideology of finance, and are an important part of its power.
This is one those great, so um how DID you think the world works, anon? pieces. I'd put it up there with Nils Gilman's modern classic, The Twin Insurgency.
It folds in quite nicely with TrueAnon stepping back and walking us through the creation of the Liberal World Order after WWII, in:
At a time when the propaganda machines have never gone brrrrrrr so much, it's a good time to tune it all out, take a minute, and look back at how we got here and just what now really looks like. How Empire and the global ruling class - who have far more in common with each other than those they lord over - really function. And the mechanisms they've used to maintain their grip on the world. Ya know, before they make millions - or billions - of us die for them all again.
//
CJW: 'Why? Why? Why?' Ukraine's Mariupol descends into despair - Mstyslav Chernov, Evgeniy Maloletka and Lori Hinnant at Associated Press (via Jay Owens)
They are stacked together with dozens of others in this mass grave on the outskirts of the city. A man covered in a bright blue tarp, weighed down by stones at the crumbling curb. A woman wrapped in a red and gold bedsheet, her legs neatly bound at the ankles with a scrap of white fabric. Workers toss the bodies in as fast as they can, because the less time they spend in the open, the better their own chances of survival.
This isn't an easy read, but it's also the reality on the ground for the people of Mariupol. Jay Owens shared it in a thread comparing these experiences with those of people in Grozny in 2004 and Mosul in 2017 - lots of interesting stuff from Jay there.
//
DCH: Male State: The Russian Online Hate Group Backing Putin's War | Michael Colborne bellingcat.com
Now, Male State — or 'Male Legion' (Muzhskoi Legion) as the group's official Telegram channel has been called since the court's ruling — has turned its attention to Russia's invasion of Ukraine, becoming some of Putin's most loyal online soldiers. They parrot disinformation about civilian casualties of Russian attacks and praise possible war crimes. They use dehumanising hate speech against Ukrainians and antisemitic slurs against Ukraine's president Volodymyr Zelensky. They even demand the murder of Ukraine's leaders, soldiers and other public figures, including summary executions.
Politics always make for strange bedfellows and it seems nvasions make for even worse fuckbuddies The Male State was deemed an extremist hate group last October by Russian courts. Now they're some of the most popular supporters of the Invasion. Deplatforming seems easy to work around when you make new friends in high places
//
---
Science & Space
DCH: Gray Mars: Space Exploration In The Hands Of The Billionaires | Eli Horowitz, bloodknife
To put it lightly, the implications for his space program are bleak. At best, a Muskite settlement would be a semi-functional prison camp maintained only by regular infusions of fresh laborers; think of an Amazon warehouse where no one ever gets to leave and the only way to resign is to die. At worst, he would simply launch one doomed mission after another, with each new crew landing, disembarking, and then immediately recycling the corpses of the previous crew.
Great takedown on the whole Mars folly. Starting with Zubrin and ending on Musk. And I say that as someone who even fondly (at the time) read Zubrin's Case for Mars when it came out.
Billionaires are always the problem. Never the solution. We need to start printing "Herzog was right" shirts I guess.
//
LZ: Earthquake lights, explained by Christina Nunez at National Geographic
I was watching some videos of the earthquake in Japan on Twitter and I saw some lights in the sky. I wondered if some electric grid had been disrupted or something but it looks like there is a phenomenon called earthquake lights. Although there's no consensus among scientists if there is such a thing called earthquake lights (or EQL), it's just weird that they happen right before or during an earthquake (possibly the strongest ones, it seems).
//
---
Tech & Design
CJW: Roving Eyes - Tracy Valcourt at Real Life Mag
Doorbell cams, CCTV cameras, or computer cameras as part of proctoring applications all make people more aware of their movements and prescribe a restricted vocabulary of movement. Canopy will have the same effect, dispersing it wherever vehicles can drive and park. With enough of these sensors — in doorbells and cars, on light posts, and the dashes of automobiles — soon all of public space will be calibrated into "safety" zones or temporary self-proclaimed "sovereign" corridors, making public environments into mosaics of border- and homelands. The lawful navigation of these spaces will be determined, of course, by the same people who design "justice" and protection for the privileged, while harming the most vulnerable.
Another thing that's not touched on in this otherwise great essay on civilian surveillance is the way this is another demonstration of the wealthy and elite in our society caring more about their own property than the rights of other people to be able to live their lives without being surveilled and entered into databases for future investigation by law enforcement.
Right to privacy over right of property.
//
DCH: The FTC's new enforcement weapon spells death for algorithms | Kate Kaye, Protocol
The Federal Trade Commission has struggled over the years to find ways to combat deceptive digital data practices using its limited set of enforcement options. Now, it's landed on one that could have a big impact on tech companies: algorithmic destruction. And as the agency gets more aggressive on tech by slowly introducing this new type of penalty, applying it in a settlement for the third time in three years could be the charm.

In a March 4 settlement order, the agency demanded that WW International — formerly known as Weight Watchers — destroy the algorithms or AI models it built using personal information collected through its Kurbo healthy eating app from kids as young as 8 without parental permission. The agency also fined the company $1.5 million and ordered it to delete the illegally harvested data.
This is something people on the right side of history have been advocating for for ages. Really heartening to see it finally start to be put into practice. Actually implementing it though is complex and has wiggle room for tech companies to still abuse compliance.
//
---
Society & The Culture
LZ: Of Course We're Living in a Simulation - Jason Kehe at Wired
So it seems that Chalmer's Reality+ is really inspiring a new wave of people talking about the simulation argument and all that crazy and amazing stuff that happened by the end of the 20th century (and was expressed in movies like ExistenZ, The Matrix, and The Thirteenth Floor). I love this trope so much and I like how Kehe took a very comprehensive, even fun interpretation of it. Disclaimer: I have no opinion about believing we are living in a simulation or not, but I like Kehe's idea that it is our technological take on religion these days.
//
DCH: A useful, and yes, contradictory propaganda mini link dump
//
CJW: ​Fighting fascism in the era of late capitalism - Mikkel Bolt Rasmussen at Roar Mag
Fascism is different today. It is still violent ultra-nationalism aimed at protecting the structure of private property through the exclusion of socially constructed others, but its forms, myths and temporality have changed and have been adapted to a different historical situation — a crisis-ridden networked late capitalism. […]

But the fascist dream of a national rebirth is far less grandiose today. We are confronted with a thin fascism: there are no città nuove — the new cities Mussolini built — or the monumental Thousand Year Reich imagined by Hitler architects. For today's fascists in the Global North, the dream is the return of the White welfare state in Northwestern Europe and North America — that is, the world before the global student uprisings of May '68, the African American revolts in the US, before decolonization and before mass migration to the West.
Something that's not explicitly stated above but implied - previously fascists had to promise something material to build support, but today the racist, nostalgic dream is enough to foment a movement. They think a return to times when society wasn't as accepting of diversity will be enough to solve the various economic (and connected) issues that ail them, all while ignoring the obvious fact that the elites pushing fascist narratives don't care at all about the working class - white or otherwise.
That was just one thought I wanted to tease out, but this piece covers a lot of ground concerning fascism today and how the left should react in the face of this threat.
[…] fascism really never disappeared [after WW2], but continued unabated in the former colonies and in the margins of the national democratic societies: in the prisons, in the ghettos and, later, in the migrant detention centers. We can think of it as a kind of slow violence; a violence that is out of view or not deemed to be of central importance to an analysis of a political situation or an era.
//
---
Health, Cooking, and Related
DCH: More evidence that covid-19 started in a market, not a laboratory - The Economist (paywall)
One paper, the lead authors of which are Michael Worobey at the University of Arizona and Kristian Andersen of Scripps Research, in San Diego, attempts to trace the first infections definitively to the Huanan market. The authors used three approaches. First, by looking at the geographic distribution of early infections, they found that the market is in the region where the first covid-19 cases were most densely packed—a result that remains unchanged even when cases with no known link to the market are plotted. Second, they employed photographic evidence posted on Weibo, a Chinese social-media website, as well as contemporary accounts, to show that the market, which vends other goods besides seafood, was selling animals susceptible to the virus (a list that includes porcupines, marmots and raccoon dogs) prior to December 2019.

Third, they analysed the distribution of almost 600 environmental samples taken from the market by the Chinese Centre for Disease Control and Prevention (CCDC) in January 2020, after it had been shut down by the authorities. Combining this analysis with a recreation of the market layout, the authors showed that samples containing the virus were associated with stalls selling live animals, particularly in the market's south-western corner.
Worth sharing the next time you have to debate with friends who "follow the science and it all points to lab leak of a bio-weapon."
//
---
Labor & Economics
DCH: Meta is going on a subpoena spree, targeting Snap, Twitter and more | Issie Lapowsky, Protocol
Meta has sought the documents apparently in hopes that they will help build the case that Meta does have competitors in the social networking space, contrary to the FTC's claims. But in a new legal filing, the companies that have received those subpoenas argue Meta has gone too far and that answering the subpoenas would, in some cases, require handing over "millions of documents" that contain sensitive information Meta can't be trusted with.
Facebook is trying to fight monopoly claims by subpoenaing competition for data that could… further entrench it's monopoly. Wow. Just wow.
//
---
Books
MJW: Nothing But My Body by Tilly Lawless
What is autofiction? Is it 'you but different' or 'you but more'? One of my favourite books, Michelle Tea's _Black Wave _posits 'you but apocalypse', an idea that I liked a lot until an apocalypse began and I became capital U Useless. But when I think about it, Lawless' novel begins with the 2020 Bushfires and ends with the Pandemic, arguably apocalyptic, so maybe that's why I liked it.
A stream of consciousness about a young queer sex worker, by a young queer sex worker, Nothing But My Body is a journey through nightclubs and brothels, country and city, emergency to emergency. It's meditative, thoughtful and lyrical, expository in places, and emotional but not weighted with it. It's a glimpse into an everyday life lived on the crest of disaster, as background. It feels young and light and most importantly, hopeful.
---
Movies + TV
LZ: 2046
This is already a cult film, but it took me all this time to actually watch it. I love Wong Kar Wai for Chungking Express, Fallen Angels and Happy Together, but I never gave a chance to 2046 and In the mood for love, two films that seem to be connected. Well, 2046 is a bit slow but definitely an interesting work, especially when it takes some turns to sci-fi scenarios. I just can't get enough of Faye Wong's beauty. She is a doll and here she is actually a rather enchanting android.
//
LZ: The Batman
Oh no, one more person talking about the emo Pattinson (pleonasm?) flick. Yes, BUT I have a theory (which I want to explore in an essay)…
The Batman is a good movie, but it would be even better if they didn't need to tell the story of poor rich boy Bruce again and again and again. Some people compared this movie with David Finch's work or films like Seven and Saw, which makes sense… but I was wondering: are some directors taking the shortcut of the success and money in superhero movies to film cool stories?
From what I discussed with some colleagues, not exactly: DC has a history of giving more liberty to writers and directors, which is what it has been doing with Nolan's The Dark Knight and Joker, which are not considered part of the DCEU (and the directors don't want it either). Same goes with The Batman.
So… this is purely hypothetical but… what if they told the story of a vigilante in a metropolis full of crazy bandits but without him being an orphan or dressing like a bat? What if Joker was just… a taxi driver? Oh no, that was already done with De Niro.
But yeah, it seems that budget-wise, there are many expensive movies being filmed currently (like Netflix's Red Notice, the most expensive production of the streaming service ever and still nobody talks about it or cares about it?). So there's no concrete correlation with money, but it must have something to do with popularity and fandom: if Gal Gadot played Wonder Woman in Red Notice, maybe more people would be watching it?
Well, at least that's something that Marvel is doing (and some people are complaining that characters are being completely changed in the spin-off series, just because yeah multiverse, free for all!) and sometimes it's a big hit (like Guardians of the Galaxy) or a big miss (like Black Widow, from what I've heard).
---
Podcasts
DCH: Peter Thiel, Patron of the Populist Right - Slate & Part One: Kissinger (Behind the Bastards x The Dollop)
Two great pods about two absolute bastards.
---
Games
LZ: Abzû
I still haven't played this title yet, but it looks very interesting and poetic. Some parts make me think of Bound, which is another beautiful game that you should definitely check – also because the soundtrack is fascinating and there's also a version of the game in VR in case you are into it.
---
The Self-Promotion
LZ: In times of metaverse and microdosing, we should be looking back to Timothy Leary's ideas
I just miss the old days when cyberculture was tightly connected to psychedelics and Nick Land wasn't anarcho capitalist.
//
CJW: The K-files Episode #4: "Have You Been Enjoying Yourself?"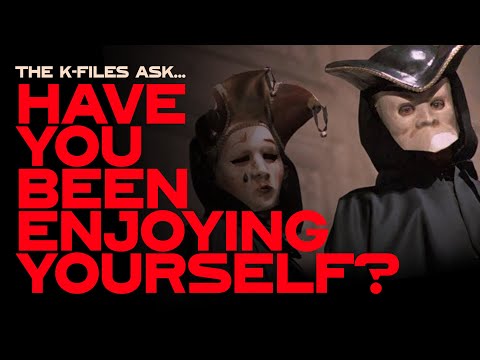 This week, the buddies step away from the CCRU (though maybe not too far) and turn their attention to a blogpost Mark Fisher wrote about Stanley Kubrick's last film, Eyes Wide Shut.

The buddies discuss the film and its representations of sex, desire, ritual, eroticism, conspiracism, and the dreary spectacle of Power.
Latest episode of The K-files is up on youtube and available on all other podcast services - just search for Buddies without Organs. Theory, philosophy, pop culture, culture, and all the rest.
//
MJW: My publishers, Brio Books, have bound up all three of the 'Orphancorp' books into one volume. It's like having a new book out without doing any work. I love it.
---
The Memes