nothing here but DIY heaters and a large bong
issue 168 - 20th February, 2022
---
CJW: Welcome, welcome. Good to have you here.
Just a reminder, if you like what we do and have the means (and desire) to support us, you've got a couple of options:
Both give you access to the full bonus archive, as well as new bonuses as they are posted.
Our latest bonus came from Lidia: Olavo de Carvalho is Dead. On Brazilian politics and celebrating the deaths of fascists.
---
The Team
---
Climate Change & The Environment
CJW: Anarchists are Building DIY Heaters to Keep Unhoused People Warm - Ella Fassler at Vice (via Inhabit)
I love these sorts of open source, mutual-aid DIY projects. Dropping this one under climate change because affordable heating could very well become a problem for many more people in the coming years.
If you want to skip the write-up, the instructions for building the heater are here.
//
DCH: Who buys the dirty energy assets public companies no longer want?
Many are ending up in the hands of private-equity (PE) firms. In the past two years alone these bought $60bn-worth of oil, gas and coal assets, through 500 transactions—a third more than they invested in renewables (see chart). Some have been multibillion-dollar deals, with giants such as Blackstone, Carlyle and KKR carving out huge oilfields, coal-fired power plants or gas grids from energy groups, miners and utilities. Many other deals, sealed by smaller rivals, get little publicity. This sits uncomfortably with the credo of many pension funds, universities and other investors in private funds, 1,485 of which, representing $39trn in assets, have pledged to divest fossil fuels. But few seem ready to leave juicy returns on the table.
Looks like we're bookending this issue with the evils of private equity. In case you need a reminder at how pension funds get tied up in all of this dastardly shit then there's always this episode from Curtis' Mayfair Set.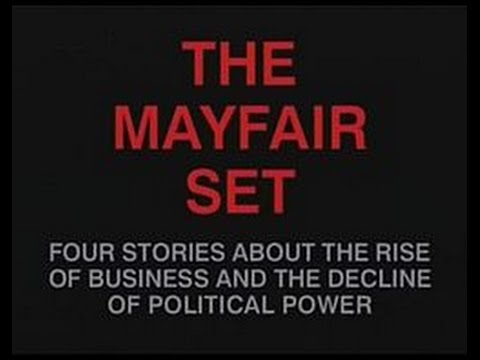 //
---
Geopolitics & Empire
MKY: Argentina joins China's Belt and Road Initiative - Asia Times
~the sound of tectonic plates shifting~ this is especially interesting after - callback! - watching A Very British Coup (1988) and the, sigh, way more neoliberal/capital realist, very loosely based on version, Secret State. Key moments in both being, the UK Govt giving the middle finger to the IMF, as it - the once vibrant heart of the Empire - now suffers from the very same tactics that have ruined nation upon nation from the forces of corporate-veiled imperialism. (SPOILERS) In _A Very British Coup _the socialist Labour PM turns to - shock, horror - the Bank of Moscow. In a far darker, eco-catastrophe take, Gabriel Byrne - the good man - makes a deal with India to have their coal supply underwrite the British Sterling. POINT BEING: well, the Empire kinda seems to be flailing rn huh. Yeah, that's the point…
//
CJW: On Ukraine
Because you don't want to be relying on mainstream media sources, I came across these in the past fortnight:
//
DCH: The Right's Would-Be Kingmaker by Lisa Lerer and Ryan Mac, nytimes.com
What sets Mr. Thiel's spending apart, though, is its focus on hard-right candidates who traffic in the conspiracy theories espoused by Mr. Trump and who cast themselves as rebels determined to overthrow the Republican establishment and even the broader American political order. These campaigns have raised millions in small-dollar donations, but Mr. Thiel's wealth could accelerate the shift of views once considered fringe to the mainstream — while making himself a new power broker on the right.
Remember that time Peter Thiel said women never should have gotten the right to vote? Or that time Peter Thiel said capitalism was more important than democracy? Get fucked, Count Fuckula.
//
---
Science & Space
CJW: Chemists turn carbon emissions into a solid—instantly - Prachi Patel at Anthropocene Magazine (via Sentiers)
They claim it's scalable, though energy-intensive. The energy-intensive part is a bit of an issue if it's plugged into a coal-burning grid, but obviously this is potentially exciting news.
MKY: exciting for motherfucking neolib and neocon politicians alike to keep pointing at shit like this and being like, Look! The tech is in the works… we can just continue business as usual. No big changes are needed. Industrial civilization has had consequences, sure, but let's just keep on trucking. From the producers of hey, what's the minimum we can do during this pandemic, so long as the economy keeps ticking… yeah, this is a healthy mindset that def. won't make it liek, unnecessarily protracted… its def not a golden opportunity to make a whole raft of changes and build a better society in general. Hell no. (Sorry, my brain-to-text implant wouldn't switch off.)
Anyway, here's a cool lil aside in yet another climate apoc Nature article - Scientists raise alarm over 'dangerously fast' growth in atmospheric methane (emphasis mine):
Last month, for instance, Carbon Mapper and the Environmental Defense Fund, an advocacy group in New York City, released data revealing that 30 oil and gas facilities in the southwestern United States have collectively emitted about 100,000 tonnes of methane for at least the past three years, equivalent to the annual warming impact of half a million cars. These facilities could easily halt those emissions by preventing methane from leaking out, the groups argue.
Militarise the fucking EPA already.
CJW: Their first war would have to be with the US military itself…
MKY: Let Them Fight.meme
//
---
Tech & Design
CJW: Magic Carpets - Chenoe Hart at Real Life Mag
If screens covered everything, we would be no longer able to trust the illumination or the shadows we saw on walls and surfaces as a reliable reference point for perceiving three-dimensional space. They might sometimes feel a bit like they were being digitally rendered. The appearance of physical objects would become more provisional, and the things around us could start to be conceptualized similarly to how 3-D content is in games now: as calculated mathematical assemblies of geometric planes that are all surface and no interior. Physical space would be experienced more like game space, without the need for an interface.
An interesting piece on a possible future where our physical spaces become more virtualised through the addition of more and more screens - not purely the dystopian advertising-screens/holograms-everywhere, but touching on other commercial and aesthetic uses.
In some ways it reminds me of what I was doing in Repo Virtual, except there I envisioned it being mediated through augmented reality rather than physical screens.
//
CJW: Their Bionic Eyes Are Now Obsolete and Unsupported - Eliza Strickland and Mark Harris at IEEE Spectrum
These three patients, and more than 350 other blind people around the world with Second Sight's implants in their eyes, find themselves in a world in which the technology that transformed their lives is just another obsolete gadget. One technical hiccup, one broken wire, and they lose their artificial vision, possibly forever. To add injury to insult: A defunct Argus system in the eye could cause medical complications or interfere with procedures such as MRI scans, and it could be painful or expensive to remove.
A recent merger might see implantees' problems seen to (pun not intended), but personally I'd put more faith in Ukrainian hackers jailbreaking the implants than in mealy-mouthed corpspeak.
Further proof that we've already been living in a cyberpunk dystopia even if we didn't realise it yet. As I've said before, our cyberpunk present seems mundane because it's our real world, but this quote suggests some cool possibilities:
Other Argus II patients _Spectrum _spoke with were also told they would be getting upgrades, such as a digital camera, thermal imaging, and even facial recognition software.
Anyway, interesting piece that covers the history of Second Sight, its technology, the problems with it, and the people that use/d it.
MKY: this is something we were following super closely back in the Grinding daze and i'm super unsurprised and saddened that this was the - inevitable? - result. Le freaking sigh.
DCH: Open source this shit please.
//
DCH: Crisis Text Line and the Silicon Valleyfication of Everything - Joanne McNeil VICE
But in recent years, Crisis Text Line has sounded a lot like a traditional startup. In a 2016 press release announcing $23.8 million raised from "tech titans" Reid Hoffman, Melinda Gates, and philanthropic groups from Steve Ballmer and Pierre Omidyar; Crisis Text Line co-founder Lublin compared the nonprofit to a "tech startup" with similar fundraising strategies. "We've always thought of ourselves as a data first company," Lublin said on Hoffman's podcast Masters of Scale in 2020. "We're outperforming on all of our KPIs," she added. "All of our key performance indicators right now—we're crushing them." In 2016, Crisis Text Line wrote on its own website that it "will NEVER share data." This language was deleted the following year.

boyd's letter to the FCC reveals similar incentives and aspirations to Uber as it supplants mass transit: once Crisis Text Line filled a gap in public resources, it claimed the gap as its turf. Meanwhile the organization incited user dependency and unintended consequences behind the smoke and mirrors that is the "awesome power of technology." Crisis Text Line put its market proposition above the needs of its vulnerable users: its dehumanizing data collection practices were part of a series of callous acts.
You know, if I had to have guessed which ethical technologist helped gut federal funding for suicide prevention services so she could help make a fast buck for her corporate masters I never would have guessed danah boyd. Fuck helping people at risk. We've got KPIs to crush.
//
DCH: Facebook Has a Superuser-Supremacy Problem - Matthew Hindman Nathaniel Lubin Trevor Davis The Atlantic
Our research shows something different: None of this tweaking changes the big picture. The users who produce the most public reactions also produce the most likes, shares, and comments—so re-weighting just reshuffles slightly which of the most active users matter more. Now that we can see that harmful behaviors come mostly from superusers, it's very clear: So long as adding up different types of engagement remains a key ingredient in Facebook's recommendation system, it amplifies the choices of the same ultra-narrow, largely hateful slice of users.
One of the best recent reads on Facebook's outrage economics. Good detail from independent researchers on Facebook's "Meaningful Social Interactions" algo. And all largely backed up by the troves of info leaked by Frances Haugen.
You can't tweak a dumpster fire. You have to extinguish it. And as long as Zuck blocks the efforts of teams fighting this fire and as long as bonuses are based on HOW MANY PEOPLE HAVE YOU BURNED TODAY remain a thing… well yeah.
//
DCH: Decentralising Digital: Artefacts from Hopeful Futures - Branch (via Sentiers)
These futures mirror those we have seen emerging in India, where different people and communities play a part in engaging with decentralised technology in different ways. This is a future where people are not beholden to technology but choose to use it for their own good. A future where technology supports and complements existing sustainable patterns and behaviours, rather than imposing new ones.
Corey brought this to my attention. Lovely bit of design fiction. Nice mix of the sort of thinking you see from Near Future Laboratory and Jan Chipchase's studio.
//
---
Society & The Culture
MJW: Switter, the Twitter for sex workers, is shutting down - Vice.
Related: Digital Rights Watch: In solidarity with Switter
Assembly Four, a 'collective of sex workers and technologists' who run Switter (a social media platform for sex workers using Mastodon and hosted in Australia, where sex work is reasonably legal) has released a statement that they can no longer run the platform due to restrictive legislation.
"The recent anti-sex work and anti-LGBTQIA+ legislative changes not only in Australia, but in the UK, US and other jurisdictions have made it impossible for us to appropriately and ethically maintain compliance for over 430,000+ users on a social media platform"
Switter helped sex workers build a community, find peers and clients in a safer way. These legislative changes are being made to restrict access to adult content online, ostensibly to protect The Children and combat 'sex-trafficking' (like FOSTA-SESTA, which studies show actually made sex work more dangerous.) Like most reactive legislation, it serves mostly to further marginalise already marginalised communities.
The Online Safety Act is an attempt by the Australian government to stop online harassment and non-consensual sexual content by levying fines and over-broad regulations against platforms; it targets content that is "likely to cause offence to a reasonable adult," an incredibly nebulous phrase that will continue to push queer people, sex workers, and other marginalized identities further off the internet. Human rights organizations have called it "authoritarian," detrimental to actual harm reduction efforts for trafficking survivors, and "likely to cause significant harm to those who work in the sex industry."
//
CJW: Grace Tame criticises media who tried to 'discredit' her with bong photo, calls for honest discussion on trauma - Sarah Motherwell at ABC News
Grace Tame's open letter is a must-read for any Aussie with a conscience and for anyone else who might care about CSA and the media's role in perpetuating harm against survivors.
For non-Aussies who might not know what any of this is about: some shitty media outlets shared an old photo of Tame with what appeared to be a large bong in an effort to discredit her (she being a vocal critic of the Federal government, a vocal feminist, and a vocal CSA survivor, and just a woman with a standing). Obviously a lot of people don't care about weed smoking, so the ploy kind of backfired, and now Tame has been able to use it as an opportunity to reassert her message concerning CSA and how it thrives on the sort of shame the media tried to weaponise against her.
//
CJW: Urbild: Theories of Liminality (1) - Sean Oscar
Possibly deserted, it is nothing welcoming. Fluorescent lighting is always accompanied by an aural element, not simply the ever-present urban hum but also the whine, the buzz. It announces itself like radiation and must surely do strange things to your biochemistry. A yellow light like nothing in nature, and the body knows it; it sets off trembling lizard brain ganglia that tell you to get out.
A great piece of theory-fiction on liminality from Wyrd Buddy, Sean Oscar.
//
CJW: Silent Partner - Lauren Collee at Real Life Mag
Relationship apps sell us quantified love at its most granular: Depth of feeling revealed in a weekly number of arm touches, a total number of compliments and online likes, a running tally of how often one partner has emptied the dishwasher. Their modes and metrics and key performance indicators encourage a very specific vision of love, one designed to generate profitable data and reinforce behaviors compatible with the schedules of a busy worker.
A great piece on relationship apps (as opposed to dating apps), with some great observations about the perceived function of romantic relationships under neoliberal capitalism where community has been deeply undermined.
//
---
Labor & Economics
DCH: When Private Equity Becomes Your Landlord - Heather Vogell ProPublica
​​As Greystar took charge, his alarm grew. Rents soared. Trash collected in the hallways and on the rooftop deck, Cooper said. The security guard showed up less often. One tenant said she was frightened when she encountered a large, seemingly drunk man she didn't know dancing in a leotard and tutu in the parking garage. Another renter described having to heat her bathwater on the stove after she woke several times to find only cold water flowing from her tap.

Private equity is now the dominant form of financial backing among the 35 largest owners of multifamily buildings, the analysis showed. In 2011, about a third of the apartment units held by the top owners were backed by private equity. A decade later, half of them were.
It gets worse: PE is behind 85% of the biggest deals. There's a lot of money to be had in ransacking housing. As I'm fond of saying, private equity is a public menace.
//
---
Books
LZ: A Victorian Flower Dictionary: The Language of Flowers Companion by Mandy Kirkby
For someone with a background in semiotics like me, this is pure delight. It's interesting that Kirkby stresses right at the beginning of the book that Victorians didn't really send flowers/bouquets specifically based on the meaning of flowers, but the books about that were very popular. There are 50 flowers that the author goes deeper by quoting literature from the period and explaining why they acquired this meaning. By the end of the book, there's also a longer list with quick tags for dozens of flowers.
---
Movies + TV
LZ: Angel Heart (1989)
Ok this is kind of obvious and readers who are older (than) Millennials should have watched it already, but I only got the chance to check it recently and I'm absolutely in love. It has all the tropes and clichés of neo-noir movies and southern gothic. It is inspired by a book with the same title, but it seems that the plot is different (though both are said to be good). A beautiful sense of humor that swings between taking oneself too seriously and just going with the flow. And Mickey Rourke is beautiful af.
MKY: Such a great film, and frequently overlooked. I had to have it pushed on me by a co-worker back when forcing DVDs on people was still a thing. Now you just say things like, if you like Angel Heart def check out The Serpent and the Rainbow (1988). And leave the rest as an exercise for the reader :)
DCH: True story I almost got punched in the face by Mickey Rourke once for shittalking. I remain a fan to this day.
//
LZ: Fantastic Planet (1973)
Another title that might be redundant for some readers, but… here's a very interesting 70s animation. Super psychedelic in its visuals and sounds. Weird, but not completely absent of sense.
//
LZ: Picnic at Hanging Rock (1975)
By now you might have already realized that I'm trying to keep up with all the classics that I missed throughout the years. Well, this is true and here is another recommendation of a movie that could definitely be called the grandmother of Midsommar or A24 horror aesthetics. Found the plot kinda boring, but the visuals are neat for Tumblerinas like me who are into cottagecore but with a dark twist.
MKY: Did someone say cottagecore?
Horror? Picnic is a completely accurate representation of life in Australia. As is The Cars That Ate Paris. And Wake in Fright is basically our tourist campaign. Well, it oughta be.
CJW: I wanted to do Wake in Fright as our Christmas movie, but I wasn't ready to watch it again… That's the sort of harrowing it is. Fucking great film.
I also only watched Picnic at Hanging Rock for the first time in the last few months and really enjoyed it. I'm not one for period pieces of any sort, but the eerie tone of the film and the hints toward an unknowable (even cosmic) horror had me completely sold by the end.
I actually wouldn't be surprised if it had influenced David Lynch for Twin Peaks - something about the way it focuses on the townspeople struggling with the disappearances and the people obsessed with solving it (even putting themselves at risk) resonates with TP.
---
Comics
CJW: Familiar Face by Michael DeForge
A society where everything constantly changes - the streets, a person's apartment, a person's body and face - in a never-ending quest for efficiency, and where no one is truly in charge. With its emphasis on digital communications, I can only assume the comic is talking about the ways we change our online (and real) selves knowingly and un in response to an array of different pressures - societal, algorithmic, economic, political. In the comic the main character is aware of these changes, but in our lives I wonder if we are, how much of our growth/change happens without our full attention.
Another facet of the story I found interesting was the emphasis on complaints, and what that says about our society. The main character works as a complaint reader - they don't address the complaints, they don't know if the complaints are addressed by anyone else, but the society at least guarantees that your complaints will be read by a real person at some point (the order in which they're given to the readers being seemingly random). It seems like a pretty succinct indictment of our culture - we don't know who's really in charge, we don't know why they do what they do, and we largely feel powerless to effect change. But what we can do is complain. We complain to hospitality and retail workers in their workplaces, we complain that the latest entry in some film franchise doesn't live up to our expectations, we complain (and start doxxing people) when someone is shitty in dating or when they do something innocuous on tiktok. Our society/culture is sick and we complain to each other because we don't know what else we could do in the face of the forces that control things.
Anyway, Michael DeForge is a brilliant and vibrant cartoonist, and this is a great comic.
//
CJW: Bad Space Comics - Scott Base (via Ganzeer)
Great 10-panel comics in a hyper-condensed take on the 2000AD Future Shocks style. Link to subscribe at the bottom of the page.
---
Games
LZ: You Can Kana
In case you are or want to learn Japanese and especially master hiragana and katakana, here's an option. TBH I think it would be more useful if there was something for kanjis as well!
---
Music
Chelsea Wolfe and Jess Gowrie are together in this project with an aggressive feminine (and feminist?) soul. I mean, look at the album's cover and tell me if you don't want to listen to them asap?
---
Art
LZ: Titsay
Cute cats and other animals sending positive messages and spreading love for introverts
---
The Self-Promotion
LZ: Daylight Horror: "Gótico Nordestino" defies the genre's stereotypes
A century after the Brazilian Modern Art Week, NFTs target the future of the art market
//
MJW: My zine 'Id Girl', written as Mia Walsch, is an illustrated selection of excerpts from my new memoir. If you think you might like tales of working in the dungeon, plus stuff about bodies and attention and good memories and bad ones interspersed with my silly little drawings, you can find it on my Etsy.
---
The Memes