hi everyone! firstly, thank you so much for joining my newsletter. i'm hoping this will be a more reliable way of getting information to potential clients, as well as a place where i can talk a little more at length about my work and inspiration.
---
prologue
outside of tattooing, the last couple weeks have been marked by the explosive blooming of purple loosestrife along the river's edge, the chorus of honeybees and other pollinators descending on late summer flowers, chanterelles and fragrant black trumpets emerging from the forest floor, and a visit from a dear old friend who trekked down from rural vermont, where they've been apprenticing at a weaving school for the past year. we went swimming in my favorite pond, flirting with a nearby thunderstorm, which arrived just as we we began to hike back to the car. we collected milk caps and chokecherries for fermenting, and made an incredible risotto with some dried porcinis i foraged earlier this summer. we discussed ideas for a tattoos based on knots and weaving patterns and spider webs, and traded knowledge on html and magic: the gathering.
i've been working on creating a platform for my writing over on substack. there's nothing there yet, but i have two drafts in the works - a collection of late summer poetics, and a meandering essay on memory, geography, and interconnectedness. i'll be making a more formal announcement once the first post goes live!
---
recent work
8/6, paired botanicals
it's always a special honor giving someone their first tattoo. Kayley and i know each other from college, when we had a couple art classes together, and i was so glad to be able to realize her vision for this piece. my first tattoo was a pretty impulsive and unceremonious stick-and-poke - nothing wrong with that (well, apart from a lot of sanitation concerns), but i think it means a lot to provide a first-time experience that is safe, comfortable, and competent. although larger freehand work is the bread-and-butter of my practice, these cute and minimal botanicals were a lot of fun to do.
8/7, chasm
the chasm motif remains an enduring favorite. i love doing variations on a theme and watching it evolve over time. recently, i've been wanting to draw them with more dramatic meanders. looking forward to the next one! this piece was done for Ira free of charge, after they won a raffle last summer.
8/8, cellular inscription
once in a blue moon, i break out a color of ink other than black. it felt very special getting to add to Ellie's family of red ink tattoos. i definitely want to explore this cellular motif more, especially on a larger scale.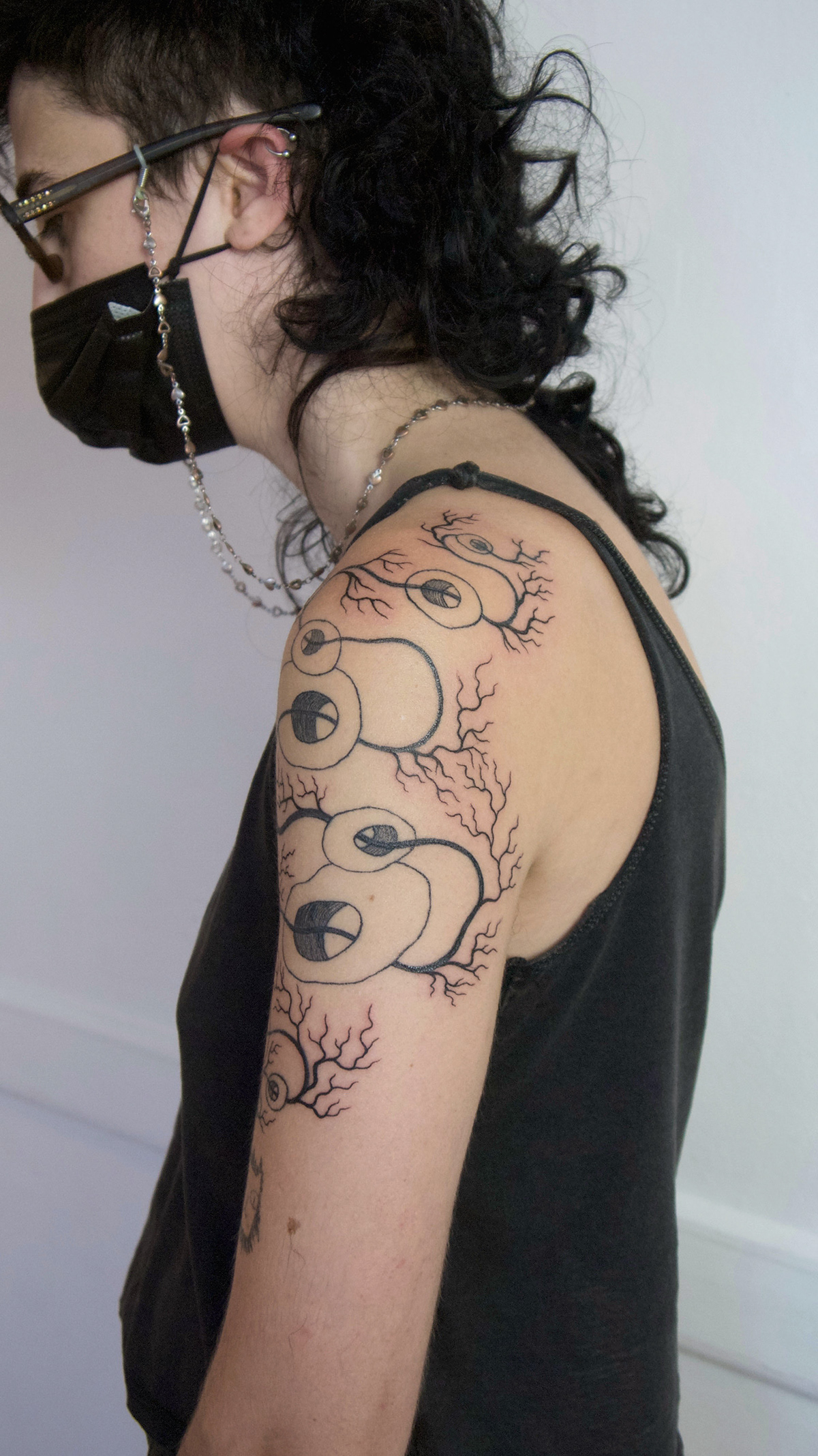 8/13, threaded cairn
full disclosure: this was not planned to be a two-session piece. hindsight being 20/20, it's obvious that this was going to take quite a while to execute, but we were both so caught up in enthusiasm over the drawing that we bit off way more than we could chew. obviously, the onus is on me to plan things out and make accurate time estimates, so Oona only paid for the time we had originally expected. this isn't a mistake i plan on making again, but honestly i'm glad we created such a large version of the piece. i love how it flows down her shoulder and wraps around her arm.
8/17, nest paper
this was one of the most chill pieces i've done in a while. i love doing expansive, organic shapes that flow with the body, but working inside such a defined frame was honestly a nice change of pace. once we had the rectangle down, i didn't have to worry about the shape at all, and the linework was largely instinctual.
---
booking
august: just about full, although i could squeeze in one more appointment between 8/24 and 8/27.
september: almost full. i have room for about 4 more appointments, in the latter half of the month.
october: opening now!
note: i don't have a predetermined schedule that i try to fill - i'm totally flexible about which particular days i have appointments on, but i do limit myself to 12-14 appointments per month. basically, if i say "room for 4 more appointments," that doesn't mean there are only 4 available days to choose from.
---
that's all for now! i think i'm going to try to do this newletter bi-weekly. if you'd like to book an appointment, you can start by submitting a form. feel free to email me if you have any questions. Have a wonderful day!
-eva