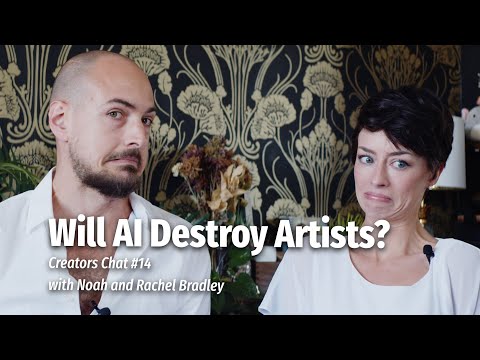 Just posted a new Creators.Chat episode, Will AI Destroy Artists! We've been getting a ton of questions and concerns from artists about AI art and we wanted to take the opportunity to talk about those. We've also had a fair bit of experience with it after using these AI art generators heavily for the past couple weeks, so we wanted to share a few tips on how we're using it. So yeah, check it out if you're interested in AI art and what it might mean for artists.
I've also recorded a bunch of process videos from sketching from some of these AI images and am putting together a short video explaining my process. I think it's an amazing tool for creating ideas and images and I think it's a tool that every artist should keep in their tool belt. I'll shoot another email sometime this week when I get that one posted.
---
For a personal life-update, I'm recovering from my neck injury quite well. Today marks 3 months since the injury and it's been such a wild road from there to here. But thankfully a lot of physical therapy and time are taking care of healing a lot of the lingering issues I still have. The last holdout seems to be an incredibly weak right arm (I can still barely lift my own arm, much less lift any additional weight with it). But I'm doing a lot of exercise to get that one back. Hopefully soon.