Hello
It is so annoying when a headline or link promises a story that ought to be interesting and then fails to deliver. Normally, I just give a snort of derision and move on, but not today. And please, I really do want to read more about the foodways of countries in Africa.
---
The irresistable rise of Indian shops in London
Delightful history of the Indian grocery in London from Sejal Sukhadwala in Goya magazine. She paints a vibrant picture of the importance of these shops to people who were shopping for familiar items as well as to those who were exploring something new. My own memories of Indian shops is more about somewhat tired looking fruit and veg rather than exciting stuff from far away, but that may be coloured by one of the changes Sukhadwala identifies:
Weary, ageing owners whose businesses had taken on an air of neglect told me with a mixture of resignation and pride that their well-educated children were working in professional jobs, and had no interest in continuing the family legacy. Additionally, British supermarkets were beating these shops at their own game, offering a spiralling range of Indian ingredients.
Covid-19, paradoxically, threw many of these shops a lifeline, as lockdowns turned them into a handy source of essentials. Will they be able to build on that and develop? Sejal Sukhadwala is undecided.
Here in Rome, I've noticed a flowering of tiny multi-purpose groceries, usually operated by Bangladeshi families, that are open all hours and stock some un-Italian foods – the strange snacks from across Asia fascinate me – alongside more common stuff. More power to them.
---
Why did the chicken live so long?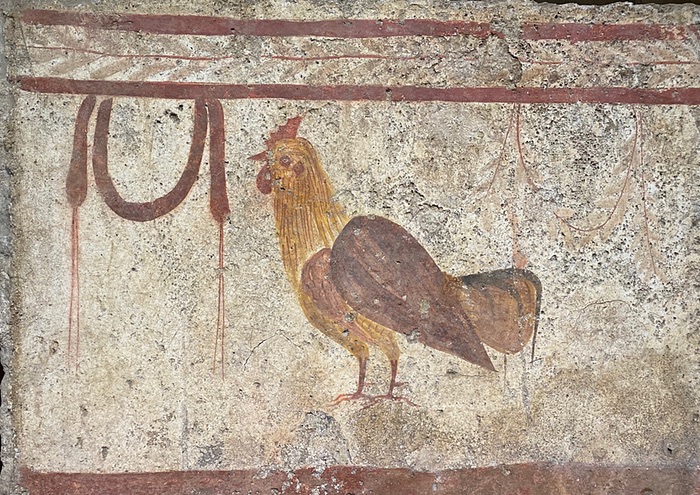 The domestic chicken contains within its DNA a family tree that tells us roughly where and when it was domesticated, but not why. The assumption, of course, is that just as today, people six or seven thousand years ago kept chickens for eggs and meat.
In the podcast episode about chicken ancestry, Olivier Hanotte pointed out that "it is … very difficult to actually find old bones of chicken and to examine those, because the bones of the bird are very fragile and often are not being recovered properly in archaeological remains".
Archaeological sites in Britain, however, do contain chicken bones, and often as whole skeletons, with no marks of butchery. Researchers at the University of Exeter, having devised a new method for assessing the age at which the birds died, conclude that "from the Iron Age to Saxon period they were surviving well past sexual maturity. Most lived beyond a year, with many reaching the age of two, three and four years old". These birds were not being kept for food. Rather, said Dr Sean Doherty, the chickens "held a special status, where they were viewed as sacred rather than as food".
An additional twist is that during the Iron Age and Roman occupation, there were significantly more roosters than hens among the recovered chicken bones. That might reflect the popularity of cockfighting at that time.
---
Family farms fail
In the US, the vision of the family farm is extremely potent, embraced by politicians of all stripes to prove how much they care about something or other. There are two things wrong with this rosy picture. First, the truly successful family farms are mega-corporations that happen to be owned by the members of a single family. Second, those farms "succeed" only by virtue of huge government handouts, while the vast majority of family farms in the sense that most of us understand the term are doomed.
Sarah Taber explained all this and more in a 2019 article on family farms in New York magazine.
In areas where family farming has persisted for more than a couple generations it's largely thanks to extensive, modern technocratic government interventions like grants, guaranteed loans, subsidized crop insurance, free training, tax breaks, suppression of farmworker wages, and more.
In other words, socialism for rugged individuals.
Taber goes on to examine some of the alternatives that do work, which in essence are much more communitarian and less individualistic. What of the future? The current crop of back-to-the-landers, she says, may be sufficiently idealistic, but they are either undercapitalised or, if they have enough capital, constrained by time. It would be nice to think that one could build community farm systems like, say, the Hutterites, but without the supporting scaffolding of a shared system of beliefs. I wonder, though, how easy it would be to settle the inevitable differences that are likely to emerge in any community.
---
Irish apples
Irish Seed Savers has an article on its website explaining how it is that apples can travel all the way from New Zealand to Europe and still be "fresh" six months later. The point is not, of course, to encourage us to eat more imported apples, but rather to look anew at the old apple varieties conserved by Irish Seed Savers.
The article makes particular mention of the varieties known as russets, which are apples with a rough, rather than smooth and shiny, skin. Sometimes the russeting is patchy, which apple enthusiasts call "lacing". I heartily endorse the suggestion to at least try some russet varieties, if you can find them. Long ago and far away I grew Egremont Russet, and while it is a great apple au naturel, in my opinion there's no finer apple to eat with either a wodge of good cheddar or a light coat of peanut butter.
In case you missed it, I did an episode on Ireland's apple collection.
---
African gastronomy traduced
I had high hopes for A Tour of African Gastronomy from the UN World Tourism Organization (who knew?). Given the cult-like status of Binyavanga Wainaina's essay How to Write About Africa, a website (and book) that promises to reveal how "The rich and endlessly diverse flavours of the continent tell stories and rituals steeped in history" has to be a good thing. Alas, the content fails to deliver. I couldn't find any stories or rituals, steeped in history or otherwise.
Normally, I don't like to link to things that are, in my view, not worth your time. I'm making an exception because I'd like some help. Where are the African stories of Africa's many foodways?
I've watched High on the Hog, although I haven't read the book, and I am aware of some of the great writing about African-American food, but I am eager to learn more about African-African food. Teach me.
p.s. While I'm moaning about crap on the internet, I may as well heap scorn on Pizza Magazine's "web exclusive" What is pinsa?. It is mostly lifted wholesale from Visit Lazio and that too is remarkably light on content. Unlike the one thing called pinsa I have eaten, which was unbearably heavy. Also, Romans using soy flour, or grinding precious rice into flour? I don't think so.
---
Take care and stay safe.

Jeremy