This is Gravid With Decay, a short newsletter by John Tolva about all things horror.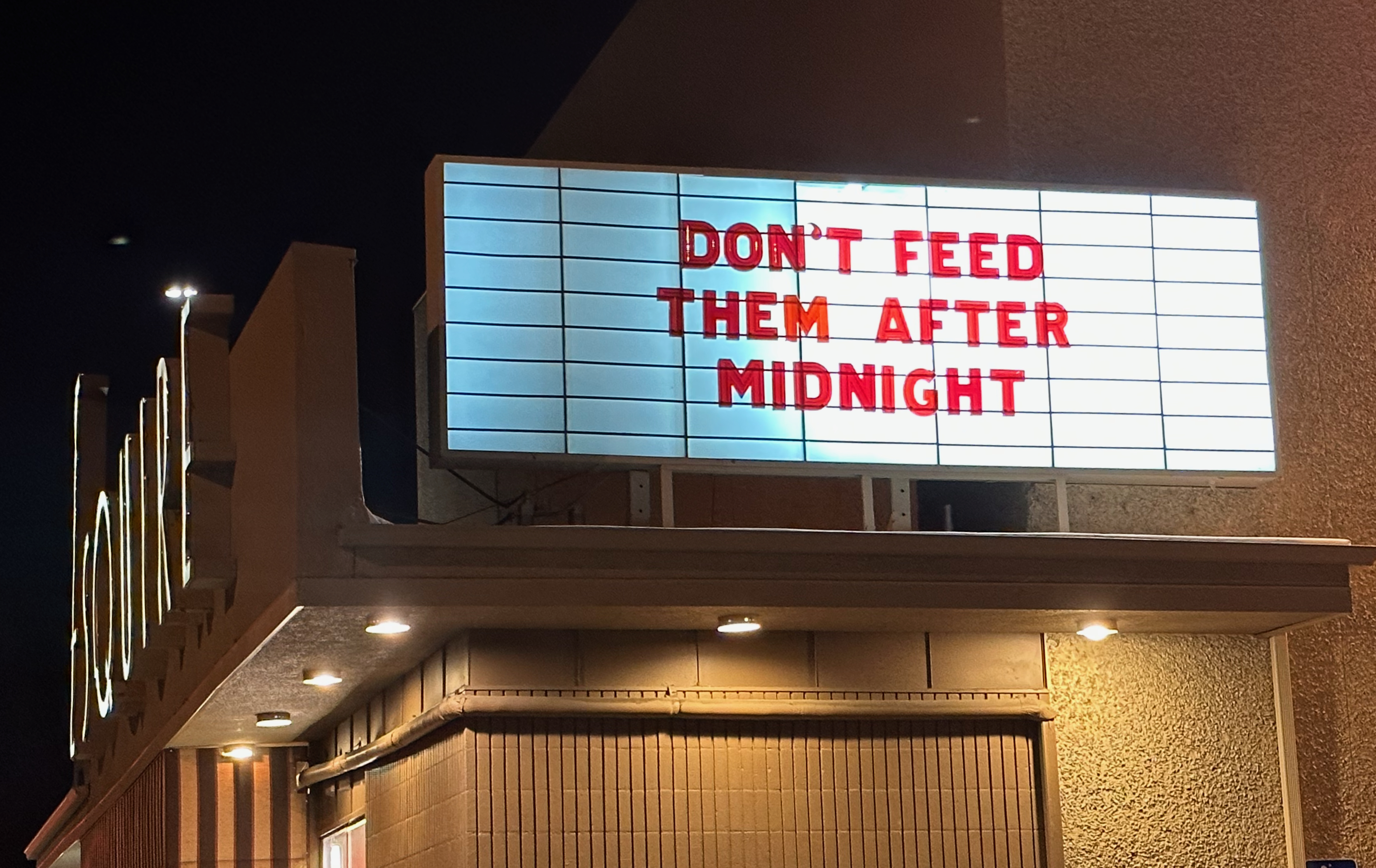 My neighborhood theater, The Esquire, setting the right tone for the holidays. (Of note, I consider Gremlins a Christmas horror movie, fight me.)
Welcome to another annual edition of reviews and recommendations for your spooky Christmas needs.
Last year I mentioned the few contemporary remnants of the Victorian-era love of wintertime ghosts, but the linkage between short, dark days and the urge for flesh-tingling storytelling goes back a lot further than that. Shakespeare in A Winter's Tale (1611) notes "A sad tale's best for winter. I have one. Of sprites and goblins." Yule logs, mistletoe, the Christmas tree itself — all pre-Christian celebrations of the winter solstice, symbols of a time for gathering in a space where you could only see to the limit of a fire's flame. And what to do around this fire, huddled close? Tale-telling, naturally. Those tales, as the setting rather begs, historically have been about ghosts and other haunts. This tradition wound its way into Christianity and the modern era, as Colin Fleming notes as a series of
… readings for the season—but not really of the season … a rather more pleasing terror—the ghosts, even when they mean to avenge themselves upon us, also seem to have dipped into the nog a time or two, with their own playfulness in evidence. Sure, they can kill you, but they do so with a joke or two at the ready. These are the short days of the year, and a weird admixture of pagan habits and grand religiosity obtains. There is also booze. People didn't have TVs: people drank, people got to telling tales, someone told a tale and someone tried to tell a bigger one, and then, lo, we got a whole ghost story Christmas tradition.
Holiday ghosts were fading away by the early 19th century until Charles Dickens famously brought them back as time-traveling tour guides in a grand morality tale. A Christmas Carol is the last major vestige — a tomb marker, if you will — of a tradition that was far weirder and scarier than any of Dickens' four ghosts. And yet, A Christmas Carol is part of the cultural atmosphere of Christmas, there even when it isn't in the foreground: scrooge-as-a-verb, being shown how behavior can spawn multiple timelines, the inspiration for the Grinch, and countless adaptations (including this year's Spirited with Ryan Reynolds and Will Ferrell — worth a watch). It's embedded in our childhood psyche in a way unlike any Halloween ghost story.
Here's my personal proof. Christmas Day, 1982. My siblings and cousins retreat to the basement to create our own adaptation of Dickens' classic. It was the dawn of VHS cameras, the noonday of wood-paneled suburban decor, and the dusk of my short career as a playwright. This grainy, budget-less masterwork, a Christmas gift to you, will likely be the most disturbing thing you watch as a result of this newsletter.
You may think that Halloween has the monopoly on horror media, but it isn't even close (at least in the USA). There are hundreds, possibly thousands, of Christmas-themed horror movies from barely watchable home movies (ahem) to legit masterpieces — the true legacy of those bards of yore and their campfire frights. Let me tell you about some.
Just out now on Shudder, Christmas Bloody Christmas (2022) is three discrete acts culminating in a military killbot repurposed as a retail animatronic Santa gone haywire. That's right: it's Yuletide Terminator and let me tell you, the ending is truly bonkers. The dialogue and acting is top notch (particularly the digression the leads have about the only truly great Christmas tunes) and the kills are nasty. The whole palette of the movie — filmed entirely in dark locales — is gaudy, twinkly holiday neon. It's unsettling. My only criticism is that, until the Terminator St. Nick starts taking damage points he really doesn't look or move like a robot. Just a gear noise or two dubbed over. But, again, this movie is worth it for the third act alone. Total Christmas Eve mayhem.
At the head of the coming parade of beloved children's tales being remade as horror (see Winnie-the-Pooh: Blood and Honey, and Bambi: The Reckoning) is The Mean One (2022), an unauthorized parody of How The Grinch Stole Christmas. There's certainly a logic to turning Mr. Grinch into a deranged slasher given that even in the Dr. Seuss original The Grinch is pretty scary. In this timeline there has been no redemption for The Mean One, who is a constant looming threat. A grown-up Cindy "You-Know-Who" returns to "Newville" where Christmas is no longer celebrated (all references to the original are playfully, sometimes delightfully, elided or modified for legal reasons). Ultimately this is a showdown between The Grinch and Cindy-as-badass-final-girl with her Jewish (i.e., non-Christmas-celebrating) sheriff's deputy boyfriend and a Santa look-a-like townie drunk whose rantings no one believes. The problem with this movie is that it can't decide whether to play it straight or as an all-in parody. When the Grinch is laying waste to a bunch of Santacon revelers in a diner, for example, it's pure, joyful parody. Even the cheesy CGI blood spatter made me chuckle as a throwback to the tale's original animated version. But outside of that there's an attempt at seriousness that just falls flat. This is a B movie version of an A+ idea. But if you don't laugh at Cindy's line before heading out to battle — "Time to roast this beast!" — then perhaps your heart is a few sizes too small.
As a fan of John Russo, co-writer of Night of the Living Dead and instigator of the Return of the Living Dead series, I have been on the hunt for Santa Claws (1996) for years. Turns out there's a reason I could ultimately only find a used DVD copy at Goodwill. But I'm a Christmas horror completist and I do the difficult work so you don't have to, dear readers. This is not a good movie by any definition and probably would not exist if not for the 90's craze for straight-to-video shlock, though it is notable for a few reasons:
Essentially Santa Claws is softcore porn with a distant, very lightly Christmas-themed slasher subplot. In the first three scenes we get a kid walking in on nasty Christmas Eve stepfather sex, a nude photoshoot, and the arrival of a sex doll package. There's even a full-length version of the short movie-within-a-movie used in the film "Scream Queens Naked Christmas" which I'm pretty sure is the movie they wanted to make. Remove these meaningless though titillating interludes and Santa Claws would be about 20 minutes long.

This film is proof that you can only ride the wave of professional renown that comes from being in a genre-defining classic like Night of The Living Dead for so long. Santa Claws reunites Marilyn Eastman, Karl Hardman, Bill Hinzman and Russo from that film … and you wish it hadn't.

The claw referenced in the title is, in fact, a gardening cultivator tool — possibly the least terrifying implement of death in recent memory. Except for misbehaving marigolds, perhaps.
Want to watch this movie? I'll send you the DVD with no return address.
Get your classic eighties slasher fix with The Dorm That Dripped Blood (1982) aka Pranks aka Death Dorm. It's possible that this movie, which is really not very good, is an attempt on capitalizing on Black Christmas, arguably the very first slasher film, 8 years previously released. But like so much holiday horror Christmas is a tack-on here. It's just a standard standard kill-em-all then run around and find the bodies, with a slightly interesting but entirely foreseeable killer bait-and-switch. One upside: it's film debut of Melrose Place's Daphne Zuniga. This too was a DVD-only rock bottom purchase so if you want to see it, email me.
Red Snow (2021) is a simple story, well made: an aspiring, though lonely vampire novelist nurses a real wounded vampire back to health while fighting off the forces out to get it who say things like "If you see a bat flying around in winter you have to ask yourself one question: what's it eating?" Also, it's Christmastime. Minimal gore, no real frights, but a quick morsel that satisfies nonetheless. You really can't trust a vampire, you know?
This isn't horror in any way — in fact, it was a beloved kids movie in Mexico for decades — but it is Santa Claus vs. the Devil (1959) so I kinda had to include it here. Satan, you see, wants to (and I quote) "Make all the children of the Earth do evil" so he sends Pitch his demon helper to Earth to corrupt kiddos in the run-up to Christmas. Santa gets wind of this and does his best to intervene. There's an attempt at a boss-level showdown between Pitch and St. Nick (ala Krampus vs. Santa in A Christmas Horror Story), though like everything else about this film it's too hokey to get excited about. Santa Claus vs. the Devil is in the public domain, but I recommend watching it with full Mystery Science Theater 3000 commentary here. Quips like "Oh I suppose hell got an NEA grant" are the only things that make this watchable. Where's the brutal remake of this brilliant idea for a movie?
I've been looking forward to Violent Night (2022) for a while so I ran out to see it in theater. Stranger Things' David Harbour, John Leguizamo (who I loved in Land of the Dead), and a nearly unrecognizable Beverly D'Angelo of Christmas Vacation fame star in this lovechild of Die Hard and Home Alone. It works and it's fun watching a nearly washed-up Santa get his mojo back as an unwitting John McClane during a home invasion of a truly awful family. Santa here is provided a light (and unique) backstory as a Thor-like hammer warrior given a second chance as a magical bringer-of-gifts. He's immortal but not unkillable, apparently. The heist of course goes delightfully off the rails and the big showdown between Santa and the ringleader is one of the best kills of the season. Harbour's great as Santa too. Definite recommend.
Shelley Winters does a great job as a crazy old lady. As proof I offer Whoever Slew Auntie Roo? (1972) a risky-for-the-time tale of a lonely American millionairess in a huge English mansion who annually chooses the ten best-behaved kids from an orphanage and throws them an over-the-top Christmas party. She's got a secret, though, which might best be likened to Psycho with The Changeling vibes. The whole thing turns into a retelling of Hansel and Gretel and, while there's zero gore and zero frights (though there is some atmospheric tension) Auntie Roo is probably a missing middle piece between Victorian Christmas tales and our modern holiday fare. Worth a watch if you're interested in that evolution.
Pooka! (2018) is an ambitious movie that achieves above-average creepiness. Like Clown, it's the story of a man possessed by a costume, in this case the retail mascot of the hot new animatronic Christmas doll toy. It's a slow burn thriller with lots of horror elements and great performances. (Pay attention and you'll notice subtle references to The Shining scattered throughout.) There's a phrase repeated at various points in the film — "Look at all the pretty lights" — which is haunting enough in its context, but which is also something my grandmother would say as she toured me past illuminated shopfronts on State Street in Chicago. One of my earliest Christmastime memories now utterly corrupted. Thanks, Pooka!
A very literal modernization of the Victorian tradition of ghost storytelling around a fireplace (and a rare example of British horror in the 1940s), Dead of Night (1945) is an anthology of houseguests trying to outdo one another with their supernatural tales. You won't be shocked or even really frightened, but Dead of Night is a great time capsule of what passed as spooky early last century. The ventriloquist story stands out as truly unsettling and probably influential on the countless haunted doll stories that followed. Even though only one of the stories is specifically set at Christmas the fire-lit story-go-round framing alone qualifies it here.
Pretty sure the producers of 13 Slays Till X-Mas (2020) had no clue they were continuing in the footsteps of Dead of Night as they assembled an anthology of 12 (!) stories plus a wraparound. It's framed as a bunch of dudes getting drunk in a dive bar on Christmas Eve while each telling their own Christmas-themed yarn. The acting and production quality is atrocious and the quality of the segments is wildly uneven — everything from murderous scrapbooking bros, to Kringles the Christmas Clown, to a vengeful lot called The Keeper of the Bells (worst masks I've ever seen), to a killer caribou. Certainly ambitious and probably a segment or two you'll enjoy. Definitely the only horror I've ever seen based in Owensboro, Kentucky (other than actually visiting Owensboro, Kentucky).
Went in completely cold on Silent Night (2021) and I was mightily impressed, shook even. A bunch of friends gather for a Christmas Eve party as they wait, not for Santa, but for the culmination of a climate changed-fueled plague of some sort. Lots of interpersonal drama (it's the holidays!) which serves as a bit of a red herring. When I finally realized what they were really doing all gathered together I had to take a moment. This is a super dark film, one I could not stop thinking about. A-list actors and a directorial debut. Highly recommend.
Short version: if you're interested in a maniacal personification of freezing cold, I recommend 1997's Jack Frost rather than this year's Curse of Jack Frost (2022), possibly the worst film on this list — and that is saying quite a lot. The problem is that this movie is trying for something it's not. If you're a B-movie be a B-movie. Ain't no shame. This one begins with an extended sketch-animated prologue situating Jack Frost as a matricidal, fratricidal upstart son of Santa. An interesting start … which has absolutely nothing to do with the narrative, tone, or aesthetics of the rest of the film. Add in a soundtrack that feels like it came from a Casio 101 and you have a real stinker. The only scary thing in this film is two geriatric folks engaged in sexytalk. Skip.
Here's the premise of Bikini Bloodbath Christmas (2009): two retail outlets, each with their own set of bikini-clad barkers and Santas, engage in a battle (sometimes literally) for customers. There's also a killer known as the Meat Reaper stalking around, but honestly that's secondary. Like Santa Claws this is primarily a vehicle for topless holiday antics and super-crude jokes. (It also features Debbie Rochon, star of Claws.) The absence of any production budget whatsoever almost seems liberating in this context. Why not have two dudes dressed up at Prince Colwyn and Rell the Cyclops from Krull walking around making Glaive jokes? Why not introduce a priest with an actual shit sandwich. When you're not spending any money on the quality of your film, who cares what you throw in there? But don't sleep on this one. There is at least one kill that deserves to be seen. I'll say only that it involves a hammer claw and a man's ass hanging out of a window. Of note, this is part of a trilogy that includes Bikini Bloodbath and Bikini Bloodbath Car Wash, which the co-director likened to Jackson's Lord of the Rings. Sure, OK.
The Gingerdead Man (2005) is pretty much a cult classic at this point. Hard to go wrong with having an actual lunatic, in this case Gary Busey, voice a homicidal cookie. It's basically Child's Play meets Hell's Kitchen and set, for some reason, in Waco, Texas. Some Return of the Living Dead vibes too, oddly, perhaps because basically the whole film takes place in an industrial kitchen not unlike the Uneeda Medical Supply warehouse. I watched the version with Elvira's in-frame commentary. Not as funny as MST3K, but worth it to have her constantly calling the film out on its ridiculousness. So, yeah, it's a reincarnated baddie in a holiday treat, which you might write off except that this premise is clearly the inspiration for the most fun scene in Krampus. That alone qualifies this film as a winner in my book. Also, if you prefer your horror with a mix of cannabis, there is an entire series of Gingerdead crossovers with the Evil Bong franchise. Munchies, you know?
Taking things back to basics is The Stalls of Barchester (1971), part of a series on the BBC called A Ghost Story for Christmas that ran for about a decade. This may be the perfect representation of old school Christmas ghosts. There's nothing per se about the holiday here (rather it's a revenge tale involving haunted choir stalls in a cathedral), but the atmosphere is most what I envision creating as a storyteller tries to scare the hell out of his or her kids right before putting milk and cookies out for Santa. The whole thing is on YouTube, if you're interested.
Shame on you if you thought a possessed gingerbread man would be a the weirdest holiday killer in this newsletter. For that we have Demonic Christmas Tree aka The Killing Tree (2022) to thank. Yes, it's a revenge-seeking, ambulatory Christmas tree with fir-y tentacles and strangulating twinkly lights. (This isn't the first time filmmakers have decided to channel their rage into Ol' Tannenbaum. That's Treevenge.) The tree itself is a reincarnated death row murderer who was once-upon-a-time trying to get people to remember the true meaning of Christmas (huh?). It's a B-movie for certain, but somehow horrible B movies with a British cast feel more aspirational. I will say this is the only Christmas horror I know of that features a killing on a tennis court. Still, if you know the pain of putting a live tree up in your living room each year, this may be the film for you. Trust me, the trees are out to get you. (Sound on.)
———
A few other seasonal recommendations to tie things up with a bow:
Happy holidays, everyone!