Steven Cordes, via unsplash.com
October Blergh
Sometimes, October days are the most beautiful days of the year. The day that I started putting this newsletter together was not one of those days. It was cold, it was rainy, and I continue to work from my basement partially-finished rec room, hunkered down between the old hockey equipment, some exposed pipes, and my new furnace.
At least the furnace works.
I am feeling the October Blergh. The excitement, the adrenaline rush of September has been exhausted, and now presents its bill. Perhaps you feel a bit like that yourself. In digital work, things can sometimes seem especially alienating because it just feels so personal when the machine doesn't do what you want it to do. It's just you and the computer and some impenetrable error message. And whoever wrote the error messages seems to hate humanity.
The solution then is to find ways to do this work with someone else. Maybe 'with' is the wrong word. There's a concept from children's psychology, I think, called 'parallel play', where children play at different things while being alongside other children. They might not all be playing the same thing, but sometimes their games intersect, and they're learning at their own pace but with support. Learning is social.
What I need, and what perhaps others in our wider community need, is a place to be and parallel play our way through our DH research. I'm open to suggestions!
Upcoming Events and Opportunities
At Thompson Rivers University, the Learning Technology & Innovation group is running an excellent 'masterclass' on podcasting.
[We are] proud to present our self-directed "introductory masterclass" on podcasting. The course lasts four weeks and can be completed at your own pace; if you choose pace yourself along with us, you will complete the course through the month of October and will have access to two "live" on-line sessions to practice skills and ask questions.
Follow this link for more information: Masterclass in Scholarly Podcasting
~
HASTAC has issued a call for applications for new scholars; due date October 15.
The HASTAC Scholars program is an innovative student-driven community of graduate and undergraduate students. Each year, around 100 new Scholars are accepted into a new 2-year cohort of the program. HASTAC Scholars come from dozens of disciplines and have been sponsored by over 200 colleges and universities ranging from small liberal arts colleges to large research universities.

New HASTAC Scholars will contribute to building a community that works at the intersection of technology and the arts, humanities, and sciences. HASTAC Scholars host online forums, organize collaborative book reviews, write blog posts, share their research and interests on scholar spotlight, participate in Digital Fridays, and much more.
~
On October 20th, our friends down the canal are offering another edition of the DH Toolbox: Translating Visual Arts into Tactile and Multisensory Mediation Tools with Carleton's own Patricia Bérubé (Institute of Comparative Studies in Literature, Art & Culture)
(And if you missed the earlier sessions of the DH Toolbox, slides and videos eventually are posted to their website; the most recent updates feature the two workshops on network analysis using Gephi).
Software & Other Useful Things
Adobe products can be quite expensive; here is a list of open source or low-priced alternatives.
Visual Essays The folks at JSTOR Labs have released a tool called 'juncture' that enables a person to make visual essays with compelling multi-media integration without having to code the html to enable it. Explore the demo sites and the documentation at https://juncture-digital.org/. In essence, you write your essay as a text file, put that file online in a place like Github.com, and then add the URL to the Juncture-Digital address. Juncture reads your text, sees where to insert the multimedia and poof…
Research Photo Management If you are drowning in photos that you have taken for your research, if you'd like to find a way to manage these and effectively organize them to maintain a good research flow, check out Tropy.
Sound Studies Into sound based research? This enormous bibliography has got you covered.
Want to make geolocated audio or sonic experiences? Give Echoes.xyz a whirl.
Notetaking Obsidian.md continues to grow with hundreds of new plugins that supercharge this notetaking app. Here's a video suggesting one way to get started with it.
Let's play a game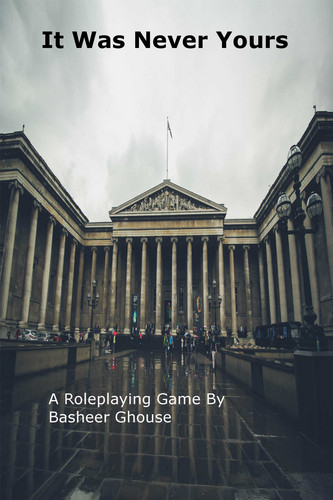 In the dark future of 202X, England has finally been forced to go through with Brexit. The resulting economic crash has devastated Britain, resulted in the breakup of the United Kingdom, and caused a minor, worldwide, financial crisis.

Now England is alone, loathed, and weak. Vulnerable, in a way it has not been since William the Norman stormed its shores. What is terror for the British crown is opportunity for you, for the British have been pirates and plunderers for hundreds of years. They still have artifacts stolen from across the world, things they never truly owned, and it is now time for them to be returned to their rightful owners.

As the English have decided not to do so willingly, you have been tasked with facilitating the matter.
It was never yours by Basheer Ghouse looks to be an interesting game that puts museums under the microscope.... on which note, do get your hands on Dan Hick's magesterial study of The Brutish Museums.