Last week was my second wedding anniversary, and while it has a few advantages over the first—we're comfortable getting a drink outside at a bar, for instance, and we're vaccinated, and we're not thoroughly freaked out the way we were in May 2020—it also has continued and new disadvantages, to wit: there is still a pandemic, and my dog is gone. All of which is to say that we celebrated by getting a hotel room and then mostly ordering food and watching TV. I just wanted to look at different walls.
One of the things we watched on TV was the Eurovision Song Contest. The music of Eurovision is, in theory, engineered to be as catchy and crowd-pleasing as possible, and yet I have no idea how almost any of it goes. I am unusually good at remembering how tunes go—I can usually learn the bulk of a melody if I hear it once or twice. But over nearly 50 years of Eurovision winners, I can confidently hum one song. ("Waterloo," obviously.) I watched the whole 2018 contest and all I can tell you is that the winning entry was culturally appropriative and something, maybe a piano, was at some point on fire. I watched the 2021 contest two days ago and the tunes for the most part leaked immediately out of my head. Who cares? I am here for the fire pianos.
So it feels significant that I remain obsessed with Iceland's entry, "10 Years" by Daði og Gagnamagnið. I can't find the video that aired during the performance (which was actually their rehearsal, because one of the musicians tested positive for Covid and they couldn't perform live—he feels okay last I heard), but here's a video that I think is from the qualifying round, which has more things on fire than the final performance anyway. (All the images from here on out are video thumbnails but I think you have to click through to actually watch the video.)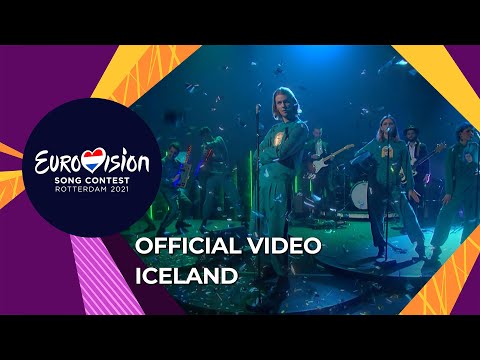 Perhaps even more importantly, here's the official music video: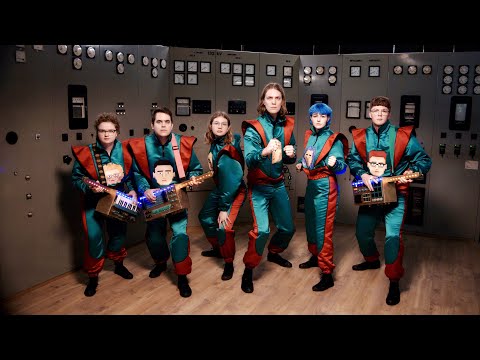 It's a good anniversary song, but that's not why I've listened to it 20 times since Eurovision aired (again, two days ago as I'm writing this). It has more to do with the fact that when I showed Justin that music video, he said "is everyone in Iceland just... like this?" and I think the answer is yes.
Listen, okay, I haven't met everyone in Iceland. I've barely met anyone in Iceland! (We were supposed to go there last year for our honeymoon, actually, but obviously that's indefinitely postponed.) And I do want to say right at the top that while I do think there's such a thing as a national ethos, it is of necessity a generalization that doesn't apply to everyone. (I believe in an identifiable quality that is "Americanness," for instance, but I certainly hope I don't embody it.) But I had a formative experience with Icelanders as a young person which seems to be borne out in everything I read or watch about the island, which is: they are the living embodiment of the attitude my friend Helen calls "give no fucks but lots of damns."
https://twitter.com/hels/status/743234569298677762
If you say that someone simply doesn't give a fuck, that can cover a large range of qualities. They might not care what you think about them. They might not care what you think about anything. They might feel deeply alienated from the human race, for reasons ranging from the atypical to the pathological. It's freeing to not really give a fuck, but it's not necessarily admirable. It could make you callous, or disengaged, or mean.
If you also give lots of damns, however, and I'm sorry if I'm at risk of overexplaining the tweet, that actually changes the timbre of your no-fuck-giving. It means you care deeply about other human beings—you just don't care what they think about you. That's not just freeing—it's liberating. By which I mean it makes other people around you a little freer too.
The Icelanders I encountered when I was younger absolutely fell in this mold. They were students at a summer program I went to in the U.K., which was international and yet somehow felt like everyone but me was a jock from Florida. I was a disaffected goth college kid who spent a lot of my time listening to this one New Model Army tape I bought at a church basement sale (I did find some amazing church basement sales in Cambridge) while taking a bus to see some of my friends from the internet because they actually got me. (I am absolutely mortified now at how much I imposed on them but on the other hand we're still friendly so I guess they forgave me.)
Anyway, the people in the program did NOT get me—one of them literally told me I'd look better without all that black shit on my eyes, and then didn't understand when I explained why I was laughing. Consider how mainstream you have to be for John Hughes movies to be too countercultural for you. The only people who were interested in hanging out with me were the people who felt similarly alienated (the one gay boy, the one Black girl), and the Icelanders, because they did not give a fuck. Everyone liked them, but they hung out with me anyway, because for them it wasn't a meaningful choice. It wasn't misfits vs. normies. It was just some people. And I liked comic books, so we talked about comic books, and they told me some comic books to read and they were right. I suppose they talked to the jocks about something else—don't know, don't care. The point is that the idea of "not fitting in" evaporated with them, because "in" became meaningless. You were already in, or maybe nobody was. It was like going from being a square peg in a round hole to being an ant on a Klein bottle.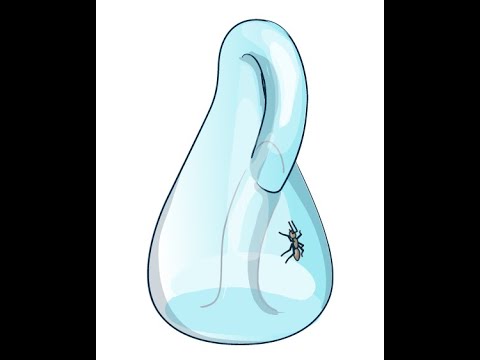 (That one's a video too.)
This is the same sense I get about Daði og Gagnamagnið. (Daði is the guy, by the way, Gagnamagnið is the group, og is "and," ð is kind of like th, and that's as much as I will ever understand about Icelandic.) Aesthetically and, like, choreographically, they have a little bit of the Napoleon Dynamite about them, but Napoleon Dynamite is a movie about being ostracized and awkward and bullied and insecure. It's about making a home for yourself outside the norm, and even pulling other people in, but there's suffering involved in that deviation—suffering that arises, Buddhism-style, from attachment to some kind of standardized ideal, and also suffering that arises from the cruelty of others. What happens when both the ideal and the punishment for missing it just... dissolve? The same dance, but with a smile.
Many years ago I read Eric Weiner's The Geography of Bliss, a sort of pop-psych narrative nonfiction book in which the author traveled to the happiest places on earth, according to various metrics, and tried to figure out what made life there so good. I was thinking about the book this weekend because of Moldova's Eurovision entry, which seemed a little dead-eyed and rictus-grinned—Weiner also traveled to Moldova, to try to figure out what made it so sad. But it's also relevant here, because in his estimation the profound happiness of Iceland stems from an ingrained cultural tolerance, even celebration of failure. In an interview Weiner with a Reykjavik website when he was working on the book, he says, "That's a big thing I've discovered here, that failure is always an option. And it seems that Icelanders like failures, people who have failed, the heroic failure. Not that they want to fail, but it's OK to fail."
This aspect of the book spoke very profoundly to me on a personal level, because like many people who used to be precocious I have always had a horror of failure that's prevented me from even trying new things—though it hasn't, go figure, ever protected me from failing. (In that very summer program with the Icelanders, I now recall, we snuck out of a boring event to go to the pub, which for some reason necessitated climbing over a wall; my friends nearly left me behind because I was so terrified of looking ridiculous when I jumped off the wall that I almost refused to come down, thereby looking much more ridiculous by a long shot.) Not being afraid to fail seems like the apotheosis of giving no fucks but lots of damns—you can care about many things, but specifically you don't give a fuck about the things that cause fear, hesitation, shame, regret.
That goes some way towards explaining the deep sense of, honestly, peace that I got from my short-term long-ago Icelander friends, and also from that goofy video about dance-fighting a volcano monster. If your life has been marked by alienation, it's a balm to be around someone for whom social failure is a meaningless concept, like one of those scenes in a fantasy movie where a healer passes her hand over a scar and it disappears. If it's been marked by a fear of artistic deficiency, it's a revelation to see people make art that bypasses and therefore transcends ideas about what's "skilled" or "sophisticated" or "cool."
But as the interviewer points out to Weiner in that 2007 piece, the Icelandic acceptance of failure isn't just a national ethos; it's backed up by a literal safety net that keeps people from ruin. Not just one safety net, either—there's family safety nets, social democracy at the government level, and also a sense of community intra-investment. (At least in the creative community. They also point out, very rightly, that he's talking to artists, and farmers and factory workers might have a different experience.)
In fact, Weiner himself has changed his tune—or rather, he's expanded it. After the country experienced a financial crisis in 2008 (itself maybe an illustration of the national willingness to fail—rather than bailing out its overdrawn banks like the U.S., Iceland let them die), he revisited the question of happiness on the island. This time he pinned it to something more collective: a sense of trust, a commitment to the collective good. People who suffered financially after the collapse were able to lean on their communities and pitch in to help each other; people were able to have a measure of faith that their government would protect the most vulnerable rather than using them as ballast. (People also came together to protest the government's initial plans for handling the crisis, which put too much burden on the citizens, but that too is a function of trust and community-mindedness.) This is where the damns come in. You give them about the people around you—not about what they think of you, but about what they need.
Trust has been much on my mind lately because it is so important for personal and community well-being, and it feels so wrecked, and I have no idea how to rebuild it at scale. Certainly there are no answers in a song about enjoying your marriage and a video about knockoff Power Rangers—unless the answer is "the U.S. has too many people," which granted is something I say a lot. How do you convince people to give no fucks but lots of damns when you can't even convince them to give one single damn unless they might win a million dollars? On a societal level, I have no idea and it haunts me. On a personal level, maybe I'll get a sweater with my face on it. It'll look silly. Do I give a fuck? Absolutely yes, but maybe someday no.
---
Hi guys, just a reminder that you should buy my book because I absolutely have not made peace with the idea of failure!