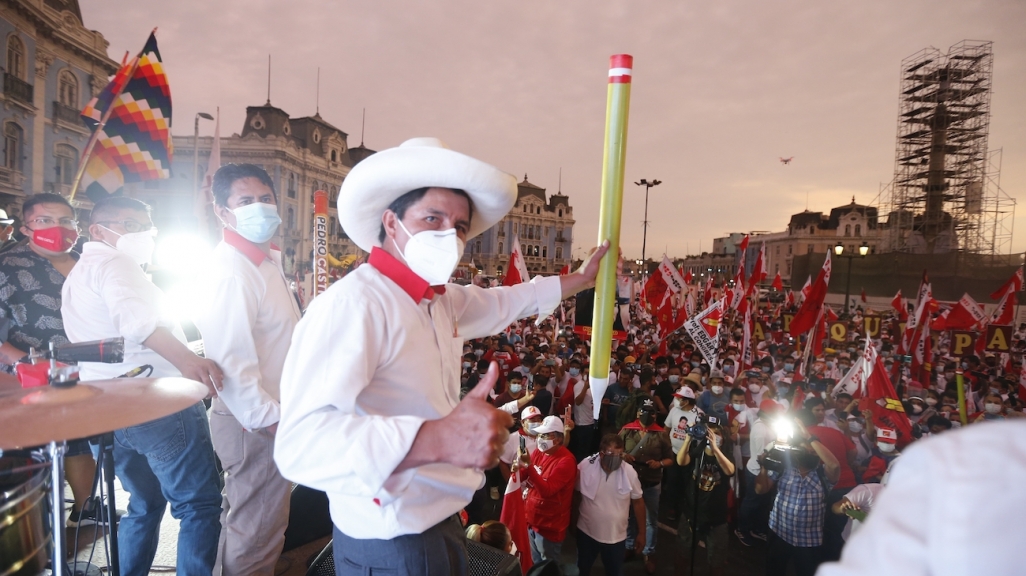 You might have seen huge pencils in your feed recently. Or heard about the big hats. They're symbols of Peru's president-elect Pedro Castillo, a left populist socialist candidate who came from the margins of political power in the South American country to become its next leader. The election was closely watched on the left, since he was going up against Keiko Fujimori, the daughter of authoritarian Alberto Fujimori.
Besides the fact that he's a socialist, the cool thing about Castillo–and why I wanted to write about him–is that he's a teacher. After teaching elementary school in his rural province for years (a job that includes cooking for his kids as well as teaching content), he got active in the teacher's union. He came to national prominence by leading a strike that brought teachers from all over the country to the capital Lima and threatened the very top of Peru's repressive apparatus.
Here's a little primer on the socialist-educational features of Castillo's story, politics, and platform.
What does it mean to be a socialist?
When it comes to socialism, most every place in the world is different than the US. Anyone from a social democrat to a communist can feasibly call themselves socialist here. That's because the left was decimated in the second half of the 20th century and, as part of that, the fact that left parties never got into the US mainstream like they did elsewhere.
But in South America it's different and Peru has even more granular differences. South American socialists can be socially conservative given the religious tendencies there. Castillo is against abortion and gay rights, for example, which is unfortunately in tune with his bases of support. Furthermore, there's a difference between Chauvismo, 21st century socialism, and communism. The Marxist-Leninists with which Castillo affiliates–Peru Libre with their platform–are different than the communists, who in turn are different than the Shining Path, Peruvian violent revolutionary communists who made world news decades ago.
Castillo himself, as a teenager, was a member of a left brigade that protected communities against revolutionary leftist violence. Politically, is not a member of Peru Libre and his politics are more moderate since he made it to the final runoff in the election. The policies he's proposed in the weeks leading up the runoff are different than the party's platform.
Some of the Castillo coverage reflects this. While centrist and rightwing news sources will call him a far-leftist, the leftist press is more subtle and ambivalent.
For example, Jacobin says that Castillo will help end neoliberalism while NACLA says he'll be yet another hyperreal oppositional maintenance of neoliberalism. Which is true?
Policies
Concretely, Castillo wants to do an Evo Morales-style renegotiation of national contracts to guarantee production for national consumption rather than nationalizing the companies themselves. He's said he's not a Chauvista.
When it comes to education, he's also like Morales: here's a little background on the Peruvian system:
In 1996, the government of Peru passed education reforms that extended free and compulsory school education to all students aged between 5 and 16, known as educación básica (general stream) y técnico productiva (technical). However, the secondary period of compulsory education is somewhat aspirational as approximately one quarter of the relevant age group does not currently enroll in upper secondary education (UNESCO, 2013). This is especially the case in remote parts of the Andean Highlands and across the sparsely populated Amazonian rainforest in the country's interior.

While public education is free, private schools operate at all levels of the education system. Schools in both the public and private sectors follow the national curriculum, set federally and overseen by local education authorities, as mandated in a 2008 ministerial decree.
Peru Libre's platform is a simple but essential tripling of education funding nationally (from 3% PBI to 10% PBI). Those funds would go to teacher salaries, new curricula, and university scholarships. That's in line with the socialism emerging in the United States as well.
If I had to describe this tendency, it's a postneoliberal, populisty, class-struggle form of social democracy that hesitates to do anything too much like the revolutions of the recent and distant past, but also pushes hard for concrete material benefits for the working class while treating the capitalist class antagonistically (rather than as potential partners). This tendency largely respects and centers the complex diversity in the working class to create a unity-in-difference through a simultaneous understanding of the exploitation and superexploitation connecting those diverse collectivities into the class.
I think Castillo fits this description. Which is why groups like the DSA have been so supportive of his run. When it comes to the Jacobin vs. NACLA readings, I'll have an optimism of the will and a pessism of the intellect. I'll keep these granular specifics and shortcomings in mind, but hope for an Evo-style Peruvian government. In terms of education, I don't see anything I don't like.