Hi readers, I'm Max (and sometimes Jordan).You're getting this email because you signed up for this newsletter, but you can unsubscribe anytime and I promise not to take it personally. Today we are diving into taste. Grab a snack or drink for a meta experience, and let's go.
---
I was on a breakfast mission in a market in Trang, Thailand. A few locals were sitting at a 3-seat make-shift bar, with what looked like ravioli in a thin liquid speckled with red and green. As taste descriptions were not part of my limited Thai vocabulary, I took the low-stakes chance of ordering the dish, not knowing if it was savory or sweet. It turns out that it was both and much more: there was bitterness from the herbs, and sourness from what I discerned to be a type of lime. It was as if all my tastebuds threw a big reunion and were dancing the night away. I couldn't tell you what the specific flavors were, just the basic tastes.
Let's get the taste/flavor conundrum out of the way. Chocolate mousse is comprised of tastes that I would describe as being bitter, sweet and fat (and maybe even salty because I'm fond of a sprinkle of sea salt), but it has a rich — yet airy — chocolate-y and perhaps milky flavor. Flavor is a holistic experience, and taste is just one factor. Confused? Let's explore the concept of taste a bit more.
What our brain perceives as taste are actually messages sent from the microscopic hairs (microvilli) on the tens of thousands of bumps in our mouth, which house the taste buds. Tastes don't silo themselves to different regions of the tongue like you might have been taught, but prefer a mixed, community style of living. Depending on who you ask, there are 5 - 20 basic tastes, although the ones we are most familiar with are sweet, salty, sour, bitter and umami. Fat was actually classified as a taste as early as 330 BC by Aristotle and many other academics over the centuries, but is only recently being accepted into the taste club by scientists. Then we have two honorary members: spicy and astringency, which are commonly recognized as such because they are experienced on the tongue, but don't have the dedicated chemical receptors, a.k.a. taste buds, that are prerequisites to being a taste. Yet, with new (but old) members and honorary members, our concept of "taste" is rather fuzzy. These basic tastes are flavor's bones. The other senses are flavor's muscles and meat.
Flavor is truly a somatosensory experience. It is primarily composed of aromatic compounds, which we primarily perceive through smell, but taste might be the first indicator of its nutritional capacity (am I poisoning myself? Am I eating something unripe that could cause gastrointestinal issues? Did I get lucky with some sweet, high-energy delight?). Flavors are the supplemental figures in research papers, the little extra that keeps you eating and wanting more. Ellen Lupton, a senior curator at Cooper Hewitt, Smithsonian Design Museum in New York City, writes in The Senses: Design Beyond Vision that flavor is a "unified sensory object — a Gestalt — that unfurls in time and space." Though many say that 80% of what you taste is smell or your tastes buds only account for 20% of the flavor, I think they got their math wrong, as the three other senses — sound, touch, vision — are missing from the calculation. I assume that many of us have anecdotes regarding food we don't eat because of the texture. I'll confess my picky eating with you: I eat around the yolk of a hardboiled egg, but runny egg yolks are pure bliss. Maybe Aristotle was also particularly sensitive to textures too, as he has written that touch is the main component of taste, since the tongue must touch what it tastes. Decide for yourself.
It might be helpful to divide the senses according to their interaction with flavor. I like to think of them as two camps, the external senses (sight, sound, touch, smell) and internal (smell, taste, touch, sound). If you're not eating in the dark, the external factors are the first that you come into contact with, and set up the expectations for the internal sensory experience. There could be an angry lawn mower in the background, you might be faced with durian fruit or stinky cheese, maybe eating with chopsticks or a plastic fork. All of these I'd classify as external sensory experiences that influence flavor. When you bite into food, most of your senses are at work: molecules bind to taste receptors, sending these signals (tastes) to your brain, chewing (touch) releases aromatic compounds (smell) that register in the nose and throat, vibrations (sound) in your jaw and eardrums report on the texture.
While taste and smell tend to be the dominant senses when eating (though texture can overwhelm the other senses, like if you are chewing on a piece of meat that is so tough it won't break down), artists and chefs have tempered with the other senses by increasing their proportion in the ratio, or even by using the other senses to increase the flavor experience.
In Skin Hunger, by Margherita Soldati and Alice Héron do just this by focusing on external touch and flavor.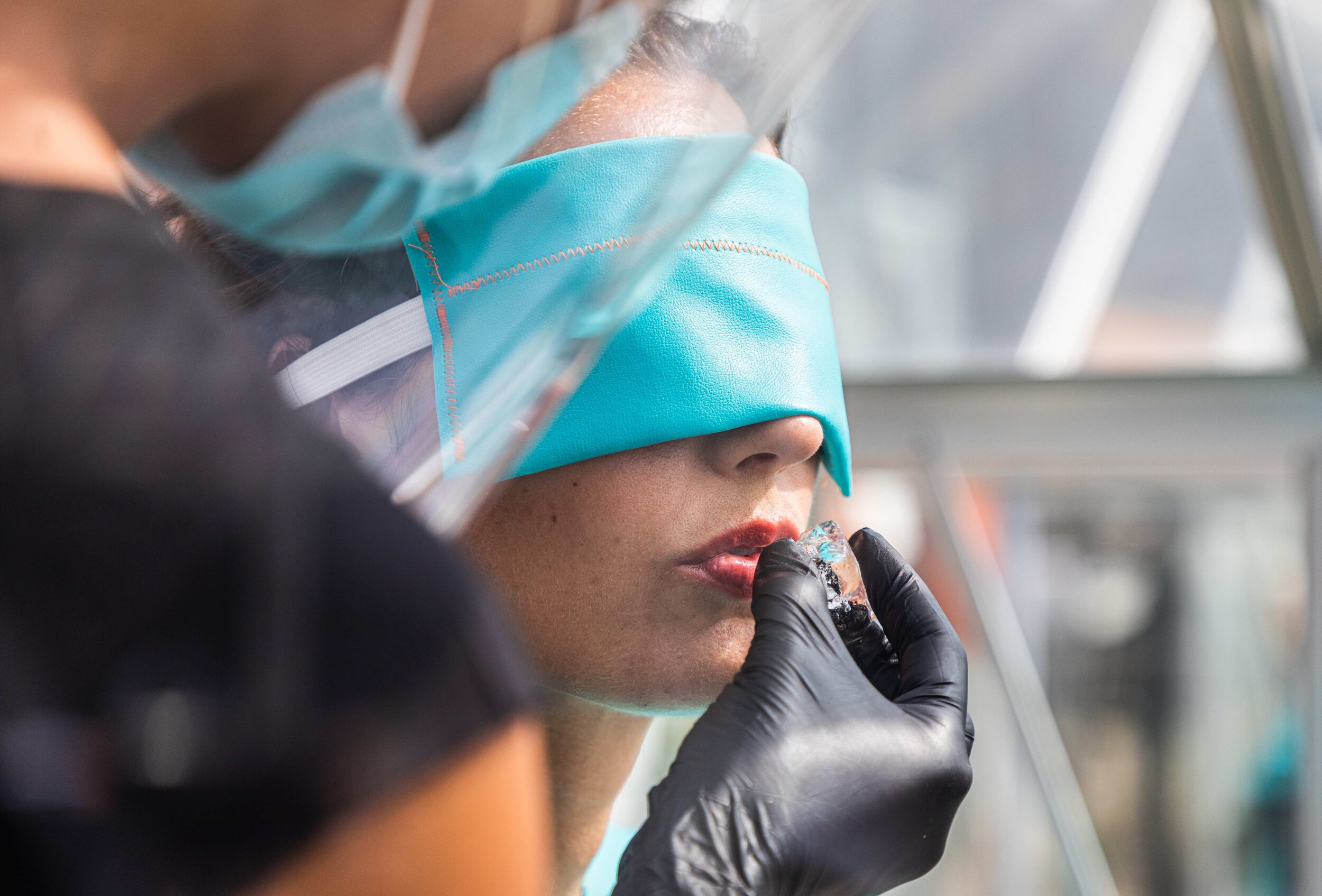 Margherita explains that "[b]oth props and food have been carefully created to arise and manifest different emotions, each course is accompanied by a different prop and a different massage ritual that helps immerse in the sensorial and emotional experience." For the first half, the participants' sight sense was dulled with a blindfold, in order to enhance the other senses. Various touch elements were played with: participants were gently massaged - on their head, on their shoulders - or even served cutlery made of bread in order to enhance the ratio of external touch in the flavor experience.
An example from another sensory experience with taste would be Dr. Johnny Drain's Feed Your Senses, which opts for a sound pairing over a wine pairing. An amuse-bouche of castello blue cheese with honey and orange juice dressing, sprinkled with candied walnuts, pomegranate and grapefruit in a chicory boat, an already flavorful bite, was augmented with complementary instrumental string music. The different tastes were broken apart into sound: sweetness had higher pitch sounds, and bitter lower, umami had slow notes, while salt had slow and sharp notes, and sour had high-pitched notes that progressively grew louder and faster. These sounds were then mixed together in corresponding proportions to the amuse-bouche, and so the flavor harmony was joined with a kind of musical harmony.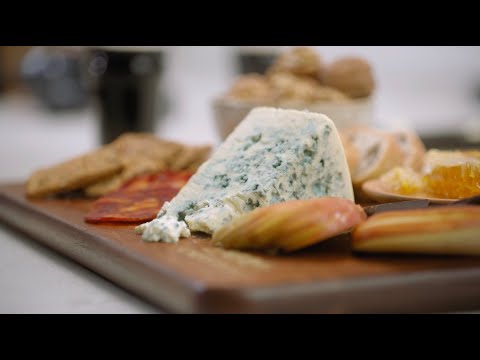 Both examples demonstrate not only how flavor is a somatosensory experience, so taste barely exists on its own (remember when you were sick and couldn't taste anything? It was actually because you couldn't smell anything), and by adjusting ratios of other senses we are aware how flavor is not a simple ratio of 80% smell, and 20% taste. It is much more complex than that.
It's impossible to talk about taste without diving into flavor, but recognizing their interplay and differences will help you parse out taste in the exercise I've prepared below.
Data Taste
How might we collect data on the somatosensory experience of taste?
Start by noticing it. Not the flavor, but if the apple you are eating is acidic, sweet or both (I admit to putting salt on my apple, so it may very well be three tastes).

Cut off the other senses as much as possible:

Turn your lights off and eat in the dark!
Put some ear plugs in and eat in silence!

A taste exercise:
What are all other ways you could collect data on taste and taste experience? I'd love to hear your thoughts and how this exercise was for you, so feel free to respond to this email with your thoughts, experiences and ideas, send me a tweet at @max_graze or #datathesenses.
Jordan and I will be doing this right there with you, so stay tuned for our results in the next edition.
Related Links