Lizard brains in digital transformation
Lessons from child psychology: my daughter fell on her bike recently, twice. She actually did "well" at falling, in the framing of our DevOps think. She gets really frustrated to the point of paralysis - wonder where she gets that from!
How would I get her back up to get to school on time?
If it were me, I would just get back on the bike, angry as hell, upset at everyone, the world, and myself. For whatever reason, I'm someone who goes forward, full of anger. I don't take time to calm down. This is very bad. After decades of this - 3 or 4 - it's burned me out and I can barely function with simple things like my kids telling me they don't like cheese when I've just served them a cheese sandwich. (I mean, mysteriously, they love quesadillas, but cheese outside of two crisp and warm tortillas is bad?)
Don't be like me.
Instead, something I picked up from that whole brain kid thing, and also Nonviolent Communication think, is a loop to follow: retell the story/acknowledge the feeling the kid has; try to physically touch them; and then wait until they calm down to appeal to their rational mind.
The key here is to not make any rational appeals until they're calmed. In their mental furry, they'll be in lizard brain state and the lizard brain will literally strike out at you if you try to tell them "it's OK."
Now, what they don't tell you in NVC and such is that this will take time: you will be late to school. You will be frustrated and gritting your teeth.
She did get back up - like old dad she told me she hated me, but she got back up. Then she fell again, and the cycle (pun!) repeated. But then she got back up and we got to school…somehow on-time.
Now, let's think about how to apply this to organization change… check out my video monolog for the rest…
Ha-ha! Call the Action!
Everyday digital babbling
Speaking of: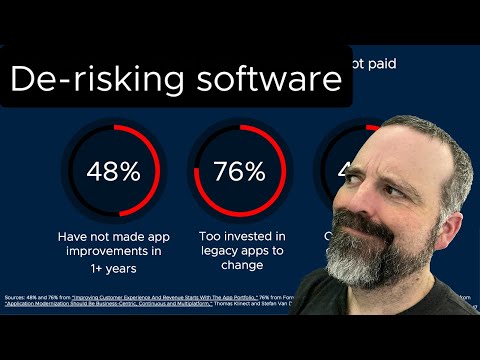 I've started a week daily, er, "stream"? "Broadcast"? Video? Whatever you want to call it, the topic is the usual "how to do software better in large organizations" and it's in on Twitch, live, every weekday at 11am Amsterdam time. I archive them in YouTube. I like creating a work product every day, and it's interesting to come up with and talk about something every day. What'll I talk about this morning? I have no idea yet!
In doing this - having a daily deliverable - I've also started to discover that idea of saying "no" and cutting out extra work. There's two articles I said I'd do (one on BT and one on "what does digital transformation mean?") but now I realize I don't have time for that. I also have the usual set of online meetings with prospects and customers.
Structure!
Original Content
In addition to the daily videos, check out the most recent podcast episodes over at Software Defined Talk. Yup.
Most recently, Matt and I talk about possible implications of the Google vs. Oracle case: "It's be a shame if something were to happen to that nice API implementation of yours."
Don't have to worry about that shit anymore
"he was no longer scared of what tomorrow might bring, because yesterday had brought it."

This is something that I have discovered over the years to be peculiarly true. Sometimes when terrible things happen to you, it can actually be kind of a relief, because you're no longer tensing yourself and wondering, "Well what would happen if this terrible thing happened? I hope this terrible thing doesn't happen." And then one day you wake up and you've lost a job or whatever, and you think, "Oh, okay good. I've lost my job. I don't need to worry about that anymore."

So, I was looking at beginning the story with Shadow in prison. He's watching everything a little bit warily, and you will learn eventually that a whole bank robbery happened, and he was a driver, and yet he managed to get away and then everything went wrong. And then you think, "Okay, I really get why this gave you a place where you could stop worrying and just exist day to day."

I love the fact that people respond to that. And I also love the fact that every now and again I will hear from people who read the book in prison―in those prison systems that still allow it―or who read the book after coming out of prison, who tell me that it felt emotionally right, which as an author always makes you feel that something is working.
– Neil Gaiman, commenting on his book American Gods.
Relative to your interests