Welcome to the latest edition of the Linkfest! Thank you for being a subscriber; if you're enjoying it, spread the word – it's a pay-what-you can signup here; the folks who can afford to contribute help keep it free for everyone else, too. Forward this email to anyone you want.
Let's get to it! Here's the best stuff I found online this week …
---
1) 🧶 ChatGPT makes "cursed" crochet designs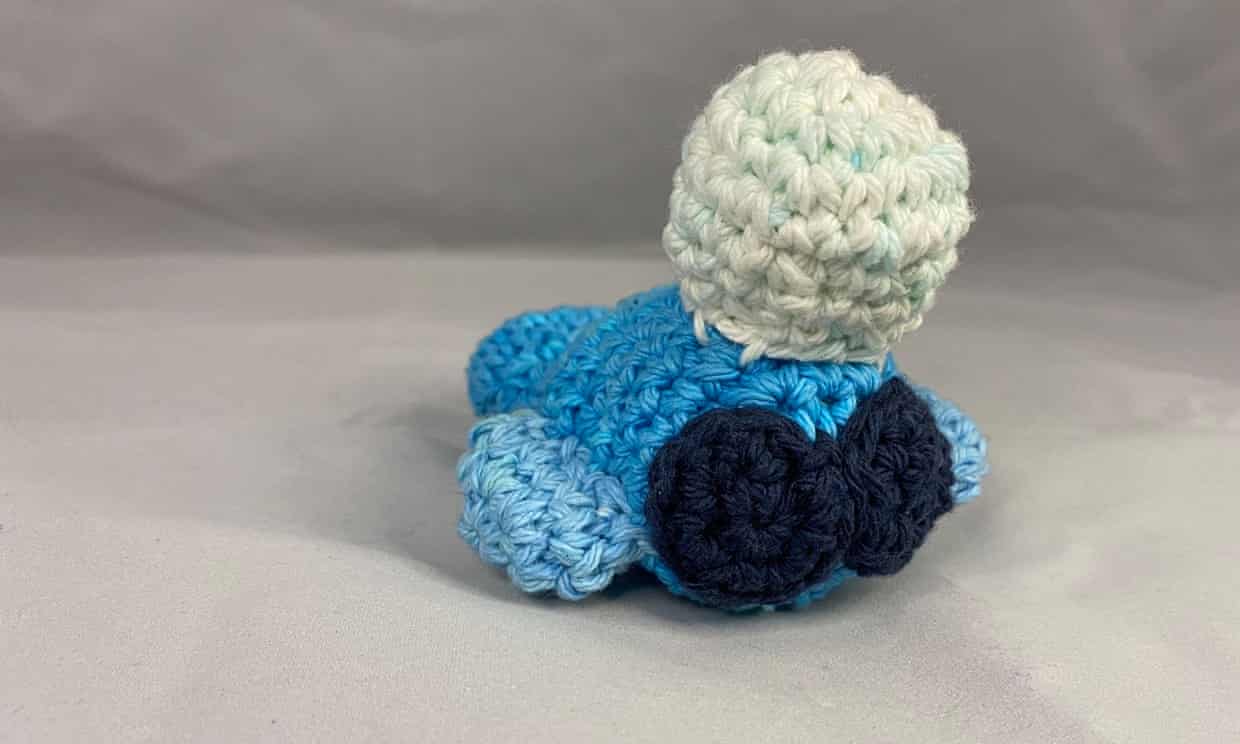 Crochet patterns vaguely resemble language, or perhaps computer code: You use "ch" to denote "chain", and "sc" for "single crochet". Meanwhile, square brackets like [] show repeatable steps, and an asterisk tells you to repeat an instruction.
Since ChatGPT3 can produce plausible-seeming language and computer code, some crochet artists have been asking it to generate new crochet patterns.
Results have been erratic! Alexander Woolner asked for a pattern for a narwhal, and got, well … something? As the Guardian reports …
Following the pattern exactly, they created what was described as an "AI-generated narhwal crochet monstrosity". Woolner said although the product was anatomically disturbing, it was impressive the language-learning tool created a pattern that actually yielded a sea creature.

"The consensus among people who have seen it is that it looks wrong and ugly, but also very cute," they said. "It came out shockingly very accurate while still being very, very wrong. It's a weird mix, kind of an uncanny valley."
You can see it above. It's kind of cute?
A Guardian editor who does crocheting as a hobby tried to replicate the experiment by asking ChatGPT for her own narwhal design, and it didn't go much better …
"It was hilarious," said Ramirez-Simon of the AI-created narwhal. "After I finished the head, it was pretty apparent that this was not going to be anything resembling an animal in nature. It almost looked like an alien." [snip] But it seemed ChatGPT struggled with ratios and numbers. The animal's eyes are at least half the size of its body, and there were no clear instructions as to how they should be attached.
---
2) 🦠 1.6-billion-year-old water harbors life
The Kidd mine, in Northern Ontario, goes deep – the miners work over 3,000 meters beneath the surface, extracting copper and zinc from rock that's so far down that the walls are warm to the touch from geothermal heat.
The geochemist Barbara Sherwood Lollar has sampled water from down in the mine and discovered it is fully 1.6 billion years old – the oldest ever found on Earth. What's more, as Macleans reports, it nurtures life …
Tiny chemolithotrophic microbes—an example, as Sherwood Lollar puts it, of life "hanging on by its toenails"—were present in the water and feasting on hydrogen and sulfate. The chemistry that produced the subterranean food resembled mineral-rich hydrothermal vents on the ocean floor that support similar microbial life. But, to this point, nobody had known something similar was happening deep within continents.
Now, to be clear, the actual microbes themselves aren't a billion years old; this isn't the prequel to some subterranean version of The Thing, lol. But the fact that microbes exist that far beneath the surface is another potent suggestion that life is much hardier and more diverse than we think – and may survive deep below the surface on planets that otherwise seem dead, like Mars.
"If there are any biomarkers, indicators of past life, they've gotta be in the subsurface," muses Sherwood Lollar, adding: "We no longer think of life on Earth as this smear of biology on the surface. Life may be something that deeply permeates our planet."
Fun side note: the water has a deeply "musty" smell.
---
3) 🎸 A guitar built from IKEA furniture
The Youtuber tchikguitars had a bunch of old IKEA furniture kicking around, and decided to recycle into a custom electric guitar. As Yanko Design notes …
The guitar's bill of materials includes a host of IKEA products along with some standard store-bought components and parts. The neck is repurposed from the top of the STUVA baby crib, while the fretboard uses the MÅLERÅS picture ledge. The body uses veneers and inner filler from the LACK shelf, while the edge has wooden parts from the HENRIKSDAL chair. The knobs are creatively repurposed from the APTILIG chopping board, while the strap buttons use insert-knobs from the KALLAX shelf. Finally, the plate into which the jack is plugged is creatively upcycled from the LILANGEN door handle.
You can see his whole build video here – it's pretty cool.
It makes me wonder – what other things could we make from harvested old IKEA wood? I live in Brooklyn, where people dispose of a lot of IKEA furniture; you see chests of drawers and beds and desks out on the sidewalk all the time. It seems like a useful source of upcycleable materials …
---
4) 🦉 The sudden wildness of Flaco, the escaped owl
("Flaco the fugitive owl at the Central Park Zoo" by Terry Ballard (CC 2.0 license, unmodified)
Flaco is a Eurasian eagle-owl who lived for years in the Central Park Zoo in New York City. Fed a high-quality diet, he lived in a pretty small cage and was – for a majestic beast with a six-foot wingspan – a little pudgy and grump, which probably makes sense. One imagines an animal born to soar must feel irritated by a life confined, no matter how well he's cared for.
But a vandal snipped Flaco's cage on Feb. 2 and the owl got out. There's been a massive crush of birders, reporters and photographers excitedly trying to track Flaco's new life in the wild.
In the New York Times (friend link for non-subscribers), Michiko Kakutani reports on what a strange shock it must have been for Flaco…
Never before had the owl seen such wide open spaces. Never before had he been harassed by squirrels, and noisy blue jays and streetwise crows. It was amazing to watch Flaco learn, said Molly Eustis, a stage manager and owl lover, and "think 'wow this is probably the first time in his life he's been that high up in a tree!' and to think how that must feel for him. Or the first time he caught a rat! Or felt the rain falling all around him."
The bird has adapted unusually well to life in the wild, though …
Flaco defied everyone's expectations. As longtime bird watcher Stella Hamilton pointed out, he was "like a fledgling" mastering the art of surviving, but a fledgling who compressed weeks of learning into a couple days. Despite a lifetime in captivity, the owl had somehow "remained wild inside."

The photographer David Lei saw Flaco on his first night of freedom, looking somewhat dazed and lost near the Plaza Hotel, and he has chronicled the owl's progress since. He watched Flaco's first tentative hops from one tree to another. And he witnessed Flaco not only master the art of flight but also become an increasingly confident hunter.
And as Kakutani notes, New Yorkers may find this a nifty analogue to their own experience of moving to the big city …
Many New Yorkers, especially those confined to small apartments during Covid, identified with Flaco's story. David Barrett, who runs the popular Twitter account Manhattan Bird Alert — which many people have relied upon to track Flaco's journey — noted that people who arrive in New York "need to learn new skills quickly if they want to survive, and they must adapt to an environment unlike the one from which they came. In Flaco's success they see their own — or inspiration to continue working toward their own."
You should read the whole story, it's a real hoot. (I know, I know, sue me.)
---
5) 🃏 Eames deck of cards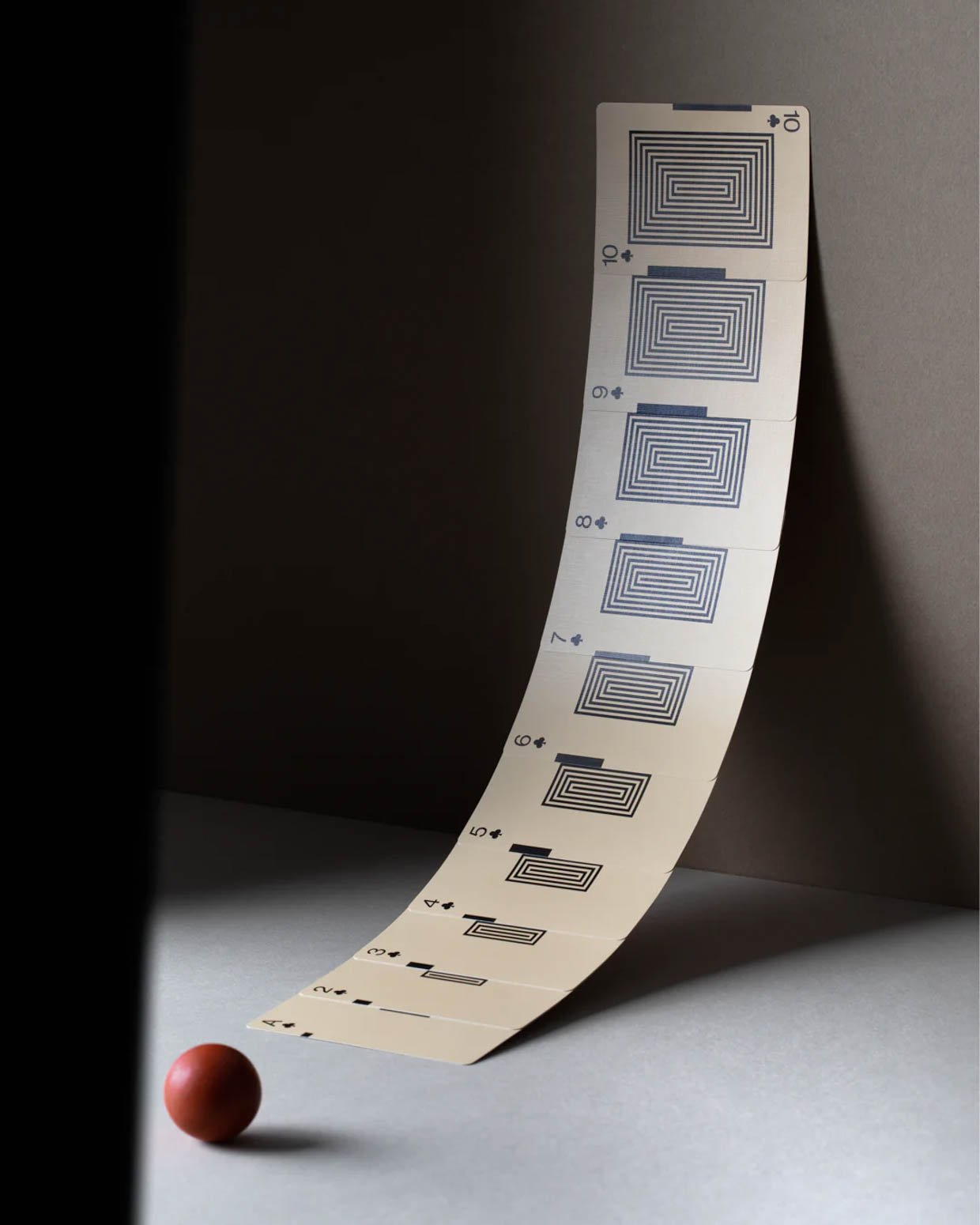 Charles and Ray Eames were designers famous for many things, including the "Powers of Ten" video that fried my elementary-school noodle back in the 70s.
Now the card-deck company Art of Play has created a deck in honor of the duo. As they describe the design …
The unique numbering system on the faces of the cards enables acts of cardistry to function as subtle homages to the Eameses' classic film "Powers of Ten." The court cards honor the natural majesty they found in elemental geometric shapes. Mathematics, form, and the critical role of constraints in design are threads woven throughout the Eameses' life and work.
You can see more images of the deck here; it's spectacular. I'm ordering one now.
---
6) ❓ TikTok as a search engine for "experience"
I'd been reading pieces lately about how younger folks use TikTok as a search engine. Then today I read a newsletter by Dmitri Brereton that taxonomized search in a useful way, to describe precisely the type of search that TikTok is good for.
He breaks things down into four categories: Navigational, informational, exploratory, and experiential …
Navigational searches are when you're trying to get to some specific website. You know exactly where you want to go. For example, you want the website for the nearby restaurant to see the menu.

Informational searches are when you want a factual answer. What's the distance to the moon? There's one answer to this, and it's 238,900 miles.

Exploratory searches are when you don't know what you're looking for yet. You want to learn about Quantum Physics but you aren't sure where to start. Search engines have been historically bad at this, but LLMs will excel at this category.

Experiential searches are about real world experiences. What's the best Italian restaurant in NYC? What are the best places to hike in Peru? Where should I get my hair cut?

These searches don't have one factual answer. All the answers are subjective. So the most important thing for experiential searches is authenticity.

TikTok dominates at authenticity.
This nails it, I think. Every time I read pieces on "Tik Tok is the new search engine", the examples – the things the people in the story say they're searching for – are most often these experiential things. Traditional search engines are pretty terrible at helping with that hunt.
Granted, vice versa is also true: Tik Tok may be quite bad at informational searches, because as Francesca Tripodi – an information and library science professor at the University of North Carolina in Chapel Hill – points out …
TikTok's algorithm tends to keep people on the app, making it harder for them to turn to additional sources to fact-check searches, Ms. Tripodi added.

"You aren't really clicking to anything that would lead you out of the app," she said. "That makes it even more challenging to double-check the information you're getting is correct."
---
7) 🍪 Lavishly decorated cookies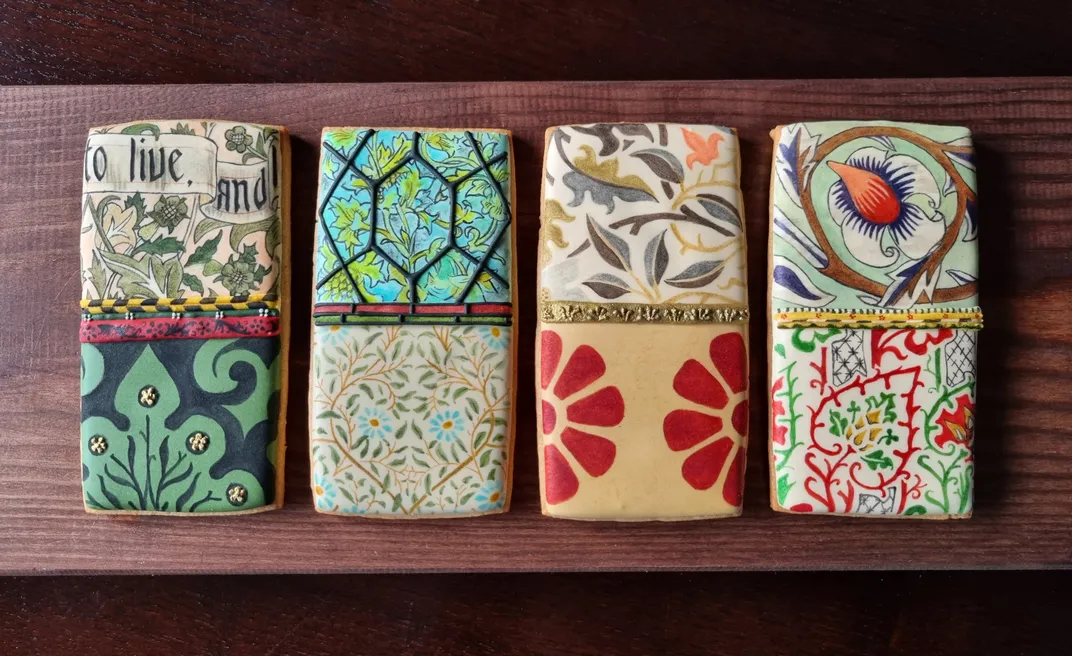 Ella Hawkins is a scholar of early modern English at the University of Birmingham, but her Internet-viral side-hustle is doing incredibly gorgeous and detailed illustrated cookies.
Smithsonian has a story with pictures of tons of them – totally worth checking out!
As Smithsonian describes her work …
In the two years since her viral tweet, Hawkins has developed a sizable social media following. Fans flock to her accounts for her stunning cookie designs, which emulate book covers, scalloped-edged Tiffany lamps, pottery shards, mosaic tiles, medieval manuscripts, Elizabethan fabrics and more. To make this "biscuit art," Hawkins covers a gingerbread or sugar cookie-like base with royal icing. She uses food coloring gel and vodka (which acts as a thinning agent) to paint patterns onto the cookies, then adds raised elements by piping on royal icing. Most of her designs are rectangular or square, but she's experimented with other shapes, too, creating an oval portrait of Jane Austen, a black-and-white fox head and randomly broken cookies patterned after Roman pottery fragments.
---
8) 📉 The "inverse" Jim Cramer stock fund
Jim Cramer is the famously apoplectic host of Mad Money, and a stock-picker. Some people follow his stock picks to try and get rich.
Others, however, argue that Cramer is often so wrong – and so clownishly wrong – that the safest way to make money is to invest using positions precisely the opposite of those that Cramer suggests.
Hence the "Inverse Cramer ETF", a product of Tuttle Capital Management …
In many ways, SJIM is basically a long-short alternative fund. If Cramer is bullish a pick, the fund shorts it. If Cramer is bearish on a pick, the fund goes long on it. Buying the fund means basically betting against Cramer in the most explicit and hilarious of ways.
Apparently Tuttle is fond of this sort of nose-tweaking style of stock-picking. They already have an ETF that bets against everything the investor Cathie Wood invests in, and that ETF is up 73% year-to-date.
---
9) 🐜 A bug that flicks away its pee with 40 G acceleration
See that picture above? That's a bug known as the glassy-winged sharpshooter. That ball of water is some of the bug's pee – which the sharpshooter is about to flick away from its body.
The bugs pee a lot; up to 300 times their body weight every day, because of their diet. Scientists had known they flicked the pee away from themselves, using that little appendage you see in the picture, which researchers officially call the "butt flicker". But the scientists got interested in the precise mechanics of the flicking, so they recorded the bugs in ultra slow-mo, and found …
… the glassy-winged sharpshooter hurls the pee away at the astonishing acceleration of 40 Gs. What's more, as New Atlas reports …
When the team measured the airspeed of these anal expulsions, they found that they were traveling 1.4 times faster than the butt flicker that fired them. That suggests the bugs make use of a physics principle called superpropulsion, which has previously only been seen in synthetic systems.

If you've ever double-bounced someone on a trampoline and launched them way higher – that's superpropulsion. In this case, the sharpshooters are actually matching the frequency of their butt flickers to the frequency of the pee droplets to get the most efficient launch.

It may seem like an elaborate way to take a leak, but the researchers found that it's the most energy efficient method for their lifestyle. Sharpshooters only eat sap from xylem plants, which has basically zero nutrients, meaning they have to drink – and pee – pretty much non-stop.
They're now musing on whether we humans could artificially emulate the remarkable physical properties of these butt-flickers; this could be useful, for example, for wicking moisture away from sensitive electronics.
Check out the New Atlas piece for a slow-mo video of the pee-flicking in action, which is kind of mesmerizing.
---
10) 🎨"Sea of Segments"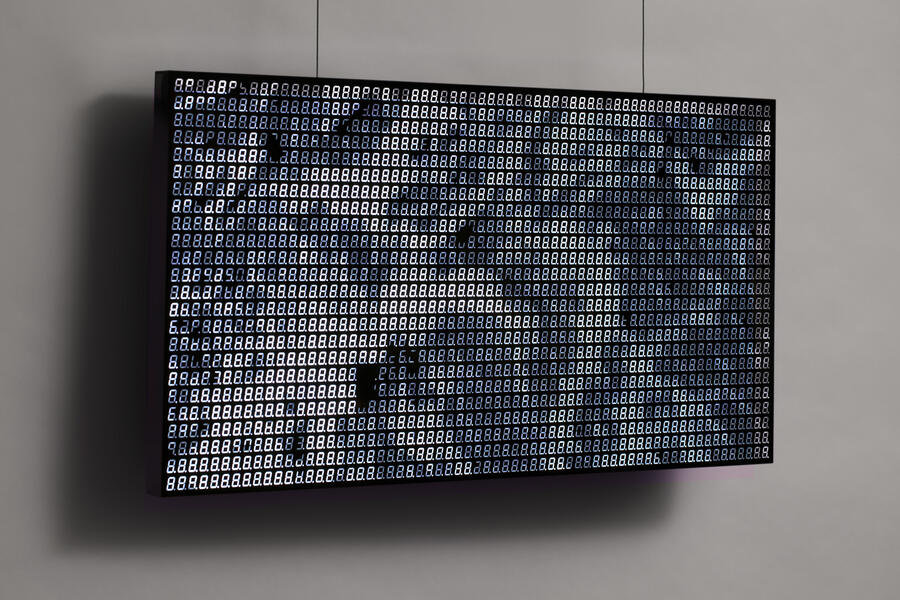 Will Gallia built "Sea of Segments", a collection of hundreds of 7-segment LED displays that are chained together to form one massive display. Gallia wrote code that takes a video image and breaks it into tiny chunks that are animated by pulsing the various parts of all those 7-segment displays.
It's utterly mesmerizing to watch in action. Click here to see a video of it …
… and read his build writeup here:
I achieve a number of grayscale levels by using binary code modulation. I wanted to get 8 bits of colour depth on the segments, but given the arrangement of the PCBs and the fact that the LEDs are already multiplexed (only an eighth of the LEDs are on at any one time), I couldn't get this much depth without getting a very noticeable flicker. In the end I had to settle for 5 bits, so 32 levels, but of course in reality it was less because of the non linearity of our perception of LEDs.
---
11) 💿 A final, sudden-death round of reading material
A phone that ships with tools for fixing it. 💿 China's increasingly-globally-popular, and super teensy, Wuling EV. 💿 Weird, rare (and massive) insect found at an Arkansas Walmart. 💿 They found a 5,000-year-old tavern, still full of food. 💿 Write a first-person game in 2KB of Rust. 💿 How the "hierarchical world view" might influence politics. 💿 How tiny bits of movement data can deanonymize you in the metaverse. 💿 Top Instagram photographer confesses to generating some "pictures" with AI. 💿 Vivaldi's "Four Seasons" on old analog synthesizers. 💿 An Easter Island lake dries up and reveals a new statue. 💿 A list of the navigational mistakes that led to the Tesla "self driving" recall. 💿 When bees make green honey. 💿 Cougars can swim a lot longer than we thought. 💿 Why 111-1111111 is a valid key for Windows 95. 💿 Cyanotypes of grief. 💿 Unbelievably fast toy cars racing around a track. 💿 A Japanese cat island. 💿 The public-health nature of ancient public baths. 💿 Doom, running on one milliwatt. 💿 Catching mechanical problems in cars by listening for them. 💿 The "Plycade".