Image: Ted Eytan/Flickr (CC BY-SA 2.0
I was privileged to be able to write about the horrendous new wave of legislation that aims to punish trans kids in Monday's Washington Post. For months now, I've been watching this latest coordinated assault with a growing sense of horror at the sheer malevolence of this drummed-up panic about kids and young adults who are just trying to live their own lives. The question I started the Post article with is: what kinds of conversations could we be having about trans kids if we weren't having to spend all our time arguing against this legislative abuse and all of the misinformation behind it?
We could be celebrating that today's young trans people are handling themselves so much better than my generation did. We could be discussing the best way to nurture and support these kids as they try to figure out their identities in a world that constantly tries to invalidate and confuse them. We could be feeling lucky to live at a time when so many teens are revealing their full beautiful selves to the world.
The Post article ended up covering a lot of the same ground as my recent newsletter post about the Paradox of Breathing While Trans: the notion that it's hard enough to figure out your gender identity and the face you want to present to the world as it is, without people putting extra burdens on you. But writing that op-ed for the Post also gave me the chance to educate myself more and talk to more people. I summarized what I had learned in a Twitter thread on Monday, but I wanted to turn it into a newsletter article. So here it is!
Basically, the big takeaway from my conversations with the ACLU's Chase Strangio, author Meredith Talusan and activist Raquel Willis is: these state bills are starting with trans kids now, but the ultimate goal is to take away bodily autonomy from all of us.
This is true for a few reasons:
As Strangio pointed out, these bills are trying to enshrine in a law a definition of "biological sex" that can be used in a variety of contexts to restrict trans people and anyone else who doesn't fit in. Also, the North Carolina bill and a couple of others define minors as anyone under 21. In the United Kingdom, some anti-trans activists started out proposing a ban on trans healthcare for anyone under 16, but slowly ratched it up until they were saying it should be anyone under 25. We'll always be children to them, as long as our lived experiences don't fit in with their own ideas about gender and biology.

I felt as if the NC bill and a few others borrow from the playbook of anti-abortion campaigners – the same drive to criminalize doctors who provide healthcare, the same requirements to notify parents, the same enlistment of authority figures to spy on young people, and so on. Strangio confirmed to me that there's a lot of commonality between both types of legislation, in part because the same people are pushing both agendas. And in both cases, the goal is to take away control over your own body.

Because so much of the substance of these bills has to do with enforcing gender stereotypes, they will be used against everybody, including cis people who don't perfectly fit into (white) ideals of masculinity and femininity, Willis pointed out. Boys will be afraid to show vulnerability and intimacy, girls will be afraid to show leadership and capability. Everyone will be under scrutiny to make sure they're displaying "appropriate" gendered behaviors, and it's going to hurt so many people. And both Willis and Strangio pointed out that these bills would inevitably be used most against Black and Brown people, who are always the ones who get policed any time there's any behavior that could be considered non-standard.

These bills start from the assumption that it's "an ideal state" to be cis, Talusan pointed out, and that to be trans is inherently worse. Like, if there's any way to avoid having kids (or adults) turn out trans, we should take it, no matter how much pain we cause along the way. If you believed that trans people are just as valid as cis people, you wouldn't be legalizing conversion therapy. You wouldn't be willing to hurt a huge number of trans kids to guard against the rare instance of someone starting to transition and then having a (possibly temporary) change of heart. Talusan talked to me about growing up in the Philippines, in a culture with a strong third-gender tradition that colonialists tried to wipe out, and the culture shock she experienced when she came to the United States and encountered our belief that "cis is better."
As Willis pointed out, the reverse is also true–if trans people have full access to healthcare, that's likely to mean everybody else has good healthcare too. Trans people are at the center of the fight over universal healthcare, and so much more besides.
I also learned so much from talking to Dr. Jack Turban, fellow in child and adolescent psychiatry at Stanford University School of Medicine, where he researches the mental health of transgender youth. And it was heartbreaking, because he kept saying that if we were actually listening to all the trans kids and adults around the country who are thriving, we would understand that pathologizing transness is not healthy. We're not centering trans kids and their families in this discussion, so we're stuck arguing with shadows and the paranoid delusions of right-wingers and pseudo-feminists.
The literature is clear, Turban said. When you affirm trans kids and adults, we thrive.
When you try to "fix" us, then we have terrible outcomes – up to and including psychological distress and suicide.
I also talked to Turban about the NC bill's insistence that puberty blockers are an "untested" treatment. They're "off-label," which is not the same thing – lots of medications are prescribed for different uses than the ones they were approved for. But puberty blockers have gone through clinical trials and the FDA determined they were safe for kids. There have been five studies thus far of their use for trans kids, including one last year that showed they reduced the risk of suicide.
"Meanwhile, clinicians are seeing patients who have extreme distress from their gender dysphoria, for whom access to these medications could be life-saving," Dr. Turban said. "Transgender youth often have extreme negative reactions to puberty, as their bodies start to develop in ways that don't match who they know themselves to be." He pointed to this case study in which puberty blockers made a huge difference.
Anyway, the final few paragraphs of the Post article really express what I want to say, which is: we need to have a healthier conversation about trans kids, one which respects and cherishes them. That means a conversation that's not shaped by fearmongering and bad data, and by the assumption that "cis is better." That also means respecting that in most cases, these kids have done a lot of work and soul-searching, and we should support them in finding themselves, instead of trying to crush their individuality.
I've got a book out and I'm doing lots of events!
Sooo this is the first edition of my new newsletter — I've imported my subscribers and archives from Substack. I might occasionally share a set of links to my recent newsletter posts over there, but all my content is going to live here from now on. I promise my next newsletter post will have some more features, like music I'm loving lately, or book/film recommendations, or links to articles I've loved recently. But I wanted to get this one out ASAP, and I have a LOT of my own news to share.
To wit: I've published a book! My young adult debut, Victories Greater Than Death, came out on Monday. It's available wherever books are sold. If you want a signed and personalized copy, Folio Books has you covered. Writing in the New York Times, Amal El-Mohtar says Victories "will refresh and rehydrate you. Funny, tender, vivacious, it focuses on saving the universe by making friends and fighting fascists… This book bubbles over with charisma… [Victories is] a book of conversations and consent, sweet crushes and respected boundaries."
There are some wonderful events coming up that I would appreciate seeing you at: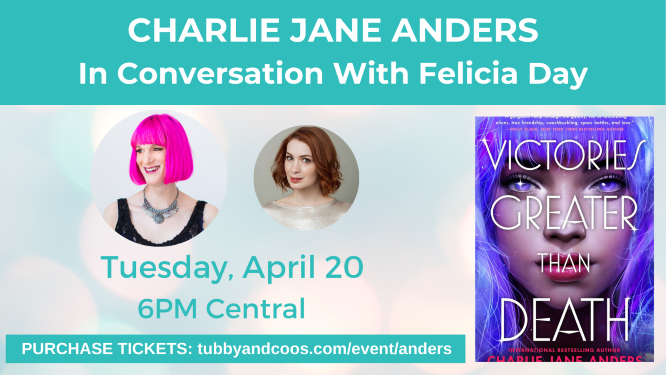 Tuesday, April 20 at 6 PM CT/4 PM PT, I'm doing an event at the wonderful Tubby & Coo's bookstore, where I'll be in conversation with the amazing Felicia Day. You must buy a copy of the book to attend this event, but otherwise the same stuff applies as with the Books Inc. event: you'll get the beautiful phone grip, and if you order your ticket by Monday night, you can also get the pin and the art prints. RSVP here.
The next day, Weds April 21 at 10 PM ET/7 PM PT, I'll be doing a virtual event with Mysterious Galaxy Books, also featuring the wonderful Elly Bangs promoting her brand new book Unity. Registration is free, but please do support Mysterious Galaxy. (And once again, free phone grip!!!!) RSVP here.
On Saturday April 24 at noon ET/9 AM PT, I'll be on a panel at YALLWEST with Asha Bromfield, Marie Lu, Karen McManus, Lewis Peterson and moderator Margaret Stohl. Registration is totally free! RSVP here.
On Sunday April 25 at 3:45 ET/12:45 PT, I'll be at the Newburyport Literary Festival talking about Best American Science Fiction & Fantasy 2020, with John Joseph Adams, Rebecca Roanhorse, Deji Bryce Olakotun and moderator Chris Cevasco. RSVP here.
I wish I could come to your town and sign books at your local bookstore right now! But since we can't do that yet, I would love it if you could come hang out with me and these other amazing people at one of these shindigs. I promise it will be luminous and salubrious!