Have you ever noticed that the sex on television all kind of looks the same? "Game of Thrones" or "Riverdale," "Bridgerton" or "Grey's Anatomy", the shows change but the sex choreography stays the same.
Once I saw it, I couldn't unsee it. The shows might be in different settings, or the characters might wear period costumes, but it's still the same moves, the same angles, same same same.
If you're not sure what I mean, here's a case studies for you: two Freeform shows about women trying to navigate work, sex, and love in their early twenties.
One, the "The Bold Type" was positioned as Sex and the City for millennials; its main trio all work at Scarlet Magazine (a stand-in for Cosmo) in New York. 
The other, "Good Trouble" follows 20-something foster sisters Marianna and Callie and their messy lives in Downtown Los Angeles.
Although the two shows don't technically have a relationship to each other, they have a ton in common and, to me, have always felt like companion pieces. Because they're so similar, the differences in their approach to simulated sex are more stark. They make for a perfect study of what sex scenes usually are and what they could be instead.
"The Bold Type" absolutely wants you to think it has something to say about sex - so much so that they focus the entire second episode on it. Mainly, that one of the main characters, Jane, has never had an orgasm.
The setup is this: Jane is a writer and gets assigned a "best orgasm" story for the sex column. Unwilling to admit to her boss that she's never had one, Jane goes to great lengths trying to get herself off. She talks to her doctor, to a sexologist, has a frightening experience with a yoni egg, tries watching porn, and fantasizes about a hot guy (Ryan) that works in the same building— all to no avail.
Near the end of the episode, Jane is surrounded by a mess of charts and graphs— research about the female orgasm. It feels real and familiar when Jane says, "It's amazing that women are owning their sexualities in a way that they've never been able to before but for someone like me it's a lot of pressure to live up to." That moment felt like a promise for a different approach to sex. 
And yet… by episode four, Jane and Ryan are doing the make-out-undress-stumble to her bedroom, breaking a lamp on the way. Music with a thrumming dance beat urges them forward. Inside her room he presses her against the wall and, in a gravely voice, says, "Tell me what you want." 
We don't get to hear her answer. 
Cut to a reaction shot of Jane's roommate, amused and scandalized in the next room while Jane moans loudly. Then we're back to Jane, shot from above so that we see Ryan on top of her, his shoulders flexing. He's kissing her neck, which means we have an unobscured view of Jane's amazed face during what we're meant to read as her first orgasm. 
All of this is hot, certainly. But I've seen people undress their way to the bedroom on television at least a hundred times. He asks what she wants, which is great— we almost never see people request/express preferences or just generally talk to each other in sex scenes. But then later it's implied that Jane had not one but two orgasms during this encounter. If you weren't keeping track, that's a 200% increase in the total number of orgasms she's ever had. Suddenly our relatable lady struggling with pleasure is multi-orgasmic, and all it takes to get her off is two minutes in the missionary position with a hot guy who kind of looks like Sebastian Stan.
That's one of the earliest sex scenes on the show, and they rush through it to get to the orgasm. It's not visually interesting and it doesn't really move the plot forward or reveal anything about the characters.
The look and feel on "Good Trouble" is completely different.
It's Callie and Mariana's first night in LA and nothing is going as planned. Callie is stressing out and Mariana tells her, "You need to get laid." When Callie meets Gael, an artist that lives in their building, she takes Mariana's advice.
Instead of a teasing lead-up, the show cuts into the action. The scene is almost frantic, all quick cuts, but the camera stays close, pulling you into the intimacy. Gael lifts Callie up onto his drawing table and she knocks over a cup of pencils. It should feel trite, like Jane and the lamp, but we're focused on the details— the camera follows the pencils down to the ground. You can just see Callie's leg hook around Gael's and for a split second the camera focuses on the way he has his foot planted, the flex of his toes.
The shot is, quite literally, grounding— it ties you to the space they're in and the way their entire bodies are involved. It's also surprisingly sexy. Toes gripping the ground cue you in to the rest of what's happening— you need leverage to press your body up against someone. It's a study in the human form.
The show has a non-linear timeline, so we come back to this scene again. We see the lead up as Callie explores Gael's loft. The franticness is gone, traded for an agonizing slowness. We know where this is going now, so the pacing builds anticipation for the viewer in the same way it's building for the characters. Again, the camera focuses us on detail— a hand, lips, the slope of a neck. An electronic-R&B song plays underneath, looping in the same way this encounter is looping— "It's been awhile since I felt this way / It's been awhile since I've felt / You got this way about you, you got this way about you, you got this way about you / you, you make me melt."
By the time they actually kiss, it's its own kind of climax.
---
I wrote a very early version of this essay in Zan Romanoff's Writing for the Internet workshop. Gratitude to Zan & the workshop for helping me sort through my thoughts and asking me to think about how much cinema jargon was too much cinema jargon.
If you're looking for a workshop or an editor (or good books!), I recommend Zan always.
Thanks also due to Mercedes for encouraging me to stop repeating myself, and for shining some unbridled Aries enthusiasm my way.
Also…
If you're looking for more sex-on-television reading material:
The Vibe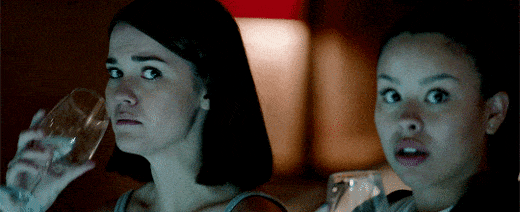 ICYMI
I previously rec'd "Good Trouble" in the "Red, White & Royal Blue" episode of the podcast.
Allison rec'd "The Bold Type" in the Tamora Pierce episode of the podcast.
On the last episode of The Bi Pod we talked about "Catherine House" by Elisabeth Thomas and the complicated question of what counts as a queer book.