Welcome to the first Cantata newsletter of 2021! Thanks for being subscribed, and as always it's worth stating how much it means to me that you care about this weird tactical space game!
We've hit the ground running in 2021 and have a few new things to share (and upcoming things to let you know about!) so let's get into it!
---
New Stream Series
We're kicking up a series of streams on our Twitch channel (and Youtube + Steam) where we walk you through the process of creating an overhaul mod in Cantata from scratch!
We can't wait to show you more about the game properly and all the weird spiritual sci-fi stuff we've got in store, but you'll need to wait a bit longer until we really pull the lid off of all that.
In the meantime: A core component of Cantata is its moddability. It's something we've centered in the process of making the game from the very start, and as such the possbilites when it comes to the tools are near limitless.
We really want to take the time, prior to talking more about the game itself, to give everyone a better look at the tools that not only we have access to, but that everyone who plays Cantata can use to make their own games. Someone recently brought up the idea that Cantata is like an RPG Maker for strategy games, and I think that idea really stands up.
So in that spirit we've started doing a series of stream where we create an overhaul mod for the game from scratch, and show you how you can start from essentially 0 and rapidly make your own new type of game.
We ran the first stream last week to great success, and you can check out the archived video here: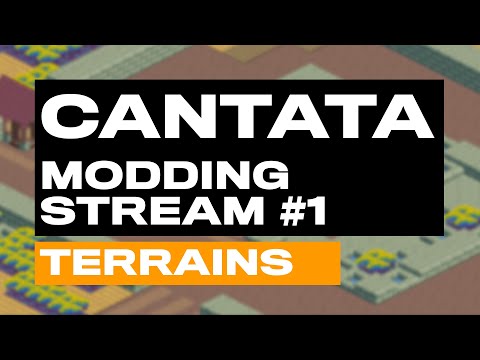 We're doing a new stream every two weeks, so the next stream will be on 3/17/21 at 11am EST. We've got reminders set on Steam, as well as tweets already drafted and scheduled on Twitter, so as long as you're following us somewhere you should get notified that we're going live.
As for where to watch - we simultaneously stream to our Twitch channel, Youtube, and Steam), so it's really up to you! Hope to see you there!
---
New and Improved Forums
Did you know Cantata has a forum? It does! We've recently redesigned the forums and would love to have you stop by and ask any questions you have about the game! Because places like Discord and Twitter can be so emphermal and intense, the forum is a place we want to cultivate as a calm, chill place to talk about the game.
We also want people to start collaborating here around making mods together, sharing maps, tips, etc., so I hope you stop by and join the conversation!
---
Newsletter Exclusive
We haven't shared this anywhere yet, so this is just a gift for all of you all :) We're getting more and more sprites into the game so the whole look of the game is starting to actually come together as the campaign maps gets designed and all the factions make their way in. I took a little recording of some units from different factions just idling on the map, and hope it gives you a small taste of all the wonderful stuff in the game. Enjoy!
---
I'll wrap up the newsletter here and look forward to reaching out to you all again in a month or so. Things are moving quick over here so expcet much more to come!