blast-o-rama.
issue 065 • 2022-03-27
greetings, humans.
Happy Sunday to you dear folks! Thanks for once again allowing me to take residence in your inbox, I very much appreciate it.
So, who else has multiple Wordle-esq game-a-day games in their lives?
I thankfully missed Wordle getting its teeth sunk into me, but two online games have totally grasped my interest — and I think you'll agree, they're incredibly on-brand for me.
The first is the Box Office Game. Based off an idea presented on the Blank Check podcast (a podcast I've been told a zillion times I'd adore, but which I've yet to really dig into), you're given the top 5 movies for a singular weekend, and you've got to guess the titles. Each movie is worth 200 points, but you can choose to cash in points to find out the movie's tagline, director, plot synopsis, etc. It's incredibly addicting, and I've got multiple text chains where I've been comparing results with friends.
The other, slightly newer game is Framed. You get six chances to guess a movie based on individual screenshots. Mess up your first guess? You get a second screenshot, and so on. This one — for some reason — hasn't caught on with my friend groups as fervently, but I think might be more welcoming to the general public.
So, whatcha playin', gang?
---
from man to meme and back again.
What comes to mind when you hear the name Nicolas Cage?
Is it his incredible performances in movies like Leaving Las Vegas and Moonstruck, which put him on the map as one of Hollywood's most versatile actors?
No!
You think of the memes, a man overacting his ass off while being attacked by bees in The Wicker Man, being himself/John Travolta as himself in Face/Off, or chewing up scenery in countless direct-to-video features.
On the eve of the release of his next movie, The Unbearable Weight of Massive Talent — where he plays an infamous actor named, get this: Nic Cage — Cage sits down with Gabriella Paiella for GQ to talk about his journey from man to meme…and the way he's dragged himself back.
Fifteen minutes from the Las Vegas Strip, into a tranquil gated community, up a red-brick driveway, past the palm trees that touch the Mojave Desert sky, through the veil that separates the astral plane, and here he is: the man they say gained and lost a $150 million fortune; who owned castles in Europe and the most haunted house in America and the Shah of Iran's Lamborghini and two albino king cobras and a rare two-headed snake; who had to return his prized dinosaur skull upon learning it was stolen from Mongolia; who went on an epic quest for the actual Holy Grail; and who—when his singular, fantastical life eventually comes to an end—will be laid to eternal rest in a colossal white pyramid tomb in New Orleans.

Nicolas Cage greets me at his door, wearing a kung fu suit.

"This is my Wing Chun kung fu suit," he explains, waving me in and handing me a mug of coffee. "I studied with my sifu, Jim Lau, when I was 12 years old, because I was a big Bruce Lee fan. And so it's like my uniform to relax in."

His voice is a low, contemplative drawl that imbues every word with a sense of philosophical magnitude. To hear Nicolas Cage state an opinion about his preferred loungewear is to hear anyone else reflect on the cosmos.
---
also from across the web
These are the other stories which kept me increasing my Screen Time in a way which causes Apple to shame me every single week. Enjoy.
---
take us away, Taylor.
If for some reason you hadn't heard yet, Taylor Hawkins of the band Foo Fighters passed away this week at the age of 50. The details — as of the time I am writing this, Saturday afternoon — are still sketchy, but his loss is a big one for music and rock fans around the world.
I don't have an amazing Foo Fighters story, or a moment where I met these guys and they changed my life. I'm just a fan of what they do. And one of their best performances ever — their Wembley Stadium show — is captured on a commercially available Blu-Ray.
I recommend the whole set, but in the interest of sharing Taylor Hawkins at the top of his game, here's one of my favorite songs from the set.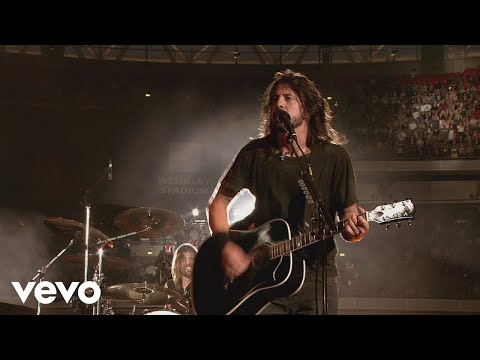 ---
hey, thanks for reading.
Hug your loved ones. Tell them how much they mean to you.
Have a great Sunday.
-Marty