blast-o-rama.
issue 027 • 2020-06-15
Embracing Our New Normal
Yesterday, I officially hit 90 days of quarantining. Or socially distancing. Or whatever term you want to use.
It's weird how in my brain I'm starting to not miss the old times, but rather embrace the strangeness of the now. Although I suppose it's not "strange" anymore to wear a mask to the grocery store, plan a week of meals eaten in, and enjoy the little escapes from the home which you can have.
And this weekend, escape, we did.
Well, sort of.
Sam and I decided to go out for a long drive on Saturday, just heading north and grabbing lunch and turning around. It was nice. It was relaxing. It was an escape.
…until we went to a park and found lots of mask-less people…
But I digress. If you haven't, go out and drive. Just enjoy the escape for a while.
Now, onto the things…
---
Thing #1: Jon Stewart Opens Up
Believe it or not, it's been five years since Jon Stewart walked away from The Daily Show.
I admit, I was one of the people who looked at his reason and rage towards the "Mountain of Bullshit" which is/was modern politics as a sort of North Star. I miss his "daily" input on the awfulness of the world.
Well, if you've been missing it like me, David Marchese at The New York Times has sat down with Jon to talk about the world of June 2020.
For all the value Jon Stewart delivered as a political satirist and voice of reason during his 16-year-run as the host of ''The Daily Show,'' it's quite plausible to suggest that the political and media Bizarro World in which we live — where skepticism is the default, news is often indistinguishable from entertainment and entertainers have usurped public authority from the country's political leaders — is one that he and his show helped to usher in. ''Look, we certainly were part of that ecosystem, but I don't think that news became entertainment because they thought our show was a success,'' Stewart says. ''Twenty-four-hour news networks are built for one thing, and that's 9/11. There are very few events that would justify being covered 24 hours a day, seven days a week. So in the absence of urgency, they have to create it. You create urgency through conflict.'' That pervasive sense of political and social conflict has only grown since Stewart left the air in 2015. It has also made Stewart's post-''Daily Show'' silence — apart from a few guest spots on his old friend and colleague Stephen Colbert's show, he has been mostly out of the spotlight — more intriguing. What has he been thinking about this country while he has been gone? Now he has returned with some answers.
It's interesting how Stewart seems to be — even now, all these years later — continuing to process and weigh the place his work was raised to during his 15 years on the show. And it's clear he still doesn't entirely believe his own hype. This interview is a heck of a read.
---
Thing 2: It Wasn't GoldenEye 2, But It Was Damn Good.
While I have incredibly fond memories of playing multiplayer rounds of GoldenEye 64 with my friends, I (as someone who didn't own a Nintendo 64) never got around to playing Perfect Dark.
This Oral History sure made me wish I did.
Eurogamer deputy editor Wesley Yin-Poole gets everyone who worked for Rare and developed Perfect Dark together and reveals — how like with most art — the greatness was never expected, and it was all held together with duct tape and hope.
It was never meant to take as long as it did. As far as the GoldenEye team were concerned, Perfect Dark should have come out a year or two after their seminal console first-person shooter, a quick-fire follow-up to one of the greatest games ever made. But it wasn't long before trouble knocked on the door of Rare's countryside farmhouse in Twycross. First, Martin Hollis, the genius programmer who led the GoldenEye team to stardom on the Nintendo 64, left the company at which he had become a legend. His acrimonious exit set off a chain reaction that led to the Free Radicals - Dr. David Doak, Karl Hilton, Steve Ellis and Graeme Norgate - walking out soon after to form their own studio. Those who remained were left to pick up the pieces. Struggling to cram a game bursting at the seams with ambition into the Nintendo 64's tiny memory limit, the developers of Perfect Dark achieved what once looked impossible: the highest-rated Rare game of all time.

20 years after Perfect Dark was released, I asked 10 of its chief creators, as well as then Nintendo of America producer Ken Lobb (Rare co-founders Tim and Chris Stamper could not be reached), what it was like to make. Perfect Dark was a visual feast when it launched in May 2000, pushing the N64 so hard it required the console's 4MB expansion pak for everything but a stripped down multiplayer. Its Blade Runner-influenced graphics and sound, its super cool spy heroine Joanna Dark, and its X-Files-inspired story won plaudits from N64 owners and reviewers - despite the shocking framerate. Though it seemed Rare could do no wrong in the '90s, with N64 mega hit after mega hit seemingly effortlessly spewed forth from the company's secretive headquarters in the English countryside, developing Perfect Dark was anything but easy.
---
Thing #3: Dave Chappelle, As Raw as He Gets
On Friday, Netflix uploaded a new video from Dave Chappelle onto YouTube, titled 8:46. It's about exactly what you think it's about.
I don't think it's stand up. I know for sure it's not "comedy". But I know it's absolutely worth watching. Click the thumbnail below to check it out.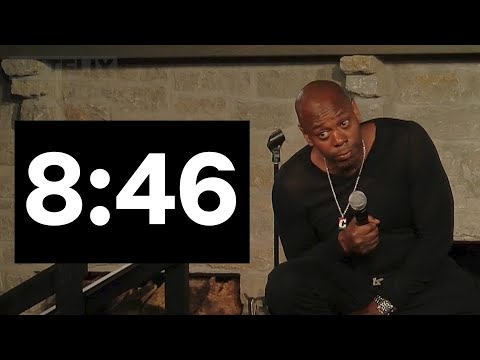 Note: This video includes significant NSFW language.
---
Until next time…
Call your parents. Call your friends.
They'd love to hear from you.
-Marty