blast-o-rama.
issue 017 • 2020-02-02
---
is this thing on?
Greetings, Internet pals.
161 days, folks. It's been 161 days since I dusted off this here newsletter.
I'd love to say that it was for good reasons, but if I'm honest, it's because I spent the last four months unemployed.
I mentioned it in the last edition of this here newsletter, but man. It sucked.
A quick look back over LinkedIn, Indeed and Zip Recruiter tells me that I applied to triple-digits number of jobs across each service. I certainly had the phone interviews and in-person interviews to back it up. But I guess because it was the fall, then the holiday, things were slow at times. I just spent every day wondering what I did to not get the interest, or what got me into two rounds of interviews in but not three, or what have you.
And then the right job fell into my lap, all through people I knew at a place I had worked with previously.
I started my new job on the 20th. Actually got my first paycheck on Friday, and I couldn't be happier. I work 100% remote with a great team of great people who seem to value me, value my insights.
It's like a massive weight is off of my shoulders, and I couldn't be happier.
I'm so thankful - thankful for my friends, co-workers and colleagues for their support and being sounding boards. My mom for remaining positive. Chris, my podcast co-host, for giving me something every week to be excited to do, and joining me in some much needed (paid for before the unemployment) trips out of town for some live pro-wres action. The entire Super Art Fight team for giving me weekends away where my brain could turn off.
And most of all, I'm thankful to my wife. She saw the highs, the lows. The moments of self-assurance, the moments of self-doubt. She was the shoulder I could cry on and the foot to my ass when I needed it. I really picked the right one, and she was so awesome to bring home the bacon while I was finding the way to bring it home myself.
Life's just…better now. I learned a lot about myself. Learned a lot about how you need to value yourself just as much, if not more so, than the work you do, and learned how key that balance is for your life.
And now, onward to another chapter.
As for this newsletter, I'd like to keep it going now. Some of the sections, as you'll see, are different. Trying to switch things up. Maybe I'll revert back to the way I did it, but more than anything, I wanted to reach out to you, dear reader, and let you know that I'm OK.
Besides, we live in a world now where cookies can be baked in space.
Everything's gonna be alright.
Anyway, on with the show.
---
what i read, that you should read.
A bunch of cool links what I read this week, typically culled from my ever-growing Instapaper queue.
---
what i enjoyed.
Something I read, watched or experienced that I really loved this past week
So, originally, what made me dust off this newsletter was, I was going to write about Parasite. It hit iTunes a week or two ago, and I got to see it about two weeks ago, and it absolutely floored me. One of the best movies I saw in the past year, just…stunning, stunning stuff. But a lot of people smarter than me have written about that movie, and well, the best I can really say is "JUST GO SEE THE THING". The less you know the better, and all.
But, given that I got kinda heavy in the intro, I wanted to send you off with something goofy, silly and fun.
And let me tell you, there's nothing more goofy, silly, or fun than this…
The F9 Trailer
If you haven't availed yourself of the un-ending movie franchise which started as a Point Break rip-off, but with stylish 2000s-era import racers in the place of surfboards, you'd probably be surprised to know that the Fast & Furious movies have turned into a weird hybrid of The Avengers and the 1980's cartoon series MASK, where an ever-growing gang of recurring heroes (sorry, family members) get into more and more ridiculous motor vehicles, are met with a new villainous force (usually overacted by an action star making their debut in the series), and everyone rushes to save the day.
This has been the formula since the fifth installment, Fast Five, and has worked beautifully since - even allowing for another spin-off series, Fast & Furious Presents: Hobbs & Shaw to succeed last Summer.
Anyway, the trailer hit on Friday (during a two hour live concert meant just to promote the trailer), and it's the most exciting four minutes I've experienced this year.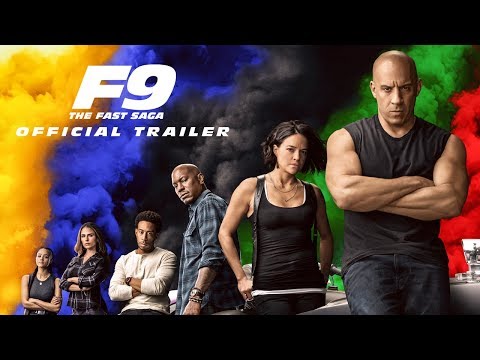 Over the runtime of the trailer, there's more ridiculous stunts, crazy plot twist, and insane reveals than in possibly the eight movies which proceeded it, and now I'm just left wondering in what way, shape, or form the movie itself can deliver on this promise next May.
Any way you slice it, this Monster Energy Drink-fueled insanity brightened up my life, and hopefully you too can embrace the ridiculousness on this fine Sunday.
Click play and enjoy.
---
that's that.
Time to stop living my life a quarter-mile at a time, and start another week.
Go kick ass, friends. And don't let the bastards ever keep you down.
xoxo
-Marty