blast-o-rama
issue 015 • 2019-08-20
---
welcome!
Your weekly, stream-of-consciousness hello.
Hey folks! Yes, this week's edition is delayed. Yes, I'm sorry for that. But in a moment, you'll understand why.
This week, I lost my job.
There's no need for me to get into details, feel sorry for myself, or anything like that - it's just a bummer. I really liked it there, really liked my co-workers, really liked what I did. But if anything is constant in life, it is change.
In turn: my state of employment has changed.
I've had a lot of people reach out to me since: clients, co-workers, friends, family - and everyone couldn't be nicer. Whether it's now former clients telling me how much they loved working with me, or co-workers old and new reaching out with suggestions for new gigs (or doing warm introductions to their managers to try to get me in with them), or friends sending me money so Sam and I can have a nice dinner out (thank you so much, Kevin, you're a damn good egg), I've been touched by the outpouring of support.
I've hit the ground running, and I'm working very hard to get back to work, so hopefully next week I will have some better, stronger news. In the meantime, I keep on keeping on…because that's what you've gotta do.
---
story of the week.
Every week, I'll toss a few thoughts out on what I felt the biggest story of the week was.
Remember earlier this decade when Tumblr was the next big thing? Then Yahoo! bought it and basically snuffed out the joy of it all? Then it got acquired by Verizon, and they had no idea what to do with it?
Great news: Tumblr - even at a pretty big devaluation - is back in the hands of a company who has some idea of what to do with it, as they've been acquired by Automattic, also known as the fine folks who bring you WordPress.
As someone who believes strongly in an open web, where independent people own their content, own their sites, and build a unique framework of pages across the web, this is one of the best things to happen to the blogging world in ages. Yes, Tumblr may have been home to a ton of smut, crazy fandoms, and some of the strangest posts known to man (Hello, Otherkin! I don't understand you, but I respect you.), but it made - even for a second - blogging cool to a new generation.
After reading the interview with Automattic head Matt Mullenweg over at The Verge, I became very excited for the future of the site, especially with this exchange:
It really sounds like you want to be a competitor to the big social networks in terms of user attention, openness, politeness, strength of community. Is that what you're aiming for? I want to create a place on the web, which is fun and supportive and substantial. You're an old-school web user. At one point, blogging had a real magic to it. A frisson. You'd have blog rolls and links and people would follow and comment and you'd keep up with things and it was a really, really nice social network. But it also was totally distributed and people had their own designs, and all those sorts of things. I think we can bring some of that back and reimagine it in the mobile world which is where Tumblr is also super strong.
At the very least, Tumblr now has a head who doesn't see it as "The Next PDF", whatever the hell that means.
---
in other news.
Another story which grabbed my eye from the week.
We all now have supercomputers in our pocket, that much is true. They're all connected to wireless networks. But who owns those networks? Sorry folks - not good people.
In this eye opening read from Krebs on Security, we're met with the fact that as the Networks grow bigger, so do the efforts of less than savory people…and there's not a lot we can do about it.
Incessantly annoying and fraudulent robocalls. Corrupt wireless company employees taking hundreds of thousands of dollars in bribes to unlock and hijack mobile phone service. Wireless providers selling real-time customer location data, despite repeated promises to the contrary. A noticeable uptick in SIM-swapping attacks that lead to multi-million dollar cyberheists. If you are somehow under the impression that you — the customer — are in control over the security, privacy and integrity of your mobile phone service, think again. And you'd be forgiven if you assumed the major wireless carriers or federal regulators had their hands firmly on the wheel.
---
worthwhile reads.
A bunch of cool links what I read this week, typically culled from my ever-growing Instapaper queue.
---
blast-o-rama recommends.
Every week, I'll make a recommendation of something to read, to watch, or to listen to. I'll even link to where you can check it out.
This week's recommendation: The Chef Show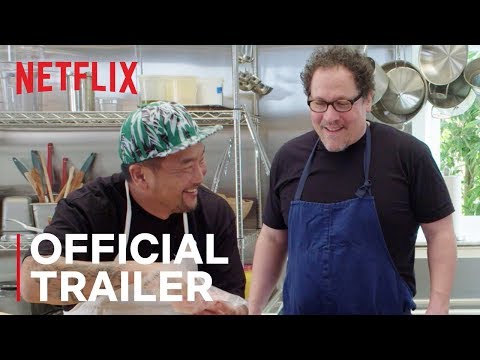 Have you seen Jon Favreau's pretty damn great movie he made between CG-filled opuses, Chef? Maybe you remember his hilarious and fun fly-on-the-wall chat show, Dinner For Five? Maybe you loved last year's Netflix food documentary series Ugly Delicious?
If those ingredients are a mixture which appeals to you, great news, there's a show on Netflix that - though it's been out for a bit - takes the concepts of these shows and mixes them all together - The Chef Show.
The idea is simple - Jon Favreau is friends with both a bunch of celebrities and famous chefs. He likes to make food. He likes to talk shit with his friends. What if you could be around for a little bit of all of that? That's where The Chef Show lives. You learn how to make some great looking food (I really want to try making the Cubano he makes in the first episode), you get to hear some fun behind-the-scenes stories (like the crazy fact that Gwyneth Paltrow didn't know she was in Spider-Man: Homecoming), and all and all, it's just a great time with great people. With the world being as harsh as it is sometimes, it's nice to flip on a show with basic human connections, built with great conversations and delicious food.
Eight episodes, about 30 minutes a piece, you'll be done in four hours and you'll enjoy every minute. Give it a spin.
The Chef Show: Watch it on Netflix
---
that's that.
Alright folks! Back to the grindstone. Have yourself a great week, and remember…
Don't let the bastards keep you down.
-Marty