blast-o-rama
issue 005 • 2019-06-02
---
Welcome!
Hey folks! Welcome back to a normal edition of blast-o-rama., brought to you by a very rested and relaxed Marty Day.
I spent the majority of last week – Sunday through Thursday – in Austin, Texas, as Sam (my wife, for those who haven't read her name in text before) and I celebrated our fourth wedding anniversary. We try to go away every year to celebrate, and this was no different.
I had a truly lovely time in Texas, my first time in the state, excluding layovers, and I thought Austin was a great city. It made me think of a hybrid of Los Angeles and Portland, Oregon, as it had a layout very similar to Los Angeles (the downtown, at least, as I didn't get to see the Austin suburbs, really), but a quirky nature with a focus on being welcoming and future thinking, a'la Portland.
I loved many moments from our trip, such as great meals from places like Bar Peached, or the beautiful walk and journey we took through Zilker Park into Barton Springs, but I think the best part for me€¦besides knowing that like Pizza Bagels, Tacos are an "anytime" food in Austin, and the fact that our second Airbnb had regular access to a pool (important with those 90+ degree temps), was finally going to the Alamo Drafthouse.
That's one of those truly earned italicized finallys there, folks, as I took a look, and I've been writing about Alamo and its family of companies (including printmakers Mondo and film distribution company Neon) for over a decade now.
In turn, this was a sort of pilgrimage for me.
What can I say about the Alamo Drafthouse that hasn't already been said? We actually made the trip to the Drafthouse twice while we were there - once to see the absolutely brilliant comedy Booksmart (who knew that Olivia Wilde would be such a great director?), and a second time to see the documentary The Biggest Little Farm – and if you're a fan of movies, it's a place you absolutely must go.
From the shockingly well priced and locally sourced food menu, to the amazing drink menu (coming from a guy who doesn't drink, mind), to the brilliant pre-show videos which are clearly well considered and thematically appropriate for the feature you're about to see, to the limited advertising (only for the theater) and trailers before the film, to their low tolerance for talking during the movie or using your phone, it's a haven for filmgoing.
The movie isn't a distraction for your day, it's an experience to be cherished and shared. And that's what makes the Drafthouse great.
The Alamo Drafthouse closest one to me is an hour and a half away, alas, so this won't be a usual experience for me. Thankfully, my local AMC is pretty decent (I had a good time seeing Godzilla: King of the Monsters there on Friday) but I'll always wish for something greater. If one is near you, do go, please. I implore you.
Now, what about next year's anniversary trip? Funny you ask…
---
Story of the Week
Every week, I'll toss a few thoughts out on what I felt the biggest story of the week was.
The massive, multi-million dollar multimedia event which is Disney's latest park attraction, Star Wars: Galaxy's Edge, finally opened at Disneyland this past weekend.
Loads of reviews and write-ups went up, but I'd recommend the incredibly in-depth ones done by /Film.
They did unique entries discussing the attraction, including an overall overview, a look at the Smuggler's Run ride, a write up on the Cantina, an entry on the food, and of course, the merchandise.
All and all, it sounds like a stunning achievement, blurring the lines of a theme park attraction and a proper multimedia experience, making it almost a LARPing experience for all those who attend.
Besides realizing I'm probably going to drop $300 there if/when I go (because you know I'd want to custom build a Droid AND a lightsaber), I'm realizing that the world is getting closer and closer to delivering on the "far out, crazy ideas" presented in Westworld, although with acto–sorry, cast members playing along, instead of murder bots. Pretty wild, right?
That said: I am a 34-year-old male who has never been to a Disney park, ever.
I recognize, you don't want to go the first Summer, but I totally need to indulge my inner child here. 
---
In Other News
Another story which grabbed my eye from the week.
Monday, June 3rd, brings another of the always over-analyzed and over-hyped, Apple Keynote Events, this time coming from the 2019 WWDC (World Wide Developers Conference).
As both an Apple nerd, and a tech nerd, I always enjoy watching the WWDC event in particular, because the hype is less about "Let's all buy this thing!" and more about "Holy shit, look at what software can do."
I think that's why I love tech – for all of it's good and bad, the focus is always an ever-greater future. 
Bloomberg has the best look at what to expect this year. Me? I'm ready to finally say farewell to the Swiss Army Knife nature of iTunes and welcome some silos into my "stuff".
---
Worthwhile Reads
A bunch of cool links what I read this week, typically culled from my ever-growing Instapaper queue.
---
blast-o-rama. recommends
Every week, I'll make a recommendation of something to read, to watch, or to listen to. I'll even link to where you can check it out.
This week's recommendation… Booksmart (2019)
Normally, I share something with you, my dear readers, which you can immediately stream or purchase, but this week, I think I'm going to zag where I normally zig and give you something where you need to leave the house…and that's to see Booksmart.
Cut from the same cloth of movies such as Superbad or Can't Hardy Wait, Booksmart is a movie which is all about that last night before your high school career is over. The difference this time? The focus and the humor comes from the female perspective.
An aggressively 2019 movie, Booksmart is a story of modern female friendship, the world of being a teenager now (the plot involves finding a party via Snapchat and Instagram Story clues), and the universal truth of growing up. It helps that it's also incredibly filthy and funny as well…these are your spoonfuls of sugar, if you will.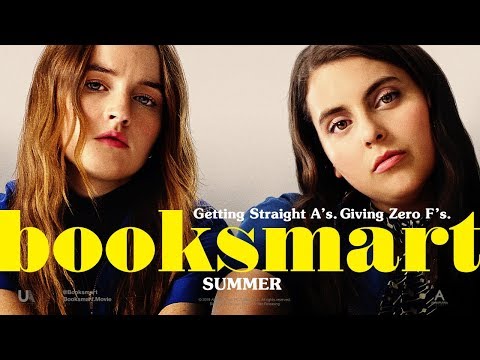 Why am I telling you to rush out and see Booksmart now? Well…it's not doing that great. And that's an incredible shame.
The script, by Emily Halpern, Sarah Haskins, Susanna Fogel, and Katie Silberman is smart and hilarious. The chemistry of the leads, Kaitlyn Dever and Beanie Feldstein, is out of this world. And Olivia Wilde, for a first-time director, knocks it out of the park, with brilliant direction (helped along by a brilliant soundtrack by Dan the Automator and the stunning cinematography by Jason McCormick).
This movie should be playing to packed audiences laughing their asses off. Sure, it may find its audience on VOD, but I'd love for this movie to find that audience now. Embrace your inner teen.
Go see Booksmart, damnit.
• Booksmart (2019): Pre-Order on iTunes| Pre-Order on Amazon| Get Tickets on Fandango
---
That's that.
Have yourself a wonderful week, dear reader. And don't let the bastards bring you down.
-Marty