blast-o-rama
issue 002 • 2019-05-12
---
Welcome!
Hiya folks! Welcome to edition two of what is hopefully one day your favorite email interruption on a Sunday morning.
First things first: a Happy Mother's Day to you and yours. And if you don't have a mom in your life, Happy Sunday to you!
Glad to see that subscribers list growing, and I appreciate the feedback I've received so far on what I'm doing here. Please keep it coming!
I'd love for this to develop into a two-way relationship. I share cool things with you, you share cool things with me, we build a little community.
A quiet week for me, minus one personal life change – your dear pal Marty will, at 34 years of age, soon be a full-time glasses wearer! The ol' distance vision started to give out on me. It's a (in the words of my optometrist) a weak prescription, but the process of aging is continuing to do what it does, I guess.
Either way, I have try-on frames coming from Warby Parker on Monday, and I look forward to seeing my "new face".
---
Story of the Week
I really don't want this newsletter to become a rant on Facebook every week, but let's be honest – they kind of have their fingers in every pie, don't they?
If you have friends, they're on there. If you have family, they're on there. If you run a business, you have to be on there. If you want to be noticed, you have to be on there. If you want to be in the loop, you have to be on there.
So, it was particularly interesting this week when the co-founder of Facebook, Chris Hughes, went to The New York Times and said hey, maybe it's time to break the whole thing up.
He does have a point. The number of communication points in this modern age that all flow into Facebook is something to be concerned about - even more so than Ma Bell and AT&T and other businesses which were broken up. And I'm a guy who loved the potential of the open web – sure, it mostly is now, but again, if you're not on Facebook: do you exist?
Anyway – I agreed quite a bit with Hughes' write up, and I highly advise you give it a read too, otherwise I wouldn't be on there.
That said, there's one section which had my Spidey Sense tingling, and not in what I'd call a "good way":
Finally, the agency should create guidelines for acceptable speech on social media. This idea may seem un-American – we would never stand for a government agency censoring speech. But we already have limits on yelling "fire" in a crowded theater, child pornography, speech intended to provoke violence and false statements to manipulate stock prices. We will have to create similar standards that tech companies can use. These standards should of course be subject to the review of the courts, just as any other limits on speech are. But there is no constitutional right to harass others or live-stream violence.
I'm not sure that now is the time or place for a Government intervention of these things. The "free web" seemed to do pretty darn well when it was decentralized, over a network of millions of websites, through say...the advent of MySpace? I feel like splitting up where these things live would hasten the access to them. Maybe that's me being optimistic?
It's a hard needle to thread. I don't want live-streamed violence or the other awfulness brought to a boil by Facebook being so easily accessible, but I don't know that full top-down intervention is good. Food for thought.
What I do know is: The Social Network 2: Zuckamania Runnin' Wild! is starting to look pretty kick-ass.
Related
---
In Other News
Let's get meta on this one:
The Guardian, a news website, asked an important question €" Is reading so much news actually ruining our ability to engage with the real world?
...which I'm now sharing with you...
...in a newsletter....
I know that, at least personally, I've tried to be on Facebook, Twitter and Instagram less (though I've wandered back into the Instagram realm with a VERY cut down follow list), and my life has felt better for it, even if I don't know everything going on in the outside world.
My buddy Ross tweeted the other day:
Jesus christ, I tried to be on twitter to see what my friends were up to for 3 minutes and saw news about the world and, well, I'm out.
I'm not intending to put him on blast here, but I think limiting exposure helps us all.
Big bad things are happening, but the news world has always gone with the "If it bleeds it leads" mentality. That's going to skew your perspective of the world...even if there are things we should be mobilizing on.
Related - Philip Ellis over at Man Repeller says: "Maybe It's OK for us to NOT have an opinion on things."
---
Worthwhile Reads
OK, that's some heavy stuff to process. What FUN things did I read this week? Here's a bunch.
---
blast-o-rama. recommends
This week, to break up the heavy content of our lead stories, I'm going to give you something fun and silly to enjoy, a new sketch comedy series on Netflix: I Think You Should Leave with Tim Robinson.
Tim Robinson is an ex-Saturday Night Live writer and performer, probably best known for the modern 10-to-1am classic, "Roundball Rock", or his defunct show on Comedy Central, Detroiters.
I'm not sure why exactly Netflix decided to give him a sketch comedy show of his own (produced by The Lonely Island), but the world is infinitely greater for it.
There are just 6 episodes, and at a runtime of 15-20 minutes each, you could binge the entire show in about two hours.
The sense of humor is completely, ridiculously absurd - pushing out awkward situations to their farthest depths or going entirely left-field (If the idea of a Johnny Cash song being turned into a ballad about skeletons who harvest bones for money AND food, and like to pull your hair sounds like your jam, you're in.)
Robinson is surrounded on the show with great comedy performers, whether fellow ex-SNL cast members like Will Forte and Cecily Strong, or his star from Detroiters, Sam Richardson, all I can say is, I laughed hard, laughed often, and enjoyed every minute...even if I would completely understand why someone would hate it. If you liked Mr. Show with Bob and David, or anything from the Tim & Eric world, this is for you.
Here's a sample sketch. If you dig it, welcome aboard!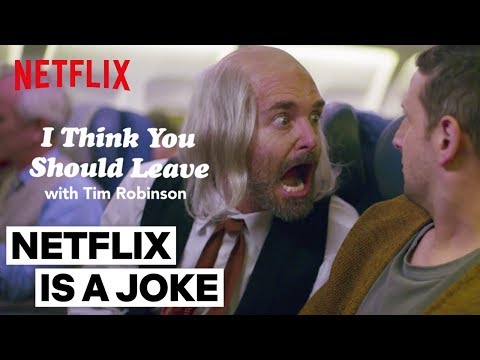 I Think You Should Leave is available on Netflix right now.
---
That's that.
Have yourself a wonderful week, dear reader. And don't let the bastards bring you down.
-Marty