---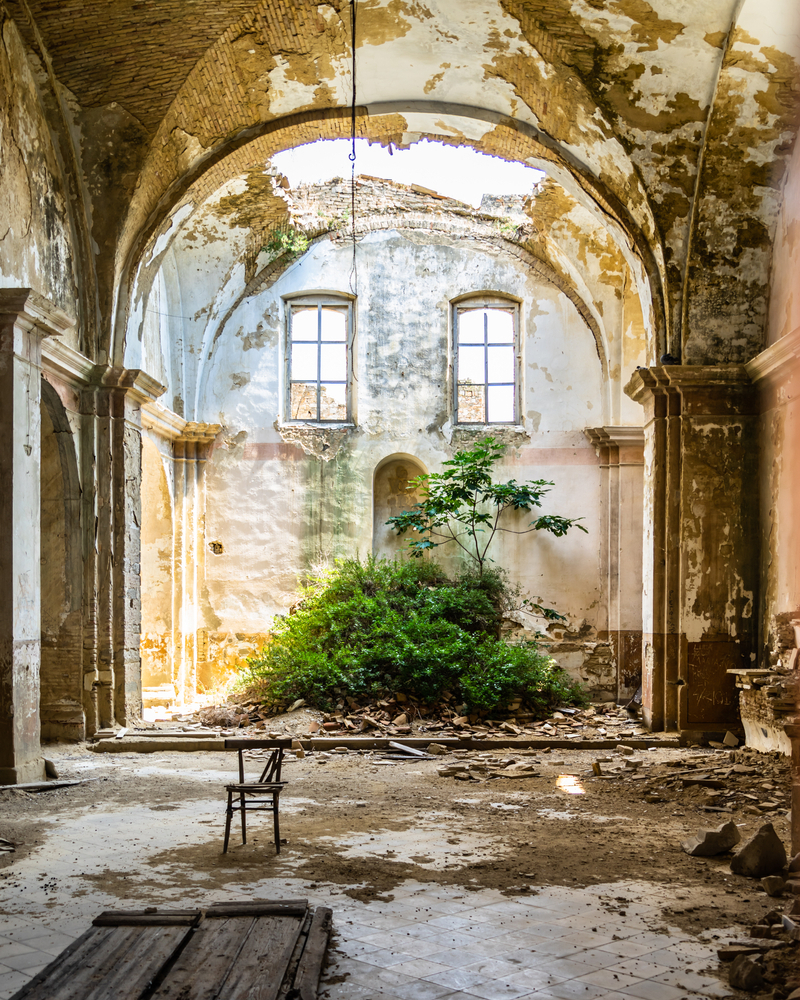 The abandoned village of Craco.
Re: my entry last week on "forest bathing," the Economist weighs in on a certain linguistic habit:
When TED, a conference, staged several talks on the concept [of ikigai or "reason for being"], a tweet by a baffled Japanese observer went viral: "Apparently, there's an ancient Japanese philosophy called 'ikigai' … huh? What's that?" Native speakers seldom use the term. If they do, it is in the context of small joys, such as spending time with family or enjoying hobbies, says Kanda Nobuhiko, a psychologist at Bunkyo University near Tokyo. "If I decide to sneak out of a lecture to have a beer, that counts as my ikigai."

Ikigai thus joins a long list of Japanese words that have been repurposed to lend an aura of ancient wisdom — and exoticism — to banal ideas. Kakeibo has been peddled as the "Japanese art of saving money" (in practice, keeping a notebook to track finances). Shinrin-yoku, or the Japanese art of "forest bathing", is really just going for a nice stroll in nature. Wabi-sabi describes an interior design trend that embraces minimalist decor and natural materials. In Japan, it refers to an aesthetic philosophy of appreciating imperfection.
---
Also from The Economist, an obituary of Ian Hamilton, the Scot who liberated the Stone of Scone from Westminster Abbey and returned it, however briefly, to its rightful Northern home:
For the Stone of Destiny, as this was, did not belong to England. It belonged to Scotland, and was the seat of Scottish kings. Legends hung thickly round it, instilled in his head by his mother. This was the pillow on which Jacob had slept, dreaming of angels descending and ascending again to heaven. The prophet Jeremiah had brought it to Ireland, where it became the seat of the High Kings. Thence it came to Scotland. It was ripped from Scone Abbey by Edward I in 1296, since Scotland could not prosper if it was gone. Edward III later promised to return it, but never had. Now, in 1950, 650 years later, a 25-year-old chain-smoking student was proposing to right a great wrong.
As for me, I think the Elgin Marbles should stay in London and the Stone of Destiny return, once and for all, to Scotland. Call me inconsistent if you wish.
---
Bacterial Citis, petri dishes by physicist and biologist Eshel Ben-Jacob, 2013
---
I have an essay called "Staying for the Truth" in the new issue of the Hedgehog Review. It begins thus:
The Gospel according to John tells us what happens when an itinerant preacher and prophet called Jesus of Nazareth is brought before the Roman governor, Pontius Pilate, for questioning. Pilate wants to know more about this odd man, who says, enigmatically enough, "For this I was born, and for this I came into the world, to testify to the truth. Everyone who belongs to the truth listens to my voice." To which Pilate rejoins, "What is truth?" Then he turns away to talk to someone else.

In his 1625 essay "Of Truth," the English writer and politician Francis Bacon — who, a few years earlier, had been deposed from his place as Lord Chancellor of England for corruption — commented on this passage: "What is truth? said jesting Pilate, and would not stay for an answer." The hint here is that Pilate turns away from Jesus after asking his question because he is afraid it might be answered. And Pilate may not be the only one who has such feelings.

"Jesting" Pilate — truth is but a game to him, a joke. People like that, Bacon says, "count it a bondage to fix a belief." Bacon's thoughts on these matters are useful to us because there are many such jesters — always have been — and many reasons for jesting. When Dominion Voting Systems first brought suit against Donald Trump's legal adviser Sidney Powell for defamation, Powell's attorneys declared that "no reasonable person would conclude that the statements were truly statements of fact." What is truth? said jesting Sidney.
If you want to read the rest, at least now, you'll need to subscribe. But you really should! (If it comes out from behind the paywall I'll let y'all know.)
At the blog:
An oddball digression on Piero di Cosimo and Vulcan – and click the "Auden" tag at the bottom of that post for a couple of other recent things.
A marvelous All Souls' Day sermon by my friend Jessica Martin.
I found my blog's mission statement!
This, from a few months ago, is the one post I've written that I think about most often.
Just look around, there's other stuff too. I'm gradually finding my way back to a blogging rhythm.